---
Kandy edge out CH; keep hopes alive
By Bernie Wijesekera
Amidst blue skies and ideal conditions, defending Carlsberg Trophy 'A' Division defending champions Kandy SC, kept their hopes alive when they edged out CH&FC by 14 points (a try and three penalties) to 13 (two tries and a penalty) in a heart-throbbing second leg-match at Maitland Crescent last evening. KSC led 11-8 at the breather.
It was an evenly contested match where both sets of forwards played their hearts out to the bitter end. Kandy were without two key players at the start of the match - Priyantha Ekanayake and skipper Asoka Jayasena - and lost much of the long throws without these key players.
But Jayasena came back midway in the second half in place of Malich Silva and Nalin Dissanayake joined the scrum in place of Manjula Pathirana when the CH were on the offensive with the score at 14-8.
Ironically CH lost the first leg also by a mere digit: 6-5 at Nittawela.
It's a pity that CH had to lose this game when they were in control, but were unlucky to lose in the end due to Jude Pillai missing three spot kicks within kicking range and one in front of the posts. If not for this lapse, Jude Pillai had a good game manning the last line of defence and his tactical kicking to touch kept the marauding Kandy forwards at bay.
Possession was shared. In the long throws the CH dominated, thanks to Nazim Mohammed, who was outstanding, with a lot of support coming from Vali Buto. Besides losing S.Cooray, who was sent to the sin-bin for rough play, it was no let up by the determined CH back division, where half backs Sudath Sampath and Asanga Rodrigo kept the ball in motion.
The CH forwards in the loose were able to match their strong opponents where they rucked courageously with Junkeer, S.Niranjan, Vali Buto Buto standing out.
Kandy handled the ball skillfully with Michael Collins, Haris Omar, newcomer fullback Radhika Hettiarachchi, scrum half Niloufer Ibrahim, Lasantha Wijesuriya and Indrajit Bandaranayake taking a lot of attention. Kandy SC could have won without much pressure if they had moved the ball, rather than being on the defensive.
CH scored in the sixth minute after Jude Pillai, who missed a sitter in the fourth minute, when he fired a penalty 3-0. In the 15th minute KSC equalised with a penalty put over by Niloufer Ibrahim.
Then came the spectacular try by winger Indrajit Bandaranayake off a maul. Indrajit zig-zagged his way to the line against a disarrayed CH defence to lead 8-3. CH countered with a Nazim Mohammed 'special' off a quick tap, which went unconverted when Jude Pillai's kick lacked direction to level the score at 8-all. Kandy went further ahead when Springboks secure solid win against NZ
After the short break, KSC were gifted with another spot kick and Ibrahim arrowed it with precision. 14-8.
During the dying stages of the game there was light at the end of the tunnel for the CH to overcome their earlier lapses. Off a short-tap, the ball was set in motion when fly-half Asanga Rodrigo slipped the ball to Jude Pillai, who darted his way to the corner flag,. However, Jude's conversion lacked direction when Englishman Steve Savage blew no side for KSC to register a nail-biting 14-13 win.
*TODAY: Table leaders CR&FC take on gritty Petersons SC at Longden Place at 5 pm
---
Susanthika coming back ?
By M.H.M. Manasique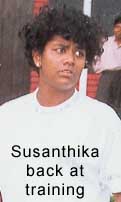 Sri Lanka's sprinting superstar Susanthika Jayasinghe - under a cloud of drug abuse charges and alleged sexual harassment for several months - says she will resume full scale training from tomorrow despite continuing uncertainty over whether she is suspended or not.
Last Sunday 'The Sunday Times' in a page three lead story headlined "Susanthika still in the lurch" asked why the local controlling body appeared to be dragging its feet on the report of an inquiry into allegation that Ms. Jayasinghe had taken banned stimulants. Within three days State radio and television announced that the committee of experts by a two to one verdict ruled that Ms. Jayasinghe was not guilty.
On Thursday a confident Susanthika - who had raised to international fame with a silver medal at last year's world games - told 'The Sunday Times' that she had never been guilty of drug abuse and would resume full training from tomorrow. She regretted that the controversy had prevented her from winning several gold medals for Sri Lanka at international games such as last week's Asian championship in Fukouka.
Top officials of the Amateur Athletic Association (AAA) of Sri Lanka were out of the country when the state media on Wednesday announced the committee ruling that Ms. Jayasinghe was not guilty. They were with the Sri Lankan athletes in Fukouka.
AAA secretary Rohan Amarasinghe who returned on Thursday night told 'The Sunday Times' that the report about the two to one verdict in favour of Ms. Jayasinghe was correct but it would now have to be submitted to the International Amateur Athletic Federation (IAAF) for a final ruling.
Ms. Jayasinghe was indefinitely suspended in April after AAA officials announced that the test on her urine samples had indicated she had taken performance enhancing drugs which are banned. Susanthika angrily challenged the ruling, alleging that her urine samples could have been tampered with. Her lawyers claimed that under the law she or her legal representatives needed to be present when the samples were tested, but that procedure had not been followed.
So the mess and the muddle continue while the Sports Ministry is keeping mum and Susanthika is still kept in the dark, several months after she alleged that a VIP at the Sports Ministry was sexually harassing her.
---
7 to dive for Sri Lanka in Malaysia
By Annesley Ferreira
Sri Lanka will be represented by seven divers at the 12th Asia Pacific Diving Championships from August 6 to 9 at Kuala Lumpur, Malaysia.
Last time, Sri Lanka won two silver and 2 bronze medals at this splash. Gayan Ranatunga won a silver in the 1 metre springboard, while Harini Jayasekera won the silver in the 1 metre platform dive and a bronze in the 1 metre sprinboard and Juhani de Mel won a bronze in the 3 metre springboard.
Of the divers, young Gayan Ranatunga is now second only to Janaka Biyanwela and will be doing the advanced dives at the championships competing in the 1, 3, and 7.5 metre events.
The Sri Lanka Diving team is being coached by M.Fiasz who has also been invited to the Commonwealth Games to be held in Malaysia in September together with Sumith Dharmadasa who will be A grade judges.
The other members of the team and their events are:
Eranya Silva - girls under 16/18 - 1 and 3 metres springboard.
Romesh Paktsun - boys under 16/18 - 1 and 3 metres springboard and platform.
Harini Jayasekera - girls under 14/15 - 1 and 3 metres platform.
Shanaka Wickremaratne - boys under 13 - 1 metre springboard and 5 metres platform.
Juhani de Mel - boys under 13 - 3 and 5 metres platform.
Esiri Kawranige - boys under 13 - 1 and 3 metres springboard. (See p 18 for pic)
---
Golden Award
Former warden of S. Thomas' College Mt. Lavinia, Neville de Alwis, received a 'Golden Award' for the services rendered by him for the development and upliftment of school cricket, during his tenure as President of the Sri Lanka Schools Cricket Association.
This award was given to him by the Sri Lanka Cricket Board, at a reception held at the Oberoi Hotel. De Alwis, served as president of the SLSCA, for ten years, where school cricket, especially in the outstations reached greater heights, due to the dedicated efforts of his committee.
The Cricket Board, headed by its young president Thilanga Sumathipala, should be commended for making this decision of honouring Mr. Neville de Alwis.
The affable president of the SLSCA a man with a mission had the administrative capacity to fulfil his objective sans petty politics.
The SLSCA spread its wings islandwide rather than confining it to the Colombo schools alone.This paid dividends. Most of the present national players, are drawn from the outstation schools - thanks to his vision.
Mr. de Alwis, retired as Warden of STC on June 30, '98. - (BW)
---
Front Page| News/Comment| Editorial/Opinion| Business| Plus | Mirror Magazine