It's different
Back to nature holiday at Ranweli Holiday Village at Waikkal in Negombo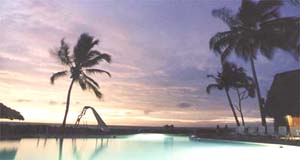 Ranweli Holiday Vil- lage at Waikkal in Negombo offers a rare eco-friendly combination of sun, sea and sand, vegetable farms and wildlife all at the same location.
Situated 18 kilometres away from the Bandaranaike International Airport at Katunayake, the drive along a rustic country road leads to the pier where a raft awaits to take guests across the waterway to the hotel.
The hotel is shrouded in thick mangrove vegetation. Over 30 varieties of birds are an attraction here. On either side of the long corridor which leads to the entrance of the hotel shaded by over 72 different types of herbal and other plants, one also sees peacock, deer and jungle fowl.
True to its "Eco" theme, the hotel grows its own vegetables and uses only environmentally friendly goods. In fact, at the entrance of the hotel one is met by a board which says, "please do not bring in plastics and other environmentally harmful goods into this eco-tourist resort." The hotel is decorated with palm leaves and flowers and built with brick and coconut trunks.
Specifically designed to draw nature lovers and sportsmen, the resort is situated on a 20 acre peninsula where mangrove forests and winding rivers converge to meet the sea. Seventy two bungalows or "eco-lodges" and 12 rooms are nestled within this forest environment, all with a beautiful sea view. The lodges are simply but elegantly furnished, batik bedspreads complement the decor.
The concept of the splendour of nature is further enhanced by the growth of native flora. Guests can enjoy a nature tour guided by a botanist.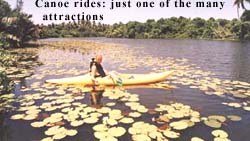 Sports activities at the hotel include tennis, volleyball, table tennis, squash, pool, billiards, archery, windsurfing, wave boarding and boating. Guests have a choice of which kind of boat they wish to take. Canoe rides, paddle boats, boat safaris are all on the list.
Cuisine and entertainment at the hotel are equally varied with a theme for each day. Monday sees an Italian or Indian night buffet with a Calypso band, Tuesday is Sri Lankan night with live music, Wednesday sees a flambe night buffet with Calypso band or camp fire on the beach, Thursday a western buffet with live band, Friday a Chinese night buffet with cultural show or ballet, Saturday is for Barbecues and calypso or live music, and finally on Sunday, there's an international buffet with disco night, fire limbo or magic show.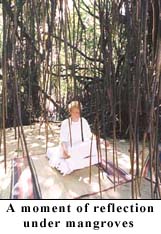 The hotel also offers an animation programme where guests can watch cadjan weaving, pottery making demonstrations, cultural activities and even fashion shows.
For those looking to enjoy the tranquility of nature so evident here, there are meditation sessions under the shade of mangroves.
The organic vegetable farm by the side of the rooms is complemented by a fruit orchard and guests can even try their hand at gardening if they so wish.
The Eco shop at the hotel stocks hand made goods from ornaments to household items. Jewellery and other shops are also available at the resort.
Charges at the hotel are reasonable at Rs.1,680 for a double (room only), bed and breakfast Rs. 2,160, half board Rs.2,880 and full board Rs.3,600. Special Sunday Buffet rates per person are as follows; buffet lunch only Rs.420, welcome drink, buffet lunch an evening tea and cakes at Rs. 475. There is a special concession for children. Those under three years of age if sharing with parents have their accommodation and meals provided free of charge. Children between 3-12 years have the room complimentary if sharing with parents and 50% on meals.