Roshan Mahanama and the England tour
Roshan Mahanama, dropped from the Sri Lanka team for the tour of England for the one-off Test and a few practice games against county sides and the three nation triangular series involving Sri Lanka, South Africa and England, will be considered for selection to the Sri Lanka team if he shows form. This was stated by Arjuna Ranatunga in an interview with Haritha Perera for Union Assurance Sports action over Radio Sri Lanka.
Ranatunga said that a batsman of Mahanama's calibre was needed for the next year's World Cup Cricket contest, but the few youngsters should also be given a chance to prove themselves.
"Aravinda de Silva and Hashan Tillekaratne, have been selected on form, and a batsman out of form could not be taken," he said. "Every batsman has his bad patch. They should work on it, and get back to form, and not give the selectors a chance to drop them."
"The absence of Chaminda Vaas and Nuwan Soysa is a blow to the bowling department, but we will have to wait and watch the performances of the new players on the England tour", Ranatunga said.
"The South African A team is due next week and if Mahanama performs well, then he could be considered", Ranatunga added.
However, if Roshan Mahanama could have been among the 14 for Singer Akai Nidahas Trophy how come he could not find a place in the 17 member team to England, one cricket enthusiast asks.
---
Thurstan's first Test cricketer
May 27 was a red-letter day for Thurstan. Thurstan was able to produce its first Sri Lankan Test cricketer - Niroshan Bandaratillake, who is now Muttiah Muralitharan's tandem bowler.
Niroshan when he was 10 years old played Under-13 cricket. He was a good batsman and a left arm fast bowler. But when he graduated to Under-17, Upali Ahangama, his coach, decided that he did not have the build to be a genuine fast bowler and told him to concentrate on spin.
Niroshan's father Neville, who was himself a cricketer at Dharmapala has been the guiding influence together with his numerous coaches.
Niroshan's uncle Upali captained Thurstan in 1969 while his younger brothers Charith and Sumedha played with distinction for Thurstan in 1990s.
Thurstan OBU and Junior OBU decided to recognise this achievement by felicitating him at a ceremony held at the College Hall on July 6.
---
St. John's OBA beat Jaffna Combined
St. John's College, Jaffna OBA South Sri Lanka, helped by an unbeaten 29 not out by G.S. Neshakumar, beat the Jaffna Combined Schools OBA XI Colombo Branch by 11 runs in their limited overs match played at Colts grounds, Havelock Park.
St. John's College OBA batting first totalled 200 runs for the loss of 8 wickets in 35 overs, and bowled out their opponents for 189 runs with Ramesh top scoring with a fluent 73.
Scores: St. John's College OBA 200 for 8 in 35 overs. Aravinthan 31, Sritharan 31, Dr. Ganeshpanchan 29, G.S. Neshakumar 29 not out, Bonfellius 3 for 37, Pradeepan 2 for 21.
Jaffna Combined Schools OBA 189 all out in 32.5 overs. Ramesh 73, Kirubananthan 36, Pratheepan 31, Satheeshan 3 for 37, Sritharan 3 for 38, Vaheesan 2 for 20.
Best batsman - Ramesh - Jaffna Hindu.
Best bowler - Bonfellius - Union College.
Best fielder - Aravinthan - St. John's College.
Man of the Match - Sritharan - St. John's College.
Adjuticator - Lanka Perera.
Chief guest - Thilanga Sumathipala. (AF)
---
Culture Club wins
Culture Club won the overall championships for the third consecutive year at the Cultural Triangle Hotel Association (CTHA) annual Sports Festival held at the I.D.A.L. grounds, Polonnaruwa.
Culture Club had a total of 49 points with Polonnaruwa Village second with 35 points and Habarana Lodge third with 27 points. (AF)
---
Royal beard 'Lions' in their own den....
It was a right royal display by Royal, when they annihilated Trinity by 42-11, after losing the first-leg 20-18, to bag the 'Golden Jubilee' Bradby Shield in the 54th encounter played before a massive crowd at Bogambara.
They achieved this after three years where Trinity had a stranglehold since '95'. Fittingly Royal's first win in the Bradby was in 1948, in the second year when the late Mr.Thambapillai was the master-in-charge. He played a vital role for its success. The 1948 team was led by Ashy Cader. Royal won both legs 6-5, 8-6, with a set of green horns. A.R.Mohamed led Trinity.
Sidney de Zoysa was the coach of Royal. What a combination! Mr.Thambapillai from here onwards played a decisive role and could be tagged as the 'Patron Saint' of Royal rugby. He was also the foster-father to his charges be it on or off the field.
Ironically, it turned out to be a heart-break for his numerous pupils, on the eve of the 'Golden Jubilee' match when he passed away. Though he wasn't there to witness this epoch- making match, Royal under Shanaka Perera made amends for the first-leg lapse, with a scintillating display of red-hot rugby, which made the 'Golden Jubilee' match, for the fans on either side one to be remembered for a long time.
There is some unique feature in this traditional match. Both teams are bitter on the field, but after the final outcome are the best of friends in victory or defeat and no lamenting. The players or their supporters young or old - behave in an exemplary manner. This is why this body contact sport is apparently the most beautiful sport in the world and has a tremendous following.
With this runaway win Royal are the 1998 Milo League Schools rugby champions. Every member contributed for its success the last for the season.
When Royal suffered the fist-leg defeat, one of Royal's ardent Sri Lanka rugby promoters, Malik Samarawickrema, told The Sunday Times, "It's good to taste defeat, be it sport or otherwise. With the lessons learnt from this setback, Royal are certain to bounce back in the 'return' at Bogambara". True to his word, Royal, achieved its objective by crushing Trinity, to emerge as the 'Champion team' in the schools rugby firmament. Earlier they defeated Isipatana after nine years (1989), under Anura Dhammika.
The credit must go to coach C.P.P. Abeygunawardena, who took over from Dr. Fred Perera. Dr. Perera, migrated to Australia early this year, but was there to watch the second-leg, when Royal outplayed Trinity at the historic Bogambara grounds. Abeygunawardena who continued the good work of his predecessor, is a man of few words.
A firm disciplinarian, he could read the game and plan his ploys match by match. He has played the game at the highest level, since he left Royal, for the CR & FC and for Sri Lanka as a nippy scrum half. His abundant knowledge and the 'no nonsense' approach helped pay rich dividends.
To him no one is indispensable. Everyone is given equal opportunities to display their skills and the team is picked on merit. A man with a vision, his charges are aware that they must not sulk after defeat. The game that matters in the end. That's what sport is all about. Today very few people think like C.P.
This is what the Aussie skipper Alan Border had to say when asked about the umpiring in the Australia-Asia Cup final in Sharjah in 1990, where this scribe watched this match against Pakistan. 'Well you get good and bad ones coming against your way. One must be able to accept in the correct spirit. Very true! Strong headed C.P., too believes in this meaningful saying and has inculcated this among his charges.
Abeygunawardena's ability as a competent coach none will doubt. He's not a professional, but believes in his own line of thinking. Not philosophies, but the practical sides of the game. One has to find one's own salvation. The players under his tutelage achieved their objective and did proud to Royal rugby to be remembered for a long time.
Even Sri Lanka's ace player Nalaka Weerakkody, the lad from Kingswood, who was an outstanding footballer, later opting for rugby had a word of praise for C.P's knowhow as a coach. 'He was the one, who improved my skills at club level, while turning out for the CR & FC. Without doubt it went a long way to help me towards this end. A big 'thank you' to him!
Today apparently it has become a bane among sports bodies appointing officials on tours abroad, who are found wanting. This has resulted in player indiscipline in some quarters, due to weak management.
This malady has even crept into some schools, too when they lose a match. Royal's rugby committee and the school's hierarchy should be commended for appointing personalities like Abeygunawardena and his assistant Lasitha Gunaratne, yet another charming and tough Sri Lanka forward to goad the team.
Of course the old boys are rallying around with men and material to maintain a high standard, which is the cornerstone for its success. This makes the task of the new Principal of Royal H.L.B. Gomes, an ardent sports promoter, much easier to handle its affairs.
Royal captain Shanaka Perera, by captaining cricket and rugby in the same year (1998), is the first to do so. Others like Mahes Rodrigo - a 'double international' in cricket and rugby, is a legend. He opened batting for Sri Lanka and carried out his bat against the West Indies with a gallant 'ton'. He stood up well to the awesome trio - Prior Jones, Trim and Gerry Gomes at the 'Sara' Stadium.
Jagath Fernando, too captained in both sports. He, was an outstanding cricketer, who opened batting for Royal and SSC.
He had a good future for cricket but opted for rugby. Today he is the president of the CR & FC. Rodrigo and Fernando captained Royal, but not in the same year.
Well Done Royal! (BW)
---
Brothers will challenge the title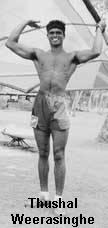 Thushal Weerasinghe will face stiff opposition from his two brothers Upali and Anura at the revived Mid-Summer Windsurfing championships to be held on Sunday July 26th at the Negombo Lagoon of the Airport Garden Hotel, Seeduwa.
Weerasinghe, the national champ who had won this title the last time out, will also see a few foreigners giving him a run for the Baron de Livera Challenge Trophy.
Three races are scheduled for the day sponsored by Lanka Sportsreizen, Airport Garden Hotel and Carlsberg.
This event is being organised by the Windsurfing Association of Sri Lanka under the auspices of the Ceylon Tourist Board.
The championships is open to local and foreign participants of all age groups with the size of the sail limited to 8.05 square metres.
The boards should be manufactured boards, and no custom boards will be allowed.
---
Four men, four women for Asian Squash C'ships
Sri Lanka will be represented by four men and four women at the 9th Asian Squash Championships at Kuala Lumpur, Malaysia from July 11 to 18.
The Sri Lanka teams will play alongside Malaysia, Singapore, Japan, India, Hong Kong, Jordan, Pakistan, Saudi Arabia, Qatar and Kuwait.The Sri Lanka team will be managed by Mrs. Padmini Samarasinghe and coached by Lakdasa Cooray with Yasmin Zarrok captaining the women's team and N.S. Jayashantha leading the men's team.
The Championship which is hosted by the Squash Racket Association of Malaysia will be from July 11 to 18 at the Squash Stadium, Bukit Jalil Sports Centre. The Sri Lanka squad is as follows:
N.S. Jayashantha, who has represented Sri Lanka before in 1994 and 1996. He has been appointed as the Acting Captain in place of Gihan Fernando, who had to cry out of the team due to a personal problem. Jayashantha has been a runner-up at the National Squash Championships. A promising squash player he is presently working at the Trans Asia Hotel Sports & Recreation Centre.
E. Ravichandran is representing Sri Lanka for the first time. He has been on Squash Training Courses in Pakistan with the Junior team and is presently working in the Sports Centre of The Lanka Oberoi. Ravichandran will go as the No. 1 player for Sri Lanka.
Hirantha Goonasena, at 17 years is a promising player and the youngest in the men's team. He has had extensive training in Malaysia and is the current Junior Under 19 National Champion. A student of Stafford International School he is a new find for Sri Lanka squash.
Prabath Wood represented Sri Lanka in the Under 19 Junior Boys Team in 1991. Prabath gains National Senior Colours for the first time and works at the Sports and Recreation Centre at the Hotel Taj Samudra. A very talented player and much is expected of him.
Yasmin Zarook, an experienced player is the Captain of the Women's Team. She is a seasoned campaigner of the game and has been the National Squash Champion in 1994 and 1997. She has represented Sri Lanka in 1994 and 1996 at the Asian Squash Championships. She is also a Level 1 Coach and will be sitting for the Level 2 Coaching Exam.
Disna Ranjini who hails from Ambalangoda represented Sri Lanka at the Asian Squash Championships in 1992 and 1994. She is presently working in the Army and was the National Champion of Sri Lanka in 1993. She is an experienced player from whom much is expected.
Shivanthi Kottage represented Sri Lanka in 1994 and 1996 at the Asian Squash Championships and was National Champion in 1995 and 1996. She is presently working at Walkers Tours Ltd., and is an experienced player who should give strength to the Team.
Sulakshana Dias Abeyegoonawardene who is the 'baby' of the Women's Team represented Sri Lanka in the Junior Asian Squash Championships in 1993 and 1995 and was an Under 15 National Champion. She also participated in the Junior World Championships in 1995 and is a fresher to the National Senior side. Sulakshana has just completed her finals in CIMA and has just commenced her studies in Law
Manager - Padmini Samarasinghe - Padmini has been in the Squash scene from the early 1980s. She is a former National Squash Champion 1988/89 and has represented the country on many occasions at the Asian Squash Championships and World Squash Championships from 1986 to 1994.
Lakdasa Cooray - Coach - Lakdasa has served in the Army and has played Squash from the 1970s. Cooray has coached many of the young boys and girls. He has won the Masters Over-45 event on many occasions. Since retirement from the Army he is currently a Squash Coach and is working at the S. Thomas' College, Mount Lavinia Gymnasium and Sports Centre.