Dharmasena's new innings
Another eligible bachelor from the Sri Lankan cricket team tied the knot early this month. Dashing all rounder Kumara Dharmasena wed Dushyanthi Gunewardena amidst a gathering of team-mates, friends and relatives. Mirror photographer Mettasena was at hand to record some special moments.
---
Lovely legs
It's time for short, sleek, dresses and lightness of being. But... have you toned your legs for the season?
Cellulite is a conten tious issue. What ever you want to call it, whether you think it's a tenacious kind of fatty deposit that requires hours of rubbing and scrubbing away, or just a humdrum problem of accumulated fat, one thing is certain: whatever you choose to call that orange peel, it is not as easy as peeling away an orange.
Of course, cellulite has a way of getting to places that you least want it to - in places which store the largest amounts of fat - the bottom, hips and thighs. The reason for this is that a lot of fat cells are created just beneath the skin and are separated into compartments connected by fibrous tissue that attaches the skin to the deeper layers of tissue.
When you gorge on food and drink and give your body more fat than it is necessary, this extra fat deposits itself in these cells under the skin and pushes itself through the tissue - the result is a skin that looks like a micro moon crater. Rippled, or dimpled or, in plain words, quite a sight.
Of course, not every woman is prone to cellulite. The jury is still out on whether cellulite is genetic but there are plenty other factors that determine your cellulite count:
* The amount of fat you have in your body to begin with
* Your fluid intake - whether it is right or insufficient
* Thickness of your skin. The thinner your skin, the more it is likely to be affected by cellulite.
There are other things that are cellulite-friendly.
Your lifestyle plays a major role. If you are sedentary, a couch potato who lives off chips and TV soaps, count yourself in. Stress is also a huge factor in allowing your body responses to slow down. When women go on the Pill, it can also increase the chances of them having celIulite.In certain cases, pregnancy is said to be a factor in the onset of cellulite.
Also, insufficient amount of time spent on giving your skin a circulatory boost by massaging it or a bath-time scrub may speed up the process of setting up your own colony of celluliters.
There are many things you can do to control cellulite, once it appears. But, giving the cliche, 'Prevention is better than cure' its due, decide early on not to have cellulite, and you may end up with none at all, or even if does occur, for hereditary reasons or whatever, the damage control measures are far more effective.
The first things to do are:
Exercise regularly. The constant process of keeping the body muscles in good working order, and keeping the blood circulation from going sluggish from prolonged bouts of inactivity, is of tremendous help. Exercise burns calories, and burning calories means using up the extra fat and that in turn means depleting the fat, deposits under the skin.
Eat wisely: Obviously, the more fatty the foods you eat, the more you need to exercise. So, if you want to rid yourself of the constant mental self-nagging to exercise, eat foods that are low in calories. Go for skim milk instead of full cream. Avoid cuts of meat that have too much fat on them. Go for greens and lean white meat such as chicken and turkey.
Food categories: Excess carbohydrates in your diet may, if you are a slouch, be converted to fat by your body. Go for protein and complex carbohydrates such as vegetables, whole-grain tibres and fruits.
Take control of the fizz: Don't absent-mindedly open cans upon cans of colas to quench your thirst. Opt for sugar-free fruit juices. And yes, take your hands off those gooey chocolatey goodies.
Sit on stress: Take it easy when stress affects you. Stress can throw the body out of gear.
Use anti-cellulite products: The majority of products you can buy to help eliminate cellulite are based on the premise that they rev up the circulation, break up fatty deposits and aid the elimination of damaging toxins.
The beauty and medical professions are constantly debating the validity of these claims, but whether or not they help directly, these products do exfoliate dead skin, get the blood pumping on the top layers of skin, and make you feel pampered.
Now that you have solved the problem, or at least got a handle on it, the next thing to do is to see that, on the outside, your legs are looking good.
---
Acne in adult women
Acne most often occurs during or soon after puberty and diminishes in the late teens or early twenties, but it may persist in some individuals for many years.
However, there are some women in whom acne does not appear until the twenties, or even the thirties. We do not know why this happens. While the sresses of modern life, such as competing in the workplace, have been mentioned as potential causes, there is no good evidence that this is so. Cosmetics have also been blamed. In some cases the may be hormonal imblances. Dermatologist should be consulted fot treatment.
---
Who will lift the cup?
By Chamintha Thilakarathna
What will you be doing tonight? Are you one of the tens of thousands of people around the world who will glue themselves to the TV to experience the excitement of the most awaited event of the year............the football World Cup finals in France.
Although little Sri Lanka has no stake in this tournament, Sri Lankans seem just as enthusiastic about the World Cup as any one else. 'Le Coup de Monde 98' has been in the forefront of many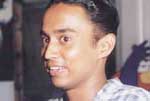 agendas. While some have marked their favourite matches on their diaries and others had the game schedule stuck on their office walls as reminders, some even placed bets amongst their family and friends.
Though primarily an European event, the excitement here seems contagious; from the street vendor, to the yuppie executive, the busy managers, or even a house husband, men in particular seem to have football on their minds. The big question is who will lift the cup? But what is this hype about football in a nation that is usually more obsessed with King cricket?
"Football is an international game loved world over. Although Sri Lankans may not realise it, it's the no:1 sport in the world," said Mr. H.Bandara from Nugegoda. And his views were echoed by many enthusiasts.
And this is what all the football fans who have been counting down the days to the finals had to say when the Mirror Magazine caught up with them last Monday;
Nineteen year old Gethaka Jayannetti from Maharagama who is awaiting his London A/L results was full of hope that France would make it to the final. "My mom and I sit down in the evenings to watch the matches and we watch till we fall asleep," he said.
"At home we are at war because of the World Cup. Sometimes, when we want to watch a different programme it's a big nuisance but we all do enjoy the matches whatever said and done," said Ganga Rathuwitana (25) from Piliyandala. Despite Argentina having to kiss the cup good bye after having lost the Quarter finals, Ganga is yet hopeful that they will be able to make a comeback next time round.
For M.N.M.Aslam from Mattakkuliya, Holland is the likely winner. But for Susith Dharmasena from Kelaniya his bets are on Croatia. "Football is one of the best sports and I have been definitely looking forward to seeing it live. I think that Croatia will undoubtedly lift the cup," he said.
Sixty year old Paul Pillai from Dehiwela has placed his hopes on the Dutch for he feels that they are the best team in action so far.
But the hot favorite seem to be Brazil.
Seven out of every ten people the Mirror Magazine spoke to were confident of Brazil's victory. 'Definitely Brazil,' was the answer received from many football fans to the question whom do they think will be the ultimate champions for the next four years.
"I have no doubt that it will be Brazil," said Athula Yapa, Restaurant Manager at KFC, at Majestic City, who terms their performance as excellent. Yapa invites all football crazy people to join him and his co workers at KFC to experience the excitement on their giant screen especially installed for the event.
Three fourteen year old school boys from Royal Institute, Keith Makawita, Vinodh Thayataraja, Gajan Jilankovan, also put Brazil on top of their list. Says Keith, "It's because they play great football and because they have superstar Ronaldo in their team."
Jayantha Fernando from Chilaw and T.FAzal Mohammed from Kandy agreed with the rest of the Brazil fans. Some are even prepared with their own World Cup T-shirts.
Whatever their loyalties when it comes to teams, football fans the Mirror Magazine spoke to unanimously said that the Rupavahini telecast was a little disappointing.
"Too many advertisements, too delayed, bad telecast," was the general consensus. "The timing is so bad that we usually miss out the second match," said Fazal Mohammed.
Another grouse was that they do not wish to watch delayed matches. "When we say live, we want to watch the matches live, not after the results have been announced," they said.
And so the countdown has begun and though we may not be in Paris, dancing in the streets or screaming in the stadium, we've got our seats booked for the final, at least before the TV. May the best team win!!
---
Here are a few locations where you can catch a glimse of the excitement of the World Cup football tonight when the final teams battle for the gold, Trans Asia will telecast it live on big screen at the Library.
Hotel Galadari will show it at their VIP Lounge entrance at Rs. 150 which includes an alcoholic beverage.
Mt. Lavinia hotel at its lower lobby and KFC, Majestic City.
Show Boat at Thunmulla junctin will also show it live on big screen
Lighthouse Hotel will telecast the World Cup at their Bar.
Le Kandyan in Kandy and Culture Club at Kandalama are among other hotels that will cater to football enthusiasts tonight.
In addition many of hotels in and around Colombo will telecast the match while community centres around the island are also likely to have their screens up.