Sri Lanka Cricket
A bi-annual publication
Twice every year a publication comes out especially for cricket lovers enumerating the cricket prowess of Sri Lanka and giving in detail the Test matches played by our country. It is the magazine, Sri Lanka Cricket edited by L.R.Mendis and priced at Rs. 100/-.
The magazine running to 40 pages opens out with a brief history of Test Cricket in Sri Lanka which gives the reader an insight into Sri Lankan cricket opening out with their game with wooden spoonists Zimbabwe.
The colossus of cricket, Sir Donald Bradman too gets a readable mention. It deals in detail of his greatness and his heroics.
Local heroes of the past are not forgotten. Ivers Gunasekara and Vernon Prins, the legendary cricketing figures of yore are illustrated in detail.
Aravinda de Silva, the architect of World Cup victory in 1996 gets special mention. Incidentally the cover page too has a glossy pic of this swashbuckling cricketing warrior receiving the World Cup from Pakistani Prime Minister Benazir Bhutto.
All tours of Sri Lanka and their assignments too are given in detail from 1974 onwards.
This would please the average reader as the dates and the teams against whom we have played have been given.
The Reliance World Cup October and November 1987 too gets special mention.
In general the author tries his best to draw a picture of happenings of cricket where our country had taken part and successfully does it.
---
Netball Nationals at Buttala on 27th
The Senior Netball Nationals, conducted by the Netball Federation of SriLanka and sponsored by Hatton National Bank,will be played on June 27 and 28 at the Buttala Gam Udawa Stadium.
Entries for the nationals will close with the Tournament Secretary,Netball Federation of Sri Lanka at No 7 A, Reid Avenue,Colombo 7 on June 18.
---
KV outclass Dickoya 24-8
Kelani Valley SC scored their third successive win of the season when they beat Dickoya SC by 24 points (3 goals, one penalty) to 8 (one try, one penalty) in their up-country league rugby match played at DMCC grounds Dickoya last week after trailing 0-8 at lemons.
Dickoya shot into the lead in the 8th minute when full back S. Sumathipala fired across a 25m penalty. Ten minutes later Dickoya increased the lead when scrum half Ranga Gunasekera fell over a loose ball and S. Sumathipala failed to add the extra points.
In the second half KV came back into the game by scoring three goals and a penalty. KV winger Niromal de Silva beautifully intercepted a Dickoya pass and scored under the post - the first try for KV. The ever reliable Priyantha Gunaratne made no mistake in adding the extra points. Soon after the first try from the kick-off KV No. 8 Bhathiya Bulumulla collected the ball and made a powerful 30m run through the Dickoya defence and passed to Ranga Seneviratne to touch down under the post. Priyantha added the extra points. A few minutes later KV full back Priyantha fired across a 35m penalty to add another 3 points to KV. Then came the showpiece of the evening when KV three quarters Dinal Samaranayake, Marco de Silva, Pantaka and Rohan made a superb second phase move and pass to Pradeep Kumara to touch down at the corner flag. Priyantha made a beautiful conversion to add the extra points. Wing forwards Amitha Wickramasinghe and Mohamed excelled for the winners.
KV side coached by former Sri Lanka and Havelock full back 'ever green' Marco de Silva and KV Rugby convener (Colombo) Arjun Dharmadasa played a major role by assisting and organising the KV side. KV was lead by Priyantha Gunasekera in the absence of regular captain D. Michael.
---
Kadugannawa in final round
Kadugannawa Madya Maha Vidyalaya entered the final round of the All-Island Under 15 Cricket Tournament for the Horlicks Trophy with convincing wins over Kingswood, Mawanella Baduriya MMV, St. Bernard's Vidyalaya Polgahawela and Peradeniya MMV in their Up Country league matches.
Chandana Kumar has been the side's most prolific scorer with an unbeaten 105 against Baduriya MMV Mawanella and a fighting 57 against St. Bernard's Vidyalaya Polgahawela.
Others to have scored well are Lasantha Abeykone (72 Vs St.Bernard's Vidyalaya Polgahawela), Sanjeewa Weerasinghe (45 Vs St.Bernard's Vidyalaya Polgahawela) and Ranga Kumar (57 n.o. Vs Mawanella Baduriya).
The Master-in-charge of Cricket at Kadugannawa MMV is Mr.Amarajeewa Dissanayake.
How Kadugannawa Madya Maha Vidyalaya fared this season:
Beat Kingswood College by 72 runs.
Kadugannawa MMV - 131 for 8 in 50 overs (Athula Rajapakse 22, Mahesh Jayasinghe 17, Lasantha Abeykone 13, P.Herath 2 for 12, N.Dehigama 2 for 19).
Kingswood - 59 in 39.4 overs (Chandra Kumar 5 for 13, Shakila Siriwardena 2 for 12).
*****
Beat Mawanella Baduriya MMV by 151 runs.
Kadugannawa MMV-245 for 3 in 30 overs (Chandana Kumar 105 n.o, Ranga Kumar 57 n.o, Sanjeewa Weerasinghe 30, M.Y.Faumi 2 for 55).
Baduriya MMV - 94 in 30 overs (Ananda Kumar 6 for 38, Priyantha Perera 2 for 16).
*****
Beat St.Bernard's Vidyalaya Polgahawela by 236 runs.
Kadugannawa MMV- 276 for 9 in 50 overs (Lasantha Abeykone 72, Chandana Kumar 57, Sanjeewa Weerasinghe 45, Ranga Kumar 30, Nuwan Kumar 3 for 52, Gayan Lakshman 2 for 25).
St. Bernard's Vidyalaya - 40 in 27.1 overs (Chandana Kumar 5 for 19, Athula Rajapake 4 for 16).
*****
Beat Peradeniya MMV by 62 runs.
Kadugannawa MMV - 124 for 9 in 40 overs (Mahesh Jayasinghe 27, Sanjeewa Weerasighe 23, M.K.Rantnayake 3 for 20, W.Wimalasinghe 3 for 30).
Peradeniya MMV - 62 in 23.2 overs (W.Wimalasinghe 16 n.o, Athula Rajapakse 5 for 23, Chandana Kumar 3 for 26).
---
Rohana has roared in many rugby finals over the years
By Bernie Wijesekera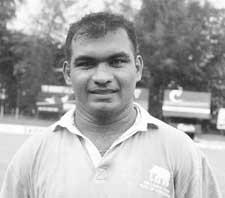 Sri Lanka's granite hard prop forward Shantha Rohana, a product from Isipatana has achieved a rare feat in the annals of local rugby. He has represented many clubs and at the same time, in many finals and helped the respective clubs to hit the top, with dynamc displays upfront.
It was no easy climb for Shantha, when he wore the green shirt for the Havelock Town School under Nilantha Lakshmiwewa in 1987. Since then he never looked back despite few hiccups. Today, Rohana the roaring forward is a key player in the Sri Lanka team.
The burly forward was interviewed by The Sunday Times.
Q : When did you start playing, who was your first coach at the start of your career?
A : I was introduced to the game by Mr. O. W. R. Perera at the under 13 level. He's knowledgeable and taught me the basics. He not only put me on the track, but many other promising players in the school at embryo stage. Today they have gone places, thanks to Mr. Perera, he nodded.
My parents, too gave me all the support and encouragement, otherwise I wouldn't have taken to this sport.
With this support I never looked back. Today if I have achieved anything in life, thanks to my parents, he added.
Q : What was your first club?
A : It was Havelocks SC. I played for them as a schoolboy in 1988-'89 as a No. 8 under N. H. Karunasena and Chaminda Rupasinghe.
'King Karu', gave me tremendous support on and off the field, even at school level. It was a slippery climb. But if one has the determination and is prepared to work hard then nothing is impossible.
My life took a turn when I joined the Police and played for them from 1989 to '93. Diehard rugby promoters like Ibrahim Hamid, Daya Jayasundera and others helped me to reach greater heights, while donning the blue shirt. I was fortunate to join Norman Silva upfront. Later, I was able to pair off with him for the national team.
Leaving the Police I joined CH & FC. Besides me, there were others like Asoka Jayasena, Sudath Sampath Dunstan etc., who left the Police and played for clubs.
In 1993, CH & FC, under Hisham Abdeen, one of the best forwards in the game, led the CH. We were runners up in the Clifford Cup. But won the 'Sevens' and the President's trophy under 'Abdeen.
I switched over to Kandy SC in 1994. The hill capital club from 1994-'95 were the 'kings' of local rugby and dominated the local scene. It was a great revival for up-country rugby, due to the hard work put up by the officials and crowd support. This also, paved the way for more competitive rugby. It also inspired the outstation lads to take to the sport. This was due to a better professional outlook and they had something to look forward to unlike in the past, Rohana added.
Kandy were John Player league champions in 1994 and were 'triple' champions in '95. I am proud to say that, I too had a hand for its success. But it was a great team effort. Players like Priyantha Ekanayake, Asoka Jaysena, Lasantha Wijesuriya, I. Marikar, Sudath Sampath Dunstan, Indrajith . Bandaranayake, and L. V. Ekanayake were the nucleus of the side. But I would say that every member contributed for its success. Todate they continue to do so, he added.
Back in Colombo, I started playing for the CR & FC and have played in many of their finals. I am really enjoying my rugby with the red shirts and will wind up with them Rohana smiled.
The CR club officials gave me all the support.
Q : What is the greatest moment in your rugby career?
A : There are many. But in 1992 representing the Police against Kandy SC at Nittawela, the blue shirts held them to an enthralling 17 all draw. It was a match that was slipping from us, but we came back to hold them to a thrilling draw. This match will linger in my mind for all time.
Of course I first played for Sri Lanka Under - 24 team against Hong Kong. Then won the Sri Lanka tie in 1995. I am happy that I am representing the country since then and giving my best for Sri Lanka to be a force to be reckoned with in the Asian region.
Q : Today unlike in the past, professionalism has come into play in any form of sport. Who helped you to reach greater heights in rugby?
A : I will be failing if I don't mention the names like Malik Samarawickrema, Nalin de Fonseka, Kishin Butani, N. H. Karunasena and Dr. Maiya Gunasekera ., I owe them a token of gratitutde.
No one can deny Malik has been respected by many sportsmen. This is not confined only to rugby alone. People of his calibre are rare to find, he added.
While Dr. Maiya Gunasekera, has motivated me and helped me overcome setbacks in life. He really put me on the track. This is not confined to me alone. He knows human problems. Being a rugby player himself, he is quick to diagnose it and nip it in the bud. I must also mention the present president of the CR & FC Jagath Fernando. He is at beck and call from all the players and spends much of his time with the team. I am one of the beneficiaries.
Finally I will be failing in my duty if I don't mention Ana Saranapala the present National Coach, who helped me at school and at club level and director Coaching Ajit Abeyratne for further improving of my rugby skills.
---
CR&FC dominates league rugby
By S. Sivendran
The 'red shirts' of the CR&FC continue to dominate the Clifford Cup 'A' Division League Rubgy Tournament sponsored by Carlsberg with an unbeaten record having won their seven games played so far and heading the league table with 28 points.
Kandy Sports Club who are the reigning league champs too have won their seven matches played todate and are unbeaten, but are second with 28 points in the table as CR&FC have scored more tries and have scored a staggering 355 points in their seven matches as against 244 points scored by Kandy in the same number of matches.
Today (June 21) these two unbeaten teams will clash at Nittawela to decide who will remain unbeaten to head the league table at the end of the first round.
Last Saturday (June 13) CR&FC beat their arch rivals Havelocks Sports Club by 25 points (2 goals, 1 try and 2 penalties) to 15 points (1 goal, 1 try and 1 penalty) in front of a large crowd at Havelock Park in their Clifford Cup 'A' Division Rugby Tournament.
On this day CR&FC which took the field as favourites were not at their best as Havelocks always play their best against their traditional rivals and gave the lads from Longden Place a torrid time with some gutty display to knock the rhythm off the red shirts who looked vulnerable at times.
The Park boys who are lying fourth in the league table played their hearts out and brought off some brilliant tackles to stall many a CR&FC move which would have been sure tries. The forwards on both sides matched each other in the lines out, but Havelocks fared better in the set pieces and once won even a tight head. The back division of CR&FC spearheaded by Paul Bennet who masterminded all the CR moves were far superior to the smaller made Havies counterparts but who compensated with some superb tackles which prevented the lads from Longden Place from running up a big score. It was also very unfortunate for Havelocks that their Fijian place kicker Oni Tuala had a miserable kicking day. Havelocks were awarded three easy penalties under the posts which he kicked astray when CR&FC was leading 10-7. Had these penalties been put over and with Havies playing with their tails up, the outcome of the game would have been any one's guess as CR was playing far below their potential on this day.
It was CR&FC who scored first with a Nalaka Weerakkody penalty to lead 3-nil. This lead was extended to 10-nil when fly half Sajith Mallikarachi scored a try off a good move by the forwards and three-quarter off a line out for Nalaka to convert. Thereafter Havelocks scored a try against the run of play when full back Shantha Dharmaratne intercepted a CR three-quarter move in his half and kicked ahead for winner Sanjeewa Jayasinghe to outrun the CR defenders to score. Oni Tuala made no mistake with the conversion to reduce the CR lead to 10-7 at half time.
During the commencement of the second half Havelocks confined play in the CR half and was rewarded with three penalties from easy kicking range which the Fijian Tuala fluffed. CR increased their tally with an unconverted try by winner Mustaq by the left corner flag. Havelocks were awarded a penalty which centre Haren Perera surprised everyone with the conversion from an awkward angle for the score to read 15-10 in favour of CR&FC. The red shirts increased their lead when awarded a penalty in the Havies 5 metres and opted for as scrum for their scrum half Champika Nishantha to score and Nalaka converted 22-10. Nalaka increased the lead to 25-10 with another penalty to seal the victory for CR. During the dying stages of the game when all hopes were lost for Havelocks winger Jayasinghe scored an unconverted consolation try for the match to end in a 25-15 victory for CR&FC.
The following day (Sunday June 14) CR&FC took on the defending champs Kandy at Nittawela who are unbeaten and nearly created the biggest upset by scoring an unconverted try against Kandy's two penalties for the match to end 6-5 in favour of Kandy. Going by this game the second round matches are sure to produce many a surprise.
CR&FC so far has beaten Air Force 44-nil, Army 31-9, Navy 114-3, Police 60-3, CH&FC 35-14, Petersons 46-11 and Havelocks 25-15. Whilst Kandy has won against Army 39-15, Air Force 39-5, Police 33-3, Navy 73-19, Petersons 21-6, Havelocks 33-8 and CH&FC 6-5.
CH&FC is lying third in the table with 21 points having won four games. Going by their performance last week against Kandy they should create a few surprises in the second round of the rugby league.
Havelocks too have won four games and are placed fourth in the league table with 20 points and will play their last game against CH&FC in their first round.
There is a controversy for the fifth place between Army and Petersons which is before the SLRFU authorities for their verdict which is pending.
Air Force has won 2 matches and are seventh with 8 points. Police who reigned supreme during the late sixties, seventies and eighties today is lying in a sorry plight placed one before the last with only one win against the 'wooden spoonists' Navy who have still not won a single game in their first round matches.
---
Horses with the mostest
How many punters in Sri Lanka follow the system?
By Ismail Khan
Getting on to a winner any day, be it first favourite or an outsider is not an easy task, leave alone whacking doubles, trebles and quadruples.
First and foremost the going must he good. It should suit your fancy or fancies. Then the horse must be good enough - must have recent form. Wait a minute. Horses without form too have a tendency to prop up - this is what has been happening for the past month or two.
Then the jockey position should be taken into account. A strong rider, most preferably the rider who had had the ride before. The weight too should be noted against his running last time out. Overweight horses normally run poorly but in exceptional cases. The distance is another thing that has to be taken into account.
Finally the standing of the trainer on this particular course. When all these things are added up and unwanted points substracted you get the probable winner. But these too could go wrong. For that you should also have an iota of good luck.
How many of our punters in Sri Lanka follow these systems. They just look at the day's card and following the selections therein they lay their bets. Sometimes they click but most of the time they lose - the odds of losing is more than the winning. It is 10/1 and on the losing side. To be on the safe side just try the "System" punting one day and you will know the difference.
Now on to the horses with the mostest - that is formwise!
Mel Brittain's Grey Kingdom 14th to Night of Glass at Beverley on 9/5 carrying 8.12 and ridden by Claimer D. Mernagh saw it fit to crop up at 10/1 last Saturday at York winning the opener the Charles Henry Memorial Handicap for the second time having won the corresponding event last year too, this time carrying 9.7 and with Kevin Darley astride. Last term he won the race with 9.1 and for an ageing veteran this up in weight was nothing.
But the horse to follow from this event was Present Chance who finished runner-up having every chance in the last furlong due to being obstructed by a wall of horses and rider Roy Cochrane having to pull him on to the outside. Next time with a little luck he could be tasting the sip of victory. Watch for the 3rd and 4th in this very race in Stylish Ways and Storyteller. They too ran well and should run to advantage when saddled next time.
Trainer M. Wane's Pride Of Pendle though getting on in years seems to have not lost the sparkle for the game. He finished a good 3rd to Rapier in the Cadogan Silver Salver Handicap over 9 furlongs at York recently and looks ever sharper. Not having the best of runs the 9 year old ridden by Claimer N. Pollard after doing the donkey work earlier in the race had little left in reserve to make a match of it at the all important end, and had to be satisfied with the third berth. With better handling I think this veteran gelding could have gone closer. Next time could be a different proposition.
On the other hand G. Oldroyd's Dispol Diamond came roaring at the last moment in the same race and on his next outing this 5 year old is a sure winner. Follow him. Rapier the winner of the race had the best of runs from a good draw, and being in the box seat for most of the journey broke through the pack 1/2 furlong from home and just held on to it with rider Holland at his best from a fast finishing Despol Diamond who tried to make a race of it. The 4th horse in this £20,000 prestigious event Tim Barron's Iamus finished like a bolt from the blue to take 4th place Needs watching. A two-year-old who showed promise at York's meet was Princely Dream trained by R. Fahey. Princely Dream who finished second to Conway Lodge at Ripon on 27/5 benefiting from that run made it almost point to point with A. Culhane sitting pretty on top.
---
Good bowler

Naresh Pathmanathan (left) of Hindu College captured seven wickets for 25 runs against Henry Olcott MV Kolonnawa and enabled Hindu College to enter the second round of the Inter-Schools Under 17 cricket tournament for the Horlicks Trophy. Hindu College have registered three wins in the contest. Naresh has bowled extremely well for Hindu College this season.