The making of Sorungeth Soru ('Jamis Banda') and related stories
Of plays and players
By Richard Boyle
For a few weeks in the northern spring of 1978 I rented a flat with a panoramic view of the starkly beautiful wetlands south of the village of Pulborough, in Sussex, England. This 'flat with a view' was to serve as writers' quarters of Swami Siva Kalki (Mike Wilson) and myself. I hoped that the stunning landscape unfurled before our sitting-room window would inspire us in the writing of a science-fiction screenplay mostly set in Sri Lanka. Titled "Point of No Return", the story concerned a Buddhist monk whose television programme for the station, Voice of Dharma, attracts the attention of an alien entity, with surprising consequences for humankind...
In fact we had commenced work on this screenplay several months earlier in the seclusion of Udawattakelle.The two locations, 5,000 miles apart, could hardly be more dissimilar. At Udawatakelle we had stayed in a large, empty house surrounded by tall trees of the forest. These trees formed an almost impenetrable canopy above that cast a stygian gloom over the strange, leech-ridden surroundings. In our walks along the forest trail past an ominous-looking pool with black, fathomless waters, Swami Siva Kalki summoned up ghosts - metaphorically speaking of course - for Udawattakelle had been the scene ten years earlier of a significant event in his personal life.
Now here we were in temperate Pulborough, lodged in a tiny flat, with an open, mostly treeless expanse stretching into the distance, and the gently curved summits of those incongruously named hills, the South Downs, on the horizon. Through the centre of this flood-plain sluggishly meandered the River Arun, whose brown, rain-swollen waters attracted the occasional swan flying overhead. Now it was my turn to summon up ghosts, for Pulborough was where I had spent my life from the age of ten until my early twenties.
That we only partly succeeded in writing the screenplay in Pulborough (it was completed in Colombo) was due to our failings rather than some hidden defect in the quality of the landscape, as it had sufficiently impressed the English science-fiction author, John Wyndham, for him to feature the area in his novel, The Day of the Triffids, written in 1951. This classic tale about man-eating plants that threaten the human race had captured my imagination ever since I first read it as a teenager. That the story was partly set in my home village added to its worth.
Motion picture adaptations of science-fiction novels were generally poor during the 1950s and early 1960s, but The Day of Triffids (1962), was an honourable exception, perhaps because it was a British rather than an American production. The film was directed by Steve Sezkely (the East European emigrant, Istvan Szekely) and starred Howard Keel, Nicole Maurey and Janette Scott. Although its special effects would probably be considered wanting today, it is a smart sci-fi thriller that puts as much accent on characterisation as it does on chills.
Pulborough was certainly not the preserve of Wyndham alone, for the area had inspired a number of l9th and 20th century English writers, whose spirits were now part of the landscape. For instance, the view from our window encompassed the hamlet of Greatham, just two miles south, where tucked away behind trees were the cottages owned by the literary family, the Meynells. These buildings were once known as The Colony, and it was here that D.H. Lawrence, E.M.Forster and Bertrand Russell had stayed during and after the First World War. In D.H. Lawrence's case, the Meynells and the area had inspired him to write his famous short story, "England, My England" (1915).
In the same direction, a few miles farther on, is the village of Bury, which is located right at the foot of the South Down beside the busy road that climbs steeply ahead is a small house where Rudyard Kipling once lived. And a few miles west of Pulborough lies another market town, that of Midhurst, where H.G. Wells had once spent a portion of his life.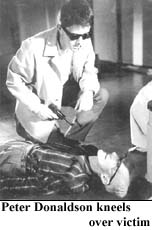 It was during his time in Pulborough that Swami Siva Kalki met up with Peter Donaldson, whom he had not seen for a dozen years or so, and who, coincidentally, was living (as indeed he does to this day) in the same village. Swami Siva Kalki had often talked of Peter Donaldson in the past, so I knew that he had toured Ceylon in the 1960s with an English theatre company, acted in the film Sorungeth Soru (commonly referred to as "Jamis Banda") and was now a newsreader with BBC Radio 4. In fact Swami had insisted that we name the newsreader in our screenplay after him.
So it was that I took Swami Siva Kalki from one end of the village to the other to see Peter Donaldson. I recognised Peter not by his physical appearance, but by the velvety, clear and concise tone of his voice - the type of newsreader's voice so loved by the more serious sections of the BBC. Being a regular listener to BBC Radio 4, his voice was familiar to me. It was natural that Swami Siva Kalki and Peter spent much of that meeting talking about the past. In the event, it turned out to be the last time they set eyes on each other.
Exactly 20 years later, in April 1998, I met up once again with Peter Donaldson in Pulborough to convey to him the news that Swami Siva Kalki (and indeed his former wife, Elizabeth) had died, and to inform him of my research into Swami's life and work. I asked him to recall his time in Ceylon and he began by telling me of the first of his two visits to the island. This was in early 1965 when Peter had been an actor, assistant stage manager and assistant carpenter with the New Shakespeare Company on an extensive Far East tour from Karachi to Kuching.
The tour was sponsored by the British Council to celebrate the 400th anniversary of Shakespeare's birth, and during January 1965 the Company visited Ceylon, giving performances in Colombo, Jaffna, Kandy and Galle. The New Shakespeare Company brought with it a repertoire of three plays - The Tempest, The Taming of the Shrew and Richard II. David Conville was the tour manager, and the leading actors were John Wyse, John Castle, David William, Dinsdale Landen (perhaps the name most familiar to Sri Lankans), Amanda Reiss and Edward Atienza.
In Colombo the Company stayed at the Galle Face Hotel and performed at the auditorium of Ladies College, where help with the lighting was obtained, as Peter recorded in his tour diary, from a "Wonderful local crew - Mr. (Mahinda) Dias and lads. 'Great, great help!' People very, very friendly." I am reliably informed that the late Mahinda Dias was a theatrical mainstay of the period, contributing much to the technical aspect of theatre production in this country. Fortunately, Dias and his crew went with the Company on the out-station part of its tour.
In Jaffna, as Peter wrote, "the theatre small, but all OK thanks to Mr. Dias". Peter continued by revealing a change in the scheduled performance due to a meteorological event: "Don't do The Tempest because of recent typhoon". He also documented the relaxed atmosphere of a soon-to-be-lost era in the history of the Northern Peninsula. "I go on a cross-country run twice to the old fort. Very pleasant, though I am (understandably!) thought mad by the inhabitants of this lovely little town. Very quiet and pleasant... sorry to leave".
During his stay in Kandy - "very green and quite cool" - Peter was able to visit Sigiriya, which he described as "a fantastic place" and vowed to come again. The last performances were given in Galle, "a lovely little walled city... theatre outside walls. OK thanks again due to Mr. Dias." Peter went on to remark enigmatically of his hotel, which he considered "quite strange. There should have been ghosts, but weren't". He also commented on the audiences, which he found were "everywhere so appreciative".
It was while he was in Colombo that Peter met Mike and Liz Wilson at a party hosted by them at the residence at 47/5 Gregory's Road they shared with Arthur Clarke. "Mike and Arthur Clarke write underwater books. They do a lot of skindiving - for treasure! I will see them again", Peter wrote in his diary, little realising the accuracy of his prediction. For, several months later, having completed the New Shakespeare Company Far East tour, returned to England and joined the Royal Shakespeare Company, Peter decided to re-visit Ceylon for a holiday and take up Mike Wilson's offer of accommodation at Gregory's Road.
Peter tells me about this holiday: "I remember Arthur Clarke letting me read his adaptation of his short story, 'The Sentinel,' before flying off to meet Stanley Kubrick and set about the task of making the legendary, epic film - 2001: A Space Odyssey! And to confirm the tremendous lasting olfactory impression the scent of the araliya tree has on many visitors, he says, "I remember too the frangipani tree in the garden, whose fragrance haunts me still."
The travel company that had arranged the holiday ceased trading, the return flight was cancelled, and Peter and everyone else who had accompanied him out to Ceylon (mostly retired planters making a nostalgic return) became stranded. "It was then that Mike Wilson offered me a role - off screen initially - in his latest film which was going to be a local James Bond type thriller.... hence "Jamis Banda, Agent Sri 007!"
This article is dedicated to the memory of A.C.Boyle, the writer's father who died on June 17 in England.
to be continued