They need love
By Roshan Peiris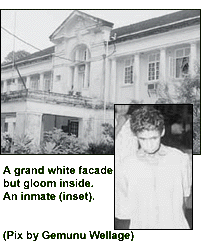 The gloomy skies wept with us as we made our way to the Mental Hospital, Angoda, the country's premier hospital for the mentally ill.
Angoda has around four to five thousand patients who live with no potential for personal joy, bewildered and alone, as their minds have given away.
"It is an overcrowded hospital," said Dr. B.Waidyasekera, Consultant Psychiatrist and Acting Medical Superintendent. A kindly man, he is supported by Dr G.Sankaranarayana the Director of Mental Health who tries to keep his charges as clean and healthy as possible. They exude compassion to these mentally sick people shunned by both society and family.
I expected to see a veritable snake pit but what I saw was nineteen wards, clean and comfortable, cramped though with fifty beds to a ward. There are ten toilets which are cleaned thrice a day.
I made a detour to inspect the toilets since recently at the Young Muslim Women's League's 25th anniversary, President Kumaratunga appealing to women to help in hospitals referred particularly to dirty toilets. Neatly tiled in white, these have plenty of water and privacy as well.
There are 18 doctors and eight psychiatrists in this largest institute for the mentally diseased, set up since 1863 by the Mental Diseases Ordinance. As the two doctors pointed out, one does not see the inevitable sillara kade (sundries kiosk) with food and drinks and tambili bunches close by. Reason? Hardly anyone comes to see these abandoned men and women of our society.
Most often relatives just leave the patients, giving false addresses and make a hasty getaway. Ninety nine percent of the family members are not willing to take back patients who have been somewhat relatively cured with medicines, occupational therapy and the use of rehabilitation systems. There is besides, the doctors explained, the idea of social stigma from which the family feels it will suffer. "Our workers do visit the few taken home but their families resent this monitoring by us for fear neighbours would notice our visits," the doctors said.
The Suwaudanya Programme started by the Minister of Health conducts awareness programmes in peripheral areas, with exhibitions and street dramas to make people overcome the stigma attached to being mentally sick.
Yet the mentally sick continue to be the neglected members of society.
There are four categories of mentally sick people at Angoda. Firstly the temporary patients, who are psychotic and not willing to receive treatment. Under the Mental Diseases Ordinance doctors are empowered to administer drugs. Relatives bring them and this category is not kept for longer than a year. "We give them occupational therapy and show the relatives how to administer the drugs."
The second are those who admit themselves voluntarily after making a written application to the hospital. To leave the hospital too when well, they make an application. The third category comprises those sent by the District Courts where the patient is handed to a fiscal officer and brought to Angoda. District Judges do visit such cases depending on the reports from the Angoda hospital.
Finally there are the criminal types who carry out criminal acts due to being mentally unsound. These could be dangerous. "Though some feel that there need not be mental hospitals it is nonsense since there will be veritable mayhem and prisons will be overcrowded," the Medical Superintendent said. The wards were full of several cases of nervous depression . A young girl of twenty-three whose father had come to see her with food, accompanied by a cousin, told The Sunday Times that she had been raped by an Army Colonel. "It may be true or it may be a delusion," said the doctor. Many complained to us that honiyam (charms)had been done to them. "Most suffer from hallucination," the doctor said.
People need to spare a thought for these unfortunate, neglected beings, take them something to eat, or something to wear and more, brighten their dark world with words and deeds of kindness.
It might be well for us to remember that but for good fortune that Fate has endowed us with, or Divine Providence, anyone of us might have been one of them.