Farms and farmers neglected, so agrarian sector fails
Recent studies show that the crisis has been building up in Sri Lankan rural areas since the mid-1980s against a backdrop of land shortage, falling incomes from rice farming and little or no shift to high-value crops from the low-return rice.
By Feizal Samath
Sri Lanka's agrarian sector once the pride of the country's economy - is disintegrating due to the apathy and indifference of the authorities, forcing budding young farmers to seek employment outside farmlands.
As a result of neglect, the farm economy has all but collapsed and is now held together by a mix of incomes from Sri Lankan migrants working in the Middle East, government soldiers fighting Tamil rebels, industrialisation and poverty alleviation programmes.
"Younger people don't want to get involved in agriculture because they have seen how their parents have suffered due to the negligence and indifference by policy makers," said Professor S. Hettige, Dean of the Department of Sociology at the University of Colombo.
He said that farmers are struggling today due to lack of a proper safety net and they were vulnerable against rain, drought, fluctuating markets or pests that can ruin an entire crop.
Recent studies show that the crisis has been building up in Sri Lankan rural areas since the mid-1980s against a backdrop of land shortage, falling incomes from rice farming and little or no shift to high-value crops from the low-return rice.
Sri Lanka's agriculture economy has two components - the plantation sector and the paddy and allied crops sector. Plantations - tea, rubber and coconut - have been doing well over the years, particularly after these mostly state-owned holdings were partly sold to private companies in the mid-1990s.
Tea, Sri Lanka's biggest export commodity, is doing extremely well in view of favourable world market prices in the past two years and last month, John Keells Holdings Ltd., - the country's biggest conglomerate which has sizeable tea and rubber plantations - reported a 100 percent increase in post-tax profits for the 1997/98 end March fiscal year.
Nevertheless labour is a concern in the plantation sector as companies are planning to shift to mechanisation.
Likewise rubber and coconut have also done reasonably well all because government efforts have been channelled in that direction.
Paddy, however, has been badly neglected and left to fend for itself. Sri Lanka is self-sufficient in rice, the country's staple diet, but occasionally imports small quantities to offset any shortages that may arise due to drought.
Rice farmers, argues Professor Hettige, are considered ignorant and unproductive and not contributing to national wealth, unlike the export crops. "Therefore the authorities tend to disregard them and their needs," he says.
The shortage of land for paddy farming is acute and nearly 70 percent of Sri Lanka's farmers own less than two acres - hardly enough to produce a break-even return. As farming and other related farmland jobs become more and more uneconomical, the children of farmers seek jobs outside and there is plenty for those who are not choosy about the dignity and danger of the profession.
The overseas labour market, an expanding military - since 1983 when goverment troops began fighting Tamil separatist rebels - and the re-location of large garment factories in the countryside have provided easy access to rural youth. Incomes from poverty alleviation programmes are also contributing to maintain rural households.
There are more than 600,000 Sri Lankans working across the Middle East, mostly as housemaids or construction labour. Sri Lanka's combined military has grown to over 100,000 men from about 20,000 in the early 1980s with at least 80 percent of these men coming from rural areas. New or re-located garment factories have also raised between 30,000 to 35,000 jobs for the rural sector.
The bulk of these workers are from the rural sector which accounts for 70 percent of Sri Lanka's population and 40 percent of the labour force.
Studies show that the armed services have taken many rural youths away from agriculture because most of these youth come from economically backward rural farming families and possess a secondary level education which is not sufficient to aim at more socially and economically rewarding jobs.
"Despite the risk associated with the work, in the security forces, rural youths still prefer to join the forces due to reasons like higher income and social recognition. This pattern of moving into the armed forces is more evident in the border areas where those farming families have experienced the direct effects of the war," asserts Sena Jayasena, a researcher at Colombo's Agrarian Research and Training Institute.
One of the problems, he says in a research paper, is the mismatch between education and employment. In the school level curriculum, the importance given to agriculture related subjects is minimal although these are subjects offered at the highest level.
Due to the non-availability of qualified teachers in agriculture and adequate resources for practical demonstrations at field level, students who prefer to pursue agricultural studies are compelled to select other subjects. There is also little social recognition for students who have studied agriculture compared to those who qualified in other science subjects.
A recent study by the Colombo-based Institute of Policy Studies (IPS) found that the rural economy was heavily and increasingly dependent on transfers from outside, and it was this that has enabled people to survive in the face of an "agrarian crisis."
"The rural economy of Sri Lanka emerges, in short, as a remittance and transfer economy, and in turn has major ramifications when it comes to agriculture policy," IPS, the country's top semi-government think-tank, said.
IPS argues that this state of affairs was "in a sense a brittle and vulnerable economy" as the flow of remittances from the Middle East can be threatened by instability or policy changes in those countries while an end to the civil conflict - without an increase in jobs in the non-farm sector - could have serious consequences.
With incomes rapidly falling and indebtedness rising, the number of suicides in the farming community is high. Sri Lanka has the highest rate of suicides in the world, and the commonest form of suicide is by swallowing pesticides which are freely available in the homes of farming communities.
Professor Hettige says that farmers should be treated as citizens, with rights like social security. He said the safety net structure like the agriculture insurance scheme had failed because it entailed long delays in an applicant receiving compensation for a failed crop.
He said farmers had lost faith in state programmes but they needed protection because agriculture is the main source of food security in many countries. "Food can be obtained from anywhere but one is less vulnerable if it comes from your own backyard."
The World Bank feels that a restrictive land market is one of the key problems in the agrarian sector. There is a need for a functioning land market - which the bank has recommended - that is absent today because the state is the dominant landlord and there are restrictions on land sale and use.
Most farmers are tenants and don't own the land.
---
Breakaways make headway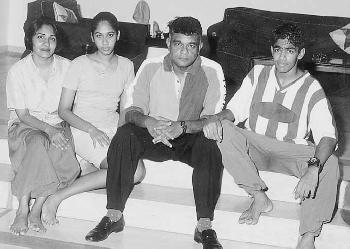 It is entrepreneurally spirited professionals of the calibre of Ravi Kumararatne, our guest today, that this country needs. Having started his career as a Trainee Assistant Superintendent, he learnt the ropes climbing up to the top rung of CEO/ President of a tea broking firm. With close to 28 years of experience in the tea industry he is striving to take it to the next century. And the future could only be bright when we have achievement oriented entrepreneurs like Ravi. By Priyantha Gamage
By Priyantha Gamage



Q. Mr. Kumararatne let's start from your roots
A. When I left Royal College in 1970, I joined Whittall Boustead as a Trainee Assistant Superintendent. I was with them until the end of 1977 when the nationalization of plantations took place. I left Whittalls to join Forbes and Walkers into the middle level management cadre where I was until February this year.
Q. What happened?
A. Well, Forbes took a lot of changes about 3 to 4 years ago. Forbes & Walkers, the original company was a privately held company by the employees until then. But it was sold to a Canadian company, by the name of Ondaatje Corporation in 1993.
Since then there have been a lot of changes. And thereafter there was a public quoted company by the name of Forbes Ceylon Ltd., where I was one of the inception directors. I became a director of Forbes & Walkers from 1989.
With all these changes, at one point we all felt that we must make a fresh start and that we must have some sort of control over our own destinies.
Because, we worked totally diligently for a Private Co, and a Public Quoted Company and at the end of the day we felt that it was losing its way.
So we all felt strong enough and courageous enough to believe in ourselves and to start off once again. That's what really happened.
Q. Tell us more about Asia-Siyaka?
A. Siyaka (Pvt) Ltd., was incorporated on February 16, 1998.
Asia-Siyaka is a joint venture between Asia Capital Ltd., and Siyaka (Pvt) Ltd. Asia owns 40% of the total share capital of Rs. 20 million of Asia-Siyaka. The balance 60% is owned by employees of the company.
Our principal activity is tea broking. We represent the producers. And anything that we do will initially be focused on the plantation industry, helping producers improve their production, their factories, their finances and their marketing .
Q. Why do you believe that Asia-Siyaka could make a difference?
A. Our vision is to be the best commodity broker in Sri Lanka by shaping the future of services to our esteemed clients and the industry as a whole.
Tea industry is a growth industry and a traditional industry which has still not broken away from the traditional norm and practices.
We are looking at everything from a different angle; our market reports, our MIS, our reporting systems and what not.
In fact, we are now working on a formula to sell tea faster which means to convert their stocks into cash faster. Because every business is now thinking in terms of Just-In-Time (JIT).
Q. Why concentrate on tea?
A. That's where our strength lies. We are experts in the field. I personally have about 28 years experience in the tea industry. All my other colleagues also have been in the industry for 20-30 years.
Q. Does Asia-Siyaka rely on a particular management principle or style?
A. Yes, definitely. That is one of total participation at all levels and identifying systems where clearly defined for each one and not overlapping.
At Forbes we were in an inherited atmosphere. Everything came down the line. So, this has been a fabulous opportunity for us to start it from scratch. We have to reinvent how everything is done. What we are trying to do is to do it in a way so that everybody knows what is being done.
Q. What progress has Asia-Siyaka made so far?
A. We got into business with great difficulty. There is litigation going on still. But that case is not against us but the Tea Board and the Director General of the Board, the authority that issued us the license.
When we entered the market we received unanimous approval of the Directorate of the Tea Board for our application, which consists of the entire tea industry.
Even before we came into being, the interest rates on borrowings of Smallholder Tea Factories from their Brokers against their stocks in Brokers Warehouses, came down by almost 4%-5% points possibly in anticipation of our coming into the market.
This was a tremendous benefit for the smallholder factory owners.
Because this is one of their principal financing mechanisms of finding their working capital.
We have since been accepted as an Associate Member of the Colombo Tea Traders Association.
When you look at the latest volumes of trade we have a 9.42% of the total tea market. It makes us the 4th in the market, in just 1 1/2 months of business. In the low grown area, we have about 14% market share. And we believe that to be the growth area. Because they are now producing almost as much tea as High and Medium Growns. In the High and Medium Growns we have about 6% market share.
Q. So are you going to concentrate on a particular segment?
A. No, we want to balance it out. Although we have a bigger market share in low growns we believe that we have some of the best high-grown expertise in brokering.
Q. What exactly is the size of our tea market?
A. Almost 90% of Sri Lanka's tea is sold through the Colombo Tea Auction. And that amounts to around 277 million kilograms which possibly makes Colombo Tea Auction one of the largest world centres.
It also has a tremendous diversity of buyers. For any given sale, we have at least 100 traders trying. At an average price of about Rs. 130/- we are talking about Rs. 36010 million market here.
Q. As a person with close to 30 years of experience in the industry, what are your suggestions for a better industry?
A. Well to put it very simply, keep improving. Automate the industry, use IT (Information Technology), use new packaging. Here people are still packing in boxes. Use new technology.
The colour separating machine is one of the latest machines that separate the stalk and the black tea by an electronic process. But most of our machinery continues to be the age old loaders, sifters etc.
Even our ovens are now only being upgraded. There again the plantation companies should get together and form some good engineering consolidation.
Even under the British, there was cross-holding between tea companies and engineering concerns so that they complimented each other.India is pretty advanced in these machinery. But we have not done real research in automation.
Q. What are your future plans?
A. Well, we are working on several things.
There are plans to improve the industry levels. So will, obviously have to come up and introduce much more efficient systems and new ideas which we'd be doing as we go along without rocking the boat too much.
A lot of new thinking has to come up particularly with technological advancement in every other sphere. So automation is a must to bring increased productivity levels.
So that even if there's a slump, we should be able to reduce, control our prices to be profitable.
In advanced countries the productivity levels are above 25kg. per man day labourer. In Sri Lanka it is still around 3kg. Unfortunately we have certain restrictions too like we don't have flat land.
Q. What do you see as the biggest problem the industry faces today?
A. One of the major problems the industry faces today is the lack of labour. So, we'll have to think of mechanising the industry. So, there must be a lot of research on that. At the moment, there isn't adequate money for mechanisation.
We need to mechanise various aspects of the industry including pruning, plucking etc. because the younger generation does not want to work as labourers. They want blue-collar jobs.
So this has to be managed, otherwise we'd have a big problem. Again to manage it, the industry must make adequate returns to do more R&D.
---
'Aitken Spence' looking abroad for investment
By Feizal Samath
Who says the hospitality or leisure industry is a non-starter due to Sri Lanka's on-going ethnic conflict?
It may continue to face its share of problems like lower tourist arrivals - as the war goes on and uncertainty, but industry giants are taking things in their stride and not only consolidating local operations but also seeking investment opportunities overseas.
"We must go across borders," asserts Ratna Sivaratnam, chairman and managing director of the Aitken Spence Group.
"My vision for Sri Lanka in the new millennium is that unless we are going to be regionally or globally competitive, companies like ours will not be able to survive," the CEO said, looking out of his 10th floor office at the company's two-year-old headquarters building, the Vauxhall Towers.
The 11-storey complex which provides a panoramic view of the Beira Lake and the harbour, is set to guide the company in to the 21st century with vision and purpose.
Aitken Spence was established in 1868 by Scotsmen - Thomas Clark and Patrick Goren Spence in the southern port town of Galle as a trading company and business grew rapidly, leading to the formation of a new company in Colombo.
In the years that followed, Aitken Spence established itself as a typical agency house for insurance companies, shipping lines and plantations.
Core Business
Like many colonial-era establishments, Aitken Spence lost out revenue over the nationalisation of insurance and plantation sectors but quickly moved into tourism - sensing immense potential. Tourism has remained as its core business.
In time, insurance and plantations have also returned to the company after de-nationalisation and both sectors are growth and profit centres.
Last month, Aitken Spence reported post-tax profits of 197.6 million rupees for the 1997/1998 end-March fiscal year, more than double that recorded in the earlier year.
Profits are booming for the hospitality giant, particularly from its Maldivian resorts. With a vision of "business across borders" and an eye on the proposed South Asian Free Trade Area (SAFTA) and a workable South Asian Preferential Tariffs structure (SAPTA) Aitken Spence is looking at investing in India, in addition to a new resort in the Maldives.
Kerala Plan
"We want to invest a 70-100 room resort or city hotel probably in Kerala, South India and company officials have already looked at prospective sites and met potential local partners," Sivaratnam, a veteran hotelier, said.
He said that with SAFTA and SAPTA coming Sri Lankan companies should look for opportunities in the region. In the hospitality industry, Sri Lanka is recognised as being superior to the Indian product.
"We have a number of repeat clients because the quality of the product and the service is good. Let's face it. We are islanders and are always smiling, laughing. Being hospitable is in our blood," says Sivaratnam, who engineered the group's first foray into tourism in 1971 with the construction of Neptune Hotel on the south coast.
Hotels Abroad
Aitken Spence is investing in a third hotel property in the Maldives which should be ready by late 1998 or early next year, which would add to the other two resorts there - Rannali (116 rooms) and Bathala (40 rooms).
"The experience in the Maldives has been very remunerative. The advantage unlike tourism in Sri Lanka is that there is a 100 percent hedge against the US dollar. We are earning in dollars, repaying loans in dollars and with a depreciating Sri Lanka rupee, it makes a lot of sense to be there ," Sivaratnam said.
John Keells Holdings Ltd., the other conglomerate that has substantial stake in the hotel industry, is also eyeing hotel properties in South India in addition to consolidating and refurbishing its current Sri Lankan and Maldivian properties.
Many other companies like Vanik Ltd., which has an investment banking venture in Bangladesh and is looking at other regional sites, are also tapping the South Asian market for other avenues of investment, taking Sri Lankan companies on to a different plane of competing with western multinationals, outside the emerald isle.
Back to the Aitken Spence story.... and after a steaming cup of tea - presumably from the company's own plantations - Sivaratnam speaks excitedly about the future of shipping and ports and of missed opportunities in these fields.
The Future
Currently tourism and ports and shipping are the core sectors of the Aitken Spence Group but plantations is also catching on at the company hierarchy embark on transforming unused land on plantations to high-value crops like oil palms.
The Aitken Spence chief says that the country's future lies in the service industry and contends that ports and shipping can be Sri Lanka's salvation-like Singapore when it originally moved into the port sector.
"We are geographically and strategically located on a sea lane and we should take maximun advantage of this. We have an active role to play in shipping in the region largely due to our location," he said.
Sivaratnam noted that 70 percent of the Colombo port handled trans-shipment cargo and with port development and expansion, this sector was bound to rise.
Aitken Spence is also heavily involved in these areas, owning container yards, being shipping agents and active in allied fields among its 35 subsidiary and associate companies.
He laments the fact that there is little progress on the proposed ports in Galle and Hambantota. Sivaratnam says Hambantota has immense potential as a trans-shipment site because of its location, depth of water (much deeper than Colombo which is an advantage) and huge land base.
Hit by Mergers
But Sivaratnam concedes that Hambantota may be a non-event as a substantial investment would be required to not only build the port facility but also for a feasibility study to look into the cost-effectiveness of the project.
"It's unfortunate, you know. There are 90 ships that sail pass Colombo everyday but we get just about nine calling over at our port for services," he said.
Plantations and branded teas are getting new "flavoured" attention at Aitken Spence as the company prepares, like many other plantation firms, to turnaround the estates and their waste lands into veritable money spinners.
With a consortium of other companies, Aitken Spence owns a 51 percent stake in Elpitiya Plantations and Talawakelle Plantations and both estates have been boosted by good, professional management and rising tea prices.
The company has 20,000 acres of which 30 to 35 percent is jungle or unused land where it hopes to produce other crops. It plans to grow oil palms - a high value product - on about 1,000 acres and is looking at investment from Malaysian sources. Branded tea is another area that the company is looking at because "the future lies in Sri Lanka being able to maximise its tea product," Sivaratnam said.
---
Container terminal tariffs: ACTDO replies
The Association of Container Terminal and Depot Operators (ACTDQ) has sent the f0llowing letter to the Controller of Foreign Exchange consequent to the Controller's circular regarding adherence to tariffs set by the Controller of Exchange
We respectfully wish to place before you the following for your investigation and administration in conserving valuable Foreign Exchange earned by services rendered to Foreign Principals by local establishments.
Consequent to a Newspaper article which appeared in The Sunday Times Business page 17 May 1998, a photocopy of which is attached for your convenient reference, the contents of which we are confident are self-explanatory. We thought it is fit to inform the Government of Sri Lanka in connection with Foreign Exchange being eroded by foreign representatives manipulation under the pretext of "cost cutting" by non-adherence to laid down and accepted tariff of the Ceylon Association of Ship's Agents and by the Controller of Exchange in the debit of charges for services rendered specially in the representation of Foreign Shipping companies, Container Terminal Operators, Surveyors and Freight Forwarders etc.
Perhaps you are aware that there is a procedure as to the manner the charges are to be debited to Foreign Principals for services rendered in Sri Lanka. These charges apply to Freight Forwarders as well who do not pay Freight Bureau charges, Income Tax and other statutory requirements of the Controller of Exchange and the Commissioner General of Inland Revenue.
Foreign Principals have verbally requested and subsequently implemented a demand that their agents in Sri Lanka credit to their account all locally earned charges made on delivery orders, change of status of containers etc. etc., they are requesting container depots to discount all charges and currently to stow empty containers in container depots without a charge for container owners. This is a serious offence against accepted tariff charges given by the Controller of Exchange, and a drain on the country's exchange earnings.
In this manner, many offences against Exchange Control norms are committed due to pressure brought about by the Foreign Principals who are only concerned with their "cost cutting" and profits. Further to their assistance is an organisation approved by the BOI consisting of Foreign Principals' representatives resident in Sri Lanka, who are availing benefits from the vendors of Foreign Principals under "cost cutting" for their benefit without paying any attention to this country rules and regulations even after the Commissioner of Inland Revenue has granted relief on freight earnings to Foreign Principals.
If you examine the foregoing statements carefully, you will concur that much needed Foreign Exchange is drained by the concept of 'liberalisation of trade and shipping'. In the past, the Controller of Exchange monitored all transactions of exporters and importers and shipping agents in particular, which resulted in saving and conservation of Foreign Exchange of this country.
We are aware that with a minimal staff the Controller of Exchange is unable to monitor all concerns since the number of Shipping Agents, Exporters, Importers and Terminal Operators, Freight Forwarders have rapidly increased. The non-monitoring of the tariff debits to ship owners have privileged ship owners through unscrupulous local agents, resulting in alarming loss of Foreign Exchange of this country. It is regrettable to note that there are unscrupulous shipping agents, terminal operators, freight forwarders who have not respected the government and this country to conserve our Foreign Exchange. In the circumstances it is imperative that the debits are monitored to ascertain the quantum of violations and institute fines to such amounts of violation with a request to bring all Foreign Exchange back to the country.
It is suggested that the exercise of monitoring local shipping agents, Container Terminal Exporters, Freight Forwarders, Ship Chandlers, Ship Repairers, etc., should be entrusted to approved audit firms who will be required to scrutinise the requirements of the Controller of Exchange and report any shortcomings of avoiding debits etc., to the Controller of Exchange, the Governor of Central Bank and the Secretary to the Treasury. Meantime it is also suggested that the Controller of Exchange arrange with all agents to give an undertaking that their debits to Principals conform to the accepted tariff charges and any deviation of tariff charges be liable for cancellation of their licence etc. This undertaking is imperative for a strict control of the country's Foreign Exchange and avoidance of Inland Revenue.
The Container Terminal Operators should give an undertaking that they will debit the agreed tariff charges as recommended by the Ceylon Association of Ships' Agents and the Association of Container Terminal Operators that under no circumstances would the tariff charges be discounted or rebated, officially or privately since it would tantamount to the drain of Foreign Exchange from this country.
It is important that the Commissioner General of Inland Revenue authorise the audit firms who are recognized and registered with the Department be recruited to perform the monitoring of all Shipping Agents, Terminal Operators, Freight Forwarders, Ship Chandlers etc. Their charges could be recovered by the Controller of Exchange from the company where the audit/monitoring has been carried out and paid to the auditors according to the respective services rendered.
This is a concise report leading to conservation of much required Foreign Exchange, which is drained from this country under the pretext of 'liberalised shipping and terminal charges' etc. If you consider to have further information, we are always at your disposal in the interest of this country.It must be remembered that shipping was liberalised with the accepted tariff terms which should be debited to the Principals in accordance with the charges laid down without discounts, commissions, rebates, etc., which will endanger the Foreign Exchange situation of this country.
We respectfully call upon all authorities to review the position of charges as explained above and have tight controls leading to Foreign Exchange offences.