Khemadasa does us proud in Prague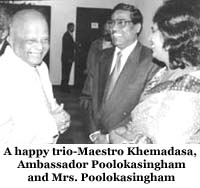 A Sri Lankan composer was among interna- tionally renowned composers at a prestigious music festival. This rare honour fell on maestro Premasiri Khemadasa when his work was picked for the summer festival of the Prague Symphony Orchestra. Works of the famous 17th century German and Italian composers, George Friedrich Handel and Antonio Vivaldi were among others selected. In fact, Khemadasa was the first Asian to be honoured in this manner.
Khemadasa has just come back after attending the premiere at the Prague National Theatre on May 6.
The festival was scheduled to open in April but was postponed for a month.
As exclusively reported in The Sunday Times last January, Khemadasa was told that the Prague Symphony Orchestra would play his music from the ballet Romeo and Juliet at this year's summer festival. He was invited to train the orchestra.
"Things changed when I went. They listened to my music and were enthralled by what I had done in Pirinivan Mangalyaya. They wanted me to see the possibility of composing something new. And I did," Khemadasa told me.
'A day before the spring' was the title of the piece he composed. The duration was around half an hour. A 35 member orchestra trained by Khemadasa played at the premiere attended by Sri Lanka's Ambassador in Austria, C .S. Poolokasingham and his wife, and Mayor of Prague Petr Kallista.
" It has been the tradition for renowned composers who lived in Austria to have their concerts first performed in Prague. Our Ambassador and the Mayor were invited as a continuation of that tradition," Khemadasa said . He quoted Mozart's 'Don Giovanni" opera as an example. Khemadasa's composition was a blend of oriental and western music.
He was fortunate in having two Czech musicians who could play the sitar and the tabla. They had studied music in the United States where they had learnt to play these instruments . " They were excellent," he pointed out.
"The response from the audience was fantastic, particularly the youth. They rushed to me and said they found the music more soothing and pleasing than what they normally hear," Khemadasa said.
The veteran Sri Lankan cinematographer, Piyasiri Gunaratne (now settled down in Czechoslovakia) was in the audience too. Moved with emotion, he expresssed his feelings in a note to Khemadasa immediately after the performance. "Having spent nearly 15 years in Europe, today was the first day I felt proud as a Sri Lankan", he wrote."Czechoslovakia and Sri Lanka have had close cultural ties from the distant past. Only a very few know that the jewels in the Czech crown are from Sri Lanka. A new jewel was found today, May 6 in the form of Khemadasa's musical creation.
"This is the first time that a Czech orchestra played a compostition by a a Sinhala composer. Let's hope that there will be more of these occasions in the future. We are proud of you."
Yes - we all are proud of Khemadasa.
- Ranat
---
There was romance
By Alya Henry
Recently I had heard of an event at the Lionel Wendt - an evening of Bharat Natyam, presented by the Goethe Institute; performed by Sonja Kleiner, choreographed by Haridevi Jayasundera. I was intrigued by Sonja's story. She was born in Germany, and on finishing her A levels, arrived in Colombo in 1992 and stayed ever since to study Bharata Natyam.
There were eight dance items on the programme. Before the interval, Sonja, trim,taut and terrific, wore a traditional blue silk South Indian dance outfit trimmed in red and embossed in silver, after the interval she was fitted out in red, accented with trimmings in white, and embossed in silver. She was accompanied by a music group consisting of instrumentalists, a drummer, and singers.
The evening commenced with an introductory Song of Praise to Ganesh, by a lead singer who in a mystic, meandering way chanted the ragas and hymns of praise. Like an ancient mournful dirge his chanting created an inexplicably subtle atmosphere, complex, yet curiously appealing.
The first few dances were technical studies. Here Sonja displayed her talented dancing skills.
Her body was taut like a springboard, her limbs moved faster than the eye could catch; turning in different directions at the same time, deftly repeating similar movements with the speed of light; flicking or folding her dainty hennaed fingers, stomping her hennaed feet, hopping and leaping sideways: shooting an arm here, a leg there, separately or in unison; elbows turned in or out; head nodding, or moving from side to side, like a swaying cobra, eyes flicking left to right, lips pursed and smiling demurely. It was an energetic warm-up exercise for gods and goddesses.
Following the technical studies Sonja performed a sweet and tenderly moving dance about the Love of Radha for Lord Krishna, Radha's lover. The blue god with the flute, loved to tease and flirt with the milkmaids till they fell in love with him.
Next a dream sequence - a girl sees a god passing by, aloof, but then before she wakes he looks and notices her. For me this dance was magic; it was pure poetry and dreamlike allure. In the dance before the interval Sonja portrayed a goddess with an infant son. Sonja personified the goddess as she watched over her son, her eyes tenderly smiling, flicking dainty fingers, nodding, swaying her head, loving her son just like any doting mother of a firstborn.
After the interval, Sonja danced an interpretation of dramatic love personifying the love between Shiva and his consort.
There was romance and charm in her every movement, her ankle bells chimed, her gold jewellery twinkled, her smile was beguilingly innocent, her eyes tender and expressive.
To the end, Sonja's performance projected a disciplined sensuality. The drummer pounded throbbing rhythms, the cymbals clashed, while the chanting of mystic ragas in praise of Durga and Parvatti filled the air.
It seems that Sonja had come to understand Bharata Natyam and made it her own artistic self-expression.