We need fast pitches and genuine pace bowlers
The writer, C.I. Gunasekera now 75 years old was in the 1950's a legend in Sri Lankan (Ceylon) cricket. A brilliant allrounder, he captained the national team for several years. In this article he reflects on the past and the present, while suggesting that for the future what we need most would be some powerful pace bowlers and fast pitches. He recalls that some of the Caribbean pace bowlers who came here were so fast that the wicket keeper stood halfway down to the boundary.
By C.I. Gunasekera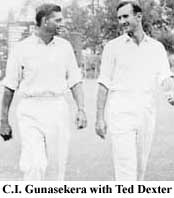 One wonders what was the contribution of the oldies towards Sri Lanka achieving Test status. Although never recording a win internationally some of the performances individually were sufficiently good for the two earliest cricketing nations England and Australia to take note of little Ceylon. And probably made them keen enough to want a whistle stop game when their steamer stopped in Colombo on the way to and from each others countries for the Ashes. That was in the early years going back to the turn of the century when it is on record that our Tommy Kelaart bowled the immortal Dr.W.G.Grace for a duck on the sports ground adjoining Galle Face green. His white Elwood topee is on display in the long room at Lords cricket ground. And so on to un-official Test matches of 3 or 4 days duration until we achieved the ultimate as a fully fledged Test playing nation. England and West Indies, in their magnanimity, on completion of their full test tours of India invariably took the opportunity of crossing over to give Ceylon some matches. India and Pakistan have always been generous to their diminutive but spirited neighbour and have given us many big games home and abroad. In those days the small Burgher community made up at least half the side and completely out of proportion to their tiny population. That was because they were extremely talented cricketers and all-round sporting gentlemen. Alas, most had to emigrate with irreparable loss to Ceylon cricket and all other spheres too. Some made the top level playing state and high grade cricket in Australia while Dave Whatmore represented his new country in Tests. Some names to remember when I was a youth (very long ago) are Horan, De Kretser, Kelaart, Schokman, Joseph, Macarthy, Porritt, Poulier, Heyn, Spittel, Prins, Fairweather and also Saravanamuttu, Sathasivam, Selvadurai, Coomaraswamy Hubert, Albert, Jayawickrema, De Saram, Gunasekara, Wijesinghe, De Zoysa, Nathaniel and others not readily to mind.
So, the post-mortem is on Sri Lanka's debacle in South Africa. I guess the basic reason for our batting failure was our inexperience in coping with the rising ball delivered by tall faster bowlers but this situation will never go away from the international scene. One remedy would be to prepare the fastest wickets in our domestic front and encourage the emergence of genuine fast bowlers.
Fifty years ago we had a really fast green top wicket at the P.Saravanamuttu Oval where all big matches were played. The track (meaning pitch) was the same green colour as the outfield and there was no telling where it was located except by the wickets at each end. In 1948 West Indian giant wicket keeper Walcott, now Sir Clyde, used to stand half way to the boundary in order to collect the bouncers which seemed to rise the height of a mini-coconut tree. There was no batsman's armour so all bought planter type pith topees with chin strap which of course would not afford much protection from a direct but did keep the sun out. The standard drill was ducking early to bouncers. All used this play except skipper colonel F.C.de Saram who preferred the bolder but more dangerous method of standing to attention in true military style and just moving his head out of the way. A man of great wit and classical batsmanship would jokingly deride us who ducked as "sa alaaming to master like an over-polite rickshaw puller." Mercifully, the rickshaw has been phased out in favour of the ubiquitous tri-shaw for short distances and much faster, though in those leisurely days no one needed to get there in such a burning hurry. The rickshow was a blot on our society. The Oval wicket was so fast that England spinner Tony Lock abandoned his spin in favour of medium pace to exploit the fast surface and Keith Miller commented it was the fastest he had ever encountered. Possibly with the advent of the helmet which must generate a great feeling of safety our batsmen may have lost the ignoble art of ducking. Any instructions on the right technique could be had from Mahes Rodrigo who ducked and hammered his way to 135 runs COB in 1948 against West Indies. He opened the innings, so faced the worst of the new ball and ran out of partners or else be would have seen Ceylon avoid losing by an innings. It was one of the most gallant knocks I have seen against fearful odds.
No bouncers are allowed in the short game but in the two Tests the South African fast bowlers skillfully delivered their bumpers at the corpus, may be only to terrify but not to injure the batsman. This tactic was directed against the very innocent looking tail-enders as well whereas a well directed yorker or two would have made for swifter exit of rabbit batsmen and one did get a little suspicious that apartheid may not have been totally eradicated in the home country. Muttiah Muralitharan as the best off spinner in the world got this message when battting and made a strategic withdrawal towards leg umpire before the missile arrived.
No harm to die fighting for your country but getting run out is an inexcusable way, akin to suicide, as it is quite avoidable in normal circumstances of the game. Uncontrolled and irresponsible flashing of the bat against risk deliveries without concern for the side is rather contemptible. Yet, paradoxically, if that same reckless shot instead of getting you out was to make good contact and the ball sped to the boundary everyone would clap enthusiastically. Well that's cricket, that's life.
Whatever the gloomy Dicks may foretell the fact is Sri Lanka has arrived and it is only a matter of time when we solve the long term problems including the finding of replacements for the inevitable aging process of our grand masters and groom well in time their successors. Meanwhile a good hope is that we may discover a couple of giant genuine fast bowlers from the deep south with appropriate instincts to retaliate against all those fast international bully bowlers.
---
The great betrayal IV
'Judge or Judas'
By Neville Abeygunawardena
Let me at the outset quote Andrew Jennings from his best seller 'The Lords of the Rings' which will throw some light to the darker side of sports at the highest level.
"Allegations that bribes have been paid to win Gold Medals, sex scandals, and cover up of dope tests by the secret leadership of the International Olympic Committee, which banks substantial profits and live like royalty while the young athletes sweat and make sacrifices just to qualify for their heats."
Again he says, "The health of the Olympics could dramatically change if journalists asked more questions and fans and athletes spoke up for the sport."
The above would suffice to show the depth of corruption at the zenith and no wonder its fall-outs on the affiliates have made sports management a whole mass of cheating. In this morally depraved scenario what else could the athletes see in the top brass - a Judge or a Judas?
Perhaps when this article appears on print, the fizz would be over the alleged latest drug abuse involving Susanthika, but will remain a piece of corroborative support to the withering doubts of a seemingly foisted exit of a peerless athlete though a prodigal one for her detractors.
When she had a similar problem looming over her head in 1995 after winning the 200 M Gold at the Asian Athletic Championships in Indonesia and her future was on the blocks, the Sports Ministry in unison, its medical unit, and a hastily formed 'Susanthika Fan Club', headed by Professor Anton Jayasuriya, which included amongst others the eminent lawyer Eardley Perera and Dr A R L Wijesekera the former government analyst and national badminton star almost brought the roof down. However it singularly fell on the analytical mind of Dr Wijesekera to medically and scientifically vindicate the honour of this extraordinary athlete. Dr Wijesekera who very painstakingly analysed the structure of the drug Primolut- N which Susanthika was taking under medical advice to delay her menstrual cycle, and having taken into account its chemistry, came out with the theory that when Primolut-N is regularly taken it could metabolize 'in vovo' to produce Nandrolone the banned drug, hence the metabolits of Nandrolone could be present in the urine of a person taking Primolut -N on medical prescription.
It was this piece of finding that won the day for Susanthika, else she would have been suspended for a sin she never committed. What baffles all of us is the stony silence of the sports ministry and its medical unit in this particular instance which apart from being unusual, deepens the mystery.
If in the first drug scandal the minister, and his entire official retinue including 'the much in the news medical unit' almost rallied to a man and literally brought the roof down in defence of our Susanthika, why is the icy cold silence now?
Susanthika is the only athlete after 52 years that has every possibility of giving this country an Olympic Gold or Silver.
---
Fed-Ex to prop Galle Rugby Club in order to boost the game
By Bernie Wijesekera
Galle Rugby Football Club is in a luck's way with a sponsorship package offered to them for the first time by Fed-Ex, a subsidiary of Mercantile Merchant Bank.
This was revealed by Uddaka Tennekoon, Managing Director of Mercantile Merchant Bank, at a press briefing held at the Mandarin Palace (CR&FC).
Tennekoon, himself a diehard rugby supporter said, that if the game is to develop further then it must be encouraged in the outstations, where the schools in the districts have taken to the sport in a big way.
In the past it was confined to a few schools in Colombo and in Kandy.
He further stated that Fed-Ex will strive to open a branch in Galle with a view to giving job opportunities to promising young prospects, so that they will be able to play for their hometown clubs, rather than more over to Colombo clubs for better job opportunities.
In the past there were several teams taking part from Up-country. But today it's confined to Kandy and only two teams playing competitive rugby, he added.
Senerath Wimalasiri, the President of the Galle Rugby Club and Secretary of the Ruhunu RFU, thanked the sponsors for this sponsorship package, which will help them to develop this popular sport which has gained much ground in recent times. This attributes to the personal interest taken by Kumar Abeywardena, who spent his own money and material for the upliftment of this popular sport in the district.
In 1992, it was confined only to the Under-19 age group. But in 1993 it spread its wings to Under-13 and Under-15. I am happy to state that today 28 schools from the Southern Province have joined the scrum. It augurs well for the future of the sport, he added.
There is tremendous interest for rugby in Embilipitiya, Akuressa and Beruwela. Mr. B.K. Ramachandran, who is the coach along with Kumar Abeywardena have worked ungrudgingly to take the sport to many schools and there is a schools tournament in the district.
Major Tilak Ratwatte, who was an outstanding rugby player during his time and played with distinction for Kandy SC as a utility player alongside with Raji de Sylva and later for K.V. He is now living in Galle and one of the livewires for the promotion of rugby in the district.
Galle Rugby Club will play in the 'B' Div. And four of their games will be played in Galle.
Dr. Maiya Gunasekera, the President of the SLRFU, who was also present at the confab along with Vice President Anton Benedict, thanked Fed-Ex for coming forward to help Galle Rugby Club, with this sponsorship which will give them added strength to improve their image.
With Uddaka Tennekoon at the helm, he was confident that it will be a long-term partnership, to develop the sport in the district.
Dr. Gunasekera, further stated that plans are afoot to make Southern Province its headquarters in Galle. Like in other sports the game has to be promoted at district level.
It had to be taken out of Colombo and out of the shores of Sri Lanka. Undoubtedly the game has reached a higher level and the players have improved their skills, who could match the best in the Far Eastern region. This was evident with our performances away from home in recent times, he added. This year there is a long drawn out international programme for the players to compete. This includes a tour to Australia for the annual Northern Territories contest in Sydney, a brainchild of former Trinitian, Dilip Kumar, who is doing much for the development of sport in Sri Lanka, though he is now domiciled in Australia.
The President of the Union had a word of praise for Kumar Abeywardena for his personal interest for the promotion of the sport in Southern Province. He also thanked Royce Samaratunga, the former Sri Lanka and Havies prop who is the General Manager of Fed-Ex, for the personal interest taken by him for initiating this sponsorship package to uplift and boost Galle Rugby Club to go places in the local scene.
---
Best cricketers from 1921 to 1996
The popular Cricket Magazine, the 'International Cricketer' published the names of the best cricketers between the years 1921 and 1996.
These names were picked by Dennis Compton (dcd.) Richie Benaud, Sir Garfield Sobers, Gary Richards, Richard Hadlee, Sunil Gavaskar, Sidath Wettimuni and Hanif Mohamed.
The names are:
England: - Sir John B Hobbs, Len Hutton (Capt). Peter May (Vice Capt), Dennis Compton, David Gower, Ian Bothan, Godfrey Evans, Jim Later, Headley Verity, Fred Trueman Alec Bedser and Frank Tyson.
Australia: - Arthur Morris, Mark Taylor, Don Bradman (Capt). Neil Harvey, Greg Chappel, Keith Miller (V. Capt) Ray Lindwall, Don Tallon, Shane Warne, Dennis Lillee, Bill O'Reilly and Allan Davidson.
South Africa: - Eddie Barlow, Barry Richards, Dudley Nourse, Graeme Pollock, Clive Rice (Capt), Dennis Lindsay, Mike Proctor Brian Mc Millan, Hugh Tayfield, Allan Donald, Neil Adcock, Jonty Rhodes (12th).
West Indies:- Conrad Hunte, Gordon Greenidge, George Headley, Everton Weekes, Viv Richads, Garry Sobers (Capt), Malcolm Marshall, Jackie, Hendricks Michael Holding, Wes Hall, Lance Gibbs, Alf Valentine (12th)
New Zealand:- Stewie Dempster, Glen Turner, Bert Sutcliffe, Martin Crowe, Martin Donnelly, John Reid (Capt), Richard Hadlee, Bruce Taylor, Ian Smith, Headly Howarth, Jack Cowie.
India:- Vijay Merchant, Sachin Tendulkar, Polly Umrigar (Capt): Gundappa Viswanath, Vijay Hayare, Vinoo Mankad, Kapil Dev, Dattu Phadkar, Syed Kirmani (WK), Erapally Prasanna, Bhagwat Chandra Sekhar.
Pakistan:- Hanif Mohammed, Ameer Sohail, Zaheer Abbas, Javed Miandad, Asif Iqbal, Imran Khan (Capt), Wasim Bari, Wasim Akram, Abdul Qadir, Waqar Younis, Iqbal Qasim, Shoaib Mohammed.
Sri Lanka:- Anura Tennekoon, Sidath Wettimuni, Roy Dias, Aravinda De Silva, Arjuna Ranatunga, Duleep Mendis, Michael Tissera (Capt). Mahes Gunatilleke, Chaminda Vaas, Asantha De Mel, Ajith De Silva.
The surprise ommissions in these selections are:
England: - Walter Hammond, Cyril Washbrook, Bill Edrich, Leslie Ames, Maurice Leyland,
Australia:- Alan Border, Warren Bardsley and Bob Simpson
South Africa:- Alan Melville, Bruce Mitchell and Jack McGlew
West Indies:- Learie Constantine, Sir Frank Worrell and Clyde Walcott
New Zealand:- Ian Smith
India: - Lala Amaranath, Rasi Modi, S. Mustaq Ah, C. K. Naidu and C. T. Sarvate.
Every one of the cricketers should not only be best picks for their respective countries but also best picks for a world XI
Sri Lanka:- M. Sathasivam, Sargo Jayawickrema, F. C. de Saram, C. I. Gunasekara, Dr. C. H. Gunasekara, Mahes Rodrigo, Ben Navaratne, M. K. Albert, S. Saravanamutthu, Stanley Jayasinghe.
---
Dhanasiri Weerasinghe on the local scene
More facilites now for Sri Lanka cricketers
By S. Sivendran
Dhanasiri Weerasinghe, one of the most stylish cricketers of the fifties and sixties was on a flying visit to Sri Lanka from Australia where he is permanently domiciled with his wife Dr. Chatra, who is a leading consultant Psychiatrist and three daughters.

Dhanasiri who began his early education at St. John's College, Panadura, later joined Ananda College, Colombo and blossomed into a great stylish all-rounder. He played cricket for Ananda from 1955 and crowned himself by captaining his 'alma mater" in 1955 in which year he was chosen the best all-rounder in schools and Ananda College became the unofficial champions in school cricket. His champion team that year had cricketers of the calibre of Nimal Tammita who was chosen the best bowler in schools and who too is living in Adelaide, Australia, Sarath Weerasinghe, an opening fast bowler who too is living in Australia, Parakrama Molligoda, Ranjan Lekamwasam, Palitha Premasiri, Dr. Mahinda Jayasinghe and Anuruddha Polonnowita to name a few.
Dhane, having left school played for his hometown Panadura Cricket Club and thereafter played for Bloomfield Club which was at Campbell Park without a proper cricket grounds and Clubhouse, for ten years. During this period Bloomfield Cricket Club did well to win the P. Saravanamuttu Trophy the premier cricket tournament in 1964 under the captaincy of Noel Perera, for the first time in the Clubs history humbling the more afluent clubs such as SSC, NCC and Tamil Union. This champion Bloomfield Cricket team had some outstanding cricketers such as Bonnie Wijesinghe, W.A.N. Silva, Norton Fredrick and Mahinda Wijesinghe.
Dhanasiri played for Sri Lanka from 1959 to 1971 and captained his country in 1970 against Australia led by Ian Chappell and again in 1971 to South India to win the Gopalan Trophy. His team comprised some of the greatest cricketers such as Dr. H.I.K. Fernando, Anura Tennekoon, Buddy Reid, Ranjith Fernando, T.B. Kehelgamuwa, Norton Fredrick, Michael Tissera and Fritzroy Crozier.
Dhane recalls with pride that he was a member of the Sri Lankan team led by Michael Tissera which won the first ever one day cricket match against England led by Colin Cowdrey. In this match Dhanasiri scored a quickfire 42 runs and Anura Tennekoon got a half century.
Dhanasiri joined the police with me in 1958 and we were room-mates whilst under training for six months at the Police Training School at Kalutara. He was the mainstay and captained the Police Cricket team till he left the Police in the seventies. He also represented and captained the Government Services Cricket team for several years. He played hockey for the police and Government Services. A motor cycle accident whilst in the police made him to give up his cricket and hockey prematurely.
Having given up active cricket he was involved in cricket administration and was the Chairman of Selectors in Sri Lanka for several years before migrating to Australia.
During his recent visit to Sri Lanka I met Dhane at dinner and he made some interesting comments about Sri Lanka's cricket as he is still a great follower of Sri Lankan cricket.
Q. How do you compare today's cricket in Sri Lanka compared to that of yours when you played for Sri Lanka?
A. Today there is more money in the form of sponsorship than those days, more facilities, more foreign tours and more foreign teams visiting Sri Lanka. During our days there were only two or three teams visiting Sri Lanka. We had to fend for ourselves as sponsorship was never heard of those days. The wickets were never covered and the players too were never covered with protective gear such as thigh guards, arm guards, chest guards and helmets as today and were left with the pads, gloves and the protector guard below the waist. As a result the batsmen of my time were technically sound and could cope with most pitch conditions.
Q. How do you compare the cricketing talent of today in Sri Lanka to that of yesteryear?
A. It is hard to make comparisons as the cricket was played in different eras and under completely different conditions, as I have explained earlier as regards covered and uncovered wickets. Without a doubt batsmen of the calibre of M. Sathasivam, F.C. De Saram, C.I. Gunasekera, Stanley Jayasinghe, Michael Tissera and Anura Tennekoon to name a few could have comfortably played in any team in the world. Today's players themselves too are craftsmen of their trade and the performance of Sidath Wettimuni, Duleep Mendis, Roy Dias, Arjuna Ranatunga, Aravinda de Silva and Sanath Jayasuriya are a good indication of their high standard.
Q. Can you tell today's readers some of the best cricketers with whom you have played in Sri Lanka during your time?
A. The names that come to my mind are F.C. De Saram, M. Sathasivam, C.I. Gunasekera, Stanley Jayasinghe, Gamini Goonasena, Dr. H.I.K. Fernando, Michael Tissera, Anura Tennekoon, Anurudda Polonnowita, Abu Fuard, Neil Chanmugam, T.B. Kehelgamuwa and Sonny Yatawara to name a few.
Q. What are your comments on the recent Sri Lankan tour of South Africa?
A. Slightly disappointing and there could be several reasons for their performance such as bouncy wickets, some poor umpiring decisions, a few technical deficiencies in the top batting order and weak bowling. It is my opinion that if Sri Lanka is to continue its good run both in the one dayers and in the Test arena a high class left arm spinner is an essential part of the bowling armoury. In particular we seem to be over-using M. Muralitharan, who in my opinion is one of the best off spinners in the world, exposing him into physical danger. With a good left arm spinner supporting him, he would have many more years of cricket and many more wickets which would enable Sri Lanka to enjoy success. We also should look for promising young fast bowlers who are well built and tall who could pose the same threat as the pacies of the West Indies, Alan Donald of South Africa and Glen McGrath of Australia on fast and hard wickets. It is time to blood younger talent such as Russel Arnold, Mahela Jayawardena and other up and coming youngsters by giving them more opportunities and giving some of the senior players a rest from less important matches.
Q. Of all Sri Lankan cricket administrators whom do you consider as the one who contributed most for the development of cricket in Sri Lanka which enabled Sri Lanka to become world champions?
A. Without any doubt and hesitation it was the late Minister Gamini Dissanayake who at great pain and much enthusiasm restructured the Board of Control for Cricket in Sri Lanka and made it financially viable which made the ICC to give us the nod to enter the Test arena.
---
Cyril Washbrook vs Alan Wharton
By Bruce Morris
In the 1950's there were two 'W's who opened batting for Lancashire. Cyril Washbrook and Alan Wharton. Times without number they would give Lancashire flying starts. Washbrook of course played for England and so would have Wharton. But then England had Hutton, Edrich, Simpson, Ikin and Washbrook himself.
However for some reason, Washbrook and Wharton hated each others guts. In one particular county match, they had put on almost 200 and both were in their 90's. Washbrook was on strike and Wharton at the other end on 99. Washbrook pushed a ball to mid-wicket and ran. It was a risky one because mid-wicket was racing in. Wharton yelled, 'NO!' Washbrook stopped dead in his tracks, turned, dived back and made it just before the wicket was broken, Washbrook was fuming. He picked himself up and told Wharton, 'look here Wharton, it is a well known fact that I am the best judge of a single in England.' 'And back came Wharton,' and look here Washbrook, I am telling you, that when I am on 99 I am the best judge of a single in the whole bloody world.
The daddy of all run outs
Sam Cook and Tom Goddard were two great spinners who played for Gloucestershire. As for batting they were quite capable of holding an end up. But where running between the wickets was concerned they were utter write offs. So if they happened to be batting together it was certain that if Cook did not run Goddard out, then Goddard would run Cook out.
George Emmett the skipper got sick of this and before a particular match warned the two of them that if either runs the other out, both will be suspended for two matches without pay.
In the next match both were injured but insisted on batting with runners. Cook was on strike and as he hit one on the off-side his runner called and ran. Goddard's runner also took off. But all of a sudden Goddard yelled, 'Go Back!' Cook's runner turned and ran back, but Goddard's runner did not. As a result both runners and Cook ended up at the same end. Goddard then remembered his captain's warning, and he too hobbled down to the end and all four of them ended up at the same end. Needless to say someone was run out and Gloucestershire were all out, Goddard and Cook came off followed by their runners, waving their bats to the ribald shouts of the crowd.
But Emmett forgot to carry out his threat because he had the biggest laugh.
The day Emmott Robinson told his prayers
Many years ago there was a fast bowler named Emmott Robinson who played for Yorkshire. This fellow was also a great character. Now Robinson being a Yorkshireman hated the guts of every Lancastrian.
One day Yorkshire had to play Lancashire in a crucial county match and Robinson came to the ground very early. There was nobody in the Yorkshire dressing-room. Neither was anybody in the Lancashire dressing-room. Robinson then ran back, took a cushion and went into the shower-room.
He then knelt down and prayed. 'Almighty God, I know that Thou art the greatest judge. Today the most powerful teams in England oppose each other. Lord, if Yorkshire has the better team they will win. If Lancashire has the better team they will win. But Lord, if Thou will mind Your own damn business for the next seventy-two hours, we will thrash the bloody daylights out of these Lancashire buggers.
She'll get them out
In the second Test between Australia and England played at the M. C. G. in 1925, Australia batted first and scored 600 runs.
England then opened with Hobbs and Sutcliffe. The two put on 283 for the first wicket, batting for one whole day. And this against an attack that comprised, Gregory, Kelleway, Mailey and Hartkopf. Collin's and his side was given a real going over by the crowd. From the outer came plent of advice for Collins how to get Hobbs and Sutcliffe out - 'Collins why don't you try the umpires?' 'Why don't you send for the bloody twelfth-man?' 'Why don't you put the bloody clock on?' 'Then we can all go home'. 'Finally a wag in the crowd brought the house down, "Hey Collins, why don't you send for nurse Blanc? She'll get the (Bastards) out.'
That morning a nurse by the name of Mrs. Blanc was jailed in Australia for performing an illegal operation on a pregnant woman.
The day Lindsay Hassett played Charity Commissioner
When Australia were on tour of England in 1953, Arthur Morris bought a new bat before a county game. in the morning he was proudly displaying it, hoping that the others will take a look at it and commend his new purchase. However, to his disappointment the others ignored him.
Morris was not playing in this particular match. Hassett won the toss and decided to bat first. While padding up he asked Morris if he could use his bat. Morris of course very proudly handed it to Hassett, not knowing what was in store for him.
When Hassett got out and was coming off, a small boy approached him for his autograph. Hassett promptly autographed the bat and gave it to that kid. Who needless to say grabbed it and ran for dear life. The rest of the Australians were on the balcony watching this performance. Morris was turning red in the face - and there was nothing he could do about it - while the others were splitting their sides with laughter.
As soon as Hassett stepped inside, Morris went for his throat. 'Lindsay, what the hell do you think you did?' Did I not tell you that was a brand new bat and I hadn't even used it. 'But Hassett putting on his most innocent face, and a comforting arm round Morris' shoulder said, 'but Arthur, you should have seen the look on that kids face when I gave it to him.'
And that was the end of Arthur Morris' brand new bat.
Ever heard of forgers chummie?
In 1946-47 the M. C. C. toured Australia under Walter Hammond and lost the series 4-0. It was the first 'Ashes' series after the war and in the team were many who were making their first tour of Australia - Hutton, Edrich, Washbrook, Compton, Evans and Bedser. They made the voyage to Australia on the 'Stirling Castle' and Compton who is very fond of kids was in great demand as champion nursemaid helping to mind war bride's babies. In fact he was the most popular of the M. C. C. players on this tour - especially with the barrackers. 'Have one with us Compty', became an embarassment as he was offered glasses of beer while fielding near the fence. But he limited himself to only two a day. If those barrackers had their own way with him, Compton would have seen cricket balls flying all over he firmament. And in the heat of Australia, Compton must have lost plenty of saliva. Because iced beers must have been a real temptation.
One evening at the nets, an Australian boy walked up to Compton. In one hand was his autograph book and in the other was a picture of Compton which he had cut off a newspaper. Between his lips drooped a wet fag. He stared at Compton, compared him inch by inch with the photograph and at last asked Compton point blank, 'you Compton?' Then Compton said, 'Yes of course.' 'Are you sure?' asked the boy, 'yes son I am Compton. You believe me don't you?' said Compton. The boy rather doubtfully then offered his book. At the same time asking Compton, 'ever heard of forgers chummie?'. with such a knowing leer that the other M. C. C. players almost collapsed with laughter.
An Australian 'Sheila' is taken for a ride
In the first Test of the '46 - '47 series at Brisbane, the M. C. C. were well and truly thrashed. Living at the same hotel at that time with the M. C. C. cricketers was a boxer by the name Kid Berg. A sweet Australian 'Shelia' managed to scrape a friendship with Alec Bedser, haunted him like his shadow, and said "as plain as 'goo-goo' eyes can speak, aren't you wonderful." This went on for some days as this 'Sheila' was really something straight out a box of chocolates. But one day another player, who was also trying to 'catalogue' this girl, went and spoke to the adored by name. And that was the end of the party for Bedser. When the girl heard the real name she almost blew her top off. She whirled on her victim of admiration. "'How dare you?', How dare you?' I thought you were Kid Berg!'" Then flounced off scarlet with fury leaving all of them who were by now holding their sides and laughing.
---
The secret of turning the ball
By Ranil Abeynaike

The saying goes of top class bowlers, that they can make the ball talk! It quite simply means they have developed their bowling skills to the extent of moving it through the air and then deviate off the pitch.
In an age when there is so much of cricket, batsmen have the opportunity of playing numerous match innings practising for hours on end. Not only do they have bowlers to practise against, but they also have bowling machines too at their disposal.
Sri Lanka produces top quality batsmen regularly. The possibility to play the game throughout the year coupled with reasonably good playing surfaces contributes to this. Many coaches too have the ability to hone batting talent but not too many have the know-how to develop bowlers.
From the quick bowlers, Dennis Lillee, Richard Hadlee, Imran Khan, Andy Roberts, Michael Holding, Joel Garner, Malcom Marshal, Bob Willis and Kapil Dev rank among the best of recent times. They all had the ability to move the ball in the air into and away from the batsman and so too off the pitch. The abilty to do this is the first step towards being a good quick bowler. They all bowled with pace for a major part of their careers, then slowed down adding variations to their armoury.
Talk of variations, a lethal bouncer and a well concealed slower ball are two deliveries you have to learn early in a career. Then follow the cutters - rolling the fingers around the seam and using the wrist. Lillee and Hadlee perfected that art late in their careers. The fairly new discovery is the reverse swing. In addition to learning the ability some sort of doctoring of the ball is also a requirement. Now what a lot of variety is available for any bowler taking a long run up and letting the ball go. How many though even attempt to try even half of these types of deliveries. Most bowlers simply run in and just let the ball go. Bowling requires a lot of thinking. No more can quick bowlers be classed as not too clever people. They have to be taught to be thinking bowlers. A word of advice to all young quick bowlers - learn all the variations and practise hard. It will make fast bowling a pleasurable business.
Spinners have an equal task. They deliver the ball at a much slower pace, with flight, spin and guile being their main weapons. Like the great pacemen spinners like Bishen Bedi, Richie Benaud, Lance Gibbs and now Shane Warne have stood out among the modern day spinners.
Being slower off the pitch and in the air, spinners have to be accurate. Line and length is of importance. The ability to spin the ball through, is what makes the difference. Sri Lanka's Muttiah Muralitaran is always awkward to handle because of that additional turn. Unlike the quicker men, the spinner's variations are subtle. Changes in flight, use of the crease and a quicker delivery are the standard variations.
The leg spinner has more cards to play. The top spinner, the wrong 'un, the flipper combined with over-spin and side spin makes a wrist leg spinner more capable of picking up wickets than a finger spinner. Lack of accuracy is what most leg spinners tend to suffer from. The message is quite clear. The secret to success in bowling is being able to master a repertoire of deliveries. Not just being able to bowl them but being able to do so accurately.