Triple ride ends in tragedy
Three friends riding treble on a motorcycle ran into a fatal tragedy when two of them were killed in a collision with a bus at Wadduwa, the police said.
The rider Sarath de Silva and Malinda Silva who were on the pillion was killed while the third pillion rider S.P. Karunaratne suffered injuries .
---
Ex soldier in robbery
An ex-soldier who allegedly led an armed gang in the robbery of Rs. 68,000 from a cigarette delivery van at Bandaragama has been tracked down and remanded, police said.
They said three others including an alleged contract killer had also been nabbed over this incident which took place on Thursday.
---
Born to serve Buddhism and country

Gamani Jayasuriya —social worker, Buddhist activist, politician and people's representative — who passed away last Saturday after a brief illness, has left an indelible mark on the Sri Lankan political and social landscape. Mr. Jayasuriya was known as a man of principles. Not only did he oppose the Indo-Lanka accord, but he also resigned from the Cabinet, thus putting principles before positions.
He was also known to be a committed Buddhist and in recognition of his services to the Dhamma, he was awarded the titles of Srilankabimani and Sasana Bandu Janarnajana Keerthi Sri by the Mahanayakes of the Malwatte and Asgiriya Chapters. Today, we reproduce an article The Sunday Times published on the eve of the conferment of these awards on Mr. Jayasuriya, in 1996.
It is a rare, if not un precedented hon our accorded to a layman. Today, in a solemn ceremony, the Most Venerable Maha Nayakas of the Malwatte and Asgiriya Chapters will bestow the titles of Sri Lankabimani and Sasana Bandu Janaranjana Keerthi Sri on former Cabinet Minister Gamani Jayasuriya, a true and honourable son of Lanka.
Today, coincidentally is the day after the 2333rd anniversary of the advent of Buddhism to Sri Lanka. For Mr. Jayasuriya, now 72, a man who has dedicated his life to propagating the Dhamma and Buddha Sasana, the honour comes as somewhat of a surprise, never having sought such recognition. "I feel I must accept it," he says, "even though one cannot take such titles to another world when one passes on. It is good that the Sangha show its appreciation for the efforts of lay people. The Sangha are the most venerated class of people in this country, revered in the past by kings and presidents alike. It is an honour, thus, to be chosen by them."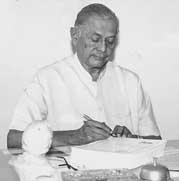 Ganimi Jayasuriya: man of principles


Mr. Jayasuriya's guiding philosophy to nurture the Buddha Sasana was largely inspired by his mother, whose greatest wish it was that her only son be of service to Buddhists in this country. Herself, a niece of the great Anagarika Dharmapala, Sumanadevi Hewavitarane strongly believed that laymen should dedicate their lives to this task and constantly upheld this to her young son, even when he was just a boy of six or seven.
Stricken by illness, she was due to go to Vienna for treatment and fearing that she would not return, she wrote a long letter to her son, which was left with her solicitors Julius and Creasy with the instructions that it be given to Gamani, in the event of her death.
Mrs. Hewavitarane did return from Vienna, but passed away seven years later, at which time the teenage Gamani, received his mother's letter from the solicitors. In it, she had written of her wish that he be of service to the Buddha Sasana and the Sinhala folk of this country. Gamani was then brought up by his grandmother, but as he recalls his mother's words were always constant in his mind, reminding him that there was more to life than worldly ambitions and personal gain.
Yet, the young Gamani was no ascetic, who renounced worldly pleasures. As a Royalist, he had more than his share of schoolboy pranks. Playing truant once, he crashed his grandmother's car, compounding the offence by driving without a licence. He recalls playing cricket enthusiastically and the regular "gothamba roti" feeds with his friends at the then famous haunt of Lion House in Bambalapitiya.
But deep down, his mother's call was always remembered. His schooldays behind him, he joined the Maha Bodhi Society founded by his granduncle, the Anagarika, enrolled with the Young Men's Buddhist Association and later became a member of the Vidyadara Sabha of the Vidyodaya Pirivena. He also began taking an active interest in the Mallika Home for Elders, which institution had been set up by the Anagarika's mother. Mallika Hewavitarane and subsequently became a trustee here. He was also to become a trustee of the Adheekshana Mandalaya on Buddhist Affairs.
Politics also ran in the family, just as much as the Buddhist faith and thus it was only natural that Gamani should be drawn to it. His father had represented Avissawella in the State Council, his granduncles Neil Hewavitarane (Hiniduma) and Rajah Hewavitarane (Matara) too being members of the State Council. He contested the Homagama seat in the 1960 elections and won comfortably, being re-elected again in 1965. Dudley Senanayake appointed him Deputy Minister of Education and Cultural Affairs.
Undeterred by a setback in 1970, when he lost his seat at the polls, he remained in politics, contesting again in 1977, when he was re-elected in the UNP landslide and appointed Minister of Health in the J. R. Jayewardene government.
As Health Minister, he instituted many reforms, chief of which was the setting up of the Post-Graduate Institute of Medicine, which helped young doctors, especially those from under-privileged backgrounds gain a postgraduate qualification in Sri Lanka by supporting them with funding and scholarships. Unlike in the present era of strikes, Mr. Jayasuriya as Health Minister maintained a healthy rapport with the GMOA, AMS and other unions. In a warm tribute to him, upon his relinquishing the Health portfolio to take up the Agriculture Ministry, the GMOA President wrote affectionately "Adios Amigos. Adios, our friend."
At the Agriculture Ministry, Gamani launched the Farmers Pension Scheme, guaranteeing farmers stability and security, something that they lacked in the fast changing economic scenario where industry was fast gaining precedence over agriculture.
During his over 30 years of political life, Gamani held several important posts within the UNP among them that of Joint Secretary, but more importantly he is remembered as the politician whose career was characterised by honesty, decency and integrity. No whisper of impropriety ever clouded his path.
In his own political decision making, he created history in the UNP itself by refusing to vote against the Sirimavo Bandaranaike government which took over the schools. After much debate, the UNP permitted him to exercise a "vote of conscience" that has set the precedent for those MPs who wish to oppose the mighty authority of the party on grounds of their own personal beliefs.
But the high water mark of his political life was when J. R. Jayewardene introduced the Indo-Lanka Accord of 1987. Gamani opposed it in Cabinet before President Jayewardene himself and then resigned as Minister and as MP in protest over the North-East merger issue. He then went before the country to explain his stance.
Mr. Jayasuriya was not to remain the rebel in the ranks of the UNP. Following the dictates of his conscience, he opted to give up politics.
When Ranasinghe Premadasa was elected President, messages were despatched to Gamani, asking him to return to the political arena as his Prime Minister. He was unmoved, insisting that he would only return, if the conditions that caused him to resign were removed. Premadasa however, thought it not politic to meet this stipulation, though he himself had opposed the merger privately. Should he have accepted Premadasa's offer, Gamani may well have been president of this country, instead of D. B. Wijetunga. Dudley Senanayake in fact had groomed him to lead Lanka one day.
Mr. Jayasuriya opted to stand firm always following his conscience, rather than trade his principles for a mess of pottage in the form of the Presidency.
He now leads the Sinhala Arakshaka Sanvidanaya (SAS) in untiring pursuit of protecting the Buddha Dhamma and the Buddha Sasana; at peace with himself and 'shining a candle that throws its beacon in this naughty world' an example for generations to come.
In the latter part of 1987, Mr. Gamani Jayasuriya resigned from his portfolio as the Minister of Agriculture as well as from his seat in Parliament in protest against the Indo-Lanka accord.

As is the tradition an MP leaving Parliament is entitled to make a farewell speech.

Mr. Jayasuriya was refused that courtesy-The Sunday Times will publish next week the speech he could not deliver.
His memory will surely be an inspiration
In a world in which corruption, insincerity and hypocrisy have become commonplace, Gamani Jayasuriya was unique, a genuine and honest politician. He had an undisputed reputation for having a love for his people and country which rose above self and personal gain.
The zenith of his tenacity to abide by these ideals and principles was his resignation from the portfolio of Minister of Agricultural Development,. Research and Food of the UNP government in 1987, as he opposed the signing of the Indo-Sri Lanka Accord. This decision was prompted by his personal conviction that the Accord was detrimental to the preservation of the motherland.
Mr. Jayasuriya had a deep and unshakable commitment to protect and safeguard Sri Lanka, a commitment he continued in the noble traditions of his illustrious ancestor, the late Anagarika Dharmapala. He violently opposed any action which he felt was a threat to the integrity of Sri Lanka, even if it meant loss of position and power.
Most people acknowledged that in fact, he gained more power through this as he got prominence as one who had the courage to act according to his convictions.
Mr. Jayasuriya was a simple and unassuming man of great gentleness. Not for him was the flamboyance and aggressiveness of modern-day leaders. He shunned unnecessary pomp and pageantry and all that was artificial and superficial. He was content to be by himself and stand alone if needs be, to do so. He exerted power through his credibility and untarnished reputation for being a just and honest person. He commanded the respect of those people who valued these qualities in a leader, who admired him for his sincerity which distanced him from the false and sordid. Although gentle in manner, he was strong and forceful on issues he truly believed in.
Mr. Jayasuriya had a long and distinguished carreer in politics. He was a Cabinet Minister, Member of Parliament and was a Joint Secretary of the UNP for several years.
He was a dedicated Buddhist worker. He held the posts of Trustee of the Anagarika Dharmapala Trust, President of the Maha Bodhi Society and was the Secretary of the Vidyadara Sabha which manages the Vidyodaya Pirivena, Colombo.
He was also President of the Indo-Sri Lanka Society and Sri Lanka Nepal Buddhist Congress.
He not only worked to foster Buddhism, but led an exemplary life which embodied the principles of Buddhism. Although there were many facets to the personality of Mr. Jayasuriya, the words of Sir William Osler most reflect the manner in which he lived his life.
"To have striven, to have made an effort, to have been true to certain
ideals - this alone is worth the struggle.
We are here to add what we can to, not to get what we can from, life."
Mr. Jayasuriya the honest politician, the tireless Buddhist worker and the great patriot is no more, but his memory will surely be an inspiration to those Sri Lankans who value honesty, decency and sincerity in political leadership.
In a world torn apart by corruption, violence and hypocrisy we need to be grateful for the life and times of Gamani Jayasuriya who showed us that it is possible to live up to noble ideals, values and principles even in the world of today.
May he attain Nibbana.
– Hiranthi Wijemanne