In order to put 'spine' back to cricket umpires....
Bird to fly worldwide
By Bernie Wijesekera
Dickie Bird, the most popular senior cricket umpire in the international scene, with 66 Tests and over 150 limited-over international games, will call it a day after the 1998 county championships.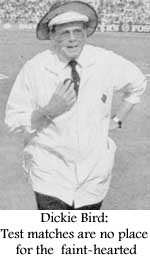 Bird, the most recognised umpire in the world was to have retired after a northern season, but on check in his age he's qualified to complete another season in the county circuit.
No nonsense
Bird, who acted without fear or favour wherever he stood, with his code word being 'no nonsense' on the field and commanded respect from whatever quarter be it in the meadows of England or otherwise. A Yorkshireman, who played in the company of Geoff Boycott, Ray Illingworth, Freddie Trueman and later crossed over to Leicestershire alongside Sri Lankans Stan Jayasinghe, Clive Inman etc.
Dickie never went behind players, or called them 'Sir' unlike in some quarters here to be in the Test panel. It's the players, who called him Sir.
His international career spanned over 23 years. Nobody could vouch that he didn't make mistakes, but the players acknowledged that he made fewest, even when distracted by pitch invasions.
In the past with such all-time greats like Sir Don Bradman, Wally Hammond, George Headley (Black Bradman), Vijay Merchant, Len Hutton, Alan Melville (S. Africa), Martin Donnelly (N. Zealand), and our own M. Sathasivam, Sargo Jayawickreme etc., there wasn't the electronic eye or the third umpire to adjudicate. It was the human element that controlled the game.
Bird, after his retirement, is considering a globe-trotting role to put the spine back in umpires, who might otherwise take the easy option and draw an endless series of squares in the sky.
Withstand
He will go around the world to bring the balance among the human element rather than solely depending on the electronic eye, which is common today for line decisions. He's not going to educate them on the laws, but strive to make them mentally strong in the Test arena. They will also be able to withstand the constant appealing which has plagued the game today.
He further states that Test matches are no place for faint-hearted, which has caused problems in the international scene. He has been accused in some quarters, who know him least, of bringing a showman's style to the traditionally anonymous umpires role.
His attitude on and off the field, bore testimony that he never broke down or became a nervous wreck even under pressure. Long before he became a world renowned umpire he was never accused of being faint hearted. He says, he always believed that you make your own decisions and stand by them.
Dickie further states that he never watched TV replays to see, how he got on. Not once. If I had, I think I had gone crackers. Then probably I don't know, if I got 90 percent of my decisions wrong, he adds.
The worst that could happen to an umpire is to watch TV replays. You start worrying what can you do about it. Do what you believe what is right and carry on for the next day.
Nightmare
An umpire of Bird's calibre, might get away with it, but to those, who make mistakes, the TV replay is a nightmare.
Well, if we are not trusted to make decisions, then let the TV do it. Why should we suffer in the end.
Bird recognises the trend. He is aware of it and hates it. He sees the value of line decisions, run outs and stumpings, but he says it has gone, too far. How could the magic eye decide on a caught behind, a bat pad catch or a leg-before. There are, too many factors that come into consideration. If they bring in any more electronics, then the umpires are going to lose confidence, in their decision making. The camera will take much away from the role of the umpire. This will not help the game in the longer run. This is one reason why I'd love to take on some sort of role, to help the umpires to have confidence in themselves.
He further states that there is, too much professionalism in the game unlike in the past and they want perfect decisions. One can't climb the top from the top. It has to start from the grassroots level. The person, who make the least mistakes, will get to the top. This is true in any walk of life and it also applies to the man in the long white cloak.
He piloted the neutral umpire scheme and ventured abroad. He says he was assigned the so-called awkward teams like Pakistan. He used to get lot of them. I can honestly say I had no problems with the players anywhere. I used to laugh and joke with the Pakistani players and calm them down and at times they tend to get over-excited. I couldn't understand a word what they were saying, but I suppose, too many of them, understood my Yorkshire accent.
According to Bird, the media was critical of the Aussies, in the '70s, but Dickie thought that they were a great side. Bird, further states that Ian Chappel was one of the greatest captains he had ever seen. He really fights hard on the field, but a lovable character off the field. There were likes of Thomson, Lillee and Marsh in the team, but I had no problems with them.
Bird says, when he arrived in Perth to promote his autobiography Australiawide, he treasures Lillee's gesture. 'He rang me up to say hello to an old mate. He's the greatest fast bowler the world has ever seen. You can't buy memories like that, Bird quips.
He will have truckloads of memorabilia at his cottage in Barnsley - the land Holmes, Sutcliffe, Harold Rhodes, Verity Bill Bowes and Len Hutton and Boycott, Illingworth and Freddie Trueman, lived.
Bird, vividly remembers the first World Cup between Australia and the West Indies - the final at Lord's in 1975 - as the greatest game he umpired. He was booed off Lord's during the Centenary Test and applauded every step onto it, when he umpired his last Test match, England-India, in 1996, amid tears.
Lord's has been his second home. He would like to have his ashes strewn there when he's gone. But they don't allow that to happen. Not for mortal men, but for Dickie Bird, the legendary umpire.
Treated
All this attributes why Bird has gained worldwide recognition, because he held the scales even and treated everyone as equals be they from England or otherwise. He may have made human errors, but never cheated. It paid dividends on the longer run.
With his worldwide mission to give much strength to the human elements, he will be able to hatch many more "birds" for the future to strengthen the umpiring fraternity.
---
Ranil Abeynaike writes...
Two captains for one team in long, short games
Since the Kerry Packer cricket series shook the world in 1977 there has been constant changes in the game. Administrators, players and everyone else involved are always looking at making the game more attractive. From a playing point of view it is a matter of attempting to outplay your International opponent.

The hustle and bustle of one day cricket has come to suit certain players. A captain these days has to be good enough to find a place in the team in order to lead his side. At the highest level, selectors are picking players on a specialist basis for the two forms of the game. Some players are good enough to adapt themselves whilst weaknesses in others tend to expose their game.
Is this a move in the right direction? The Australian Test captain Mark 'Taylor feels otherwise. On his return from the unsuccessful campaign in India he commented that having two captains was affecting team morale. Players like Taylor who have been brought up into the game when one squad formed the players who were picked for both forms, obviously find change hard to accept.
Captains like Arjuna Ranatunga, Brian Lara, Hansie Cronje and Mohamed Azharuddin have no qualification problem. All four are top order batsmen. Their strong points include, ability to play strokes around the wicket, solid defence, the capacity to pace out and play long innings as well as play short explosive knocks, being powerful hitters of the ball, unflappable concentration, the will to fight back under pressure and a cool, collected temperament - a selector's dream.
These men have an astute knowledge of the game. So why look further for leadership qualities.
Mike Atherton who gave up the England captaincy after the Test series against the West Indies was in a similar situation to Mark Taylor, having to share the responsibilities with Adam Hollioake. Atherton has not openly stated so but the two captains situation must have had its effect.
He had a long run through and perhaps felt it was certainly time to pass on the responsibility. This situation is most likely to continue for England as Hollioake is not an established Test player.
Many young players coming into International cricket may in the future be satisfied in playing in one form of the game, if not the other. There is no doubt however that any cricketer enjoys himself in getting involved in both the long and the short game.
Time will weed out the specialists. It could therefore be an accepted situation that two players will emerge as captains for the two forms of the game, come the next century.
Taylor's last words go like this:- "At the moment we have different sides and two different captains, where's that leading up I don't think anyone knows". Now, that is where the danger lies.
There can be no breakdown in communication.It has to be a smooth accepted process where the leader and the players have that perfect understanding and are aware of the goals, the plans and the direction they are heading .
In the days gone by the English picked their captain and then picked the team. The Australians picked their team and then picked a captain from amongst them.
Both methods have their pluses and minuses. The ideal situation for any country would be to find players in the calibre of Ranatunga, Cronje, Lara and Azharuddin and then get them to lead in both forms of the game.
---
First three of the best twelve
Some 'Crackers' for the current Flat Season
By Ismail Khan
With the jumps season winding down, thoughts now turn to flat racing in toto and Newmarket and Epsom in particular where most of the current season plums are due to be run.
First classics are only a month away and the Derby at Epsom Downs is only nine weeks away.
Now I like to let you in, into the magic box and let the seer peer into the future stars of the season. To help the magic box itself I have rummaged quite a lot of racing periodicals to pick a few of them, especially the best ones to come up with this lot.
I hope the lot, including handicappers, sprinters, stayers and Classic hopes, would be noted down in your note books and pick them out as and when required. Some of them could pay nourishing dividends. So keep them on the right side.
Here we go:-
ANYTIME: A 3 year old trained by Henry Cecil has a lot to live up to this 1998 season. While he failed to make it to the course, his half sister Sleepytime and half-brothers Ale-Royal and Taipan each won Group One Races. It is said that Anytime will more than uphold family honour when he makes it to the track. It is also reported that on the gallops he has been higly encouraging and should more than repay the trainer's patience this term. It is expected that Anytime could well develop into a Pattern race contender and his connections are already thinking of a second entry stage. So well is he shaping up in trackouts.
ELNADIM: John Dunlop's 4 year old is reported to be the best sprinter the trainer has trained since the days of Habibti in the early 1980's. He progressed with every run last season getting on from handicaps to run away with the Group II Diadem Stakes at ascot in September by three lengths.
Think of nothing in his subsequent defeat at Newmarket as it was the seven furlong trip which did for him, or rather undid for him.
Back over sprints he is sure to win more big prizes particularly as rivals such as Coastal Bluff and Compton Place will be burdened with heavy penalties for group wins.
DESERT BEAUTY: Michael Stoute's charge a 4 year old now has been the pick of this versatile trainer's lot on the superb win she gained at Newmarket in a handicap last October.
Sent off at 9 to 4 favourite for a 29 runner event on the Cesere- witch day, she made even that price look generous as she trotted up by a length and three quarters without Frankie Dettori having to get all that serious.
Also she was far from disgraced when third in a listed event when returned to Newmarket on her final start particularly as the slow pace was all against her that day.
Desert Beauty is the sort to go improving for a while yet and she could make her mark in Pattern races this term.
Also connections are toying with the idea of taking her to Ireland and France for some tantalizing plums.
Anyway keep a tab on this bright lady from the Stoute Brigade. She could well smile on you profitably.
EMBASSY: Trained by Saeed Bin Suroor is the Godolphin connections main hope for classic glory. She is a 3 year old.
Taken from David Loder's yard by her owner Sheik Mohammed to winter in Dubai, this speedy daughter of Cadeaux Generaus stands out in a strong team.
She emulated her dam Pass The Peace when taking the Cheveley Park stakes at Newmarket in September quickening right away from the field. If she doesn't manage to stay a mile in the 1000 Guineas then her abundances of speed would make her a force to be reckoned with in top sprints. And more so as she is trained in the Emirates by Saeed Bin Suroor she should do well this term. It doesn't mean that David Loder did not try with her all this long but it could be that lady luck eluded this youngster. And now with this lucky cop trained trainer I expect Embassy to fulfil her connections dream in a big way. Her win at Newmarket last term rang bells of joy for her connections and who knows she will knock it off this term.
---
Eleven teams for Merc. A Division Football contest
The mercantile A Division knock-out football tournament conducted by the Mercantile Football Association and sponsored by United Motors will kick-off on Tuesday, April 21.
All matches will be played at the City League grounds at Slave Island.
Eleven teams will battle it out for supremacy with the semi-finals fixed for April 30 and May 4 and the final to be played on May 7.
The participating teams are: AirLanka, Ceylon Tobacco, Ceylon Business Appliances, Ceylinco, Grand Hotel Nuwara-Eliya, Grindlays Bank,Hatton National Bank, Hameediyas, John Keells, Lake House and Tristar Apparels.
All matches will be played for a duration of 90 minutes commencing at 4 p.m.
Meanwhile the B Division will get underway on April 22, with eight teams vying for honours.
The semi- finals will be played on April 29 and 30 with the final fixed for May 7 at 3 p.m.
The participating teams are: Airport & Aviation Services, Colombo Hilton, C.W. Mackies, Pelawatta Sugar, Seylan Bank, Trans Asia Hotel and Union Assurance.
---
New Young SC Wennappuwa scores upset win
New Young Sports Club Wennappuwa scored an upset win over the favourites Saunders by 7 goals to nil in their Under-15 Youth Cup football finals played at the City League grounds Slave Island.
A.M. Liyanage scored 6 goals which included a hat-trick. The other goal was scored by Sameera Fernando.
A.M. Liyanage was selected the best player in the tournament.
Saunders however won the Under-17 crown beating M.H. Mohammed playgrounds by 2 goals to nil. Both goals were scored in the first half. H.A.Z. Upashantha and S. Jagath scored a goal each.
F. Rahman was chosen as the best player.
F.A. Yaseen, the President of the City Football League was the chief guest at the Under-15 final while Mujeeb Rashid, the Managing Director of Nestle Lanka Limited was the chief guest at the Under-17 final. The tournament was conducted by the Football Federation of Sri Lanka. (AF).
---
A winning match was lost... just by one run
By Bruce Maurice
January the 3rd 1952 and it was the last day of the 4th Test between Australia and the West Indies at the Melbourne cricket ground. At the end of the third day, the West Indies had the game almost sewn up and were on the verge of levelling the series. Australia had won the first two Tests and the West Indies had won the third one at Adelaide. When play resumed on the 4th day, Australia needed another 198 to win with 9 wickets left. But the West Indies had Ramadhin and Valentine and the pitch was breaking up. During World War II, American troops had occupied the grounds, and they who knew nothing of cricket had no respect or regard for the strip in the middle.
Hassett, 23 and Harvey, 21 resumed batting to Ramadhin and Trim, and the two of them probed the wicket as if a landmine had been buried underneath. In his very first over Ramadhin beat Harvey all ends up and sent the creeps down the spines of the Australians. Trim took up the attack from the other end and in the first twenty minutes only 6 runs were scored. Both batsmen were expecting every ball to do the unexpected and were never in a position to play a positive stroke. Then Harvey using his feet came down the wicket to Ramadhin and drove him beautifully past mid-on for four.
At the other end Valentine replaced Trim and joined Ramadhin in a double spin attack and Hassett immediately glanced him for four for the second boundary of the day. But Harvey who was playing more from memory was beaten and bowled by a beauty from Valentine that came in and hit his middle stump. Australia 3 down and the next batsman was Moroney instead of Miller. This was a negative move by Hassett because two defensive batsmen together would give a bowling attack the chance to dictate terms. Especially with the pitch cracking up. And in the first innings Moroney could not make head or tail of Ramadhin and had tried to avoid him like the plague. The very first ball from Valentine hit him on the pads and then in the very same over Valentine dropped a "sitter" of a 'caught and bowled'. Australia were now struggling for survival and Ramadhin had bowled 7 overs for seven runs. Ramadhin then put Moroney out of his misery by having him leg before wicket and a few minutes later Miller was out hit-wicket to Valentine for 2, Australia had lost their 4th wicket for 109. Six wickets left, 151 to get and the cracks widening Ramadhin and Valentine were turning circles, and a West Indian victory climbing over Nullabar Plane.
The six batsmen left now to keep Hassett company had scored only 25 runs in the first innings. Immediately after lunch, Ramadhin beat Hassett down the leg-side and Sammy Guillen missed a stumping chance. Ramadhin and Valentine now changed ends and at 144 Goddard took the new ball. But unlike in Brisbane where he rubbed it in the dust, this time Goddard gave both spinners a rest and brought on Gomes and Worrell. Worrell and Gomes now started bowling down the leg-side and one wondered what madness made Goddard to change his spinners and take the new ball. Hole was swinging at Worrell and missing. But with his score at 13 and the Aussie total at 147, Hole got one in the stomach of the bat, and he must have booked himself a certain boundary, but Gomes at short leg flung himself and took the greatest catch of his career, Australia still 113 adrift and the dice loaded heavily against them.
Now came Lindwall and Goddard immediately brought Ramadhin back, and Lindwall promptly hit him for 14 runs in one over. Goddard now cast anxious eyes towards the pavilion to see if Trim would appear. Trim had taken 5 for 34 in the first innings but for some reason did not take the field after lunch.
Worrell now bowled a delivery to Lindwall that never left the turf but it was wide of the stumps and Lindwall lived to see another delivery. Lindwall now slammed Ramadhin for 7 runs in one over and during this period Lindwall had made 29 to Hassett's 8.
But then with the score at 192 and his score at 29, Lindwall tried to cut Ramadhin and was caught by Guillen. Six down for 192 and the game still very much in favour of the West Indies. And now with only the tail left to keep him company, Hassett decided to hit. He first pulled Valentine for four and then square-cut him for another. Where Hassett had taken 70 minutes to go from 70 to 80, he now raced through the 80's in a matter of seconds. Both his attacking and defensive strokes had been perfect the whole day against both spinners and all this on a wicket that was falling apart. He now swung Valentine backward of square and Everton Weekes half-way leaped into the air and managed to get only the tips of his fingers to it. At tea it was 204 for 6 and Hassett not out 95.
When play resumed after tea he swept Valentine for another 4 and went to his century in 5 hours and three minutes. Two hundred up, and then at 218 first Ramadhin and then Valentine struck. First lan Johnson was caught Guillen bowled Ramadhin and then with his score at 102, Hassett went leg before wicket to Valentine who was now coming round the wicket. At 222 Gil Langley also went the same way lbw to Valentine and Australia were 9 down. Thirty eight needed to win. Only one wicket left to get it with and this is where the West Indies began to go to pieces. For example, Stollmeyer trying to tell Goddard what to do.
Bill Johnstone's batting that was only good for a laugh now joined Ring and both decided to pull the wool over Goddard's eyes. Ring was going to take life in his hands and have a swing, while Johnstone was going to defend. But for Johnstone this was easier said than done. The first ball he faced from Valentine was almost his last and the last ball of the Test. Ramadhin now bowled to Ring and the West Indian fielders were in Ring's hippocket before he could play a stroke. After coming all this distance this was one Test the West Indies had no intention of giving away. But Ring managed a single at the end of the over and the West Indians did not get to lay their hands on Johnstone. Now it was Valentine to Ring and as far as Ring was concerned it was a nightmare of an over. He was beaten by almost every ball. What Doug Ring desperately needed was just one hit from the middle of the bat. Then came 3 runs off the edge and Johnstone got a single of the next. Valentine now bowled a full toss to Ring. Just what the doctor ordered. Ring swung and the ball flew into the un-patrolled out-field. The very next ball was a long-hop. Again Ring swung, connected, and this time it sailed over long-on, thirteen runs off the over and the crowd roaring with delight.
The West Indians now realised that pitching the ball upto Ring was nothing short of suicide. He now swung Ramadhin down the leg-side, but Atkinson on the field for Trim made a brilliant save and a certain four was restricted to only 2. Australia now needed only another 20 runs and Goddard sent Atkinson into the outfield. But he had hardly turned his back when Ramadhin waved him in. The very next ball was hit to the very spot that Atkinson had vacated and the West Indians had thrown away another chance. The panic signals were now flying high. Ring now pushed the last ball of Ramadhin's over into the covers, called and ran. Weekes came racing in, misfielded and again Ring had the strike. Australia now needed only another 13 runs to win.
Worrell was now brought on for Valentine and another single was stolen. Johnstone then pushed one on the offside, Ring took off, Stollmeyer raced in picked up and threw the wicket down but Ring had raced in. Goddard should have had a fielder close up on either side of the wicket to stop these stolen singles. But once again, Ring tapped, Johnstone came and another run was stolen.
Two hundred and fifty up and now only another 10 runs needed. When this was reduced by a further run, Ramadhin left the field with a leg strain. Johnstone now pushed a ball hardly six yards and another run was stolen. They knew the West Indians had now gone to pieces and decided to run for everything. Ring was now beaten by Valentine and Guillen whipped the bails off and roared an appeal. But Guillen was a lone voice crying in the wilderness. Ring next square cut Valentine and the batsman ran 3-5 runs needed. Johnstone square-cut Valentine and again the batsmen ran 3. But Johnstone in his excitement ran one short and Australia still needed 3 runs for a win.
Johnstone was beaten by Worrell's next delivery but fortunately it was wide of the stumps and then got a single down to fine-leg. Then Ring pushed Worrell on the off and now the scores were level. And now was to come the last ball of the match. Worrell bowled it, Johnstone managed to glide it down to long-leg and with that the biggest piece of bluffing seen in a Test match was over.
---
The great betrayal-II
Way of life to way of living
The basic difference of pedagogues, managers, officials, coaches and the participants in sports then and now, is the attachment to sports as a way of life then, and the involvement in sports as a way of living now. Competence and commitment were all characteristics of those gentlemen who directed our sports then. Hence a wee bit of status they looked to and the respect they yearned for in the discharge of their duties were a modest compensation.

However with the march of time, these men were gradually replaced by a new breed who took to sports as a way of living, with perks and publicity as a motivating factor.
The intriguing aspect of sports is that, increasingly in the past decades it has included elements of the other four. However as far as we are concerned, three of the five traits, namely the negative influences, politics, money and sex are in much vogue in our sports administration.
Politics in our sports is a dirty trait in which we seat or unseat the top brass in sports on the basis of political affiliations.
It is pertinent to quote Andrew Jennings from his latest book 'The new Lords of the Rings' and this is what he says "When the Japanese bid for the eighteenth Summer Olympiad in 1964, they weighted up the Olympic Committee and gave them what they wanted, girls; big ones, small ones, all pretty and trained to perform like finalists.
In another chapter Jennings goes on "The guardians of morality had been allocated a female companion - many were university language students to look after their every need". However sex in our sports is of a different kind. Some who parade as high officials lecturing and demonstrating are involved in covert sex with their immediate colleagues, while some live in unholy partnership with their own charges.
Many athletes are prepared to speak out on this palpably perverse aspect of sports, provided the probe is in camera and the safety of witnesses guaranteed. You can be assured it will be more absorbing than the flings of Christine Keeler, Paula Jones or Monica Lewinsky.
---
A cricketer on the up'n up
A product of S. de S. Jayasinghe Maha Vidyalaya Dehiwala, Ranga Yasalal started his cricket career, playing for the Under-15 school team in 1989. Under his captaincy the Under-17 cricket team became the runners-up in the Astra Margarine Inter School Cricket tournament in 1992.
He also captained the First Eleven team to be the champions in the Coca Cola Inter School tournament in 93/94. He was awarded school colours in 1993.
Then came the big moment. Ranga was then selected to undergo 6 months in pace bowling at MFF Pace Foundation under Australian Denis Lillee at Madras, India in 1993.
He was selected to open the pace attack for the Sri Lanka Under-19 team against the England Under-19 in 1994.
He was also in for training with the Sri Lankan National Development Squad (Sri Lanka - A) in June.
Ranga also toured India with the Sri Lanka youth team in September1994 and was also selected to play for the Board President's Eleven against the Pakistanis at Uyanwatte Stadium, Matara in 1995.
He represented Bloomfield Cricket Club in the Division I segment tournament in 1995, scored 350 runs and claimed 30 wickets.
Ranga who is 22 is employed at Janashakthi Insurance and plays for Tamil Union.
---
Why blame Medonza?
By Bernie Wijesekera
Jerome Jayaratne, a Thomian cricketer of yesteryear, who took over the coaching of the S. Thomas' first eleven from Nihal Kodituwakku has done a reasonably good job for the 1998 season with his charges.
As an all-rounder he had done creditably for the Mt. Lavinia school, for the CCC in Division 1 tournament and also played for the Sri Lanka Junior National tour of Australia, which team included the likes of Aravinda de Silva, Roshan Mahanama, who are now senior members of the national cricket team.
A keen student of the game, Jerome had his earlier cricketing lessons under former Leicestershire and All Ceylon cricketer Stanley Jayasinghe, on and off the field.
Jayaratne was interviewed by The Sunday Times.
Q. What made you take over the coaching of your old school. Any comments?
A. I was invited to the job after Nihal Kodituwakku left. It was not an easy task, but I took up the challenge, because I thought I must give something back to the school that helped me to go places.
The team under Upeka Fernando had five coloursmen and it made my task much easier as they were disciplined and determined to give of their best. It turned out to be reasonably a good season barring the setback against Joseph's when we were beaten convincingly. It was a good lesson for the boys, who gave a poor batting display that brought about this setback. In this match though we lost to S.J.C., Sidath Medonza batted courageously, to play a long innings.
Had the others applied in a similar manner, the outcome could have been different, he added. The next two games were against St. Peter's and Trinity, before the big match against Royal. The players showed better application and there was no let up, he added.
Q. There has been lots of criticism about Sidath Medonza's slow batting and the belated declaration in the 119th encounter against Royal.
A. It's a good question. It was I, who requested opener Sidath Medonza to keep one end going after our debacle against St. Joseph's which was a two-day game which we lost. The Royal-Thomian was a three-day match which could be tagged as a first-class encounter. To be in contention and to stretch the match to the last day, our batsmen had to adjust themselves to play a long and responsible innings.
As planned, Medonza played the anchor role. Thanks to him, for the first time in the season we were able to post over 300 runs. Now, with regard to the declaration - the pitch at the SSC, was tailor - made for batting and to add to it a scorching outfield. It was a nightmare to the bowlers for the entire duration. The declaration could have come much earlier, but for a fresher batting at the middle tended to be too defensive, despite several reminders to be more aggressive and push the score along. But he failed to respond and it was beyond my control, Jayaratne added.
I am not shy to state that the Royalists had eight coloursmen in their team. They had a strong top-order, who had the appetite of scoring runs freely. This they achieved in abundance, before the Big Match.
The target set was 260 in 47 overs. Had their top order batsmen shown some sort of aggression at the start of their run-chase they could come much closer to the target as they had the batting skills and thereby silenced some of the arm-chair critics.
In my first tenure as coach at STC, I am not just going to throw a match away just to please a certain section of the crowd. The Royal batting line-up commanded much respect. Why blame Sidath Medonza's batting or the declaration, he nodded.
Q. Any comments about the rousing Coca Cola final win over Ananda?
A. Yes. It was a fine team effort, where the Thomian grit prevailed. We had five coloursmen, but fielded only four and played two players from the Under-15. We had to counter against strong teams like St. Peter's and D.S. Senanayake College, before we took on Ananda and nudged 'em out by one run.