Sue's Story (Part two)
Is he gay?
By M.T.L.Ebell
You know, I'm afraid Mike's gay," I said to Rouanne amidst the bustle of making dinner. It was one of our famous International Nights. Most of us, students have our meals at the cafeteria, it saves us trouble although we do have a gas stove and the bare necessities for cooking in our rooms. Rouanne and I stop off each morning and put in our meal requisition slips for the day, and that's how most others do it too. International Nights had evolved last year. We have so many students here from all around the world and as usual we got to swapping recipes. Then someone offered to cook something for someone else and most of us wanted a taste. So that first someone made a huge batch of it and invited anyone who wanted, to try it. From there it grew until we all take turns about once a fortnight, to turn out some speciality (or buy it and serve it) for all our friends (and teachers too).
Rouanne dropped the bowl she was holding. Luckily it was empty and made of plastic.
"No, really," I went on before she could say anything, "At least that makes me feel better. Nothing is wrong with me!" Rouanne picked up the bowl. "Sue, nothing is wrong with you. Maybe you need more time, maybe Mike needs more time. What's the harm in being friends and taking it from there, slowly?"
I told her I had no patience with her Eastern Philosophies of patience and calm and waiting for things to happen. She told me then why didn't I speak to him about my feelings? Luckily, Sid and Vijay came in with some of the food and we were interrupted. I knew why I didn't ask him; I was scared.
The Common Room, where our dinners were held, was filling up fast. It was Eastern food today. Vijay and Sid had gone into the town to bring back some Chappattis and Hoppers, a crispy Sri Lankan food. John, a Christian from Pakistan was providing the Curry. He was married and lived off the campus and Anne, his wife is a most accomplished woman who could, as John proudly declared, "Cook in any language." I was helping Rouanne who was making a spicy soup and mixing things up to make a Coconut Sambol. In fact, she made two. One, a pale orange for most of us, and the other a fiery red.
Sid and Vijay were very pleased with themselves having found a new shop which apparently sold really authentic Indian food. They unloaded the stuff onto trays and Sid rushed off again. He returned quickly bearing a huge tray on which reposed a mound of ''Pappadam!" shrieked Rouanne. "Where did you get it? I forgot to bring any with me this time? How did you find them? And who fried them?"
"Manny did," said Sid laughing, "he sent these and his apologies; he didn't know of this until too late. He had other plans. But he had these and he'd got round one of the cooks to try it for us.'' "Oh!'' said Rouanne, ''He's not coming then?" "No. I'm sorry Rouanne, it seems no one had told him, did you?"
None of us had and as it was the first time for this term he had not known about it. Pity. I love it when he's around. He's so witty, and understanding. I've already told him all about Mike. In fact I must ask him if he thinks Mike is gay.
'"Anyway," Sid continued, "he sent his regrets and also asked if you can cook, Rouanne?" "What?" said Rouanne, not joining in the general laughter. "He asked what?'' "Just that,'' said Sid, looking mischievous, "I said you were making the gravy and the Sambol and he asked, "oh, so she can cook?" It was a joke!" "Very funny, I don't think!" I heard Rouanne mutter as she went to wash up. Well, Manny's absence didn't spoil the fun as far as I was concerned and I did have fun. The Dean turned up with his wife. "We were just passing and we couldn't resist the aroma," said Mrs. Dean. She's a dear. Her name's Rosalie but everyone calls her Mrs. Dean. She's very motherly and always has a few students to stay during the holidays, if they've nowhere else to go.
It was a fun evening and Mike spent a lot of it chatting to Hillary and to me. I got the conversation round to old boy/girl friends and although Hill volunteered a lot of information some of which made me blush, Mike didn't come up with any experiences of his own.
"He must be gay," I told Rouanne again when we were clearing up. "It's true he talks a lot to us, but if you see him laughing it's always with Sid or Vijay or with Manny. He's very friendly with Manny too." "Sue, you're not suggesting any of them are...." "Of course not," I said pettishly. That's an odd word but it described exactly what I was feeling. Pettish. "I'm just making excuses." Rouanne advised me again to take it slowly and later, if I couldn't get him to ask me, to ask him. She spoke very decisively but looked less than tidy wearing a big apron, with some soapy froth on her cheek.
"Ask whom what?" said a voice at the door. It was Manny, adding, "So, not only do you not tell me about it, you finish everything before I come." "Oh, Manny," I wailed, feeling really bad, "Sid didn't say you would be back. And everything is over."
"My compliments to the cook then," said Manny, smiling, "Or should I say cooks?" That reminded me, and I asked Manny what he had meant by asking Rouanne if she could cook? Couldn't most Sri Lankan girls cook? Manny said, "Oh, no, not all of them. In fact, some more emancipated types actually expected their spouses to chip in and "Scrape coconut and all that."
"Oh I said, as Rouanne didn't seem to joining in, she was busy wiping her face and taking off the apron, "Isn't it lucky you get it in tins now?" For some reason that made them both laugh and that made me think of Mike again. To be contd.
---
Rajasthan through a lens
f-Stops '98, an exhibition by Mettasena will be on at the Lionel Wendt Gallery from April 23- 28
Padmakumara Mettasena is an India fanatic, and further probing suggests that this island might be little too insular for his fairly inquisitive mind. Who is Mettasena would be a redundant question because any follower of the Mirror would have noticed his name almost weekly on the covers. But, then again,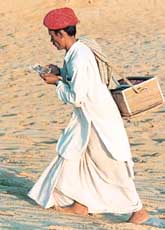 readers do not read by-lines generally, so for those who hadn't observed, Mettasena is the regular photographer of cover personalities ( that includes cover girls ) for The Sunday Times Mirror Magazine.
Mettasena himself, at least on first perusal, doesn't appear to be a colourful man, but his photographs are a kaleidoscope of colour, living colour, gleaming colour and glittering colour — and more of it. So hats off to him for picking a colourful place such as Rajasthan, the location for his exploitative photographic experiment in India which is the subject of his exhibition.
Photography has so many modern dimensions, and with an abundance of techniques that are available, photographers can come up with many different types of results. Mettasena is not experimenting with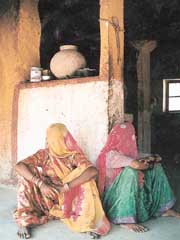 the whole gamut of photographic possibilities in his one man show; on the contrary he is concentrating on the colour and the rhythms of Rajasthan. His Rajasthan therefore, is not the customary photo magazine display of life in India, which usually has photographs with men in grizzly beards and weatherbeaten women balancing pots of water on their heads.
That kind of Rajasthan, or that kind of India may be too common now, and may even be a little too boring for the jaded admirer of travelogue photos. Metttasena takes the unsophisticated but colourful route. His photographs are patterns, patterns cast by colourful displays of pointed shoes, or colourful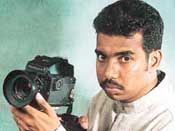 displays of door curtains on a arched doorway. This exhibition could not, for instance, have been possible in black and white. So there is all the colour that you can wallow in, and all sense of rhythm and pattern that puts human life apart from animal life or natural life, even in all the glory that nature commands.
Though there are pictures of children and goats that intersperse these studies in colour, we are talking here about the pith essence of Mettasena's exploration. Being a fashion photographer for most of his time, Mettasena may have inculcated a sense of colour and pattern from the feminine tastes to which he is often exposed. One even has a sneaky feeling that females will appreciate the Rajasthan exhibition more that males looking for studies of grizzly beards or patterns in the sand.
Asked about the philosophy of his whole Rajasthan project, Mettasena is almost completely down to earth about it. "The viewer will appreciate my photographs, I hope, but there was no sense of a major study here; or a sense of a photographic project." But, one does get the feeling that he does not exactly revel in the world of fashion models and evening dresses, though admittedly that's merely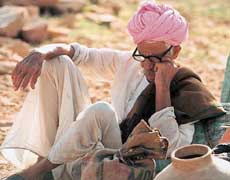 conjecture because it is difficult to get anything to that effect right out of this man's mouth.
His main talent is to bring the beauty out of what is also a rustic but arid and difficult location, in his own words "a hard place to live in." But, he catches the patterns and the flashes of human ingenuity that have made such a place not just livable but extraordinarily pleasing and exquisite.
Mettasena argues that most contemporary photographers in this country merely want to get by, that they do not have the enthusiasm to explore with the lens. A bachelor, despite his many run - ins with fashion models and females, it appears that Mettasena has not yet finished that part of his life where he is in search of a sense of self self fulfillment, or to use the more fitting jargon – a sense of self actualisation.
It will be nice, if he did get the chance to study more technique, and use more in terms of equipment, which would enable him to capture depth and dimension in his photographs. But, what he does with a minimum of equipment shows he has raw talent, because some of the photographs he takes, such as the one of the temple silhouette at the bottom of a vast night sky, shows that he can do a great deal with only a modicum of effort.
He also wants to show everyone a little bit of India, which in itself is a very great idea, because we Sri Lankans have seen very little of magnificent interesting India, though we are here right at the doorstep. Metttasena in seeking to convey a bit of this, certainly has his heart in the right place.
– (R.A.)