Let's make their lives better
By Roshan Peiris
"On this my 51st Birthday I was priviledged to see life in its totality. I saw the beauty of life, I saw hope and sacrifice and I also saw dedication on the part of the staff. May all those who serve, and live here, be blessed." - Gamini Dissanayake
On his birthday, the year before his death, Gamini Dissanayake wrote these words in the Visitors Book of theVictoria Home for the Incurables.
Last Friday, on the fifty-sixth birth anniversary of the late Gamini Dissanayake, his widow Srima, family and friends gave a treat to the inmates of the home.
In this home of 157 people of whom 82 are women there are those who never see the world outside their home.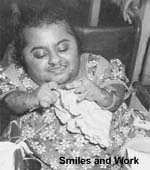 What is astounding is that these men and women with disabilities still look cheerful and smile. It puts us all to shame who gripe about the everday pin pricks of life.
One feels a sense of shame seeing these people, some confined to beds, others on wheel-chairs making the best of what fate has meted out to them.
Their toilet is a large opening in the bed with a bucket below.
I must salute the Superintendent D.K. Thewarapperuma, the matron and staff of forty-five for their commited services to those whom nature has sought to riddle with incurable disease.
Take 34- years- old Sepala. His legs are defective and he cannot walk. He keeps them covered and sits on his bed with a sewing machine and makes the most professional soft toys. It is interesting to note that the inmates of this home made the first soft toys now such a popular export industry.
Crippled with severe arthritis on both his legs he is not bitter but smiles pleasantly and carries on with his work which is sold at the Home.
Opposite him sits a comrade, bespectacled and with both legs crippled, who makes colourful key tags and small soft toys.
One wonders how they do it, I mean there is no bitterness nor self- pity. They have accepted their cruel fate and carry on with their lives.
Take this lady smiling and knitting a wool cap of blue, pink and white. Her face is out of proportion to her under developed hands. She sits on a wheel chair and does not only knitting but also fabric painting.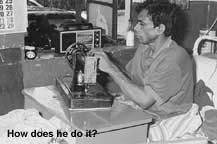 An anguish scream starts intermittently from a mentally retarded woman with hair cut short. She has remained with the Home for a very long time.
There is a woman whose limbs are lifeless, and looks like a small child, but is 54 years old.
There was a handsome young man lying on his stomach who cannot now walk after an accident. Another man with a face so smooth and handsome sitting on a wheel chair looking like a celluloid idol but suffered crippling athritis on both his covered legs.
These folk know no home and relations hardly venture to meet them. Their friends and human companionship consists of the forty-five staff members who work there.
We all, who have so much from God or fate or whatever, should think of these people. We can all visit them, talk to them and make life pleasant for them.
It was the late Gamini's humaneness that made him seek them out on his fifty-first birthday, a year before he was assassinated by LTTE terrorists. We appeal that people supplement the government grant of only 5 lakhs a year by helping the home and above all buying their handwork.
---
View From the HIlls
Courts to move to old kachcheri
By Carl Muller
Finally, it's settled. The Kandy Courts is mov ing, temporarily, to occupy two floors in the Old Kachcheri. The process has already begun and will be completed by end - April. Defence Minister Ratwatte has also assured lawyers that the new Courts complex, complete with post office and all amenities, will be functional by the end of 1999. This will be located at Mulgampola on the William Gopallawa Road. The Dalada Maligawa is to have the added protection of a high, fortified wall, now being built, which necessitates the moving of the Courts, urgently .
OTK ready to claim its land
The Organisation ot Professionals, Kandy, has decided to wait no longer. In the beginning, the OPK was given 60 perches land at Getembe upon which its headquarters was to be built. Then, 20 perches was taken by the Department of Agriculture, and the CEB stuck a pylon in the land that remained.
The OPK is concerned. All it now has is 40 perches and a great big pylon stuck in the side of it. What with street lines, etc., the Organisation now has only 30 perches buildable land and it has decided to move in before that, too, dwindles.
Soon, the OPK will officially christen the land with a ''name-board planting ceremony". "At least that will remind people that it is our land," the President of the OPK said, and the motion was carried unanimously!
The mosquito fighter
All coiled and ready to go, entomologist Professor F.P. Amerasinghe of the Department of Zoology, University of Peradeniya, has indicated that in one month he will place before the Mayor of Kandy, an integrated action plan for the minimising of Kandy's mosquito menace. Professor Amerasinghe has done extensive study on mosquitos and says that his plan requires the collaboration and co-operation of the Kandy Municipality, environmental bodies, water and sewerage departments, health inspectors, schools and all concerned institutions. He will be ready to present his plan to the Organisation of Professionals, Kandy, which will present it to the Mayor of Kandy by May.
Green belting
Many professionals are enthusiastic about the green belting of Kandy, especially with the enormous increase of motor vehicles in the city. Streets should be lined with certain "absorbing trees" to combat vehicle gases.
At the Peradeniya University, environmentalists and agriculturists are insisting on the need to spread awareness of how certain trees are able to absorb noxious gases, thus ensuring cleaner air and a fresher city environment. It has been found that the Bo-tree, Kohomha, Jambu and Ehela are particularly absorbant.
Studies in India have also identified trees that can also absorb toxic gases from lead and mercury. Green belts are the surest and most natural way to combat air pollution.
Vijitha Yapas to move
Kandy's Vijitha Yapa Bookshop, quite the most cheerfully crowded book store in town, is to move to the more spacious Bata premises next door soon. More space for more people and the display, I learn, is going to be truly stupendous. Great news for book lovers, to be sure.
Who gets the vicious pen award?
Hard on the heels of the Dalada Maligawa blast, a team of CID officers from Colombo came to the home of a lady whose husband, mind you, is a senior police officer in Colombo.
The lady, who lives in Kandy, had time and again protested at the way her neighbour dumped his garbage in her garden, finally threatening police action. Then the letters began. Unsigned they were, but neatly typed, each letter sent to the CID, the Ministry of Defence, each letter claiming that the lady, who lived alone, entertained suspicious groups of Tamils at certain times of each day.
The letters detailed times of these comings and goings and claimed that the lady was providing a "safe house" for terrorists.
Naturally, the CID had to check, for such tip-offs cannot be ignored even if anonymous.
The officers are now satisfied that the lady is innocent and are most annoyed that a senior police officer's wife should be so victimised. Since the letters give no address or signature they feel that no real action can be taken although they know now who the scurrilous letter writer is.
Spoke to several (leading) lawyers and learnt that there is a way to get at this vicious penman. Check the suspect's typewriter. Every typewriter, I am told, has its own "fingerprints".
No two typewriters can produce identical work. It's time such cowardly no accounts were roped in!
Trinity's European tour
Fifteen-year-old W.P. Dilipa de Silva of Trinity is a very excited young fellow. He is a member of the Trinity College National Drum and Dance Troupe, invited to tour Europe this year by the organisers of "Illangolen" International Musical Eisteddfod and Concert - World, UK, and to participate in a number of International Music Festivals and Competitions in the UK, Germany and Sweden. Mr. O.J.R. Fonseka, Master-in-Charge, Trinity, says that the College National Drum and Dance Troupe has participated in the prestigious Cleveland Inter TIE, International Folk Music Festivals in the UK in 1978, and on European Tours in 1986 and 1992 where it obtained three first-places and four second-places, competing with over a hundred international groups.
Cost of travel per individual is about Rs 75,000 and Trinity's principal, Lt. Col. I.M de Alwis, is appealing for donations or sponsorship of any one of the 27 members of the troupe. May I add that many companies would find it most satisfying to sponsor a participant.
A special souvenir circulated at the international festivals will acknowledge their sponsorship.
The tour is in June/July this year and you can contact Mr. O.J.R. Fernando at Trinity who knows full well of the contribution to the cultural image of the nation the troupe will make.
Celltel has already indicated that it will be a sponsor, having sponsored the October 1997 Colombo performance of the troupe in preparation for this year's European tour.