Tee time with ladies
By Chamintha Thilakarathna
Golf is a sport which requires tremendous skill and intelligence. Although there is a need for golf

courses locally, Sri Lankan golfers have enjoyed a lot of success in recent times.
A lot of emphasis is also given to women's golf, which has produced results worth being proud of. Pam Fernando and Yvonne Abeyratne are well-known women golfers, and it seems that there is another one in the making...
Sixteen year old Shannon Kern was introduced to golf by a family friend at church, one and a half years ago. Since then she has come a long way. Today she is the proud winner of several golf championships. Since her first victory at the Nuwara Eliya 'Stroke play championships' in August 97, she has been runner's up in 6-8 events, and victor in several others. "But my biggest win was at the Hilton Grand Prix recently," she said.
Shayanika de Silva (21)is another talented young golfer who returned last Sunday from a tournament in India, where the Sri Lankan team was placed sixth. Shayanika's mom says: "My husband was a golf player and one day he took her to the club to see if she would like it. At first she was not interested.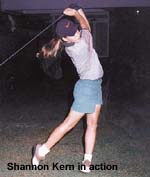 But now its her second love." She too like Shannon is a keen golf player, who has won several trophies at many tournaments.
But in the case of Pam Fernando, the first Ceylonese lady to win a Championship, it was love at first sight for the game in the distant year of 1949. "I saw my first game of golf at the Amateur golf Championships held in Ireland in 1948 and I knew that it was the game for me," she said. And she became not only a lover of golf but the mother of a golfing family.
They are not the only ladies in golf. There has been a series of lady golf players and champions in the annals of golf in Sri Lanka. The old Champions consist of famous names such as Pam Fernando, Radha Sundarampillai, Tiru Fernando, Yvonne Abeyratna, to name a few. But the sad truth is that all of them from then to now amounts to a handful.
"The ladies who were involved in golf were those whose parents were golf players. They were the only ones who were really exposed to golf at a time when it was considered an elitist game," said Yvonne Abeyratna, former Champion and the Hon. Handicap Secretary of the ladies' section of the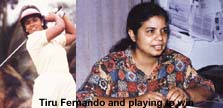 Royal Colombo Golf Club.
She said that the competition has improved over the years, but the number of players remain about 30. This was almost the same amount recorded in 1982 for the 'Sirikitt Championships'.
Boring, dull and uninteresting though it may sometimes seem over the idiot box, according to players it is one of the most interesting games that one could get involved in. "Once you get into a game, you cannot get out of it. Its like an addiction," said Ms. Anne Captain, Hon.Secretary of the ladies' section of RCGC (Royal Colombo Golf Club). They said that it is a game of concentration and style. One has not only to figure out which club to use for each shot, for a lot depends on it, but at the same time, one also have to think in terms of distance, wind, power of the stroke, as well.
According to the members, in the early days it was considered as a game of the older people but young people today seem to have a different outlook towards the game, which is a plus point for its development.
For young people who wish to enter the game the most common problem is that of acquiring equipment which happens to be very expensive. But in order to overcome that the Golf Club offers free clubs to new comers, who show a keen interest to the game.
"Till they can play well enough and till they can afford to buy equipment on their own, we lend them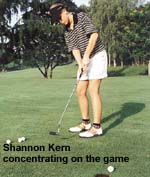 half a club for the start. That is how many of us got introduced to the game. Another interesting thing is that this is also a sport which can be continued even after marriage," said Ms. Radha Sundarampillai, Captain of the ladies section of the RCGC.
"Lack of participation from those outside the golfing circle have led the ladies to start a clinic to discover new talent and encourage youngsters. They do not seem to have the encouragement or the necessary information on how to get introduced to the game," they said.
"Apart from that it requires a lot of time. You need to spend about 3-4 hours a day at tournament level. In my case, I practice in the early hours of the morning before school," said Shannon. Her father is worried that she will miss out on her school work due to tournaments and practices, especially closer to big events. This is something that many of the parents who wish to let their children explore the game of golf are worried about. It is a game that consumes a lot of time, which is probably one of the reasons that children of players are much likely to take interest in it and not others.
Tiru Fernando is the lady who has been placed in charge of the clinic which started on the 25th of March at the RCGC. Coming from a family of prominent golf players who have made their mark in Sri Lankan golf including herself, she is determined to encourage children below the age of sixteen to be a part of it in order to secure a future for ladies golf in the decades to come.
"We received many applications and we hope to give the opportunity for these youngsters to try the game and see how they like it. At the same time, we can assess their talents as well. But most of these children are from families where parents are already involved in golf, which in one way makes it easier.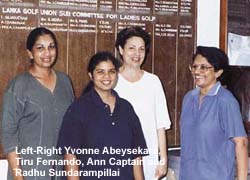 But on the other hand it restricts the game to a particular group." said Tiru. They intend to gather students from various schools as part of an expansion programme. Even today after fifty years of Independence and hundred years of ladies golf in Sri Lanka still, it seems to be considered at elitist game.
This is a big and a very important step for Sri Lankan golf because though the ladies' championship was instituted in 1895 and is one of the oldest golf championships in the world, the tournament is also one where little or no progress has been made in terms of the number of players or in the number of golf courses. During the post war era it was the British who dominated the golf courses and the only progress that has been made until now is that now at least three quarter of the players now are Sri Lankans. The rest comprise of wives of diplomats and some Koreans.
No one in Sri Lanka really want to be professional golf players, which is a tough job. "In Sri Lanka we have only two golf courts in comparison to other countries even in the South East Asian region. This means that there are less opportunities for our players to play in different courses. There isn't much competition here either. At the same time, what we find in other countries is that once talent is discovered, the chosen individuals are trained morning, noon and night till they become professional players. This kind of training does not exist here," said Pam.
But the question is what is the future like for lady golfers in Sri Lanka? "Well, a tragedy if youngsters aren't encouraged to take it up," she said.
"We need to be able to coach at least one good player every year, that is what we should look to. Of course, there are a lot of obstacles such as the equipment which is very expensive and the membership at a golf course which is equally expensive. But, players like Shyanika, Thuhashini and Anouk, have been able to reach the championship level despite obstacles. This needs to be encouraged," says Pam, "It is the only way to the future."