| | |
| --- | --- |
| | Sports Minister S.B.Dissanayake laid the foundation stone for the Sports Media Association of SriLanka at Reid Avenue on Wednesday. Also in the picture are SMASL President A.C.de. Silva and Secretary Shirajiv Sirimanne. |
---
No incentives for sportsmen in Kandy
Rohan 'Rotti' Perera on why hill capital boys do not remain in the race...
By Bandula Jayasekara
Sri Lanka boasts of many Rohan Perera's but this Perera is better known as 'Rotti' Perera. A name coined by veteran sports journalist, the late M.E. Marikar of The Sunday Times.
Rotti still wonders how and why 'Mariks' invented this name.
He crossed over to Trinity in 1971 having played the U12 and U 16 Cricket teams for St. Anthony's Katugastota. He left Trinity in 1975, after excelling in rugby and cricket.
This fine all rounder played cricket from 1972-75, captained the team in 1974/75 and won the 'Lion' in 1975.
In 1974 he was adjudged The Outstation Schoolboy Cricketer of the Year, represented the Board President's team led by Ranjith Fernando with Duleep Mendis, David Heyn and Lalith Kaluperuma against India. The Indian national side was led by Ajit Wadekar with the likes of Sunil Gavaskar, Eknath Solkar and Venkataraghavan. The other two schoolboys in the team were Suresh Gunatileke, brother of former Lankan keeper Mahesh and Mahinda Pethiyagoda.
| | |
| --- | --- |
| | The 1974 Trinity College Cricket team (Standing from left): M.L.E.Pieris, Andre Tissera, Susantha Ratnayake, N.V. Chandrasekeran, P.D. Aluwihare, M. Hamzi. (Seated from left): E.L. Fernando (Principal), Faiz Hamad, Janaka Weerasinghe, 'Rotti' Perera, Reuben Arthur. Theodore Silva (Coach). |
Rohan who went eight down, scored a brisk 21 against Wadeker's team. He also represented Ceylon Schools that year.
'Rotti' captured 6 for 27 vs Wesley; 3 for 20 and 2 for 21 vs Vidyartha in 1974 and 6 for 27 vs St. Benedict's and 6 for 39 vs St. Peter's in 1975, was an all rounder who led the Central Province team to victory, beating Colombo North led by Anura Ranasinghe. He had a match bag of 5 wickets which helped the CP to gain an easy victory. According to Rotti, Bertie Wijesinghe was the best coach he has trained under.
Rotti played cricket with L.T. Perera, Faiz Samad, Janaka Weerasinghe of Trinity. Gary Melder of St. Joseph's, Lanton of Royal, Sidath Wettimuni of Ananda and Turney Mohamed, Sasi and Aji Ganeshan of S. Thomas'.
Rememebering the school scene in Kandy during his time, he says, "Cricket was of a very a high standard in 1972, we got thrashed but when I left in 1975 we remained unbeaten, we even beat S. Thomas' by an innings. Does the same atmosphere prevail today''? he asks.
Rotti hails from Asgiriya. He lived next door to the grounds spending all his free time there, inspired by his father who advised him to play the game. In 1973/74 he donned the red, golden, blue Trinity rugby jersey and played in three positions as wing three quarter, full back and second row. Rotti, coached by the Late Col. Bertie Dias won "Colours", the "Lion" simultaneously, which is considered as a rare achievement. He represented both Outstation Schools and Ceylon Schools at rubgy.
That year Trinity led by C.Y. Ching Snr., with the support of Rohan Sourjah, U. Bala, Swan, N.V. Chandrasekaran and N.A. Ranasinghe remained unbeaten battling with P.L. Munasinghe and Peter Wanniasingham of S. Thomas', Frank Hubert, Nimal Jayasuriya of St. Peter's, M. Muller, Brummoon Akbar and Rohan de Chickera of Royal.
Rotti Perera is Managing Director of Aitken Spence Shipping, President of the Sri Lanka Squash Federation. He explained why Kandy boys don't remain in the race. As for Trinity Ravi Ratnayake did us proud. P.S. Dinesh, Unantenna, Denam Madena and Mevan Balalle did their jobs well. I only hope that Kumar Sangakkara, Suranga Morathota and Rodney Rafayel will continue. Murali and Kalpage are doing Kandy and Sri Lanka proud, but most people from Kandy schools give up as they have to fend for themselves when they come to the big city. They miss their parents and dear ones who generally guide them in Kandy and have to give up sports to establish themselves in life. They have no incentives to remain in Kandy.
---
All eyes will be on Chamara Silva
Battle of Panadura on March 27 and 28
By Marcus Joseph
The seventh cricket encounter between Royal College, Panadura, and St. John's College, Panadura, popularly known as the Battle of Panadura, will be played at the Panadura Public Esplanade on March 27 and 28. Play will commence at 9.30 a.m. each day.
All six matches played so far in their short series have ended in no decisions. This is mainly due to the two teams not making any effort to go for a decision.
This year Royal College, Panadura, taking part in the 'Coca Cola' 'B' Division have played 13 matches out of which they have won four and lost only to Thakshila M. V. Horana. The rest have ended in no decisions.
In this match the cynosure of all eyes is Royal skipper a fourth year coloursman, Chamara Silva, who represented the Sri Lanka Schools team in the 'mini' World Cup recently in South Africa. In this tour he scored a superb 85 agaisnt South Africa. The tour made him miss as much as seven matches. But in the six matches played for this school team Chamara has topped 600 runs, which included 201 not out against Sri Rahula, Kandy; 102 against Piliyandala MV and 110 against Rewatha College, Balapitiya. He is also a good leg spin bowler.



The Royal College Panadura team

The St. John's College Panadura team.
Pix. by Marcus Joseph
The other centurians in the side are deputy skipper Nilantha Gunatillake, a fourth year cloursman, who hit up 102 runs not out against Aluthgama Vidyalaya, third year coloursman Thushara Anjula Perera the opening bat who scored 113 runs against Rahula College, Kandy. Thushara, has a total 713 runs to his cricket this year. Another fourth year coloursman, Sampath Deshabandu, the keeper of the side, hit up a quick 108 against Sri Piyaratana Vidyalaya, Padukka and Lakmal Priyantha missed his century against Thaksala Vidyalaya, just by a single run.
The Royal bowling attack consists of the medium pacer Lakmal Prageeth, a second year coloursman who has bagged a total of 45 wickets this year with the best figure of 6 for 36 against Gurukula Vidyalaya, Kelaniya, Wasantha Hemal Peiries, with a haul of 30 wickets, including 5 for 20, Dilruk Gayanga a fresher, taking 40 wickets, with the best figure of 5 for 33 against Gurukula Vidyalaya.
St. John's College, Panadura, has done very well this year in the Coca Cola' 'C' Division winning all ten matches, so far. Thusitha Thenuwara a 5th year coloursman, leads the side. He is a reliable middle order bat who has done exceedingly well with the bat scoring a century (116) against Ananda Sastralaya, Matugama and five half centuries with an aggregate of 675 runs. His deputy is fourth year coloursman Ruwan Asela a good middle order bat and a useful off-spinner who has upto now claimed 23 wickets.
Champika Udithakumara is easily the best all rounder of the team who has done well with both the bat and the ball. His aggregate of 722 runs include two centuries, i.e., 105 with St. Thomas', Guruthalawa and 101 against St. Peter's Colombo. He has also collected over 35 wickets this year as an opening medium pace bowler with a match aggregate of 10 for 65 against President's College, Kelaniya and 10 for 65 vs St. Peter's College, Colombo. The other batsmen who are in form and from whom much is expected in this annual encounter are fresher Anura Thenuwara whose highest score this year is 99 and Kasun Niroshan the other opening bat who has a wide array of strokes.
In bowling, in addition to Champika Udayakumara and Ruwan Asela, there are Suresh Indika leg spinner Suneth Indika and Lilan Aravinda left-arm leg spinner. The latter has claimed 4 for 26 against Ananda Sastralaya, Matugma, including a hat trick. He is one bowler the Royal batsmen will have to watch carefully.
St. John's - Thusitha Thenuwara (Capt) Ruwan Asela, Charith Buddhika, Champika Udithakumara, Lilan Aravinda, Suresh Indika, Kasun Niroshan, Suneth Indika, Tharanga Priyadarshana, Anura Thenuwara, Thilanga Sudarshana, Sampath Kaushal, Mohammed Ramesh and Yohan Jinasena.
Royal Panadura - Chamara Silva (Capt) Nilantha Gunathilaka, Thushan Manjula Perera, Sampath Desabandu, Lakmal Prageeth,Wasantha Hemal Peiris, Dushmantha Mahes, Indika Udayashantha Alwis, Dilruk Gayanga, Udana Sendanayake, Jayantha Hewawasam, Namal Karunathilaka, Tharindu Gimhana and Lasantha Thushara.
---
All Weather (Standard) stalwarts get ready for Flat 1998 season
By Ismail Khan
With the flat 1998 just round the corner Sri Lankan punters are on the lookout for information about the horses that are due to run so that they could be on the spot with the latest news. Therefore I went on the rounds to get some valuable points for you and I hope like the Cheltenham tips I gave you these too could help you a long way to get on to some winners as the curtain goes up on the flat.
First hand news I have is of some smart flat racing performers who have done very well on the All Weather tracks at Wolverhampton, Lingfield and Southwell. These horses having had the benefits of runs throughout the winter months should on all accounts run better than those who are coming out for the first time this flat season having wound up their 1997 campaign in November last year. Of course those who are seen out on the opening flat week have been put through their paces by their trainers who eye the Lincolnshire Handicap the first major handicap of the season over a mile.
Another point in favour of All Weather performers who also take part in the 'flat proper' is that most of the winners at Doncaster's opening flat week have been those who have done well on equitracks - that is All Weather, rubberised and sand surfaces, over the years. You can have a glance at past year's records to see the point I am driving at. Hence keep a tab on these equitrack performers and I am sure you will be benefiting quite a lot. The trainers who have done well at All Weather tracks are: P. Chapple Hyam the Newmarket based stalwart who is among the best in the champion list of trainers. His Desert Image won at Wolverhampton recently ridden by Darryll Holland who could well be his top rider this season with assignments up to the brim. Desert Image won well and he has been talked about as an early flat 1998 performer at Doncaster. So it will pay to follow him. Also follow Naked Oat who was out of his sorts his latest run but could be a different proposition when next saddled.
J. Berry's Risky Whisky who made late inroads in her latest run to snatch a well contested race from Stravsea also at Wolverhampton looks ready to pounce on the flat 1998 season with a vengeance. Trained to the minute last essay Risky Whisky came through with a storming run inside the final furlong to get the better of the early leaders and beat them neck and crop. It should be pointed out that this horse has been running very well this term and his trainer J. Berry thinks very highly of his charge. Another one for your short list this flat term.
Trainer Noel Litmoden's Cretan Gift spoken of very highly last flat term and one who took time to warm up even on the All Weather surprised all and sundry when bolting away at 8/1 at Wolverhamptom recently showing her penchant for this track. To be forewarned is to be forearmed and I advise you to keep Cretan Gift on your right side in the Lincolnshire Handicap at Doncaster this term. He is a tip for the first major handicap over a mile that is if he accepts. Moreso as Cretan Gift has hit off a good relationship with Jason Weaver the hard riding jockey who is sure to hit the headlines this term.
A. Newcombe's Fayik did not take long to hit the high spot in the All Weather knocking off a high stake event at Wolverhampton recently with Tyronne Williams in the saddle. He has been spoken off very highly and as he is in the Lincolnshire Handicap this term should be noted. And William's is a rider whom you could depend on to win a big prize as the Lincolnshire. Also note Rambo Waltzer though on in years for an early succcess at Doncaster's opening flat meet.
Jamaican Flight is another who should be noted for long distance success though he was beaten recent run by Noufari at Wolverhampton for pace. It won't be long before Jamaican Flight catches the judges eye.
The short priced ante-post favourite for the 1998 Lincolnshire Pasternak and his stablemate Rudimental are reported out of the big race as their connections feel that they are not fully fit. This pair first and second in the Newmarket Cambridgeshire last year were taken out of the Doncaster March 28 race last week. Now the betting heat falls on Sir Mark Prescott trained Farmost for the first big handicap with Roving Minstrel too on the boil.
---
Royal stickers get much needed exposure
By Bernie Wijesekera
Royal College who has made a name in cricket and rugby in the local school scene have taken to hockey in a big way - thanks to their hockey club, inaugurated in 1989.
Since then the school's hockey has made vast strides and improved their skills with proper coaching and support rendered by the old boys with men and material.
The Royalists for the first time embarked on a tour of South India, where they played a three-match series against South Tamil Nadu, which is going to be a reciprocal tour. This in turn will help improve their image against strong opposition.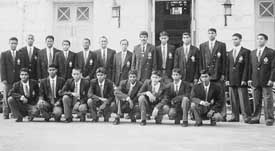 The Royal College hockey team
For this three-match series against South Tamil Nadu Combined Schools team, players were drawn from eight districts according to a senior source of the Royal Hockey Club.
According to the same source, the Royalists put up a plucky show and won much admiration for their gutty display. In the opening match they lost 3-nil played at St. Anne's College Stadium, in Coimbatore.
It was played on a clay/gravel ground and it took time for the lads to settle down and adjust their play on unaccustomed ground conditions. The match was played at a furious pace and both teams displayed high standard of hockey skills. The South Tamil Nadu led 1-nil at lemons. After the break the home team banged two quick goals, to seal the game 3-nil. S. Giridharan, was adjudged the player of the match for his scientific display.
The second tie, was played at the MGR Race Course Stadium, in Madurai. Royal playing a controlled game held the STN Combined Schools to nil-all at the breather. The second half turned out to be a battle royal with both teams moving the ball pendulum wise. Ultimately South Tamil Nadu breached the stiff Royal defence to score the solitary goal of the match - to win one-nil. Royal goalkeeper Sajit Wijegunawardene, gave an excellent performance between the posts and was named player of the match, which he richly deserved.
The final match was played in Trichy. The Royalists showed much improvement, skill and adjusted to the conditions and there was no let up. It was a scoreless first half. But South Tamil Nadu displaying better stick work and co-ordination scored three goals in the process to win 3-nil and win the Sabri Trophy offered for the first time. S. Ragunathan scored a hat-trick and was adjudged the player of the match.
This educative hockey tour by the Royalists gave much food for thought and it augurs well for the future of this sport not only for the school but for the country in general, said a senior official of the club. Skipper Mahesh Jayawickrema, Damith de Silva, goalie Sajit Wijegunawardena, M. S. S. Mendis, M. P. Jayakodi and H. Gunaratne stood out for the school in this first tour to Tamil Nadu.
Sri Lanka Hockey has got much needed elixir, thanks to a lavish sponsorship package offered to the controlling body through an old Royalist, Chairman of Singer Sri Lanka (Pvt) Ltd., Hemaka Amarasuriya.
The team:- M. S. Jayawardena, K. H. Jaasinarachchi, D. H. D. S. Silva, R. P. V. H. Gunaratne, M. S. S. Mendis, K. Wimalagunasekera, J. R. M. P. Jayakodi, A. Wijewardhana, A. Y. Sahabandu, S. Wijegunawardena, A. W. M. Omin, R. Mowjood, M. De. Alwis, M, Anandavel, K. Nihamathullah, C, Amigoda, A Damith, A. Gunawardhana.
Officials- R. Dharmadasa, (master-in-charge), Rohan Dissananayake, (Manager) and Vasantha de Silva.
The Tamil Nadu team is due to arrive here shortly for the second leg.
---
Warden De Alwis to promote cricket in outstation schools
By Bernie Wijesekera
"My vision, is to pursue a noble aim, seeking not glory or fame or praise, but to promote the game of cricket among the schools in the outstations," said the President of the Schools Cricket Association, Warden Neville de Alwis, to The Sunday Times.

Warden Neville de Alwis, will be retiring, as Warden of S. Thomas' Mt. Lavinia, after serving 15 and half years, in June '98. As an administrator he commanded much respect and at no stage succumbed to outside pressure, the cornerstone to his success on and off the field.
He was elected as president of the Sri Lanka Schools Cricket Association in 1989 and did an excellent job for the promotion of this noble game of character building.
On par
The Warden stated, though he has not played the game, his concept was to help develop the game in the outstations and not alone.
Today, there is tremendous enthusiasm among the lesser known schools in the outstations, who could even come on par among the best in the metropolis, he added.
There is hidden talent. What they need is exposure, encouragement and support for further development of their skills. Given this opportunity, the outstation schools could blossom in this game, he observed.
During my tenure as president of the SLSCA, my committee worked as a team. They were committed for the development of the game, sans politics. My term ended in February 1998. I wanted to stand down as I will be retiring as Warden of S. Thomas' in June. But the general body wanted me to continue in office as the SLSCA will be celebrating their "Golden Jubilee" this year.
I must thank them for that fine gesture, indeed. Apparently it may be a token of gratitude and wanted me to be at the helm, he nodded.
Q - Anything special for its celebrations?
A - Yes, the SLSCA will be organising a quadrangular tournament among Sri Lanka, India, Pakistan and Bangladesh to mark the occasion.
Incidentally Warden Neville de Alwis, went as manager of the Sri Lanka Schools under - 17 team to Malaysia for an Asian tournament in 1994 and lost to Bangladesh in the final. Of course the Bangladesh team was not under - 17 team but much older. It wasn't cricket.
But these things do happen, but the game that matters in the end, Warden de Alwis smiled.
Q - Don't you think that you can continue as Warden for a couple of more years?
A - No one is indispensable. No one can work forever or live forever, he added. I am happy to mention that everyone co-operated and gave me unstinted support, be it my staff or otherwise. This made my task much easier and I was able to lead from the front, he added.
Same support
Whoever, takes over from me, will be assured of the same support for the continuation of the Thomian tradition.
Q - Don't you think its glorious memories and silver tears?
A - You are right. There are quite a number of momentous moments that linger in my heart, too numerous to mention. But in 1988 STC defeated Royal by the biggest margin - by an innings and 72 runs and last year, also got the better of them. This takes pride of place. This 'Battle of the Blues', is played in the true traditions in the correct spirit by both schools. The final outcome of the game is secondary.
This was something the older generation maintained. The new generation will take over, but they must strive to maintain them at all times on and off the field, amiable Warden Neville de Alwis concluded.
---
Ana to continue as rugby coach
Ana Saranapala was re-appointed rugby coach of the Sri Lanka Rugby Football Union at its Executive Meeting headed by SLRFU President Dr. Maiya Gunasekera. Ana will continue to be Sri Lanka's coach for another year.
An old boy of Isipatana, 'Ana' played with success for Havelocks S.C and has devoted much of his time, on and off the field for the development of this sport in general.
A keen student of the game he has studied the skills, specially the practical side, and imparted them so that they could be better players.
He was able to study the individual problems of players and motivate them to overcome them.
He himself has gone through the ups and downs of this sport and has the courage to fight setbacks on and off the field. He also served as President of the Referees' Society and has been a referee himself. This, too has helped him in a big way to be a better coach.
This helped the players to overcome their weak points and players in the squad are quite pleased with his coaching.
Saranapala, when contacted by The Sunday Times said that he was happy to continue as national coach.
There is a long drawn out programme with several international contests at home and abroad. The players are determined to do well and are a dedicated lot. This makes my task much easier, he added.
Much attention will be focussed at the next Asian Games where rugby will be included for the first time, and the Rugby Asiad.
No expatriates will be allowed to play for Hong Kong at the Asian Games, thereby the contenders will be Japan, S. Korea, Chinese Taipei and Sri Lanka. Sri Lanka is capable of getting the better of Chinese Taipei, after that rousing W.C. qualifying round match in Bangkok, when we lost the tie in extra-time he concluded. - BW
---
New Havies' boss means business
Mr. Muktha Yoosoof,who took over the reins from Gamini Jayasinghe, as President of Havelocks SC said that he would continue the good work of his predecessor.
This has to be a team effort by him and the committee. I will also need the advice and guidance of those not holding office.
The 83-old club has a tradition of rugby. It has produced some outstanding national players in the past and it must be continued.
The new committee will do its best to encourage and help the young players, Yoosoof added.
There are plans for the Havelocks to get two Tongans, to add that much needed power play to the squad. Hooker Thusitha Peiris will lead the Havies this season.
The officials for the ensuing year:- Patron - Barnes Ratwatte. Vice Patrons - Lucien Rajakarunanayake, Raj Rodriguez. V-Presidents - Ronnie Abeysinghe, Desmond Ludowyke. Secretary - Bernard Joseph. Treasurer - Anton Soosaipillai. Bar Sec.V.S.Perry. Pavilion Sec.- Basil Ranaweera. Social Sec.-Norman de Zilwa. Billiards Sec.-Faiz Yoosoof. Ground Sec.-Lal Gunadasa. Jt. Sports Sec,- Chaminda Rupasinghe. Committee members.- H. Mahadewa, A. Seneviratne, K.K.Mailvahanam.Rep to WPRFU - Kolitha Goonatilleka Past President to committee - Quentin Israel. Coach - Tony Amith. - BW