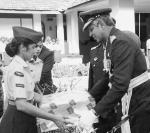 Outgoing Air Force Chief being presented a gift by his staff
As Thai Airways flight TG 307 touched down at the Bandaranaike International Airport, Monday, March 2, had just dawned. It was 12.20 am.
Soon after the step ladder was in place and cabin doors flung open, crew members stood to attention. They wanted to ensure the VIP passenger on their manifest, who enjoyed a smooth as silk flight from Bangkok to Colombo in the first class cabin, was given a pleasant send off. They wished him goodbye and the man was whisked off later in an armed convoy to the City.
He was none other than Air Marshal Oliver Mathew Ranasinghe, Commander of the Sri Lanka Air Force. If he was unaware that he had just concluded his last foreign visit as air chief, he seemed equally unaware that news of a bigger send off from the country's defence establishment was awaiting him.
And that Monday afternoon he learnt he would have to relinquish office as Commander on Thursday, March 5, or in some 72 hours. That indeed was an anti climax in the career of a man who joined as a flight cadet in 1968 and rose to become Commander. That was after a six months training stint in Diyatalawa and an year in China Bay that helped him to qualify as a Sergeant Pilot in 1969. He was commissioned as a Pilot Officer in 1971. That is not all. He was regarded as a powerful and influential person in the defence establishment during his tenure as air chief in the latter years.
So much so, notwithstanding the recommendations of a Presidential Committee of Inquiry that made strong strictures against him personally, Air Marshal Ranasinghe, won an extension of his term until further notice. That was on April 17.That extension, of course, put paid to the career of then Chief of Staff, Air Vice Marshal Anslem Peiris. Upon reaching his maximum in the rank, he sought an extension of his term. That was, however, turned down.
President Chandrika Bandaranaike Kumaratunga (who is the Commander in Chief), according to highly placed defence sources, was strongly in favour of not only an extended term for AVM Peiris but also to make him Commander. Such a move would not have hindered the career prospects of the next in line, 47 year old Air Vice Marshal Jayalath Weerakkody since he had more time to serve.
But the man who is running the country's military and police machine, General Anuruddha Ratwatte, did not like the idea. These sources said Gen. Ratwatte did not hide his feelings when he declared he would find it difficult to work with AVM Peiris. He is learnt to have been in favour of an extension to Air Marshal Ranasinghe but the request did not meet Presidential approval.
I said in these columns (SITUATION REPORT February 15) that Air Marshal Ranasinghe would be granted a 'very short extension' that will enable him to complete his departure formalities.
This followed a decision at the highest levels that Air Marshal Ranasinghe would not be granted an extension to continue for a further term of one year as Commander though he had made a written request. This was particularly in view of the findings of the Presidential Committee of Inquiry. Hence the move for a shorter extension which in effect would see the exit of AVM Peiris. However, the fact that it would be as short as 15 days surprised both the country's defence and political establishments. After his return from Singapore and Bangkok, his farewell formalities had to be restricted.
On winning an extension of his term, Air Marshal Ranasinghe boarded Emirates flight EK 076 to Singapore on February 22. He was attending the colourful Singapore air show where manufacturers and agents vie with each other to market modern day aircraft to would be customers. There was of course no mandate from the Government for Air Marshal Ranasinghe to negotiate any purchase. It was purely a visit.
By Monday afternoon, news was out that Air Marshal Ranasinghe would relinquish command. Air Vice Marshal Jayalath Weerakkody, who was in Kirillapone received a call on his cellphone urging him to represent the Commander at a function. At that time, he seemed unaware that the mantle of being air chief was going to fall on his head within the next few days.
No wonder he was surprised when Air Marshal Ranasinghe broke the news to AVM Weerakkody that he would be Commander on Thursday. As the news spread in Colombo by last Tuesday morning, AVM Weerakkody's telephone was inundated with congratulatory calls. He told friends that he had only learnt of his impending appointment from his Commander and was awaiting official word. That came by Tuesday afternoon.
An official news release put out by the Ministry of Defence said:
Air Marshal O.M. Ranasinghe relinquishes duties as the Commander of the Sri Lanka Air Force with effect from 05/03/1998 on completion of a period of four (04) years in the post and a total of 30 years in the Sri Lanka Air Force.
Her Excellency the President has been pleased to appoint the Chief of Staff, Air Vice Marshal Weerakkody as the new Commander of the Sri Lanka Air Force under Section 8 of the Air Force Act, with effect from March 06, 1998.
Even before this official announcement was released, staff at Air Marshal Oliver Ranasinghe's Secretariat were busy preparing schedules for the commander to make his farewell calls. Early Tuesday, they contacted both Army and Navy Headquarters to obtain appointments with the respective Commanders. Due to lack of time on hand, Air Marshal Ranasinghe, could not make the customary farewell calls on some of the provincial SLAF bases. His farewell to 'to dine in to dine out' the Commander at the SLAF base in Katunayake on Thursday night went on till 2 a.m. Friday, the day AVM Weerakkody took office.
That notwithstanding, Air Marshal Ranasinghe still had the time to hold a news conference at the SLAF headquarters on Thursday afternoon. The Sunday Times journalists Rajpal Abeynayake and Frederica Jansz were among those who posed questions to him. Their report appears elsewhere in today's issue.
One of the complaints of Air Marshal Ranasinghe appeared to be what he called the press publishing operational matters which he said proved detrimental to the war effort. He said the matter had come up for discussion at even National Security Council meetings. He was of course referring to the Situation Report.
When Rajpal Abeynayake asked Air Marshal Ranasinghe would you like to specify which articles ? , he replied I cannot specify anything..
There were shades of Selvadurai Senthinathan's purported claims in what Air Marshal Ranasinghe said. Senthinathan, purportedly an LTTE surrendee, was coached and appeared on national television in November, last year, to say he translated Situation Report for LTTE leader, Velupillai Prabhakaran. Both Air Marshal Ranasinghe and Senthinathan say this benefited the LTTE, a very serious charge. But both have not identified what was detrimental to the security forces or beneficial to the LTTE.
No one in authority has questioned me about any such claim. If they did so, I could have explained myself. On the other hand, if there was a mistake, I could have corrected myself. But to generalise matters is to hide behind a purported claim to distract attention from the real issues, the ones that are not reflected in the press releases and the lofty pronouncements made by some politicians who have made the war a tool for their self glorification.
One of the reasons given for what appeared to be a hasty exit as Commander was that Air Marshal Ranasinghe had completed four years in office. But there have been Air Force Commanders who have served longer than four year stints. Air Vice Marshal Rohan Amerasekera who was Air Force Commander served from 1962 to 1970, a period of eight years. Air Vice Marshal Pathman (Paddy) Mendis served from 1970 to 1976, a period of six years.
Here are the terms of the other Commanders: Air Vice Marshal Harry Gunatilleke from 1976 to 1981, Air Vice Marshal Dick Perera from 1981 to 1985, Air Vice Marshal Walter Fernando from 1985 to 1990 and Air Vice Marshal Terrence Gunawardena from 1990 to 1994.
Air Vice Marshal Jayalath Weerakkody who assumed office as Commander on Friday becomes the only officer in SLAF history to have served the shortest term (two weeks) as Chief of Staff.
The entire episode of this change of command in the SLAF demonstrates, what could only be surmised as, an unprecedented frivolity of attitude towards the management of the armed forces. In the ordinary course of administrative procedures this would be a reflection on the Minister of Defence who is none other than the President, and, who in addition is also the Commander in Chief of the armed forces.
However, it is very well known that President Chandrika Bandaranaike Kumaratunga has entrusted to the Deputy Minister of Defence, Gen. Anuruddha Ratwatte, the responsibility of administering the defence establishment, for obvious reasons of, both, easing her work load as well as because of his military background, which the government believes will enable the better conduct of the war.
That authority has been further enhanced by the fact that Gen. Ratwatte who is sanctioned with the responsibility for the political direction of the Eelam War. In the circumstances, it is recognised that it is Gen. Ratwatte who calls the shots unless the President intervenes on matters concerning high policy.
And in this instance, that seems to have been the case. The appointment of a service commander or the change of command is a macro issue concerning the management of national security. Thus, it is also a matter of public concern. Especially so when there is an ongoing war. It is because of the very importance of those appointments that they are required by the Constitution to be made by the President. In all these circumstances any change of command in the services is a matter of Presidential policy and not a matter for common place ministerial or bureaucratic decision.
What, however, should be of ministerial concern is that a change of command should be planned to ensure a smooth transition of management. More so in the time of war. In this instance, however, judging from what seems to be last minute actions of the Ministry in regard to the continuity and retirement of the top rungs of the SLAF, it would appear that there has been, at the Ministry level, some indecision in the matter to say the least.
That has given rise to some unhealthy concern and question by the public, and even in the Air Force, of the bona fides of the command changes made. The fact that Air Vice Marshal Anslem Peiris though at the end of his tenure in that rank was sent to Russia on a procurement mission gave rise to hopes that he would be extended in rank, if not selected to be successor to the Commander, who was on the eve of the end of his tenure in office.
It would seem illogical to send an officer about to retire to negotiate impending procurements which possibly would also have some implications on future policy. Equally confusing was the fact that Air Marshal Ranasinghe should have been sent to an air show if he was to be retired soon after. The logical representative should have been the Commander designate who would have profited from that visit. So would have the country.
These illogical actions have added to the confusion in the public mind as to what is taking place. That these questions follow the findings of the Presidential Committee on the loss of aircraft, which remains open in spite of the serious strictures and observations made therein, only contributes to increase the level of public concern to that of suspicion.
In raising these issues, it is not to suggest that there has been mismanagement though it savours indecision, nor is it to suggest cronyism though it smacks of special relationship, nor is it to suggest unprincipled action though it lacks transparency. It just leaves many unanswered questions in the air. That is not in the national interest.
Last Thursday's bomb explosion, reported in detail elsewhere in The Sunday Times, requires mention. It comes in the backdrop of LTTE's declared aim to exert maximum pressure on the Government this year. The position was spelt out in an editorial in its official journal, Viduthalai Pulikal.
I reported in these columns (SITUATION REPORT December 14, 1997) that:
One Tamil source in Colombo said yesterday that LTTE leader, Velupillai Prabhakaran, has now tasked three separate leaders in his high command to carry out attacks in Colombo. All three of them were detailing men to direct these attacks from Batticaloa since mobility from there to the City is easy. The three, these sources identified, were Tiger 'intelligence boss' and now 'Jaffna Commander' , Pottu Amman, Commander of Black Tigers, 'Brigadier' Sornam and Sea Tiger 'Commander' Soosai.
Earlier, the task has been overseen by Pottu Amman who used his confidante Daas to direct operations from Batticaloa.
An intelligence source who confirmed the report said Prabhakaran was trying to 'create competition' in his high command to disturb the peace in the City
In this backdrop, Thursday's bomb explosion and findings during subsequent investigations reveal some interesting factors. The bus used in the explosion came from the east (Batticaloa district) and those arrested so far have all been from the same area.
Hence, the Maradana bomb explosion is very much a part of a widespread LTTE strategy or irregular warfare through terrorism.
---