New book
Introducing contemporary poets

A representative collec- tion of poetical compositions by contemporary poets is presented by Professor Sunil Ariyaratne in Noothana Kavya Sanghitha (An Anthology of Modern Sinhala Poetry), the second edition of which is now in the bookstalls.
From among thousands of poems written by Sinhala poets starting with Piyadasa Sirisena (1875-1946), Prof. Ariyaratne has selected a cross-section right up to the mid-nineties.
They are presented in a convenient style identifying the eras and poets in chronological order.
Beginning with the first phase of the Colombo Poets (Piyadasa Sirisena, Ananda Rajakaruna, Rev S. Mahinda and G H Perera) he goes on to the second phase poets (P. B. Alwis Perera, Sagara Palansuriya, Meemana Prematileka, Wimalaratne Kumaragama and Sri Chandraratne Manavasinghe), Hela Havula poets (Kumaratunga Munidasa, Raphael Tennekoon and Arisen Ahubudu), Free Verse first phase (G B Senanayake, Siri Gunasinghe, Gunadasa Amarasekera, Mahagama Sekera and Wimal Disanayake) and second phase (Parakrama Kodituwakku, Monica Ruwanpathirana, Dayasena Gunasinghe, Ratna Sri Wijesinghe, Nandana Weerasinghe, Ariyawansa Ranaweera, Kumara Hettiarachchi and Senerat Gonsal Korale).
Works of several other poets, unusual presentations and biographical sketches of 13 reputed poets who are no more, are also included. The author also gives a brief outline on the development of indigenous poetry. "From the very beginning Sinhala poetry inherited an important characteristic feature.
Every verse is couched in a metre. The first generation of modern Sinhala poets followed the same tradition with regard to form and style.
---
Faces, figures and colours
By Dilrukshi Handunnetti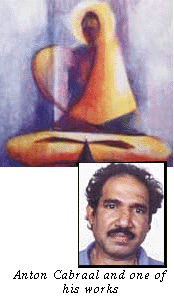 For London based Sri Lankan artist Anton Cabraal, art like everything else evolves with time. Like the hair which is receding, he claims that maturity seeps into an individual, quipping with a smile, that this has made him try to convey an inner meaning in his works. "I believe artists do hide something sublime in their works which transcends the mere aesthetic.
"I try not to dictate through art, leaving it to the viewer to ascertain what I am trying to say. It all depends on each individual's ability to interpret a work of art."
Art, in his contention, is not self-explanatory. This was why, he says, there is a universal appeal where each individual sees something unique and different.
Anton Cabraal's childhood dreams of becoming a professional artist, were not well received at home. Having received his primary education from St. Peter's College, Bambalapitiya, his launching pad was Woolwich, a London Art School which taught him the rudiments of painting. Since then, he has taken large strides in the U.K, accepting the travails and challenges of a career as a professional painter.
"I am fascinated by faces, figures and colours. In each different figure, I see novelty and a different beauty. I think the majority are inspired vastly by nature and one's environment - for there is no better source of inspiration."
Comfortable in his second home London, he finds the atmosphere there extremely conducive to youngsters who are interested in pursuing creative careers.
"The galleries are competitive, hence the high standard of paintings. There is a lot of professionalism thanks to the educational background provided from the outset. Even school children are seen at galleries, studying the various aspects of exhibits and copying the masters' works. Not only this, there are proper marketing strategies which eases the load of artists considerably," he says adding wistfully that Sri Lanka might take many years to achieve this, a draw back which prevents many talented people from embarking on a creative career.
"People are willing and more able to invest in works of art abroad. This is very inspiring to a person who wants to make it his profession. The structure in Britain is most conducive, also there are other assets such as availability of material and the necessary guidance in abundance," he says.
He prefers working with acrylics though other media are also used when it becomes necessary. "You get the same effect as oil for less toil." The process of drying a painting could consume much time, hence the preference for acrylics which dry faster in a cold climate. Having exhibited at several art galleries in London since 1975, he is currently preparing for his fourth solo exhibition to be held on home soil.
Twenty seven paintings by Anton Cabraal will be on display at the Lionel Wendt Art Gallery from March 13 to 16.