Surviving the jaws of paedophilia
The boys at Bosco Sevana have something in common. Many of them have suffered from sexual abuse or been exposed to high risk of exploitation. Hiranthi Fernando reports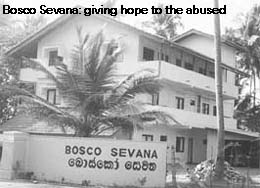 Twenty two young boys between 10- 15 years, were enjoying a vigorous game of volleyball. Brother Gabriel who looks after the boys at the Bosco Sevana home joined in and the boys shouted and laughed, appearing happy in their play.
The boys at Bosco Sevana are from poor homes mostly from the coastal areas around Negombo. Some of them are orphans while some have a parent in prison. There are also some street children from Colombo who had no one to care for them. They have something in common. Many of the boys have suffered from sexual abuse or been exposed to a high risk of exploitation. At the Bosco Sevana they are safe and well cared for. Here they have an opportunity to put their trauma behind them and look forward to a better life.
Ajith (not his name) comes from a fisher family in Negombo. His father is dead and his mother worked to support Ajith and his handicapped brother. He was taken forcibly at knife-point, by two pimps, to the house of a foreign paedophile who was operating in Negombo. There he was given a drink and he recollects feeling somewhat strange afterwards. The foreigner after having sexually abused the boy, gave him two hundred rupees. The pimps grabbed a hundred rupees from him and let him go home. Thus began his involvement with the foreigner, who was subsequently arrested. Ajith was in a state of shock after the incident. When other boys teased him by shouting out the man's name, he would lose his temper. He lost interest in his schooling.
"We have good co-operation with school principals in the area," said Brother Gabriel, an Italian member of the Salesian Delegation in Sri Lanka. The Salesians who have established eight Don Bosco institutions in the country, are involved in the education of poor children. "Fortunately for Ajith, his school principal realised something was wrong and informed us about him," Brother Gabriel continued.
"We contacted his mother who was cooperative. Ajith was brought here for rehabilitation. He finished the course here and showed interest in going back to school. He then followed a technical training course at the Don Bosco Centre at Negombo. He is now working well and supporting the family. He has even taken a loan to rebuild their house."
Raja (not his name) was a school drop out who used to hang out by the beach at Tuduwe where he lived. Since a foreign paedophile operation in Negombo was extending towards this area, he was in the high risk category. Raja was brought in to Bosco Sevana by field officers of the Don Bosco Institute. He was given a basic education and then followed a technical training course in Air conditioning at the Don Bosco Technical Training Centre. He has now found a job in Negombo and earns a salary of Rs. 3,500. "He too is looking after the family and seems to be very happy," Brother Gabriel said.
According to Brother Gabriel, every year, the risk age seems to be lower.
Shantha (not his name) was only ten years old when his parents brought him to the Bosco Sevana. "At that tender age, he was frequenting the hotels and offering himself," Brother Gabriel said. "His parents were powerless to do anything, so they brought him here. He is now with us and is quite happy. His parents visit him and bring gifts for him and the other boys as well. Environment means a lot. Often a change of environment helps them."
Bosco Sevana is established on a spacious plot of land by the sea. The newly renovated building contains a cheerful and airy classroom and dormitories. The kitchen and dining area is located in another building close by. In admitting children to this camp, the first priority is given to orphans and the poorest of the poor. Brother Gabriel says that unless boarding facilities are given, the children have no money to attend any courses. At the rehabilitation centre there are three categories of boys. Those who have been sexually abused mostly from the Negombo area, some street children from Colombo and those who are at high risk of being exploited. An initial three month rehabilitation course is held to help the boys to overcome their fears and gain confidence to go back to school.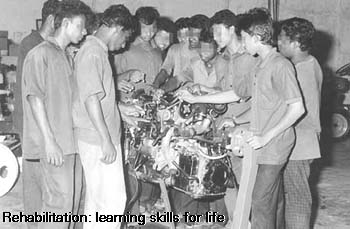 "At first, many of the boys are not responsive," Brother Gabriel said. "Some find it hard to get over their experiences. They are tense. Even when they smile, sadness lurks behind in their eyes." Some of the boys have never been to school. Others have lost interest in studies. At the camp, they are given some basic classes in a pleasant relaxed atmosphere. They have sufficient free time and opportunities for playing games or watching TV. The aim is to keep them occupied and try to interest them in resuming their education and taking up their lives again.
For those who wish to go back to school, another boarding has been established at Negombo. The boys attend schools nearby and go to the boarding after school. At the boarding, they have facilities for games and tuition when necessary. Finally, they are given a technical training which would help them in earning a living. "So it is a complete rehabilitation programme. We also help them in getting employment," Brother Gabriel said.
Since the poor boys in the coastal areas around Negombo have been particularly vulnerable to sexual exploitation, the Salesian Delegation have conducted several seminars for both children and parents of the area in order to make them aware of the dangers. Brother Gabriel said that they have had good cooperation from most of the parents. "We have been able to help about two hundred boys to rehabilitate themselves," he said. "It is a drop in the ocean when one considers the magnitude of the problem. Nevertheless, it is something achieved."
Fr. Anthony Pinto, Principal of the Don Bosco Technical Training Centre in Negombo has been concerned with the problem of boy prostitution ever since it first cropped up in the Negombo area. "We first came across the problem in the early 1980s," Fr. Pinto said. "Boys were used by foreigners. Police found nude pictures of local boys.
"Boys who indulged in these activities, later turned into pimps and began soliciting for foreign paedophiles. In 1988, we found children being taken by force. We thought it time to lodge our protest. We found out some centres where our boys were being sold. We organised some peaceful silent marches and a poster campaign. Around this time, the problem of AIDS also came up. Finally, our agitation resulted in the setting up of a Task Force for the Prevention of AIDS and Child Abuse. The Police grabbed about 70 young boys with foreigners. The boys were kept in remand and it was like a detention camp. So we volunteered to handle it and the first Rehabilitation Camp was established at Katana. Later on, the Archbishop gave us the land we are now using for the Bosco Sevana."
Field officers attached to the Don Bosco Organisation go out to places where these boys usually hang out and persuade them to come to the rehabilitation camp. Fr. Pinto explained that they concentrated on boys under sixteen years of age since the older boys were found to be beyond rehabilitation. The first stage of rehabilitation is complete when the boy expresses a desire to go to school. They are then sent to school while providing them with boarding facilities. When they are over fifteen years, they are absorbed into the Don Bosco Technical Centre where they receive a useful technical education.
The Don Bosco Technical Centre offers technical training to 350 boys drawn mostly from the area. Boarding facilities are also available for some of them. The training covers a variety of subjects such as carpentry, motor mechanics, machining, electronics, Air Conditioning, Outboard engines, computers and printing. "Here we are tackling the problem of school drop outs," Fr. Pinto said. He explained that there are largely fisher families in the area. Many of the fishermen migrate during the monsoon season leaving the children behind. Left to their own devices, many drop out of school. Don Bosco Technical Centre was established to offer an opportunity to these boys to get a technical training and so enable them to earn a living.
"I feel that the laws in the country are somewhat inadequate," Fr. Pinto said. "A number of children are being abused daily. Often when we make a complaint, the children are humiliated. Recently we found 600 names of our youth on internet." According to Fr. Pinto, no seminars will be effective unless they go to the grassroots level. "They go to schools and parishes and speak to parents and children. "We try to make them aware of the dangers, through musical programmes. Children listen to us when we play our music. Many boys have come to us after such a programme and spoken to us about their problems and fears."