8th February 1998
Iranganie and Kamini rebels with a cause
By Tharuka Dissanaike
Iranganie Sera-singhe and Kamini Vitharana grew up very differently. But despite childhood parting, the sisters' lives were inexorably linked later in life, sharing political passions and fighting for common issues.
Originating from a politically powerful family, the Meedeniya clan of Ruwanwella (their aunt was the first woman council member, Lady Molamure) the sisters' formative years were spent differently. Iranganie was boarded in Colombo and attended Bishop's College but Kamini grew up with an aunt in Balangoda and attended a school in Ratnapura. She describes her upbringing, laughingly as "very game gode." Later on in life, at the onset of independence, both were drawn to left politics, much to the consternation of their family members. Even later they became vociferous protesters on behalf of the environment. And still are.
Sinking into a cosy chair in the cool verandah of her Nawala home, the more well known of the two, Iranganie Serasinghe looks like she's retired from rebelling for good. Dressed simply in skirt and long blouse it is not difficult to identify this veteran actress, with her popular small screen image of a home bound grandmother. But of course, as impressions go, it's incorrect. Iranganie Serasinghe is certainly still fighting.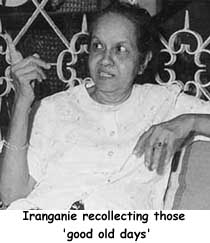 Fifty years ago, Iranganie was just entering the University of Colombo when the country officially gained independence. Even at that time the socialist ideal had begun to take root in her. "A cousin of mine was keenly involved in the Communist Party and it was she who first introduced me to socialism," Iranganie recalls.
Of course her years of study in the university only served to increase her interest in socialist politics and the conviction that it would serve to be best for the post independence Sri Lanka. "At that time there was a strong socialist movement and the Communist Party and the LSSP were leading political movements." Her idealism matured under the guidance of Esmond Wickremasinghe who was related to Iranganie by marriage, who at that time was a "rabid LSSPer," she said.
After she completed her degree in arts, Iranganie Serasinghe took to teaching. During this time she joined the Communist Party, actively canvassing for causes and friends at election times. Her interest in leftist politics survived a three year stint in England attending drama school, polishing up her acting abilities. "I cannot recall exact incidents or times when we stepped into the streets with banners and boards to fight various causes- it was so long ago," she says. "I remember canvassing strongly for people like Bernard Soysa when elections were close at hand." Other strong arms of the movement- people like Dr. N.M Perera, Colvin R. de Silva all contributed to make the socialist ideal appeal to many intellectual Sri Lankans of that era.
"All this was much to the consternation of my father," Iranganie recalls with a smile. "My poor father suffered. He really didn't believe that this was the proper thing for a young woman to do. He was against my university career and he felt that everyone who goes to campus end up as socialists."
Iranganie was among four who formed the Eksath Kantha Peramuna- a unification of the LSSP and Communist Party to canvass among rural women. The others involved were Vivienne Gunawardena, Doreen Wickremasinghe and Edith Ludwhite.
Kamini Vitharana studied zoology in university. Before that she remembers attending leftist classes and campaigning for Bernard Zoysa at an election. "I remember a cousin, a leftist, who had been imprisoned in India was the person who inculcated the love for left politics in me. It was very exciting to have such a person in the family, no one else we knew had been to jail."
The sisters attended The Colombo University together and graduated around the same period. In campus, Kamini's participation in politics was minimal due to study pressure, and out of campus too there was a lax period where she was involved in scientific consultation and later moved to England, where she married and was domiciled for a while. But in the 1960s, upon returning to the country, Kamini unsuccessfully contested a seat in Ratnapura, for the LSSP despite being a mother of two young children at the time. "The left vote was unfortunately split between Sarath Muttewegama and me. If it was either of us, we could have won that seat," Kamini reminisces.
Estranged from her first husband, she later married Dr. Tissa Vitharana, an LSSP faithful and top scientist.
As the years rolled on, the battles took on different contexts. The sisters were both members of numerous associations to protect nature. A keen environmentalist, Iranganie remembers the landmark meeting which transformed the Wildlife Society into Wild Life and Nature Protection Society when members decided stop game hunting which was a common sport and devote the society to protection of species. She was the founder of Ruk Rekaganno, which campaigned against forest destruction and especially the government sponsored logging activities at Sinharaja. Kamini is presently the President of Ruk Rekaganno. The society is still active in trying to conserve and educate the public in the means of conservation, especially among rural women.
Kamini was the first Scientist in the foremost NGO, Environmental Foundation Limited (EFL) fighting for environmental causes.
Iranganie, who today is a Director of the EFL and is on the board of the Central Environmental Authority, still harbours strong ideas on issues.
Talking of the past takes Iranganie 50 years back to the first Independence Day. The future activist was not obvious in the lissome 20- year old who, as a student of Chitrasena, danced as Sita in a depiction of the Ramayanaya in the Independence Pageant.
---
Continue to Plus page 4 * Clarke under cloud? * "We are strict about our code"
Return to the Plus contents page
| HOME PAGE | FRONT PAGE | EDITORIAL/OPINION | NEWS / COMMENT | BUSINESS
Please send your comments and suggestions on this web site to
info@suntimes.is.lk or to
webmaster@infolabs.is.lk