Situation Report
14th December 1997
Security in city revamped
By Iqbal Athas
Stop Govt. offensive against journalist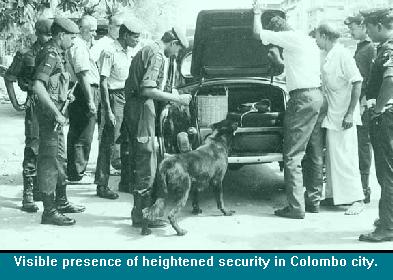 Army Commander, Lieutenant General Rohan de S. Daluwatte, had to take time off his busy schedule last week to personally oversee what seemed a routine task. Within the Army Headquarters complex, tables, chairs and other office paraphernalia were being moved from one building to another. The Media Unit of the Operational Headquarters of the Ministry of Defence was being shifted to an adjoining building. They were making way for the setting up of the new Secretariat of Operations Command, Colombo - the new nerve centre for counter terrorist operations in the city.
Though the shift itself seemed routine, there was no doubt Lt. Gen. Daluwatte was conscious of the immediate urgency that underscored the move. The Ministry of Defence had placed counter terrorist operations in the Colombo Municipal limits under the supervisory control of the Army.
Heading the newly set up Secretariat is Major General Jaliya Nammuni, who had continued to hold the post of Operations Commander, Colombo (OCC). Deputy Inspector General of Police, Bodhi Liyanage, will be his deputy.
Operations Command, Colombo will be responsible for counter terrorist operations within the city which has been categorised into six different sectors. Two land based sectors will come under the Army, two under the Police and one under the Air Force. The coastal sector has been placed under the charge of the Navy.
Counter terrorism operations in the outer City limits will continue to remain in the hands of the 112 Brigade commanded by Brigadier Gamini Gunasekera and the Deputy Inspector General of Police of the respective areas. Until the setting up of the Operations Command, Colombo, counter terrorist activity came under the purview of the 112 Brigade. Even before Operations Command Colombo Secretariat fell into place in the Army Headquarters complex, troops and Police had already been moved into the six sectors. Their immediate operations - checks on vehicles, passengers in buses and even searches of homes - created a visible presence of heightened security in the city, where Christmas and New Year shopping activity had already begun. But what many were unaware was the reason that had prompted such enhanced security, particularly during December when, over the years, the calendar does not contain any dates marked by major LTTE backed incidents. This is not only in the city and other urban areas but also in the north and east too.
The only day of significance in December during the 16 year old separatist war (it began on October 15, 1981, when Tamil militants challenged State power by killing two soldiers, Lance Corporal Hewawasam and Private Tissera in Kankesanthurai), is one marked by the Government and the security forces. On December 5, 1996, Deputy Defence Minister, General Anuruddha Ratwatte, raised the Army and national flag in Jaffna to symbolically mark the security forces re-capture of the Jaffna peninsula following the many phases of "Operation Riviresa."But this year, the defence establishment in Colombo, has increasing evidence to suspect the LTTE was set to trigger off incidents. Besides the possible threat of counter attacks on troops involved in "Operation Jaya Sikurui" (or Victory Assured), the LTTE, they believe, has plans to trigger off incidents not only in the city but also in the Jaffna peninsula which has remained in the hands of the security forces for the past three years. So much so Army Headquarters have cancelled leave for all ranks. The order which came into force on Friday will remain effective until further notice. This will mean Army personnel will be allowed leave only on compassionate grounds.
Whilst security forces have been on a man hunt for two separate suicide squads, whose existence came to be known after one group was arrested with plans to attack the Ratmalana Air Force base, intelligence sources say there have been reports of infiltration by other cadres.
One Tamil source in Colombo said yesterday that LTTE leader, Velupillai Prabhakaran, has now tasked three separate leaders in his "high command" to carry out attacks in Colombo. All three of them were detailing men to direct these attacks from Batticaloa since mobility from there to the city is easy. The three, these sources identified, were Tiger "intelligence boss and now Jaffna Commander", Pottu Amman, "Commander of Black Tigers", "Brigadier" Sornam and Sea Tiger "Commander" Soosai. Earlier, the task has been overseen by Pottu Amman who used his confidante Daas to direct operations from Batticaloa.
An intelligence source who confirmed the report said Prabhakaran was trying to "create competition" in his high command to disturb the peace in the city. "It was not just a case of distracting troops deployed in "Operation Jaya Sikurui", he said. The source added "Prabhakaran had other grand designs. Attempting to trigger off incidents in Colombo is to force a scaling down of the 50th year of independence celebrations. And now, added to it, is the impending local elections in the north," he said.
In the Jaffna peninsula, where stricter security precautions have so far prevented any major incident (despite several intelligence warnings during the so called LTTE heroes week), intelligence sources concede a marked increase in the infiltration of LTTE cadres. Last week, some of them distributed Prabhakaran's annual "heroes day" message to Gurunagar and Pasaiyoor households whilst others put up posters warning the public not to have a dialogue with political parties or deal with the security forces. Those doing so, the posters have warned, would be branded as traitors, a term which in the LTTE lexicon calls for death sentence. With a few male and female pistol gangs moving around, the action has caused some unease.
These and other factors have compelled moderate Tamil political parties to make an appeal to the Government to put off the dates of nominations, now scheduled for between December 16 to 23. Elections Department officials say there is no provision under existing laws to extend nomination dates once they are gazetted. However, the President has the powers to rescind the nominations, he said.
Already Eelam People's Democratic Party (EPDP) leader, Douglas Devananda, has written to President Chandrika Bandaranaike Kumaratunga, calling upon her to extend the period of nominations. The EPDP together with the PLOTE (People's Liberation Organisation of Thamileelam) have also made representations in this regard to the Minister of Justice, Constitutional Affairs, Ethnic Affairs and National Integration, Professor G.L. Peiris. Besides security considerations which required attention, these political parties have pointed out, that the ongoing budget debate in Parliament would end on Tuesday, the same day when nominations begin.
"We should have been there by now. It is no easy task to persuade candidates to contest," President of Democratic People's Liberation Front (DPLF), Dharmalingam Sidharthan said. However, his party planned to contest even if the dates are not extended, he said.
The EPRLF, PLOTE and EPDP will field candidates to the local election whilst the Tamil United Liberation Front (TULF) will decide tomorrow. The latter, however, are also inclined to contest but its leader, Murugesu Sivasithamparam said "our main concern is the armed cadres some of the political parties are employing."
For security officials in the north, providing security to an estimated 800 to 900 candidates who will contest the local polls is a nightmare. They will require a sizeable number not only to provide personal security but also to secure sites where propaganda meetings are held.The move will require additional Police strength. Last Thursday, Police in Jaffna embarked on a programme to locally recruit 600 women Police Constables. They were to be deployed for less cumbersome tasks and the regular Policemen detailed for operational duties. On the first day of the interview, only one single woman applicant showed up.
Senior security officials say an LTTE build up in the city and the Jaffna peninsula are also intended to deflect troops from the seven month long "Operation Jaya Sikurui."
It was only last Thursday the LTTE launched its sixth so called Operation Do or Die as troops broke out of their defences north of Puthur (north west of Kanakarayankulam) in what was seen as a third and final phase of the ongoing operation. As they advanced, commandos and infantry troops who were on either side of A 9, the main Kandy - Jaffna highway, were tasked to take on a cluster of three LTTE camps on the eastern part of the highway (Situation Report December 7).
Soon after the incident, the Joint Operations Headquarters (JOH) in Vavuniya deployed re-inforcements into the area of the incident. They were on search and destroy missions. Troops recovered some injured colleagues and dead bodies. Even yesterday they were encountering enemy resistance but were involved in their tasks whilst the Air Force bombed suspected LTTE hideouts. It became clear by Friday that the three LTTE concentrations the security forces engaged last Thursday had been a cleverly concealed fake base. Tiger cadres had camouflaged themselves and lay in wait until the troops had gone well into the area, which was covered by thick jungle. The terrain before had been cleared area where many were hit by raining artillery and mortar shells.
The casualty figures for last Thursday's incident by last Friday stood at six officers and 148 soldiers (mostly commandos and special forces) killed in action, 18 missing in action and 30 officers and 451 men wounded in action. The seven month long military operation has led to over 1,100 troops being killed and over 5,500 being wounded.
Senior military officials who briefed the diplomatic community last week claimed 2,000 Tiger guerrillas were killed and a further 2,500 wounded. Independent verification of these claims are not possible. The media remains banned from the operational areas for the past three years except for arranged visits of limited duration. Loss of millions worth of military hardware during the ongoing operations, will undoubtedly enhance the escalating military expenditure.
Speaking on the ongoing budget debate, Deputy Finance Minister (who is also Minister of Justice, Constitutional Affairs, Ethnic Affairs and National Integration) noted that military expenditure began to escalate significantly during the time of the UNP administration. In 1983 the war expenditure was 1.3 per cent of GDP. It rose to 4.6 per cent of GDP in 1994. In absolute terms the expenditure on the war was RS 1,596 million in 1983, and by the time the Government changed, the war expenditure had escalated in absolute terms to Rs 26,444 million. He said the actual expenditure has continued to increase under the PA Government. In 1994 the actual expenditure on the war was Rs 26.4 billion; in 1995 Rs 43.1 billion, in 1996 Rs 44.1 billion; in 1997 Rs 46.6 billion. He said these security expenditure absorbed as much as 30 per cent of Government revenue in 1996 as compared with 21 per cent in 1993 and 6 per cent in 1983. He said the security expenditure accounts for 20 per cent of total Government expenditure last year as compared with 15 per cent in 1993 and 3 per cent in 1983.
The staggering rise of war expenditure is only matched by the equally staggering increase of security forces personnel killed in the war. That is not to mention the enormous increase of those wounded in action, equipment losses and collateral damage to civilians and property. In inverse proportion is the decreasing interest of public concern for a war being fought in the distant Wanni.
A war which after 16 years is taken for granted. No longer does a convoy of ambulances bringing in casualties with wailing sirens arouse the depth of public concern and emotion as it did a few years ago. Perhaps momentarily at best. Then it is business and tamashas as usual to a public increasingly getting immunised to a sanguinary war which due to political acrimonies has neither a national strategy for its conduct or resoluteness for peace.
---
An international journalist movement has strongly protested to President Kumaratunga against what it sees as a Government sponsored offensive to intimidate, discredit or silence one of Sri Lanka's leading military reporters, Iqbal Athas who is widely known for his column, 'Situation Report' in The Sunday Times.
In a letter to the President, the New York-based Committee to Protect Journalists, (CPJ) has urged her to intervene and ensure that Athas and other journalists have the right to carry on their work without harassment.
The letter sent by CPJ Executive Director, William A. Orme says:
An international movement for the protection of journalists has appealed to President Kumaratunga to intervene immediately in what it sees as a state sponsored campaign to harass and intimidate The Sunday Times military analyst and other journalists.
In a letter to the President, the New York based committee to protect journalists (CPJ) states:
"The CPJ is deeply concerned over what appears to be a government-sponsored offensive directed against Iqbal Athas, an internationally respected Sri Lankan journalist.
"We are particularly concerned over the recent state tolerated and state-directed campaign to discredit Athas, one of Sri Lanka's leading military reporters, widely known for his column "Situation Report" in The Sunday Times." In 1994, Athas was the recipient of CPJ's International Press Freedom Award for courageously providing independent news coverage and viewpoints although he risked physical harm against himself and his family.
In late November, several state-run media outlets gave extensive coverage to the story of Selvadurai Senthinathan, a Tamil from the Jaffna peninsula who surrendered to government security forces and confessed that he had worked as a translator for the separatist Liberation Tigers of Tamil Eelam (LTTE). In a widely publicized videotaped interview with an unseen off-camera interrogator, Senthinathan claimed that he translated several Colombo-based English newspapers into Tamil but specifically mentioned Athas and his weekly column on defence and security matters, "Situation Report."
"Senthinathan's statement, and the saturation coverage it received in Sri Lanka, was widely interpreted as an effort to brand Athas and his newspaper as "anti-national" Tamil-rebel collaborators who provide useful information to the LTTE. According to Athas, this is part of a campaign to discredit and forestall criticism of defence and security matters.
Two weeks before the interview was released, Athas had been warned by his sources that a Tamil Tiger who had surrendered to the Air Force was being coached to say that his reports were of interest and assistance to the LTTE.
Senthinathan's alleged confession follows Athas' October 26 "Situation Report" which reproduced the findings of a presidential investigative committee looking into the crashes of 16 Sri Lanka Air Force planes between April 1995 and May 1997. The committee's report found evidence of corruption and irregularities in the Air Force; however, no action appears to have been taken by the government in response to these findings.
"This is the latest round in a long-standing pattern of harassment and intimidation directed against Iqbal Athas. He and his family have been the target of death threats, kidnap threats, and surveillance since 1993, when Athas criticized the operations of the Sri Lankan army in an article published in The Sunday Times. In July 1997, he was subjected to threats and surveillance involving the Criminal Investigation Department and the Police. CPJ sent a letter to you on July 24, urging your government to conduct a thorough investigation and to take appropriate action against all parties responsible for harassing Athas. We are not aware of any action your government may have taken on this matter.
"As a nonpartisan organization working to defend the rights of journalists worldwide, CPJ fears that Iqbal Athas is again being intimidated and harassed as a result of his work as a journalist. We fear that such intimidation may legitimize harassment against other journalists in Sri Lanka especially those attempting to cover military affairs and the separatist rebellion. CPJ respectfully urges you to take a leading role in safeguarding Athas' right to operate as a journalist in an atmosphere free of harassment or intimidation. We urge you to intervene to stop any further attempts to silence or intimidate one of Sri Lanka's best-known critical press voices."
Copies have been sent to:
American Society of Newspaper Editors, Amnesty International, Article 19 (United Kingdom), Article 19 (The Netherlands), Canadian Committee To Protect Journalists, Congressional Committee to Support Writers and Journalists, Freedom House, Human Rights Watch, Index on Censorship, International Association of Broadcasting, International Federation of Jouralists, International Federation of Newspaper Publishers, International Journalism Institute, International PEN, International Press Institute, National Association of Black Journalists, National Press Club, Newspaper Press Club, Newspaper Association of America, The Newspaper Guild, North American National Broadcaster Association, Reporters sans Frontiers, Overseas Press Club, The Society of Professional Journalists, World Press Freedom Committee.
---
Return to the Editorial/Opinion contents page