14th December 1997
Your Health
by Dr. Sanjiva Wihesinha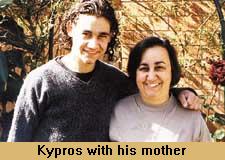 "The surgical skills required to perform a kidney transplant" says Sir Peter Morris FRS, Professor of Surgery at Oxford University and experienced transplant surgeon, "are relatively straightforward and easy to learn."
"The factor that limited the widespread use of kidney transplantation was the difficulty in getting a donor kidney that will not be rejected by the recipient."
If a transplanted kidney is to "take" and function satisfactorily inside its new home, it must avoid rejection by the recipient's natural defences. These defences (which make up the body's immune system) are programmed from the womb itself to recognise and destroy any cells that are not part of the patient's original body - in other words, any "foreign" cells that are different to those of the natural self.
As a basic step in preventing rejection, the donor kidney must be selected from someone whose body cells most closely match those of the recipient.
Although an exact match can only come from an identical twin, near-perfect matches can be found in close blood relatives such as parents, brothers or sisters, with whom one shares very similar tissue types.
Using sophisticated tests to match the tissues of a patient requiring a transplant with those of a potential donor (a process termed "tissue-typing") a good match can sometimes be found with an unrelated donor.
For those patients with kidney failure who are not lucky enough to have a willing blood relative to donate a spare organ, life consists of an often frustrating wait, on regular dialysis, until a matching donor turns up.
Nineteen year old Melbourne student Kypros Kyprianou is one such patient who has been waiting for a matching kidney for the past seven years.
Suffering from kidney failure from the age of twelve, Kypros used to turn up regularly three times each week to the renal unit at Monash Medical Centre to undergo haemo-dialysis.
This process is designed to artificially rid the body of the waste products that are normally excreted by the kidneys.
Each time Kypros undergoes dialysis, a cannula is inserted into a vein in his arm to connect his bloodstream to a machine. As his blood is pumped through the machine, it filters out urea and other toxins which, if allowed to accumulate, would slowly poison him.
Having been a regular customer of the hospital all these years, Kypros last year graduated to Monash's home dialysis programme. Given the loan of a miniature version of the machine he used to use in hospital, he now connects himself to the machine and dialyses himself with the help of a nurse who visits him thrice a week.
Each dialysis session takes over five hours, during which time the patient has to sit back on a couch and wait patiently for the machine to complete its task.
Unlike a lot of dialysis patients, Kypros did not just sit back and enjoy the view while he was on the machine. He would always come to hospital for dialysis carrying a book to read or a laptop computer on which to do his schoolwork.
Last year he took the VCE exam (the equivalent of our A Levels) - and passed among the top 1% of students in the state.
Today Kypros, the son of Greek migrants to Australia, is a first year medical student at Monash University.
"If my kidneys were normal, I would probably never have become interested in medicine," he says, "but seeing so much of doctors and hospitals, I learnt at first hand how fascinating it is."
When Kypros was called for interview after applying for admission to university following his VCE results, he was asked the routine question, "Have you had any interesting experiences in the medical field?"
His answer - a detailed description of his renal condition and how he manages it - must surely have earned him a special place in the admiration of his examiners.
Five years from now, Kypros should qualify as a doctor. Not only will he then have acquired sound medical knowledge to treat patients; as a result of his special position as one who has "been there and done that" he will also have a unique capacity for empathising with patients who have problems such as those he has had to face.
Says Professor Bob Atkins, the first director of Monash's Kidney Unit which is today one of Australia' s largest. "In the early seventies (around the time Kypros was born) the outlook for a patient suffering from kidney failure was very poor - almost certain death and a most undignified quality of life.
Today, the chances not only of survival but of leading a full and active life are around 90%."
Kypros Kyprianou, school captain last year at Lyndale Secondary College and this year an active medical student at Monash, is certainly a good example of the remarkable success of the modern treatment of chronic renal failure.
The big question at this stage among his doctors (who are now his teachers) is which will he obtain from Monash first - his medical degree or his new kidney?
---
Return to the Plus contents page
| HOME PAGE | FRONT PAGE | EDITORIAL/OPINION | NEWS / COMMENT | BUSINESS
Please send your comments and suggestions on this web site to
info@suntimes.is.lk or to
webmaster@infolabs.is.lk