14th December 1997
Nightmare for motorists on busy highway
A concrete island laid at the centre of the road close to the Slave Island junction has turned into a nightmare for motorists.
At least 16 vehicles last Thursday night had come to grief at this point, said residents. The island prevents motorist turning into a by-road. But it has no lights to warn motorists. On Thursday a vehicle taking some journalists also ran into this impediment damaging its under-carriage. Nearly 30 persons came to the rescue and set the vehicle at its wheels again.
As the journalists settled to resume their journey a car went bang into it. "This happens to cars everyday," said M. Rizwan the good samaritan who comes to the rescue of motorists. "This was brought to the notice of the authorities but nothing has happened so far," he said.
---
Disabled servicemen now face firing line
Houses locked up by NHDA, power switched off
By Shelani de Silva
In a shocking case of deserting disabled servicemen and playing politics with them, four injured men from the battlefront today find themselves virtually locked out of their houses.
They have to enter through the window because the door is locked by the authorities. Even goods have to be carried through the window.
In the unkindest cut power supplies have been knocked off so the disabled servicemen have to live in the dark. Finally they were hauled to a police station and spent three days in the police locker.
These four disabled servicemen say they were promised plot of land and houses but they are now left high and dry in what appears to be a political battle.
The servicemen who were injured in the war were given a plot of land at Panadura in 1993 by the previous government. The land was donated by a well-wisher. The four say they were chosen and the National Housing Development Authority gave them some documents.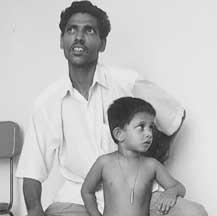 Lance Corporal Indrajith.
However with the change of government Cabinet approval was freshly sought. For more than five years the government did not construct the houses. Finally the soldiers decided to build on their own. The then Housing Minister Nimal Siripala de Silva hearing this, had visited the village and promised to complete building the houses by the end of 1996. With this promise, the servicemen stopped building.
The houses were completed five months ago but the servicemen were denied access on the basis that they were not legally entitled to the land since the document was given during the last regime. For months the servicemen fought a battle with top politicians.
All hell broke loose last week when the Panadura Police arrested them for encroachment on state property. They were remanded for four days and released on bail.
The servicemen, angry but helpless over this shocking treatment ask why they are being politically victimized after they came forward to serve their country and suffered serious injuries in battle.
"We are not Premadasa's children, nor President Kumaratunga's. We served our country. They were the people who felt we deserved the land. They gave us hopes and now they are going against their word," charged Lance Corporal O.P.D. Indrajith who lost his left leg during operation 'Akunu Pahara."
Two of these servicemen, from the Sri Lanka Army and one each from the Navy and Police, were injured in 1990 and 1991.
Though all four servicemen are disabled they are still attached to their respective Forces. S. S. Dassanayake from the Navy has lost his right eye, four fingers in his left hand and part of his right hand is lifeless. Lance Corporal Nimal Priyadarshana has lost his left hand and Constable M. Gunerathne has lost his left leg.
"Our handicap was publicised all over. We were used by these politicians. At a time when the country needs more men to fight is it right for them to treat us like this" Lance Corporal Indrajith, said.
The soldiers have vowed not to leave their homes despite several threats. They have not been given the front door key to their homes. So the window has become the entrance. Even furniture is brought in through the windows. Though electricity is available to the area the NHDA does not switch on the line.
NHDA security men tried to put them out of their houses, the servicemen said. Then on December 04, police arrived at the village around 3 p.m. and threatened to take in the wives of these servicemen. But they resisted. Then the servicemen were taken to the police station.
"We were told that we were being taken to get a statement, and would be sent back in one hour. We were asked to stay for a few minutes till the HQI came. But he arrived only the following day. We were to be produced in courts but they delayed. Finally, for three days we were locked up and released on bail on December 8", the Lance Corporal said.
The battle still goes on " We cannot lock horns with politicians. But we will not give up the fight. We won't be used as puppets. We are sure justice will prevail," the Lance Corporal said.
Meanwhile NHDA chairman Ferdinandes told 'The Sunday Times' the servicemen had kept silent until they constructed the houses and now it had become a legal matter.
"They do have a valid document but there are other factors governing this. It has to be sorted out in a proper way. The NHDA should have taken this into consideration when constructing the houses", he said. Mr. Ferdinandes said each house had been built at a cost of 1.5 million rupees which was raised through donors. "The houses will be given to disabled servicemen. But the question is who should get them," he said.
---
Students face arrest in Hardy rag case
About 20 senior students whose names were mentioned in a statement given by the ragging victim of Hardy Technical College , Ampara are to be arrested shortly, police said .
It is learnt that statements from the suspected students have already been recorded and arrests would be made any moment.
The victim, Thushara Kelum Wijetunge (22) of Atala, Kegalle who is now being treated in the Intensive Care Unit of the Kandy General Hospital has regained consciousness.
Dr. A.M.L. Beligaswatte of the Kandy Hospital said Thushara's kidneys had not started functioning as yet. Thus he was still on dialysis and on the critical list. "His left lung and shoulders are injured. We fear he many have tissue injuries on the kidneys," Dr. Beligaswatte said.
---
Ceylinco anchors navy prisoner
By Ratnapala Gamage
A Ceylinco Group company has gifted a plot of land in Panadura to the family of Commodore Ajith Boyagoda who is still being held by the LTTE after the rebels seized the ship Sagarawardene off Mannar.
The deed of the 17.5 perches land was handed over to Chandani Boyagoda at the Finance House in Colombo on Friday by the head of the Asia Finance Ltd. and Ceylinco Group Chairman Lalith Kotelawela.
Assistant General Manager Bhathiya Samarasinghe said Mr. Kotelawala having received a letter sent by Commodore Boyagoda through the ICRC requesting a plot of land at a reduced price or on easy-payment basis decided to gift the land at 'Green Village' in Alubomulla , Panadura. The land is valued at Rs. 450,000.
---
Checks on Christmas crackers
By Chamintha Thilakarathna
Cracker sales are not banned for the Christmas season this year but sellers say they are still facing a security crack-down and a drop in sales, though they hope things will pick up in the next ten days of peak shopping.
Last year cracker sales were prohibited and the vendors went to courts to get the ban lifted. With the security situation still uncertain, the Army and Police are this year making regular checks on fire cracker shops or stalls and warning vendors they must be on maximum alert for any suspicious parcels.
"When we put up the stalls, army personnel came to search for anything suspicious. They also checked our national identity cards where we lived and our background, after which they instructed us on several security measures," Kollupitiya vendor Sisira Kumara, said.
Vendors said they were under strict instructions not to accept any parcels for safe keeping and to inform them of any suspicious people hanging around the stalls.
Christmas card sellers, though not under such restraints also said that business is slow and the going is tough.
Stalls selling Christmas decorations appeared to be a little better off. Vendors said sales were good with shoppers seeking novel items for their homes or Christmas trees.
---
Continue to the News/Comment page 3 * Foreigners reign while Lankans are dumped * AirLanka-Emirates deal may fall through * Mini polls : LTTE won't harm us, says elections chief
Return to the News/Comment contents page
| HOME PAGE | FRONT PAGE | EDITORIAL/OPINION | PLUS | TIMESPORTS
Please send your comments and suggestions on this web site to
info@suntimes.is.lk or to
webmaster@infolabs.is.lk