14th, December 1997
Short crops for the season
Just ten days for Christmas and if you're in the mood to be adventurous, why not try a new look and opt for a smart, short crop. Here from Cheryl and Johann of Ramani Fernando Salons are some great ideas for the season.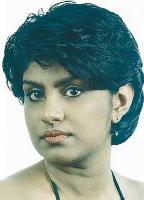 Model -Kishani
A short textured, graduated look worn behind the ear. Light wax was applied to emphasise texture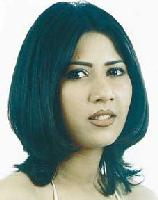 Model - Manique
Hair is layered at the perimeter to create a soft effect. Hair is blow dried and worn flat with the help of wax to keep it down.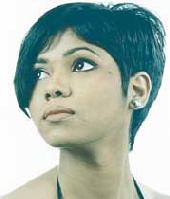 Model - Sulochana
Hair is cut short and layered. The fringe is kept long and worn to a side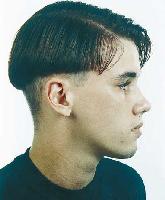 Model - Kevin
Hair is cut into a wedge and kept down with wax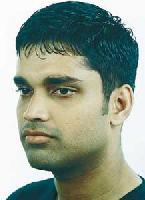 Model - Gavin
Short layered crop, waxed to emphasise cut
---
Recipes
for healthy hair
PROBLEM:
Dry hair
TREATMENT:
Banana Conditioning Pack
Hair that becomes dull and brittle when the temperature warms up will welcome some nourishment. The oil and mayonnaise in this recipe will condition hair; the banana (full of vitamins and potassium) softens it.
1 mashed banana
1/2 cup mayonnaise
1 tablespoon coconut oil
Combine ingredients and apply mixture to clean, damp hair. For best results, put on a shower cap, then wrap warm towel over the cap. Leave on for 20 minutes. The cap will keep the conditioner from dripping and the towel will allow the mixture to penetrate. Rinse well.
PROBLEM:
Itchy scalp
TREATMENT:
Avocado Moisturising Mask
The cruel, summer sun can dry out your scalp, causing it to flake. To the rescue comes an avocado treat, rich in vitamins A, C and D.
1 avocado, pitted and peeled
1 teaspoon avocado oil (from health stores)
Mash ingredients together until large lumps have disappeared. Spread mix through damp hair and on scalp. Cover with a shower cap, then wrap a warm towel over the cap. Leave on for 20 minutes, then shampoo and rinse well.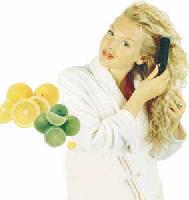 PROBLEM:
Static or Flyaway hair
TREATMENT:
Lemon-Lime Mist
This spray is a good way to control flyaway hair. Lemon closes the hair cuticle, while lime,which is slightly emollient, helps break up static.
1 teaspoon lemon juice
1/2 teaspoon lime juice
1 cup water
Mix ingredients, pour into a plastic spray bottle. Spray onto damp hair. Do not rinse. Style as usual. The mist can be refrigerated for up to five days.
---
Emerald fashion tips
Dressing for the season
Another Season is here - and parties are just around the corner. You will need to have your partywear ready. But, one minute, how exactly would you define partywear - where does the word formal take over from the informal. The questions are many, yet the answer will always be that whatever the occasion is, whether a grand party of the year or just X'mas with family, be dressed for the occasion.
Pick a quality pair or two of pants in black or a darker grey - you can easily wear them throughout the Season; darker shades add a touch of deep elegance. Then again, if the party is a semi-casual affair, you can always count on denims or cotton pants to combine your shirts with.
Before you pick your shirt, think of what the party setting might be like. A very dressy formal occasion may require a white or a thin striped shirt combined with either a matching tie or a blazer. If smart casual is the order of the day, you could always count on looking good in bold shades and prints on chinese collared shirts. Gun metal, black, grey and dark blue are some of the shades that will make a good impression on a seasonal night. Either buttoned to the top or collars opened, such eveningwear shirts can be very elegant.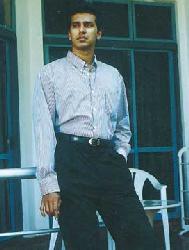 For a quiet or a cosy X'mas get together with friends and family, a look of simple yet well dressed smartness will be best; for the morning, choose a lighter shade such as salmon pink or blue - prints would be best kept for an evening function. It would be easier to shop if you could at least outline all the seasonal occasions you would have to attend; a well organised wardrobe can easily handle even the most hurriedly planned party.
Remember, the Season is a time to enjoy yourself - your clothes will only be a vehicle that will convey your sentiments for the season of happiness and giving. The colours will paint your mood of enjoyment and fun - you don't have to be limited to your favourite colours or styles.
Experiment with colours and styles - new shades of terracotta, earth red and mustard look just as good as the all-time favourites of black, blue and grey for the evening.
The accent this season, as always, will be on a timeless look of elegance - don't forget about the oriental contributions too. A sarong or a kurtha will also add that touch of a fine dress sense - if the occasion is right. Remember to pick shoes that suit the occasion - casual wear never go well with formal clothes. A pair of quality black or tan shoes will take care of all your formal needs during the season.
---
Continue to Mirror Magazine page 3 * Twelve days of Christmas
Return to Mirror Magazine contents
Please send your comments and suggestions on this web site to
info@suntimes.is.lk or to
webmaster@infolabs.is.lk