16th November 1997
| | |
| --- | --- |
| Modelling an outfit by Sonali White for the Haddai' label is Sumudu. Sumudu's hair and make-up were by Karen of Ramani Fernando Salons and she was photographed for the Mirror Magazine by Mettasena. | Contents |
---
Book your seats now for 'Legacy'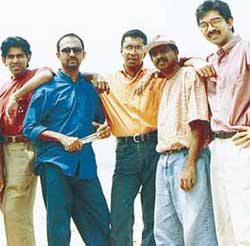 They started out in 1990, known simply by their names - Suresh, Husni and D.K, but today this talented trio are setting out on a new chapter in their musical lives. Under the name, 'Alien Accent', they will present 'Legacy' a show that promises new music and new fusion sound at the Bishop's College auditorium on November 28, 29 and 30.
Alien Accent will have the services of several well known musicians some of whom have joined them at their earlier shows and some who will play with them for the first time. Their band includes Krishna on Ghatum, Rifai Thowfeek on drums, Ray Gomes on bass, Sudu on keyboards, Shafi on electric guitar while Aruna Siriwardena, Dulip Gnanakan, Jehan Kumar, Ratnam and Ravibandu will be the guest artistes.
---
La Mode
Fashion shows often come with a tag proclaiming them to be different, but more often than not what we end up seeing is the usual parade of models on the catwalk. The Elizabeth Moir School promises a break with this tradition with their presentation of La Mode-The Fashion Performance.
Now for all the pre-publicity surrounding the show, the people behind it have been remarkably reluctant to to go into any great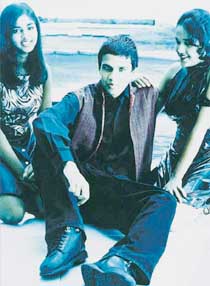 detail about what they're actually planning to unveil this Tuesday at the Galle Face Hotel. Says Creative Director of the show Ms Kirianne Weaver, "The show is presented through a total of 15 scenes which take the audience through various stages of fashion, seen through the eyes of a magician, who in a sense is the narrator. It starts out with the idea that the clothes you put on each morning shape your day but ends with the perception changing to the opposite that it is each person's style that counts."
What is noteworthy about 'La Mode' is that the students of the school have been the creative force behind it. While Ms Weaver and the show's producer Aida Mansoor have decided on its theme, it has been the young people themselves who have filled it in, doing the costumes and design, and even the props, all within a space of three months. They have had help naturally from their teachers but as Kirianne Weaver explains, "Though they were initially a little hesitant, seeing their designs become a reality has given them immense confidence. Also one never really learns poise and bearing, how to sit ramrod stiff, etc and this kind of training brings home to them the fact that the more confident you are, the better you look." Adds Aida Mansoor, 'We discovered that there is some major talent here.'
Lucien de Silva will provide some creative head accessories, Rumours Caniscreation will handle the hair and make-up and former Miss Sri Lanka Nushara Fernando has been training the models for the catwalk. Some 50 students and 10 teachers will present the outfits through scenes that involve art, drama, comedy all backed up by special effects, that the producers promise will be spectacular. Large projection screens and audio visual monitors will also be used.
The show is sponsored by Nina Ricci of Paris and The Parfumerie and each ticket holder will receive a gift pack from them. A dinner buffet on the Galle Face Hotel terrace after the show is also thrown in to give he audience a chance to mingle with the cast.
---

Freshers Fortnight
By Afdhel Aziz
Feeling in the mood to get out of London, I wandered up to Cambridge last week, which is now a tourist mecca for visitors from overseas. After being asked by the fiftieth gormless American couple where Trinity College was, I decided that the best option would be to stop looking like a student and start acting like a tourist myself. So, armed with open map, "I love Cambridge" sweatshirt and dazed expression, I trudged around the admittedly gorgeous town, which was making good use of the lovely weather to display its charms to full advantage. Since it was the second week of term, the streets were full of fresh faced undergraduates clutching posters and fliers, muttering phrases like "Must get to lectures on time" and "Ooh, my head hurts."
Traditionally the first two weeks of college are known as "Freshers Fortnight" and consist of a non-stop cavalcade of discos, get togethers and "squashes," or recruiting events for societies, featuring free food and drink - an added attraction for the penniless pupils. Not that Cambridge is short of a bob or two. No less eminent a personage than Bill Gates helicoptered a couple of weeks ago, to promise an investment of fifty million dollars. No doubt he hopes to hoover up the cream of Cambridge's technical talents and zip 'em over to Microsoft headquarters in Seattle. But if the cash inflow serves to fund more scholarships and financial bursaries, then it will be welcomed by students everywhere.
The new Labour government's recent decision to introduce a tuition fee for British students has met with heavy opposition . Uptil now, local councils have paid for their citizens to study in colleges and universities everywhere, leading tertiary education to be viewed as a right not a privilege. The colleges substantially supplement their income by the stiff fees charged to overseas students - around five to eight thousand pounds a year depending on the course, as opposed to the thousand or so being levied on local students. Some colleges even have around seventy percent foreign students, leading them to debate leaving the system of public education in Britain so that they are free from the restrictions of having a minimum quantity of locals. Lucrative? You bet. As long as they keep bringing in the dosh, you can bet that colleges are going to be actively recruiting in the South East Asian region...........
In recent years, British clubbers have had to worry about dodgy drugs and fights breaking out while waiting for the night bus. But now, in the style of tennis elbow and housemaid's knee, clubber's nipple and PVC bottom have been added to the list of alcohol and drug perils surrounding all-night dance raves. A conference on the health dangers posed by clubbing heard the million or so British young people who go partying each weekend were as likely to get hurt by violent bouncers and synthetic clothing than by drinks or designer drugs. PVC bottom, severe chafing to the skin caused by tight plastic clothing worn without underwear, and Clubber's nipple, caused by jumping up and down for hours in nylon or string vests, were listed as some of the conditions treated in British hospitals after raves. I'm more worried about the mystery meat in the kebab which is the traditional after clubbing snack........
---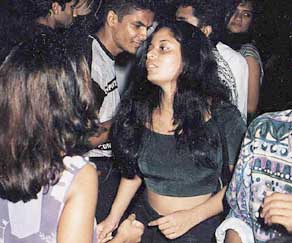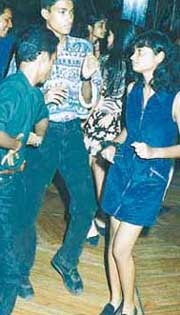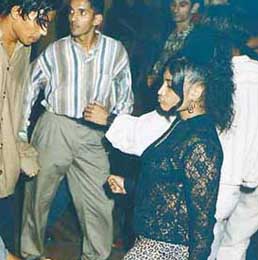 'Twas the witching hour and the spooks were out in full force as Colombo's nightspots celebrated Halloween on October 31. Here photographer Ranjith Perera captures some of the action at My Kind Of Place, Taj Samudra.
---
Continue to Mirror Magazine page 2 * Thomian drama celebrates 125 years * The Play
Please send your comments and suggestions on this web site to
info@suntimes.is.lk or to
webmaster@infolabs.is.lk