9th November 1997
Arjuna Ranatunga who has revolutionalised the pattern of Cricket in Sri Lanka says....
By K.J.M. Verma (PTI Correspondent, Colombo)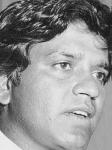 Arjuna Ranatunga
"I might be killed if I try to change politics in Sri Lanka. I have a son and daughter. I want to take care of them. I would like to be remembered as a person who had given everything for the country and happiness to people", said Sri Lanka's cricket captain Arjuna Ranatunga with a laugh. Arjuna was answering a question whether he would change politics in Sri Lanka itself as he is known to have changed the politics of cricket in Sri Lanka.
Arjuna answered questions relating to their long tour of India after the Ali Jinnah Memorial Trophy Cricket Tournament in Pakistan.
Following are excerpts from the interview:
Q. What about the Indian tour?
A. Specially we go about starting with three Test matches and then come back and go for the one dayers but after the tournament in Pakistan we want to concentrate on the longer game.
Q. Why so?
A. This is the first time we are going to India after doing so well. We went for the Independence Cup and won it. But this first time we will be going on a longer tour after we won the World Cup.
Q. The Indian team, after losing very badly in Sri Lanka recently, later, very convincingly beat Pakistan in Toronto but they lost the following series in Pakistan. Do you think they have learnt few lessons and are different, now?
A. The Indian team's batting is very strong. Bowling is slightly weak. But I think it is not a side you can underestimate any day. Because they have brilliant players like Sachin and Azar to start with, backed up by Ganguly, Rahul Dravid and Kambli and Jadeja. So it is a strong batting side.
Q. Talking about bowling India has two new additions to the pace attack. Mohanty and Singh. They have done well in Toronto and later in Pakistan.
A. I have not seen them doing much but Mohanty did not do badly here. He has taken a few wickets in his first test match. I rate Prasad and Srinath higher. Unfortunately it goes to every team that one or two players get injured and the whole team struggles. It has happened. India was struggling without Srinath and their batting was not clicking.
Q. Will Srinath come back?
A. He played a practice match. He played pretty well.
Q. You are rated as one of the best analysts in the game today. What in your opinion went wrong with the Indian team during its tour of Sri Lanka recently?
A. You can't analyse it in two-three sentences and a few paragraphs but overall..er..I am not criticizing the selectors. When someone is given a job as a captain, he should have the powers to talk and get the best players. The problem is that any captain will not take an ordinary side. He will try to take the a best side. The selectors should support him. I do not know whether they do that. I personally feel that Sachin took over too early. Now that he has been given the job everyone should encourage him. It is very difficult for me to rate something. It happened to me that when I took over the captaincy, they were trying to do all sorts of things to me saying that I am too young or that the performances are not good. Suddenly they took me out and had to bring me back.
Q. You mean selectors should look beyond immediate wins and losses?
A. You have to analyse whether you need immediate results or think of the future. You have to analyse it that way. That is what we do.
Q. One of the Indian selectors, who was not named, recently was quoted as saying that Sachin was likely to be replaced in view of his poor record as captain?
A. I do not want to comment on selectors of a different country. It can be quite different from what is happening here. But overall, India should understand that it is very rare that you get players like Azaruddins and Tendulkars. It is like Sri Lanka having Aravinda de Silva. They are special cricketers not ordinary cricketers. They should be looked after properly. Otherwise they realise later that without Azhar and Tendulkar how bad the Indian side is.
Q. Don't you think that this kind of comment coming from powerful quarters demoralises players like Sachin?
A. That is what I feel. If someone is given a break, give him a proper break. The selectors saw that he is very talented. That is why he was given the job. When you have given a job you should give enough time. I do not know about Indian selectors. Only thing I want to say is that it is very rare that you have such great players like Azhar, Sachin, Kumble in a side.
Q. Arjuna, you are now considered to be a thinking captain and your emphasis is always more on analysis. You have played enough cricket against India. Sri Lanka and Pakistan have successfully experimented with explosive opening partnerships-Jayasurya-Atapattu and Saeed Anwar-Afridi. Do you think the Indian team has worked out its batting priorities right.
A. They start with Sachin. I personally do not like to see Sachin opening. It is my personal opinion. He is too good a player to sacrifice early. It is like Sri Lanka opening with Aravinda de Silva. It is my personal view.
Q. Have you ever opened with Aravinda?
A. No, never, and not after I took over the captaincy. He is the mainstay for the middle order. If you take Sachin and Azhar they are the best India has in its side. Azhar bats in the middle and Sachin I feel should also bat in the middle. There are so many plus points when Sachin bats early. He gets 140-150 and the score would be around 250. But overall my personal view is that if I have Sachin in my side I won't open with him.
Q. Considering that Sachin is most technically accomplished player and the pressure of 15 over field restrictions obviously prompts him to lift the ball more than to play his natural strokes. Don't you think this has a negative impact on his technique?
A. He is too good a player. Even without lifting the ball he can get fours. It is not necessary to hit the ball over the ring all the time. But if you can still find gaps and get runs that is important and you don't take risks to get runs. So there are so many angles. You have to balance.
Q. How about promoting Ajay Jedeja. Do you think India was right in playing Jadeja so low down the order?
A. I think when we won the World Cup, we had Hashan Thilakaratna and Roshan Mahanama batting sixth and seventh and our batting looked very heavy. They are two very experienced players who could control and it helped us a lot because we started with Romesh Kaluwitharana, Sanath Jayasuriya followed by Gurusinha who was there to settle down. But I and Aravinda used to go and play shots. So we needed someone who can control the game. Jadeja has also done that in some of the matches in Colombo. So it is very difficult for me to analyse the Indian side. Maybe if I can play with them for few weeks I can do that.
Q. How about Saurav Ganguly and Jadeja combination for opening?
A. There are many explosive hitters in the game today. If you analyse the combinations, Saeed Anwar and Sanath Jayasuriya are performing brilliantly and more consistently than Afridi. It is not the hitting, but the way you use your head also matters.
Q. Your own team, Arjuna is on the roll for over three years. What caused this transformation. Is it psychological or physical.
A. It is mainly due to the exercises specially brought in by Alex Conturi. He did a lot to improve the standards. If you take me for instance, whenever I eat something I see his face on my plate. He is doing it for my sake not for his own good. For instance he is pushing us not to eat the junk and oily food. It brought about a mental transformation. Whenever you eat, you know what to eat and what not. That is the first step. After this we have brilliant physical training. Now Bruce Yardley, (coach) is helping the youngsters and looking after cricketers. It is not one particular person it is a huge group comprising cricketers plus the trainers and we work like one unit.
Q. So you say fitness brought in this tremendous transformation in your team?
A. Yes. I will give you an example. If you take the Sri Lankan cricket side in 1982-83, I think that was better side compared to the present team. But the fitness and the commitment was not there at that time.
Q. Who brought in this commitment.
A. The players themselves after few good matches have realised that they are good enough to beat any country in the world. We used to talk about this. But it came through experience.
Q. What about yourself? Now you are in the league of some of the best captains of the world. How did you transform yourself?
A. What I do is to read a lot about cricket. Watch a lot of videos. Analyse the players. I do lot of homework at home. So it is something you need to do. Luckily I am not a great night life man and I don't go to discos. I spend a lot of time with my wife and she enters that in the computer. By the time I get up in the morning things are in order.
Q. So it is really advantageous to have a wife who is a computer buff?
A. Not really. She is still training but she helps me to put it in the computer. Otherwise I have to do it myself.
Q. What about your assessment of Sanath Jayasuriya. Now he is 28 plus. Why he attained success so late. Do you think he got his recognition late or he matured late?.
A. Actually, till he played about 80 games, he could not get his fifty. But we kept him because we knew that he had potential. Even Aravinda who is one of the best batsman in world in the league of Sachin and Lara, even he realised it far too late. We have to talk to him a great deal on his potential. It is good for the country. But it was unfortunate for Sri Lanka because he should have done that six to seven years ago. He has done this in patches but not consistently like this.
Q. In Sanath's case his talent is something natural or he developed it later?
A. He was a natural shot maker and improved a lot. He is very consistent. Something he never used to do earlier.
Q. Is it something to do with his strong eye and reflexes?
A. He is a very talented cricketer with brilliant eyesight. Now he picks the right ball which is important from a batsman's point of view.
Q. Coming back to captaincy, have you spotted any young players in your team with a potential to be a good captain?
A. I am a person who does not compete with others. I compete with myself. A lot of people told me that I and Aravinda are in the same class. I say no. I do not want to be like that. I want it to be better than Arjuna Ranatunga any day and every day. If you compete with others, you might be a success, you might fail.
Q. Who is a good captain? Can every great batsman and bowler be a captain?
A. You need leadership qualities in you. You need that to start with. Then you have to be a person who can analyse the game well. Sometimes you may have to take lot of decisions in the middle. It can be collective decision. There are times all the ten players come and tell me to bowl a particular bowler in the last over. But you still feel that the other bowler is the best bet, you take that risk. Sometimes success could be ten to one. It happened to me like in the recent series against India where India were to get around eight runs in the last over. Lot of our players thought that we should bowl Chaminda Vaas in the last over, but I opted for Sanath. It is a gamble. Certain times it comes good. But others should take it in the proper spirit.
Q. Among the international teams, your team is considered to be very well knit. Is it because of the leadership provided by you?
A. No it is because of the culture we were brought up in. Anyone can see when we go on a tour, we meet at the cricket board and everyone goes and worships their parents and each others parents before we leave. I also go and worship all the other's parents. People may laugh but they have their impact. I am a very devoted Buddhist. I spend a little time with two or three very good priests. I was in the past not used to being calm and agitated. I used to get advise from them.
Q. Well that is totally contrary to your image as Mr. Cool?
A. Not in the beginning. I used to fight with people a lot. Not for unnecessary things but for the right cause. Even now I do that. But now I am very calm and collected after I spent time with priests. Another thing about our players is that they are very committed to the country. If you take this particular side, we can replace about six guys with brilliant cricketers. But these boys have given their best to the country, whatever they have. But the people who will replace won't do the same or do it for themselves. I don't like that.
Q. Something that is happening in the Indian cricket team right now.?
A. It can be, but I do not want to be critical about India. India has been a very good friend to us. So I will do anything to help them to come up any day. You take our side for instance, there are so many cricketers who will die to stop a ball. It won't happen in some other countries. It is my duty to look after these cricketers particularly when they get injured when someone suffers a hair-line fracture while stopping a four and as captain can still think of selecting him for the next game. It is not only the cricket angle. You have to look into the human angle as well.
Q. Arjuna, the 'commercial mindedness' of the players specially in countries like India has been widely criticised. How much of it has affected your cricketers? The players are now blamed playing for themselves more than for their country. Do you agree with the assessment?
A. Yes. It can be, but I am a great believer in the sense that I have never gone posing for advertisements, except for the one I did for polio eradication campaign which was done for charity. People should realise that if they go on ads and if the particular person comes back to the side, he is not the same person. He can be the best cricketer in the world but if he thinks that he is better and bigger than others, then he has no place in my side, as far I am concerned. He can be the most brilliant cricketer in the side, but if he is not pulling with the team my doors are not open to him. Either I should go or he should go.
Q. You have such strong ideas obviously because you enjoy enough power as captain?
A. Not really. We have a few good selectors whom we can talk to. They are very understanding. Unfortunately one of our best selectors, Ranjan Madugalle pulled out of the committee. To analyse the game you have to be a good cricketer. I do not say I am the most popular person with the executive committee of our Cricket Board but some times when you do the right thing it makes you unpopular. But so long it is for the good of the country I am happy to do it. The essential thing is standing up and I do not want to be a coward any day.
Q. The perception world over is that the Sri Lankan team specially Sanath were tremendously lucky. Besides cricket have you acquired any magical powers?
A. Not really. We are (including Sanath) good Buddhists. We go to lot of religious places. We pray for protection not for anything else. We have been helped. It is like going to a temple. I visit Puttaparthi (in India) every year to see Sai Baba. I do not go there to pray for scoring more hundreds and win matches. The blessings for us, really matter.
Q. Also there is the aura of mystique attached to Sanath touching or feeling some object in his pocket every time he faced a ball. Is it a talisman or something?
A. No. It is like many players kissing their bats and feeling helmets. So many things you get used to.
Q. Coming back to the Indian tour do you think that the pitches are going to be different now that India too is running short of spinners?
A. I hope so. We are also struggling with the spin attack. We have only Muthiah Muralidharan and Dharmasena with us. We don't have a single left arm spinner or a leg spinner to back the team. But we have five to six fast bowlers. I think it will be a good competition if pitches helped fast bowlers.
Q. Do you think the Indian team in terms of motivation and commitment specially after their last Sri Lankan tour will be different?
A. They must be determined to beat us in India especially. We do not go there to lose. It can happen. But we will play positive cricket. I am not saying that we are going to thrash India, I am a real fool to say that. If Sachin comes to Sri Lanka and says that he is going to thrash Sri Lanka, he is a fool. You can't say that. The game has changed. We will do our best to beat India. We know it will be very tough.
Q. After Sri Lanka's success there is a clamour specially in India to bring in foreign coaches and fitness specialists. There were reports that some of Sachin's requests in this regard have not been accepted by the Indian Board. Do you think the appointment of foreign coach and physio helped you?
A. Yes. No doubt about that. Specially about the fitness part of it. Bruce has been very closely working with the younger ones. I do not know whether he has any say in the selection committee. But being an outsider he does not have any interest with the clubs and schools. But if I have to analyse the best thing happened is Alex Cantouri. He has done a great job.
Q. In comparison to your team the Indian team is not known to follow a strict regime of diet or fitness. Do you think this approach is right? Even in terms of diet, I understand that the Indian players have no particular regime?
A. We won't have a diet like that. The night before the match, we all get together have dinner and discuss the match and players problems. But our cultures are different.
Q. But fitness has nothing to do with cultures?
A. Fitness is important whether you are an Indian or Sri Lankan. That is what Alex has done to us.
Q. Also don't you think that being a small country, it is easy for you to provide round the year physical training for your players. Whereas India, being a huge country, it is difficult.
A. Yes I understand that this is of the biggest problems India is facing.
Q. I understand that you have serious plans to develop training facilities for young cricketers.
A. My plan it to pick the players when they are 14 or 15 and train them. I do not know what the Cricket Board plan is. I am trying to get a hostel done for outstation cricketers. I am going to identify the cricketers when I stop playing cricket and train them.
Q. You said when you stop playing. How long do you plan to play cricket?.
A. I am hoping to play till the next World Cup. After that I have to see whether I am good enough to continue or whether I am blocking any youngster from coming in. I am not going to give in to any of the youngsters who are not up to my standard, give my place and go. I do not think Aravinda and Mahanama will do that either. If they are good enough I will go out.
Q. You have attended the ICC Captain's meeting. What was the outcome?
A. In one-day cricket you need at least two days to recover after you played a game-at least one day to recover and another to travel. If you have two good days you are refreshed enough for the next game. Because they are rushing the itinerary, what happens is that the cricket standard will go down. I will say a person like Aravinda, Jayasuriya or Saeed Anwar, after their first game if they are stiff they won't play like they played in the first game. So automatically the standard will go down. This has happened to world cricket. It is sad that everybody is trying to get maximum from the cricketers without taking care of them properly.
Q. Has the meeting made any impact?.
A. We have not heard anything after that.
Q. Arjuna, you are tremendously popular in your country both as cricketer and as a person. Do you entertain any plans to enter into the turbulent politics of your country?
A. For social service, yes. I think I can definitely do something. But politics I have not decided. My father and brother are in politics. But I am not keen to get into politics. But if I can do something for the country especially for sports I will do what I can. But I have not decided. Right now I am thinking about the next World Cup. I have started my own insurance brokering firm plus I have some private plans in my mind. Politics is a difficult field to do a right thing.
---
Indian cricket is beset with problems. Unfortunately, as the BCCI elections approach, it is not the sport but the battle
between two former friends — Jagmohan Dalmiya and I.S. Bindra — that is attracting attention.
By Rohit Brijnath

I.S.Bindra
There is a bad smell emanating from In dian cricket. It is arriving not from the fields where young men are playing out their dreams, but from boardrooms and hotel suites where grey-haired men with a thirst for power are plotting their grand ambitions. There is a purity to sport, a cleanliness, an element of fantasy: there is also a baser side to sport, full of intrigue and manipulation.
As two groups battle for control of the Board of Control for Cricket in India (BCCI), the darker side is shining through. Here too, winning is everything. To be secretary or president (the posts up for grabs) of the BCCI is to be the most powerful man in Indian sport. It is why the armies from both sides do not comprise just sports administrators, but politicians, businessmen, sports agents and bureaucrats. On September 17 the annual general meeting cum-election was abandoned on a technical point: on November 6 in Chennai the battle resumed. As Raj Singh Dungarpur present BCCI president, says, "It is ugly and unpleasant. And yes. it's sad the issues are not cricket."

Jagmohan Dalmiya
To introduce the leaders of the warring parties is to begin the farce. Two years ago, former BCCI secretary Jagmohan Dalmiya and former BCCI president l.S. Bindra both honourable men, stood as righteous brothers in arms, challenging the West for control of world cricket, marketing Indian cricket, inseparable in their common agenda. Today, their only measure of commonality is a wild swing in blood pressure at a mention of the other's name.
The confusion continues. Neither man is running for office, more comfortable playing kingmaker. Their duel is oddly timed too, for this is not an election year, merely a routine annual meeting to confirm the tenure of Dungarpur and secretary J.Y. Lele, both just a year or so in office. Dalmiya is advocating their renewal; Bindra believes they are incompetent, have allowed Dalmiya to hijack the board, and proposes their replacement with Maharashtra administrator Dynashewar Agashe and Delhi's Sunil Dev. Only twice before have incumbents been replaced after a year's rule. Kindly pay attention, matters are about to turn curioser. Dalmiya is International Cricket Committee (ICC) president and appropriate behaviour perhaps demands he absent himself from domestic cricket politics. And Bindra not only proposed Dungarpur as president last year, but fought against Agashe in an election some years ago. The contradictions are swept under the nearest carpet.
It is time to pause. Some former cricketers have said both men should abandon their fractious duel for the good of Indian cricket. It is an appeal based on the assumption that both men are geniuses, indispensable to Indian cricket. No doubt, Dalmiya—the construction magnate whose demeanour reminds one of the Yiddish saying, "He smiles with cold teeth"— has a keen financial mind . No doubt either that Bindra — the Punjab bureaucrat with the manner of a kindly uncle but with a mind as sharp as a cleaver — offers sophisticated administrative skills. Fact is, as a former administrator says, "Both are competent without being supermen. They look better because they are surrounded by rubbish on the board." Fact is, Indian cricket may be financially sound, but it is an unprofessional hotch-potch for which both men are partially responsible. It would be fatal if either man be believed he was the chosen one, for it would be reflective of a considered cockiness.
Nevertheless, the call to war has been sounded. Each group has huddled for hours, discussing strategy, calling in their favours. In Dalmiya's corner stand heavyweights like Railway Minister Ram Vilas Paswan, Mumbai Congress leader Murli Deora, former minister Kamal Morarka and SPIC Chairman A.C. Muthiah. At the other end of the ring, Bindra has assembled a powerful stable too, of Congress leaders Madhavrao Scindia, Sharad Pawar and AICC General Secretary Tariq Anwar. At the first meeting, the farce is obvious: the Railways Sports Control Board and Jammu and Kashmir have two representatives, both claiming to be officially endorsed, one voting one way, one the other. Politics, politics—and Sachin Tendulkar dare ask for a professional physical trainer!
Allegations are flying across the country like Srinath's bouncers. One side says Dalmiya is a toothless ICC president: the other responds that the envious Bindra wants to replace Dalmiya as ICC head. That may not be possible; it has certainly, as a flummoxed David Richards of the ICC confirmed, "never been contemplated". There is talk also of murky deals, unkept promises, corruption. What is true is irrelevant because few, if any, of these issues have so far been actually put to the other across the table. A friendship has been extinguished in a whispering campaign.
In all this, two things appear to have been forgotten. First, that this is not becoming behaviour from grey-haired men. Second, what happened to the cricket? The game in India is rich, thank you Mr. Dalmiya and Mr Bindra. The game in India is also diseased. The absurd part is that although Dungarpur and Lele are culpable, they have inherited many problems from their predecessors, coincidentally Dalmiya and Bindra. Take a peek at some forgotten issues:
o In his report after the South African tour, manager Sunil Dev questioned the Board's professionalism, writing "two players were not even provided official blazers", and "in the entire tour there was no responsible person present to take the responsibility of travel".
o A professional physical trainer and an academy have been promised, but not delivered, for years.
o The "technical committee" which oversees playing conditions, says one member, has not met for 12 months. As he says, "It's a useless committee."
o The state of stadiums is a joke.
o The impartiality of selectors is questionable: so is their ability to keep their choices secret. Lele himself admits that earlier this year a journalist showed him a list of the 14 who would be picked a day before the selection meeting.
o No one has been trained to replace Dalmiya. A senior executive at a foreign television conglomerate says: "If we have to work a television-rights deal, we go to Dalmiya. Lele cannot even understand the first step."
o The BCCI does not have a professional, paid chief executive like the Sri Lankans or a media manager like the Australians.
o Even as the match-fixing inquiry headed by Justice Chandrachud began, Dungarpur, rather injudiciously, proclaimed his team's innocence, saying, "My players are clean."
o Television deals between the BCCI, WorldTel owner Mark Mascarenhas and Doordarshan have evinced considerable comment. Like Doordarshan paying WorldTel Rs. 3 crore for producing the Independence Cup when TWI's bid was considerably lower.
All this is relevant, the duel is not. A small band of men straddling a boardroom table may want us to believe that the future of Indian cricket depends on who wins. That promise sounds as ragged as the state of the Indian game. Professionalism, which Bindra pledges. must be set in place: money ploughed back into domestic cricket; accountability considered the new buzzword. Somewhere in India, a boy with torn trousers, a plank of wood and a dream to play for India is standing on the street. Realising his dream is what these honourable men should be fighting for.
Courtesy India Today
---

Carl Lewis won his ninth and last Olympic gold medal at Atlanta last year. We reproduce Dave Anderson's tribute to the greatest athlete of our times from The Sportstar dated August 17, 1996.
If a sculptor ever chiselled faces on Mount-Olympus as if it were Mount Rushmore, Carl Lewis would be up there alongside Jesse Owens, Al Oerter and Paavo Nurmi. And maybe just slightly above the others.
More than any other sport, track and field symbolises the Olympics - not merely the huge stage of the huge modern stadiums but the memory of how the ancient Olympics began in 776 B.C. with a young Greek named Coroebus winning the only event, a race of about 200 yards, the length of the primitive stadium in Olympia.
If there had been only one event in Atlanta, Carl Lewis would have found a way to win it. "Once you get to the Olympics," he said in June (1996) after qualifying by one inch for the U.S. team in the long jump, "anyone can win."
( Carl Lewis turned that one inch into one more gold medal in his enduring Olympic career unlike any other.
"And he did it jumping into the wind," said Joe Greene, the bronze medallist. "Wind alters the mark, makes you try harder."
With his ninth gold at age 35, Lewis tied the Finnish long distance runner Paavo Nurmi's total from 1920 to 1928. With his fourth gold in the long jump, he tied the discus thrower Al Oerter's record of four in the same event from 1956 to 1968.
"Al took the time to pat me on the back, to tell me I could do it," Lewis said. "Al didn't have to do that."
Oerter, once a computer executive at Grumman on Long Island and now a touring inspirational speaker, also took the time to embrace and congratulate Lewis during his news conference after the long jump.
"lt means that now I have to come back in 2000 at Sydney," Oerter, now 60 told Lewis with a laugh.
' Lewis met Oerter during the discus thrower's comeback in the 1980 Olympic trials, and he has always remembered meeting Jesse Owens, who presented him with a medal in an agegroup meet in 1971 in Philadelphia, not far from his Willingboro, New Jersey, home.
"You're really talented," Owens told him. "You're just a little guy, but you beat all the big guys."
In 1984 at Los Angeles, Lewis equalled Owens' four gold medals: the 100, the 200, the 4 x 100 relay and the long jump. In 1988 at Seoul, he won the long jump and the 100 (when Ben Johnson tested positive for using a banned steroid), then in 1992 at Barcelona he added the long jump and the 4 x 100 relay.
Nine golds match those won by Nurmi, who grew up running alongside the morning mail train in Turku, Finland, and often beat it to the next town. He set 29 world records.
With a slow heart rate of about 40 beats a minute, Nurmi occasionally glanced at the watch on his left wrist during the Olympics as he ran with no show of emotion. In 1924 at Paris, he had only an hour's rest between the 1500 and the 5000, but won both, prompting questions about his diet.
"Did you eat black bread and fish today?" he once was asked. "No black bread and fish any day," he replied. "Oatmeal."
Unlike too many modern atletes, Lewis has a sense of his sport's history. He knows Oerter, he idolised Owens and he remembered reading about Nurmi.
"Very strong personality," he said. "We have a lot in common."
Despite his four golds in Los Angeles, his peevish personality there annoyed some people. But he is more gracious now, more appealing. Asked about his chilly relationship with Michael Johnson, who won a 200-400 double, he smiled.
"I'm too old to bicker,'' he said "I don't want to look up at dandelions. I want to see roses."
He also wanted to see a 10th gold medal in the 4 x 100 relay, but he wasn't in the American coaches' plan.
"I'd love to run the relay," he said. "I think I'm in pretty good shape. Trying to win another gold medal for America would be great. The only thing left would be for me to be the all-time gold medal winner."
Not quite. Ray Ewry, a New York hydraulic engineer, won 10 golds from 1900 to 1908, but his three events (the standing high jump, long jump and triple jump) were discontinued after the 1912 Olympics.
"But it's not up to me," Carl Lewis said, "and that's sad."
- New York Times News Service
---
By Bernie Wijesekera
The Colombo Tea Traders' Association (CTTA) were on top again when they won the championship over the Up-Country Planters in the annual Sports Festival held at Darawella, Radella and Nuwara Eliya on October 31, November 1 and 2. The CTTA won four sports events - cricket, tennis, golf and squash while the planters won rugger, badminton and snooker. The festival was sponsored by Dimos.
The cynosure was the cricket match, which was played at Radella on November 1. CTTA sent in to bat were struggling with three wickets falling cheaply to the hostile bowling of former Trinitian Denam Madena, who bowled to a line and length. Former Thomian Ken de Alwis batting with authority was unfortunate to be ruled out leg-before for 16 runs.
But it was left to another old Trinitian allrounder Samantha Dodanwela, who stroked a fluent 38 (with 2 fours and a six) and well supported by a determined 32 by R. Nanayakkara and S. Fernando 21 restored the innings - 144 all out made in 24.4 overs. Madena was most economical with 3 for 20.
The planters in reply were restricted to 84 all out made in 24.4 overs, and in a 25 overs a side contest, restricted due to fickle conditions. G.D.V. Perera 16 (with a six), Tuan Dole 20 (with 2 fours), and evergreen Vernon Tissera was not out with 8. Tissera coming late in the order still showed his old touch.
CTTA 144 in 24.4 overs: (Ken de Alwis 16, S. Dodanwela 38, R. Nanayakkara 32, S. Fernando 21. D. Madena 3 for 20, K. Herath 2 for 32) PLANTERS 84 in 24.4 overs: (G.D.V. Perera 18, T. Dole 20, Vernon Tissera 8 not out, Sudath Munaweera 2 for 9, S. Fernando 2 for 7).
* In the rugger match played at the same venue in the evening, the planters after being held to nil-all at the turn around won 7-nil after a keenly fought contest. The visitors played a furious game in soggy conditions, but were unlucky to lose on a controversial try during the dying stages of the game.
Referee - T. Dole
* In badminton the planters won, thanks to R. Weerakoon and Dushy Perera who excelled. Tony Perera was outstanding for the CTTA.
But the most eye-catching event was the kids unofficial game of softball cricket where the CTTA joined hands with among the planting fraternity drawn from the Lines. They showed tremendous enthusiasm on the field and gave nothing away. Their fielding was superb, taking diving catches in the manner of South African fielder Jonty Rhodes or Roshan Mahanama.
Undoubtedly there is hidden talent among them. Given the opportunity one may be able to spot a Rohan Kanhai (who worked in a sugar cane farm), Alvin Kallicharan and S. Chandrapaul (a fisherman's son) all Indians, who played for the Windies with pride.
A senior planter agreed with this scribe that they should be encouraged in sport. Once they get involved in sport, harmony is bound to prevail and refrain themselves from other activities. According to the same source a six-a-side tournament is in the offing for the youth shortly. They deserve it as they are the ones who keep the country's main economy running despite difficult conditions.
* Golf 3 four-ball matches won by CTTA.
Bernard Fonseka and Lalith Ramanayake (CTTA) beat Hameed Huq and Hemanath Wickremasooriya (Planters) 2 up; Michael de Zoysa and Zal Chity (CTTA) beat Sunil Jayakody and Vernon Tissera (Planters) 2 up; Rohan Fernando and Nirmala Ranasinghe (CTTA) vs Ken Murray and 'Nags' de Silva (Planters). Match abandoned halfway due to heavy rain
---
Reutrn to Sports Contents Page
| HOME PAGE | EDITORIAL/OPINION | NEWS / COMMENT | BUSINESS | PLUS
Please send your comments and suggestions on this web site to
info@suntimes.is.lk or to
webmaster@infolabs.is.lk