09th November 1997
Arts
---
The destruction of "Reconstruction"
Notes from an English Teacher's diary Part 5 – by C. N. S.
"Reconstruction" was an ELT methodology created and popularized in the late sixties by Dr Douglas Walatara GTC guru and ELT stalwart. He had developed this path-finding method with the assistance of his trainee teachers, notably Jagathdeva Soysa, his tireless collaborator, and his colleague, bilingual scholar H. D. J. Goonewardena.
We looked upon Dr Walatara 's breakthrough in second language teaching as one that opened up new vistas for rural children learning English. The Direct Method was THE basis on which English as a second language was expected to be taught in those early days of ELT. At one time, himself a proponent of the Direct Method (the done thing in tbose early days of teaching English as a second language) where the use of the mother tongue was taboo, he had seen the futility and absurdity of not making use of the learner's own mother tongue (a valuable asset) to teach English. Visiting ELT experts, not knowing our mother tongue, however, would have none of it! Naturally, too, for they did not know our learners' mother tongue, a resource for providing "a runway" for taking off on the second language learning flight.
The bilingual method is how Martin Wickremasinghe, our foremost Sinhala novelist, learnt and mastered English. It is also how Piyal, not a professional English teacher by any means but one who had learnt English through the mother tongue, in his Gamperaliya teaches Nanda the second language. It is therefore nothing new. The Direct Method required us to shut out almost completely the use of the mother tongue in our Engligh lessons. Commonsense, however tells us that a judicious use of the child's own language in our teaching is no pedagogical crime!
Through what he termed the "Reconstruction Method." Dr Walatara provided a kind of official recognition of commonsense. He also created a new vision for second language teaching through his bilingual methodolgy. Seconded from GTC to the Secondary Education Division of the Ministry of Education, he devoted his energies to organizing and directing a "Reconstruction" pilot project in fourteen selected rural schools in the country. It produced promising results. The long-awaited official imprimateur was now available for the use of the mother tongue in the English classroom, and therefore of commonsense! Many practising English teachers in rural schools responded enthusiastically.
The project and its promise, however, could not withstand Dr. Walatara's professional antagonists. They campaigned to put paid to an innovative methodology that was ideally suited for lifting English teaching from its parlous state in our rural schools.
'These "anti-Reconstructionists" inveigled the Minister of Education at that time, the late I. M. R. A. Iriyagolle, to decree that the project, be thrown into the discard and the text books printed for the purpose sent to the Valaichchenai Paper Factory to be turned into pulp. That was the tragic end of a short-lived but promising new methodological breakthrough in ELT. For Dr Walatara, it must have been "the most unkindest cut of all" and for thousands of rural learners of English a stab in the back.
In his publication, Reconstruction (l974) (available at Lake House for Rs. 7.50), Dr Walatara recalls the destruction of "Reconstruction".
'As all who were ringside observers of the events leading to this unfortunate episode are aware, personalities and personal factors played such an important part in it that it would be unpleasant to do more than give the official explanations and the chronology of the events that led to the withdrawal of the project.
There must be something rotten somewhere in our Sinhala psyche that does not give a sporting chance for any worthwhile idea to bear fruit. Our English teaching enterprise became permanently poorer by this nasty and destructive act of professional jealousy. Dr Walatara, who was recently felicitated by a group of his grateful past students. lamented: "Every 'hero' has his anti-matter:"
The "Reconstruction" idea, however, has not perished. Nor has Dr Walatara's devotion to "Reconstruction". His method is being effectively used in several English classes, unofficially. Recently Wesley College and St Rita's Vidyalaya, Ratmalana, evinced interest in using "Reconstruction" with their students. It is also used in a Sri Lanka Association for the Advancement of Education (SLADE) ELT project for school principals.
A few years ago, "Reconstruction'' produced encouraging results in an English Teaching Project we were commissioned to conduct at the TREE Centre in Randenigala, for wardens of the Department of Wildlife. But then that ELT project too, conducted under the auspices of the Global Environmental Facility (GEF) of the World Bank, began with a bang to only end with a whimper because of the ineptitude, apathy and indifference of the Wildlife powers that be.
---
Those changing moods
By Shelani de Silva
Drawing inspiration from the sky and sea may sound unusual for many, but for young Shevanthi Weerasinghe it's a way of expressing herself in colour and form.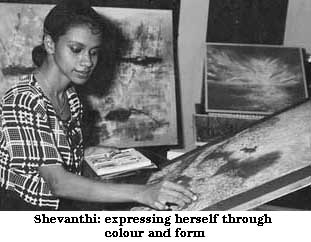 Shevanthi will hold her first solo exhibition "Moods" on November 15 and 16 at the Lionel Wendt Art Gallery. The works on display depict her changing feelings depicted through nature's scenes.
"The real me would be the paintings of the sea against the evening sky. On the other hand a forest fire would describe one of my moods. But the bottom line is that I am inspired and fascinated by the sea and sky. It always changes. There is colour, form and style in it," she said.
Shevanthi began painting at a young age and had her first exhibition when she was 14. She had around 50 paintings on display, and by the time the exhibition was over half of the pictures were sold.
"I was thrilled and encouraged greatly. The exhibition was in aid of charity. Recently I also had some paintings at the George Keyt Foundation exhibition. This gave me a lot of exposure," she said.
Shevanthi is always interested in learning more about art.
"It is true that each person has his or her own style. Individually it is something you should admire but at the same time I think you could learn from others,"she said.
Shevanthi has tried her hand at many art forms from charcoal sketches to pencil drawings, oils and water colours. Another form she has adapted is using a grindstone which produces a scratchy effect. "The best tool is one's fingers," she adds.
Apart from these she also paints landscapes of places she has visited. "For some paintings I do a lot of research. Especially on my first pastel on the under world, I wanted to know the exact colour and the different plants and fish," she adds.
Shevanthi hopes to have 50 paintings on display.
---
It's swing time!
By Alfreda de Silva
Outside Jefferson House the rain dripped incessantly. But all was bright and cheerful within where guests of the Charge d' Affaires of the USA and Mrs Richard Smyth had gathered at a reception and mini-concert.
The stars of the evening were American guitarist Steve Hancoff and banjoist Buddy Wachter presented by the United States Information Service and introduced by its Director, Anne Barbaro.
In a programme that included jazz, the blues, ragtime Blue Grass boogie woogie and folk songs, the virtuoso duo swung into action with a spirited traditional jazz number - 'waiting for the Robert E. Lee'.
Hancoff's early encounters with Black American jazz and ragtime in richly musical New Orleans, gave him a unique style on the acoustic guitar.
His collaboration with Wachter, whose energy and vitality brought intensity and sparkle to the banjo, described as America's 'only native musical instrument, was superb. The presentation was heightened by the fact that the audience was familiar with much of the music. There was an instant rapport with the audience.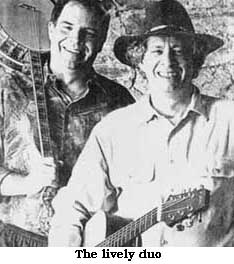 Both Hancoff and Wachter brought to the guitar and banjo the richness of a whole orchestra at times, while at all times the music tinkled , danced and leapt along.
A Tin Pan Alley Medley of the nineteen twenties was a sheer delight, with its overtones of the days of speak- easies and flappers, and bubbling with syncopation and improvisation. A Broadway Medley and a Tiger Rag resounded in the air.
The next evening they played at the Bishop's College Auditorium, varying their repertoire and extending their vast appeal to an audience which included children. Wachter played the banjo with fiery wizardry and Hancoff brought a warm funny appealing style to his dreamy playing.
At the end of the programme on both nights, they had the enthusiastic audience singing the chorus of 'Last Night I had the Strangest Dream' along with them.
The song was about everybody's overwhelming desire for peace - the end of war everywhere.
---
From the heart to canvas
By Kshalini Nonis
"Many Moods" an exhibition of paintings by Melville Assauw will be held from November 10-13 at the Lionel Wendt.
As the name implies the paintings at the exhibition focus on the ability of the artist to capture the moods of various scenes he depicts. Art is a means of self-communication to Assauw and according to him it is in a sense, a therapy which enables him to relax- escaping from the hectic pace of life.
Melville's interest in art began at a young age when he joined International Advertising Services as a Commercial artist. A self-taught artist, Assauw feels that art is something one captures within one's heart and expresses with time- even a mere line could express something, according to him.
"Attending a school of art is a good idea as the youngsters are taught the basics of art, but after a certain point they should be encouraged to develop their creative instincts. There is an abundance of talent but in many cases this is restricted to one's schooldays," Melville said.
According to Assauw, an artist should be able to capture the spirit of the moment. "For instance look at this picture which depicts elephants at Pinnawela going for a bath," he said. It is something that occurs daily, but here the leader is the last person in the herd . I have painted them brown, as they are going to the river after 'sun-bathing' and therefore have this colour," he added.
Melville initially sketches a scene and thereafter completes it using various mediums such as oils, water colours pastels etc.
Melville said commercial art and landscape art have distinct characteristics. "For instance in the former, one attempts to portray a product for sale, and therefore has to make it appealing to the client. However in 'Fine Art' one can bring out the natural beauty without any restraints," he felt.
Although he also does portraits and figurative paintings, Assauw will be exhibiting 40 paintings done on canvas at this exhibition. "Many Moods" will be opened by Tourism Minister Dharmasiri Senanayake.
---
When a Nadagama came to town
All that Jazz
by: DeeCee
Paying rupees two, we sat in the Lionel Wendt Theatre 41 years ago this month (November 3 to be exact) to watch an opera in traditional style. A Nadagama had come to town. All the way from Peradeniya, Professor Ediriweera Sarachchandra was presenting the 'Maname Katava' based on two types of village folk plays - the Kavi Nadagam entirely in verse and Kolam, performed with masks.
According to Sarachchandra the aim of this experimental production was both to explore whatever potentialities a traditional form may possess in the search for an indigenous tradition in drama, as well as to bring to light another type of play which may be enjoyed on its own merits.
Although the Wendt types were conspicuous by their absence on the opening night they soon began to flock to see Maname particularly after authoritative critic Reggie Siriwardena wrote that there is nothing primitive or crude about this dramatic form. "It is a highly sophisticated form of musical drama which should delight the most cultivated taste," he wrote in the Daily News.
To this day Maname draws crowds. The players have changed but for those of us who saw the first lot, they are unmatchable. Pothe Guru, Shyamon Jayasinghe (Now domiciled Down Under) the princess, Trilicia Abeykoon (later Gunawardena) still turning out a memorable performance (occasionally as she recently did as Lucy Hamy in Giraya) the prince, Ben Sirimanne and forest king, Edmund Wijesinghe (both are no more) were excellent both in acting and singing. And, of course, Charles Silva Gurunnanse's drumming was a treat.
Plea for recognition
Senior adminstrator and researcher Ratnapala de Silva makes a strong claim that Professor Sarachchandra's contribution to Sinhala drama and literature should be recognised by identifying the 53 year period 1943 (when he produced the first play Mudalalige Peraliya based on a story by Moliere) to 1996, the year he passed away, as the Sarachchandra Era.
De Silva's latest publication Asirimath Epuwath - Rasin Rasavunu Yugeyak is an exhaustive study of Sarachchandra's role in the development of Sinhala theatre. He deals at length on the literary quality of the Sarachchandra dramas and points out how Maname marked a resurgence of Sinhala theatre giving a lead to several dramatists to experiment - Gunasena Galappatti (Sandakinduru), Mahagama Sekera (Kundalakesi), Dayananda Gunawardena (Nari Bena and Jasaya saha Lenchina) and Chandrasena Dassanayake (Aandi tikai Ambalamai).
Sarachchandra himself continued the folk traditions with Kadavalalu, Elova Gihin Melova Ava, Hasti Kantha Mantare and Vella Vehum climaxing with Sinhabahu, which de Silva describes as "the pinnacle of Sinhala drama" between 1956 and 1997.
Boon to Kandy
The launch of eight new titles last week marked the opening of a refurbished Gunasena Bookshop in Kandy. Special addresses by Professor Ananda Kulasuriya and Professor K.N.O. Dharmadasa of the Peradeniya university were the highlights of the opening ceremony.
The new titles are a varied lot ranging from Professor Merlin Peiris and Rohan Ponnamperuma's Kageth Aesop - Everybody's Aesop, translations into Sinhala and English from the Greek and Latin versions, to beauty care by Jeevani Hasantha Wickrematunga. Dr. H. S. S. Nissanka's Nevum Suvandak is the story of a young man brought up amidst traditional values who joins the army to serve the country.
A German folk tale from the Brothers Grimm - 'The Princess who never laughed' presented in English and Sinhala by Professor Sunanda Mahendra and the story of the Dinosaurs - Makarun Rajavu Dawasa by R. B. Atapattu are meant specially for children. A geography book for A/Level students by Bandumati Dahanayake and a book on oratory by Sarathchandra Munasinghe are the other titles.
Pioneers in the book publishing business, M.D. Gunasena and Company boasts of an 85 year old history during which time a helping hand has been extended to thousands of new writers. The doyen of Sinhala literature, Martin Wickremesinghe came to Gunasenas to get his second novel Soma and the third, Iranganie published. Among others who got a break early in their careers with Gunasenas were V.D. de Lanerolle, well known children's author, Munidasa Kumaratunga, patron of the Hela school and educationist Dr. E. W. Adikaram.
No regrets
I have no regrets. I have enjoyed life. I am now prepared to go" Veteran artiste J. H. Jayawardena, radio, cinema and television personality gave this message to ITN viewers the other day in the programme 'Duk Sepa Kumanda' which features well-known persons now living in retirement.
JH who has been a great entertainer for many decades is now leading a quiet life. At 77 he is unable to see but is cheerful that he has led a full life. He was quite at home with ITN's general manager Newton Gunaratne and commentator Palitha Perera who went to his place to see how he was getting on. JH spoke of the good old days, particularly the pioneering radio drama days with utmost clarity remembering lot of details.
Remembered best for his roles as a Buddhist monk in recent teledramas, JH has also put in some memorable roles in cinema.
---
Continue to Plus page 3 * Treebute
Return to the Plus contents page
| HOME PAGE | FRONT PAGE | EDITORIAL/OPINION | NEWS / COMMENT | BUSINESS
Please send your comments and suggestions on this web site to
info@suntimes.is.lk or to
webmaster@infolabs.is.lk