19th October 1997
Hello Children,
Did you know that the statue of liberty represents an unknown girl who was shot down when she was fighting for her rights as a person? To this day her act of bravery stands as a symbol of freedom for everyone. Many times even we are afraid to stand up against something that is wrong. Sometimes you may have seen people being cruel to animals and children and polluting the environment. They throw stones at harmless animals, destroy trees and the beauty of nature and beat and starve children for their own gain. But we decide to turn a blind eye to these cruelties because we are afraid to get involved in problems that we think has no effect upon us. Yet we can do something to change this world. Like this girl we too should be bold enough to stand up for the truth.
Until next week,
Aunty Sunshine
My Grandma
She loves us all
She hates no one
She is small but her deeds are great
She is a symbol of kindness
She never gets angry with us
She will laugh with no hesitation
She is small but her deeds are great
She is a symbol of patience.
I am proud and I am happy
For I have such a great grand mummy
She is small but her deeds are great
She is a symbol of love
She has sons and daughters
And my mother is among one
She is small but her deeds are great
She is a symbol of courage
Nayani Ranasinghe
St. Thomas Girl's High School
Matara.
---
My English Sir
My English teacher is called Mr. Muniweera. He is very kind and helpful and we love him because he teaches us English. He lives in Matara and is famous in Matara and Colombo for being a good teacher.
Mr. Muniweera helps me to obtain good grades in English. He wants all students to be well educated in English.
He advises us to live a good life. He helps me to speak English fluently as it is very valuable for my future and we are indebted to him for the advise he gives us. I thank God for giving me a good teacher, who guides us in the correct path.
B.A. Imesha Sanjeewani,
Convent of Many Immaucualte, Matara.
---
My Best Friend
I have met many people in my life but there is only one person who is very special to me. She is my best friend Sujani Samaraweera.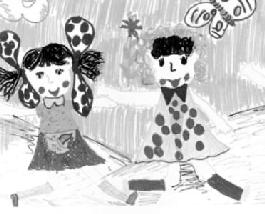 We attend Holy Family, Kurunegala. She is in year 9 (A). and is a bright student.
Sujani is the only child in her family. Her father is Mr. S.M. Samaraweera and her mother is Anusha Samaraweera. They live in Kurunegala. Her hobby is collecting stamps.
She is very kind and very helpful. In good times and bad times she stands by me.
Sujani is the dearest friend I have . I love my best friend as my own sister and she loves me too.
W.A. Verangika Upananda
Holy Family Balika Maha Vidyalaya
Kurunegala.
---
Statue of Liberty
Towering above New York Harbour, the statue of Liberty, has been a symbol of hope and freedom for millions of immigrants for nearly a century. The 305 feet statue and base was a gift fromthe people of France, money being raised by voluntary contributions by the French citizens to mark the centenary celebrations of the American revolution in 1876.
The Artist was inspired by an unknown girl shot down by the military whilst demonstrating her own political freedom in the streets of Paris over 100 years age. The sculptor, Frederic Auguste Bartholdi when asked to sculpt a giant statue, remembered the girl carring a flaming torch when he saw her shot. A massive iron pylon embedded in the rock forms the backbone of the figure, inspired by the unknown French girl.
The face is ten feet wide and forty people can stand in the interior of the head. The actual statue from the torch to the girl's feet weighs 450000 lbs and stands on 962 feet square base. The overall height is 305 feet 6 ins (approx) as high as St. Paul's Cathedral). It was dedicated by President Grover Cleveland in 1886.
Mohamed Ifran
S'Thomas College,
Bandarawela.
---
My Country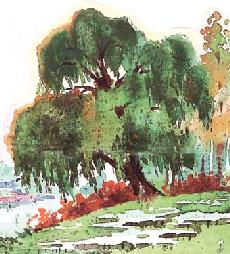 Sri Lanka is my motherland. Sri Lanka is an island in the Indian Ocean. It is a small country. There are many communities in my country. They are Sinhala, Tamil, Muslim, Burgher. But most of the people are Sinhalese. The capital of Sri Lanka is Colombo. Mrs. Chandrika Bandaranaike Kumaratunga is the president of Sri Lanka.
Sri Lanka is a beautiful country. Many foreigners come to visit it. There are many rivers, waterfall, mountains and botanical gardens in my country. The Mahaweli is the longest river, Bambarakanda is the highest waterfall and Pidurutalagala is the highest mountain in my country.
Tea, Rubber and Coconut are the main exports in Sri Lanka. The staple food in my country is rice. I love my country very much.
Prasadi Thiranagama
Southlands College,
Galle.
---
My Visit to the Sathutu Uyana
My Family members decided to make a trip to the famous "Sathutu Uyana" in the city of Colombo. It happened to be a Saturday and the weather was fine. That evening we left by car at about 3 p.m. Within an hours time, we arrived at this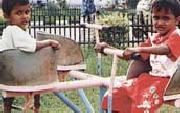 particular spot. Many visitors from far and near had reached here by cars, buses and vans. Some had even come on foot There were plenty of children of all ages among the crowd. Their faces were beaming with joy. Then sharp at 5.30 pm, the gates were opened, and we purchased our entrance tickets for the great show.
It was a very colourful evening. The whole place was gaily lit with all sorts of pretty multi-coloured bulbs, and our ears were filled with ceaseless music for everyone. Everyone had a good time but it was more fun for the kiddies. There was a merry-go-round, a baby-train, mini racing cars, motorbikes, planes, seesaw slides, giant wheels for the little ones to enjoy and there were even pony rides. Apart from all this fun and frolic, there were refreshment stalls of various kinds to attract the crowd. This place was really a tiny world of entertainment for the young, as well as the old. Oh! what a pleasant, peaceful and enjoyable time we had there. It would never fade away from our memories.
Rajitha Gunawardena
Nimala Mariya Convent.
Tudella.
---
Polar Bear Safari
As we trudged to the train station late at night, along the icy footpaths of Canada's Winnipeg, fresh snow began to fall and I thought to myself, "This is the life!" With my possessions on my back and a train ticket in my pocket, I was so glad I had ignored all the sceptics and was approaching my destination.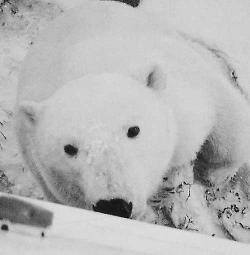 'Churchill? Why on earth are you going to Churchill? It will be so cold," they'd asked. And they were right, of course - it was cold, very cold. It took two and a half days on a rocking, rolling train to get to this little community in northern Manitoba.
Churchill is a friendly town, from the man who pulled over and insisted on giving us a ride, to all the people who leave their front doors unlocked to offer a safe escape from huge polar bears which wander around the community's streets.
We were advised on polar bear etiquette, such as giving a wide berth to all corners, parked cars and just about anything you couldn't see behind.
If you did come across a big, furry thing it wouldn't be such a surprise for either of you. We also were told that it takes only one effortless hit on the head from a bear to kill a human - such a reassuring thought.
The highlight of the trip was a day out on the tundra and the close encounters with these beautiful bears. We spent the day in a large bus with huge wheels designed to drive over just about anything.
It was freezing outside, windy enough to make your eyes water and cold enough to make those tears freeze to your face. Our driver estimated it was something like -45C with the wind chill.
And so the day passed as we watched the bears do their thing. One was asleep near our bus, curled up in an appealing, oh-so-cute bundle of fur with one paw covering his eyes.
He soon woke and put on a spectacular performance - stretching this way and that, one leg at a time, and then rolling over with a huge yawn before getting to his feet. Then he saw us and meandered our way, nose in the air.
The temptation to reach out and tickle him under the chin was huge, but that is forbidden. He spent quite a time hanging off the side of the bus with his nose in the window and doing his best to get a leg up on one of the wheels.
By this stage the bus was rocking from side to side and there was a collective sigh of relief as the bear gave up. Then he stuck his head in the driver's window, where he stole the sandbag that the driver was leaning his camera on.
The next few seconds left us all gasping as the driver grabbed it back, straight out of the bear's huge mouth - his fingers millimetres away from the animal's teeth. The driver was unfazed and the bear wasn't particularly impressed as he slammed back onto all four feet and stomped off.
---
Return to Mirror Magazine contents
Please send your comments and suggestions on this web site to
info@suntimes.is.lk or to
webmaster@infolabs.is.lk