12th October 1997
By Hiranthi Fernando
Keragala, a little village in the divisional area of Dompe is just over an hour's drive from Colombo. Here, on a large coconut property, a 'Ranaviru' settlement has been established. Ninety two families of soldiers disabled or killed in action, have been provided with homes in a peaceful rustic environment.
Many of the occupants of the settlement are soldiers who have lost a limb or suffered other serious injuries in the war. Some of them have been boarded out of the Army on medical grounds whilst others have been given employment in the Army in non-combat posts. There are also wives, children and parents of soldiers killed in action.
R.A.U.A. Perera. lost a leg while serving in Trincomalee in August 1990. A burly soldier, he was hard at work in his garden despite the prosthesis fitted on to his amputated leg. Being unfit for work, Perera has been boarded out of the Army on medical grounds. Since he is paid his salary until the age of retirement, he is able to carry on with his life. Perera met and married his wife Chandani in 1992, two years after his injury. He has two little daughters and appears to be quite happy and content. The only complaint the couple had was that the houses were built square, equal in length and breadth. They say that according to superstition it is inauspicious to build a square house. Many of the occupants have therefore constructed an additional portion or even a foundation to rectify this.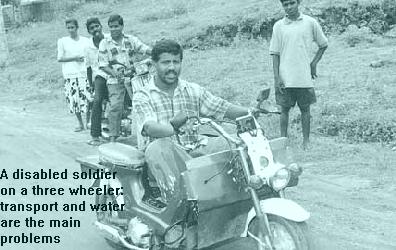 Since he has been able to purchase a Bajaj three-wheeler, Perera does not face the severe transport problems faced by many of the others. He takes his four year old daughter to a nursery school at Malkele, about three kilometers away in the three-wheeler. He also takes hires when requested to.
In January, the overcrowded bus he was travelling on overturned and Anura as well as some others from the settlement were injured. Having had the misfortune to injure his good leg, Anura is still confined to bed and unable to walk.
Shanthi Wickremasinghe tries to earn a few extra rupees by making little bags from old newspapers for a Tobacco company. She said that a representative from the company visited the village and offered this work to the wives who had sewing machines. About twelve of them are engaged in it. They are paid eight cents per bag. Shanthi who is expecting her first baby has lived at Keragala for about one and a half years. Her husband lost a limb to a grenade at Elephant Pass. Part of his other foot too was badly injured He now works in the Library at the Army Hospital.
Shanthi says that travelling to work is what he finds most difficult. He has to walk over two kilometers to Malkelle to catch the bus. This bus which comes from Meetirigala is already full when it reaches Malkelle. Often, there is room only on the footboard. For these disabled soldiers with their artificial limbs it is an arduous feat to travel on the footboard. Wickremasinghe too was injured in the bus accident in January. He spent three months in bed.
Living nearby is elderly Gunarath Menike whose son was killed in action at Seruwila in 1992. A kindly and motherly person, she brings in a bucket of drinking water daily from the well in the neighbouring village for Shanthi who is unable to do it. She says the water they get is unsuitable for drinking so they have to bring it from the next village.
Gunarath Menike was the second to come into occupation at Keragala in 1993. Living alone with her 23 year old daughter, she was somewhat frightened at nights in the empty settlement. Now with about 75 houses in occupation, she is quite at home there. She has another son in the Army, who was injured in action. He is now attached to the unit Battaramulla.
The occupants of the Keragala settlement, although very thankful to the Army Welfare Services and the Seva Vanitha for their homes and the assistance they receive, brought out the difficulties they face in their day to day lives. The shortage of water is a major problem they encounter.
A large water tank with a storage capacity of 22,000 gallons and 20 feet deep has been constructed on a hillock. Two tube wells were originally sunk to supply water to this tank. Since one tube well never had water, it was apparently removed. It takes 48 hours for the tank to get filled by the single tube well with its motor. Two disabled, boarded out soldiers, Ranasinghe and Dissanayake look after the supply of water to the village. They say that it is possible to supply water only for about 45 minutes each day. Furthermore, this water is unsuitable for drinking.
To make matters worse they say that the taps that have been installed to open and close the water outlets are unsuitable. The soldiers feel that the contractor who undertook the construction has put in used taps removed from elsewhere. As a result they are no longer in working order. Large wooden plugs have now been put in to close the outlets. In order to supply water to the houses, Ranasinghe or Dissanayake climb into the tank and manually remove the wooden plugs one at a time and resurface carrying the plugs in their hands. To close the outlet they have to get into the tank once again and put in the plugs. They say that with 20 feet of water in the tank it is a hazardous process which poses danger to their lives.
The occupants of Keragala pointed out other shortcomings they have found with regard to the construction of the houses. For instance, they said, when 2' by 4' planks have been estimated for in the contract, these have been used only in the parts that are visible. In places covered by the wall thinner planks have been put in. Some of the houses are now showing cracks in the wall. Many of the doors are decayed or broken. It is indeed sad that whoever has undertaken the contract for construction appears to have reaped extra unconscionable profits at the expense of these disabled men who have fought for their country
Seeking a solution to the water problem, some of the men have taken the initiative to make inquiries on costs. They have obtained an estimate of Rs. 400,000/= to dig a large ground well and install pipes. A suitable site is available and the old motor is available. A sum of Rs.150,000 arranged by the Ministry of Defence through a donor is also available for this purpose. They say that if the balance amount could be raised water could be supplied twice a day to the houses.
However, the Keragala occupants say that if they could obtain water through the main lines this would be a more permanent solution since then water would be available on tap throughout the day and not rationed out at restricted times. The main water line has now come up to the Radawana Hospital, which is nine kilometers away. If this could be brought up to their Housing Scheme, they would be willing to pay the Rs. 2,500 as costs for the installation of the meters.
The other major problem faced by the Keragala Ranaviru settlement is the lack of transport facilities. The closest bus stop is at Malkelle which is 2 to 3 kilometers away. This road is not motorable except for small vehicles like three-wheelers or tractors. The people from the Scheme have to walk this distance to catch a bus. For those with artificial limbs, walking this distance, causes severe bruising, chafing and discomfort.
"We have to leave at 5 am to get to the bus,'' they said.
'Sometimes we have to wait till 11 am to get on a bus. The buses that come are so crowded that it is difficult for us to hang on with our artificial legs and crutches.''Some of them who are unable to walk this distance due to their injuries are compelled to hire a three-wheeler up to the bus stop paying Rs. 50/= each time they have to go anywhere.
"Fortunately for us, three people in the scheme run three-wheeler taxis. We would be lost without them," said Ranasinghe, a disabled soldier. There are apparently 75 people who travel to work daily from the housing scheme.
'If some solutions could be found for our transport and water problems, we can look after the rest,' Ranasinghe said. "We have written to all the Members of Parliament in the area. Not a single politician has taken the trouble to come. They only come when there is an election''.
The Keragala housing settlement was built by the Army Welfare Unit. It is now being looked after by the Seva Vanitha Unit of the Army. The ladies of the Seva Vanitha appear to be rendering a valuable service, visiting the settlements and looking after the needs of the disabled soldiers and their families. Apart from Keragala, two other settlements have been set up at Udupila and Wathupitiwala. A fourth settlement at Kuruwita built through the efforts of the Seva Vanitha is nearing completion
Mrs. Jayanthi Daluwatte, President of the Sri Lanka Army Seva Vanitha Unit says that they are aware of the difficulties encountered by the Keragala settlement which is further from the main road than the other two settlements. They are trying their best to provide some three-wheelers for the common use of the settlement. With the increasing number of disabled and injured soldiers, it is undoubtedly no easy task to cater to all their needs. At Keragala, a mobile shop has been set up. ''We are thankful to Mrs. Lali Kobbe-kaduwa for volunteering to handle this for us,'' Mrs. Daluwatte said. "We supply the foodstuffs and the transport, and we go there each month so that the people could purchase what they need at a reasonable price.'' The Seva Vanitha is also taking steps to start a Montessori school for the children of the disabled soldiers at Keragala. Three of the wives are following a training course at the Woodlands Montessori Training Centre at Maharagama. "We are grateful to Mrs Sharmini de Silva, the Principal of Woodlands for training all our girls free of charge.'' Mrs. Daluwatte said. The Seva Vanitha is also organizing some seminars for the disabled soldiers and separately for the wives to help them to cope with the situation and carry on with their lives.
The soldiers who attended the seminar said they found it most helpful. ''We are handicapped not only physically but also in our minds'', commented one young disabled soldier. ''When people reject us and look away, we feel it in our minds, when we look back on what we were and what we have given up, it is not easy to accept that we can never regain what we have lost."
---
Continue to Plus page 6 -Silence of the Fosters
Return to the Plus contents page
| HOME PAGE | FRONT PAGE | EDITORIAL/OPINION | NEWS / COMMENT | BUSINESS
Please send your comments and suggestions on this web site to
info@suntimes.is.lk or to
webmaster@infolabs.is.lk