7th September 1997
Goolbai Gunasekera's new book Chosen Ground- Part 7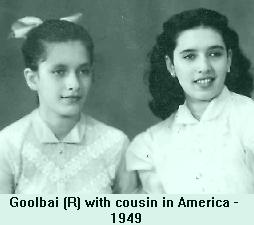 And now to the new order of things. Mother was anxious that her Visakhians should become good wives and mothers in due course. Home Science was introduced into Sri Lanka for the first time. Aided by Jamshed and Father in India, Mother tied up with the well known University of Home Science in Delhi - Lady Irwin College. Professors from Lady Irwin came out to Visakha on a loan basis and set up one of the best Home Economics Departments to be found anywhere.
It was an instant success. Parents of the girls in fashionable schools began the switch. I remember my husband's cousin, Swarnapali Medonza, telling me how angry she was when her mother, Lady de Silva took her out of Ladies and sent her to the Visakha Lady Irwin Course. Swarnapali's two younger sisters came to Visakha very young and remained there till they had completed their schooling.
Years later, in the far away city of Nagpur, I happened to be staying at Government House as a guest of Mr. Sri Prakasa, Governor of Bombay. A lady in the city heard that I was a visitor and called on me. "Do you remember me?" she asked. "I am Miss Kerawalla". Remember her I did although I was only 5 years old when she was at Visakha. She had been one of the pioneer teachers sent from Lady Irwin.
My husband's Auntie Girlie told me that the girls of Bishops began to hear of the doings of Visakha "and we felt terribly jealous". In all this publicity Mother was helped by one of the most loyal parents of the school - Mr. D. N. W. de Silva, father of Sujatha Jayawardena who subsequently became Head Girl of Visakha. Mr de Silva J. P., MBE, Member of the Municipal Council and an influential journalist who was on the Editorial Staff of Lake House... a newspaper empire which had been founded by Mr. D. R. Wijewardena an extremely prominent Buddhist. The fledgling Buddhist school now received much attention. Visakha Prize Days, Visakha Play Productions, Visakha exam results - all these were highlighted in the Press with great fervour.
Slowly the tide began to turn and Buddhist parents started to see Visakha as an acceptable alternative to the heretofore 'good' schools of Colombo. One notable case Mother often spoke about was Sir Henry Kotalawela who had one daughter.
His wife had died and his attractive offspring had been sent to Ladies College where she had been highly influenced by the Christian atmosphere of the school. It would be wrong to say that she had been deliberately converted for the British did not encourage such conversions. Yet Christobel WAS moved by Christianity and one day informed her outraged father that she wished to convert.
Bellowing furiously he removed her forthwith from Ladies' and sent her straight into the Visakha hostel. Mother had a very rebellious teenager on her hands. Came the Poya days when all the obedient Visakhians had to observe Sil. Bhikku Narada of Vajiraramaya had become a good friend to the school ( and to Mother) who wanted Buddhist ideals implemented at Visakha. Christobel was not to be seen on these days and Mother would eventually run her to earth behind a cupboard. "I won't come out, I won't," Christobel would storm. "Very well." Mother waited for a happier moment.
The next morning Christobel arrived in her office with a mutinous look and a determined mind. "I am going to become a Christian whatever you say," she informed Mother. "Certanly my dear," Mother replied "I personally accept the teachings of all the great World Religions, but I must carry out your father's wishes. While you are at Visakha co-operate with me. You can make your decision later." Christobel co-operated and forebore to hide behind cupboards on future Poya days. She became a lifelong family friend and is one to this very day.
---
Return to the Plus contents page
| HOME PAGE | FRONT PAGE | EDITORIAL/OPINION | NEWS / COMMENT | BUSINESS
Please send your comments and suggestions on this web site to
info@suntimes.is.lk or to
webmaster@infolabs.is.lk