7th September 1997
The maiden art exhibi tion by Nihal Jayamanne, is now on at the Heritage Art Gallery, 61 Dharmapala Mawatha, Colombo 7.
The exhibition will continue till September 14.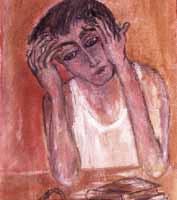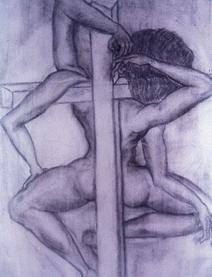 "....A work of Art mustn't only be pleasing to the eye, but it must touch your soul too..." said Nihal Jayamanne.
The above concept in art conveys the depth of the artist's artistic thinking and ability.
Nihal Jayamanne PC is a well known lawyer who is a also a self-taught artist. He was born in 1946, and his inherent possibilities as a creative artist started emerging when he was a young man of 18 years. From then onwards he has produced a vast amount of works in different mediums; this, besides pursuing his profession, is a remarkable achievement for a self-taught artist. This will be his first ever solo exhibition.
As he himself admits, the female form and faces have inspired his work and dominate most of his paintings and drawings. His subject which mainly relates to "human life," creates fantasies with figures, which perhaps he sees around or dreams about. This is evident in a series of Charcoal drawings, where stylized distorted figures help his images to be powerful and aesthetically pleasing.
Deeply concerned about the contemporary art situation in Sri Lanka, Nihal Jayamanne also believes that the present awareness of Contemporary Art is due to a better social understanding and appreciation of this resurgence, which was not apparent in the last few years.
---
Continue to Plus page 16 - Winds of change at Visakha: Goolbai gunasekera's new book
Return to the Plus contents page
| HOME PAGE | FRONT PAGE | EDITORIAL/OPINION | NEWS / COMMENT | BUSINESS
Please send your comments and suggestions on this web site to
info@suntimes.is.lk or to
webmaster@infolabs.is.lk