24, August 1997
Twenty five years, a "water-baby"
By Bandula Jayasekara
Sri Lankans do not know much about Julian Dias Bandaranaike and I don't blame them because Julian has lived in the water for the last twenty five years. I swam to the SSC pool with the greatest difficulty on a Saturday afternoon to meet this silent and shy mermaid. She broke her silence. After all water is her life!
Julian went to St.Bridget's Convent in Colombo and comes from a family of swimmers. Her sister is known to the world of swimmers as 'Nangi' de Saram and her cousins are past greats, Tara and Oosha. Nephew Julian Bolling and niece Deepika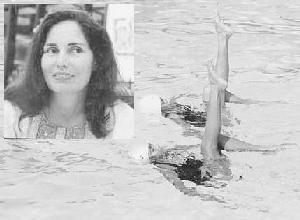 Chanmugam were once hailed as golden boy and girl of Lanka. Julian started to swim with her parents and grand parents when she was a child. In 1966 Margaret 'Nangi' won a scholarship to Australia and that changed Julian's life and she trained on her own with the schedules her sister sent her from down under. She didn't look back, established many public school records and her record in the l00 mt. 'Dolphin' lasted for more than sixteen years.
She started as a swimming coach in 1971 at the young age of sixteen and completes 25 years as a swimmer and a swimming coach. Julian spent most of her time training little mermaids and her youngest pupil is only four years and Julian finds great pleasure in training the young water babies. She also conducts classes for adults in small groups. Julian has been trained in Japan, England and Hong Kong. In Hong Kong she attended the Sports University and completed a three month diploma course. She returned only on the first of August from England having attended the second summer school following an advance course in 'synchronizing swimming' (water ballet).
She handles the teaching and coaching aspects. In teaching she covers the ABC of swimming and personal life saving and in coaching she brings the fairly good swimmer up to a competition standard. However, what I find interesting about Julian is that she is not one hundred percent competition minded and her students share this view. They do not spoil the calm waters.
The mermaid of Lanka is also a ballerina. She specializes in 'synchronizing swimming' better known to us as water ballet. It is important to know that only Julian conducts classes on water ballet in Sri Lanka and she requests other coaches to join hands. Synchronized swimming is an Olympic sport and surprisingly is not an Asian games sport. The Americans are the world champions followed by Canada and Japan. It has improved in leaps and bounds because of competition swimming and is recognised as a great and the most difficult sport in the world. One has to be very dedicated to this sport as it combines so many abilities, talent and strength.
Julian says "my interest goes back a long way. First as a competitor under Barbara Flamer Caldera over twenty five years ago. In 1978 with people in the Swimming Association known as the CAFA, we organised the first ever water ballet in Sri Lanka and it went underground until 1986 when the current swimming union NASU sent me to Japan for a training course which helped to bring us upto-date. In mid-nineties we held a competition according to FINA standards and put up a show at the Sugathadasa Stadium two years ago. The standards were very high and all the students were from Visakha. My sister Margaret 'Nangi' did the water ballet 'Cinderella' in Kandy sometime ago with students from Mahamaya, Hillwood and Trinity.
Water ballet as a sport is yet to spread in Sri Lanka due to the ignorance of the swimming coaches and it is important to realise how much it will benefit our swimmers, feels Julian. Two of her girls Chandima Gunawardena and Gayani Warnapura, the best in Sri Lanka will compete in the World Championships in Perth in January 1998. I am sure the two girls will bring honour to Sri Lanka and give strength to Julian.
The future of swimming in Sri Lanka will be bright as NASU encourages our swimmers to compete abroad and this exposure will improve our standards. We are an island nation with water all around us. So let's swim and join the water world from Jaffna to Trinco to Negombo to Mount Lavinia.
---
Lanka to compete in four sports
"Sri Lanka will compete in cricket, hockey, rugby and netball at the Commonwealth Games in Malaysia next year", said the newly elected Chairman of the National Olympic Committee (NOC) Hemasiri Fernando.
The NCC spelled out its programme of events to be sponsored by the Commonwealth Sports Development where over Rs 8.2 million is to be spent in stages promoting the events.
The IAAF Level 2 course will be held in producing coaches to be in charge of sprints, jumps, middle and long distance races.
The Sports School run by the Ministry of Sports has been upgraded and is now called the National Institute of Sports Science, with four courses lined up including a workshop.
First and foremost a Level 1 course in basketball theory will be held by the National Institute followed by the Level 1 course in athletics theory on August 27 and 28 followed by the volleyball course in theory from August 26 to 31.
The Coaching workshop will be conducted by Bill Thompson at the National Institute of Sports Science.
Over 8,900 Canadian dollars will be spent on netball by the NOC with over 250 coaches benefiting which will be followed by the coaching camp for over 100 women at the National Institute of Sports Science.
The funds allocated to the NOC by the Sports Commonwealth Development Programme will be monitored by two officials each from the NOC, Sports Ministry and the National Institute of Sports Science.
---
England snatch dramatic 19 runs win over Australia
LONDON, Saturday (Reuter) - England snatched a sensational 19 runs victory over Australia in just over two and a half days in the sixth and final Ashes Test against Australia at The Oval on Saturday.
England were all out for 163 runs which left the Australians to score 124 to win but the Australians collapsed sensationally and were rattled out for 104 in their second innings.
Earlier Australian paceman Mike Kasprowicz took three wickets in five balls for a career-best seven for 36 to demolish England's second innings.
Kasprowicz sent England crashing to 163 all out midway through the third day, leaving Australia to score 124 to win and complete a 4-1 series triumph.
Playing in only his fifth test, Kasprowicz wrapped up the England innings by firing out tail-enders Peter Martin, Phil Tufnell and Devon Malcolm in five deliveries.
The Queensland pace bowler had claimed Mike Atherton and Alec Stewart overnight, and added Graham Thorpe and Adam Hollioake earlier in the day, to beat his previous test best of four for 113 in the first match of the series at Edgbaston last June.
Warne gave Australia the ideal start to the day by removing Nasser Hussain for two with the third delivery of the morning when England had not added to their overnight 52 for three.
The wrist spinner turned a delivery which Hussain tried to cut but succeeded only in hitting up to backward point where Matthew Elliott dived forward to cling on to a fine low catch.
Thorpe, who reached his half-century from 94 balls, and Ramprakash responded to the early setback positively in a fifth wicket stand of 79 — England's highest of the match.
Kasprowicz broke it with a delivery slanting across Thorpe which the left-hander aimed to off-drive. He got an outside edge and was caught by Mark Taylor at first slip. The Surrey batsman faced 115 balls and hit nine fours in his 62.
Hollioake swiftly followed his county team mate, given out lbw for four playing back to Kasprowicz, and England went to lunch at 145 for six.
Ramprakash, the last remaining specialist batsman, was snapped up by Warne early in the second session when he came down the pitch, was beaten by the turn, and comfortably stumped by Ian Healy. His 48 occupied 110 balls and included six fours.
Kasprowicz then produced his demolition act to sweep aside the last three wickets with the total at 163.
Scoreboard
England first innings (G.McGrath 7-76)
Australia first innings (P.Tufnell 7-66)
England second innings (overnight 52-3)
M.Butcher lbw b M.Waugh         13
M.Atherton c S.Waugh b Kasprowicz       8
A.Stewart lbw b Kasprowicz      3
N.Hussain c Elliott b Warne     2
G.Thorpe c Taylor b Kasprowicz  62
M.Ramprakash st Healy b Warne   48
B.Hollioake lbw b Kasprowicz    4
A.Caddick not out       0
P.Martin c and b Kasprowicz     3
P.Tufnell c Healy b Kasprowicz  0
D.Malcolm b Kasprowicz  0
Extras (b-6 lb-10 nb-4)         20
Total           163
Fall of wickets: 1-20 2-24 3-26 4-52 5-131 6-138
7-160 8-163 9-163
Bowling: McGrath 17-5-33-0, Kasprowicz 15.5-5-36-7, Warne26-9-57-2, M.Waugh 7-3-16-1, Young 1-0-5-0

---
Talking point
On bended knees
Someone with tremendous political clout, who has been humiliated by his behaviour in insulting and threatening a cricket board official, has apparently gone on bended knees by asking this official for a letter stating that no such thing ever took place. It is also learnt that this official is willing to oblige!
A third term
The present President of the Board of Control for Cricket is to be granted permission to stand for a third term.
This has been done to avert a contest between two other influential people - one standing for the first time and the other who is making a comeback.
Broken promise
The proposed money to the Mayor's Fund in Kandy is still not given according to sources close to him. This money was promised by the organisers of the Kandy Road Races which put the residents into severe hardships and the promised events was not even held.
commentator insulted
A senior cricket commentator from a leading broadcasting station giving ball-by-ball commentaries in the limited over practice game against the Board President's XI and India at the De Soysa Stadium Moratuwa, was badly insulted by a novice commentator in the midst of many sports journalists covering the match.
---
Gayan Ranatunga bag's Silver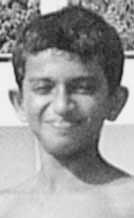 Twelve year old Gayan Ranatunga did Sri Lanka proud by winning a silver medal in the 1 metre spring board diving competition at the 11th Asia Pacific Age Group Championships in Chinese Taipei last evening.
Gayan of S. Thomas Mount Lavinia and the brother of Gihan on a scholarship in Australia beat the divers from Kuwait, Singapore, Iran and Korea in the A group event at the Kaohusing City Swinming Pool.
Chinese Taipei won the gold.
Meanwhile Sri Lanka's other hope Harini Jayasekera had to be content with a diploma being placed 4th in the girls group B. event.
---
Sumedha coaching in Dubai
Sumedha Dharmasena, the former Nalandian cricketer in Dubai, is going great guns with his coaching since 1966.
He is coaching students comprising young ones from Sri Lanka, India and Pakistan in the age groups ranging from 8 to 15 years.
Sumedha who is a former President of Lanka Lions, having represented their A division team continues to play cricket and captains their B division team, Lanka Colts.
Sumedha has been living in the UAE for the past 18 years and is a popular personality who is actively involved in organising Sri Lankan Community activities.
His wife Sandhya too is a well known dress designer and art and crafts teacher. Presently they are on holiday in Sri Lanka with their two sons.
---
Chance for Young Cricketers
Milo Singha Cricket, the new eight-a-side Inter-District Cricket Tournament organised by the Board of Control for Cricket and sponsored by Milo the chocolate food drink from Nestle Lanka Ltd. is all set to take the world of amateur cricket by storm.
With the objective of further popularising cricket amongst the Sri Lankan youth, while giving them a chance to share the limelight of international cricket, Milo Singha Cricket is a great opportunity to bring out the hidden talents of cricket enthusiasts throughout the island.
The participating teams played during the dinner lunch break of the India vs Sri Lanka One Day Internationals. These youngsters under 13 years of age will now have the chance to play to a crowd of over 35,000 cricket fans, hot on the heels of cricket heroes like Sanath Jayasuriya and Sachin Tendulkar.
---
Kandy swimmers prove a point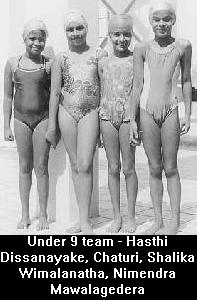 Kandy swimmers proved their mettle winning almost all the gold medals in the Sri Lanka Schools Aquatic Junior championships concluded at the Sugathadasa Indoor Stadium Pool.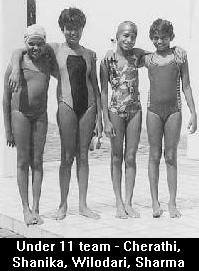 Doing proud for Kandy were the junior swimmers from Mahamaya with Nimendra Mawalagedera being the most outstanding in the under-9 age group, winning five gold medals.
Of the other swimmers, Hasthi Dissanayake and Shalika Wimalanatha won three gold medals each.
Dissanayake is the youngest out of the lot, with another year to swim in the same age group.
On their way in winning the medals the lasses from Mahamaya shattered a ten year old record in the 4 X 50 metres medley relay with a timing of 3 minutes 43.94 seconds.
In the under-11 age group, Shamika Wimalanatha and Sharma Dissanayake won three and two gold medals respectively. Both did well in the 4 X 50 medley relay and free style relays. </
---
Reutrn to Sports Contents Page
| HOME PAGE | EDITORIAL/OPINION | NEWS / COMMENT | BUSINESS | PLUS
Please send your comments and suggestions on this web site to
info@suntimes.is.lk or to
webmaster@infolabs.is.lk