24th August 1997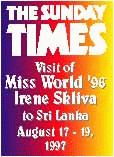 By Yvonne Gulamhusein.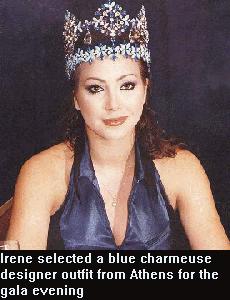 Irene Skliva, Miss World '96 made a grand entrance to the glittering evening function held at the Hotel Lanka Oberoi for the installation ceremony of the new President of Rotary East.
She was escorted into the banquet hall with pomp and splendour, preceded by Channa's troupe of Kandyan dancers.
Irene Skliva, was conducted into the Ballroom to light the traditional oil lamp and to open the evening's programme, by the Rtn. PHF. Krish Rajendran, retiring President and Rtn. PHF. Dharshan John, President elect.
The Rotary Club of Colombo East chartered in 1985 has spearheaded many community service programmes notably the Polio Plus campaign which seeks to eradicate Polio worldwide.This gala dinner and dance associated with the ceremonies was the glamour event of Miss Skliva's visit to Sri Lanka. For this occasion, Miss World wore a designer outfit from Athens in blue charmeuse with halter collar neckline and high gold platform shoes and her glittering Miss World crown of blue tourquoise, onyx and white zircons.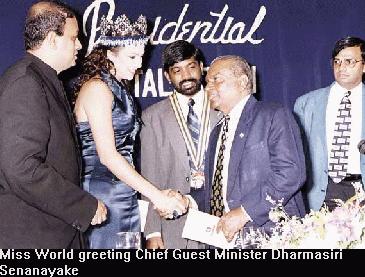 Minister Dharmasiri Senanayake was the Chief Guest and Miss Skliva was the Guest of Honour.
After the many speeches and the induction of the new president, dinner was served. 400 people, Rotarians and their guests packed the Oberoi Ballroom for the occasion and to catch a glimpse of the beauty from Greece, who had come all the way over here to our shores. Miss Skliva was chaperoned by Miss. Ostrowska.
Later it was on with the dance, with Sohan and the X'periments, till the early hours of the morning, with Arun Dias Bandaranaike and Noeline Honter compering. In between breaks were the entrance and souvenir raffle draws and Baila dance competitions to liven up the evening.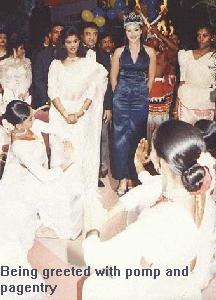 ---
During her stay in Sri Lanka Miss World Irene Skliva also visited United Motors where she was greeted warmly by the Chairman, Mahendra Amarasuriya, Senior Managing Director, Gerry Hidelarrachi and the rest of the employees at the Hyde Park Corner showroom.
After having posed for several photographs with the latest collection of their cars, she received a Mitsubishi cap as a memento of her visit.
---
Return to the Plus contents page
| HOME PAGE | FRONT PAGE | EDITORIAL/OPINION | NEWS / COMMENT | BUSINESS
Please send your comments and suggestions on this web site to
info@suntimes.is.lk or to
webmaster@infolabs.is.lk