13, July 1997
Fashion in every form
by Christopher Robin and Afdhel Aziz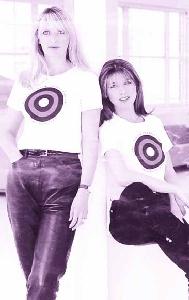 This Sunday, Webhead asks you to strut your stuff and get down to it, strike a pose there's nothing to it ! Fashion and everything fashionable on the Net is the object of our column this week, so pull on that fake fur cardigan, adjust the scarlet feather boa around the neck and proceed to read our roundup of fashion sites on the Web.
Vogue
Begin with that hallmark of fashion journalism worldwide, the indispensable coffee table magazine in chic living rooms from London to Berlin to Panchikawatte - we're taking about "Vogue", the British edition of course darling, what do you think we are philistines ? If you don't feel like shelling out hundreds of rupees on the real thing, simply pop along to the Conde Nast website, which also contains titles like GQ and Tatler too. Downsides of the site are that they ask you to register, they use frames, and seem to be designing for large monitors. Other than that, Comme Des Garcons, Galliano, Kenzo and (our own personal favourites) are treated with the necessary respect.
Fashion Net
Would you like to work in the fashion industry? Then check out the Fashion Net job listings, where you can either place your resume or job requirement or search through the vacancies listing. It's even possible to search for free lance work in the fashion industry and there's also a listing of only the most select fashion sites on the web. Join an on-line chat with other fashion conscious people like yourself on subjects like fashion, beauty, modelling and health/fitness or place your beauty or fashion related question on the message board and receive answers from people who can help all over the world. Fashion Net is possibly one of the most comprehensive fashion sites on the Web and even includes a fashion specific search engine to search for all things fashionable on the Web.
W.I.F.E ( Women's Internet Fashion Exhibition)
Shop till you drop on-line at W.I.F.E's multi-floored shopping complex. On the first floor you'll find ready to wear products for men, women and children from names such as Valentino and Benetton to Levi-Strauss. These links will take you to their official web-site where you can very often make purchases on-line. Other floors on the on-line shopping arcade include cosmetics, perfumes, leather good, shoes and accessories. There's also links to some of the top studios and photographers with an on-line presence and also some of the top modelling agencies.
CNN STYLE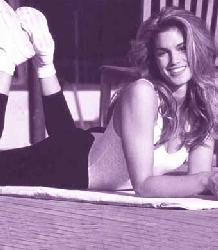 This is the place to be if you want to keep abreast of what's hip and happening in the fashion industry. Find out what's gonna be HOT this fall like, designer Issey Miyake looking ahead to the 21st century, while taking much of his inspiration from the twentieth for his fall collection. He feels that yesterday's traditions combined with modern technology create a vision for the future. And it looks like that's the general trend. Tokyo designer Yoshiki Hishinuma's spring collection is high-tech in its fabrics and finishes, yet tribal in its African inspiration. If you're really fashion conscious you'll find yourself a regular here.
Fashion Internet
This site has some good articles about fashion which also include a fabulous one delving into the mythology of Levi's 501 jeans, that mandatory emblem of cool.
Deep Thoughts of Supermodels
Finally, if you thought we had lost our satirical edge this week, never fear. Deep Thoughts of Supermodels is a collection of the most thought-provoking, intellectual, philosophical statements ever made by those anorexic walking coat hangers. There, we said that with a straight face so now we can tell you that these statements make the likes of Fabio and Christie Brinkley seem like they have IQ's slightly higher than mangosteins. Example: ON FATE "I wish my butt did not go sideways, but I guess I have to face that." — Christie Brinkley And one for the road: ON GEOPOLITICS "Mick Jagger and I just really liked each other a lot. We talked all night. We had the same views on nuclear disarmament." — Jerry Hall.
(http://www.coe.uncc.edu/~dkiser/supermodel.html)
OFF THE WALL…
The Codpiece International Home Page.
Our Off the Wall Site of the week is the Codpiece International Homepage, which advocates the return of that favourite item of Elizabethan gentlemen, the codpiece. This is a family newspaper, so we cannot go into detail about what a codpiece is, but suffice to say that it is to the midsection what a fencers mask is to the face. Kind of, sort of. (http://www.teleport.com/~codpiece/index.html)
---
A 'model' wedding
Nushara weds 'midst champagne and roses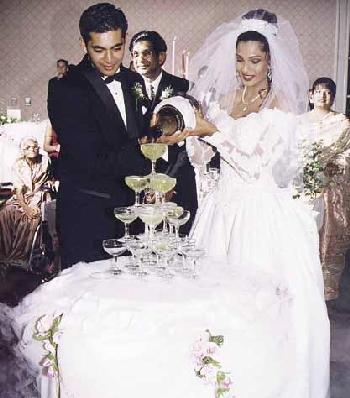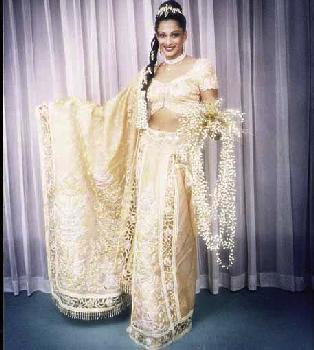 It was one of the social events of the season at the Kollupitiya Methodist Church last Saturday as model Nushara Fernando, a former Miss Sri Lanka married her long time beau Romesh Atapattu, with hundreds of guests including the cream of Colombo's design and modelling community looking on, arrayed in their finest.
The service featured a warm, witty and wise homily that drew parallels between modelling and marriage and a powerful solo by Nushara's sister Shanelle, who has a voice that knocks the socks off most Sri Lankan female vocalists. She amply proved her talents again , later on at the reception at the Hilton , which featured Harold Seneviratne and his combo playing for a crowd who danced underneath a lighted marquee. The reception began with cocktails followed by a resplendent sit down dinner .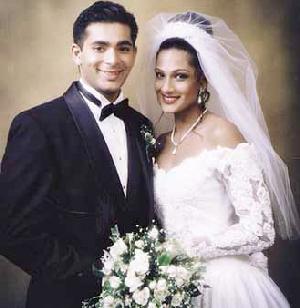 The bride and groom changed into Indian clothes - a gorgeous sari for her designed by Hemant Trivedi and a tailored kurta for him - and danced to romantic tunes before adjourning for a fireworks display outside. The two make a lovely couple and it certainly qualifies as the wedding of the year - so far .
---
Continue to Mirror Magazine page 4 - The man from out of space
Return to Mirror Magazine contents
Please send your comments and suggestions on this web site to
info@suntimes.is.lk or to
webmaster@infolabs.is.lk