6th July 1997
---
By Fedrica Jansz
Peace and Amity seems to be the theme at Sita De Saram's 'Monday Club' where a mixed bag of nationalities ranging from Japanese, Korean, New Zealanders to Sri Lankan focus primarily on painting local picturesque scenes. An atmosphere of camaraderie prevails. The class will hold an exhibition of its paintings at the Lionel Wendt from tomorrow to Wednesday.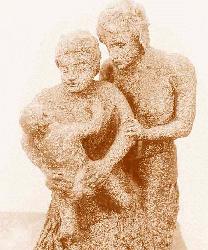 "Family" by Sita de Saram
Sita De Saram well known sculptres, artist and musician says 'Monday Club', was an inspiration to encourage mainly the retired who are yet capable of immense talent. Sita has won innumerable prizes for drawing and scuplture during her career.
Sita says it is important that people actually learn to draw and are not encouraged to just splash with colours and paint. This, Sita says is an unfortunate pattern adopted by some 'present day' artists who do not conform to style and the technique of art. It is important she says to study the principles of drawing and painting.
Sita believes that the astronomical pricing that is placed at present on works of art is totally unreasonable. "How on earth are you going to encourage people to buy works of art?" she asked. Unfortunately in Sri Lanka people lack commitment, Sita asserts, adding that portrait painting is not very common in the island as it requires a keener eye and better observation to copy and achieve a likeness.
Ms. Dissanayake is a retired Geography teacher, who has just completed an impressive painting on the 'Ella Gap.' Using putty rubber to help define the picture, Ms. Dissanayake says she had had formal lessons in painting whilst living abroad but has received much encouragement from Sita after joining the 'Monday Club.' She says it will be the first time she will be exhibiting her paintings.
Anoma Fernando has been painting since she was a child and has been a pupil of Cora Abraham. Anoma, a Music Teacher at the Colombo University says all her paintings are originals but maintains she has yet a lot to learn in the field of art.
Sue Tgu, a Japanese national, says it is her first attempt at art, but displayed an impressive aptitude for technique and colour. Both Adrienne and Julie from New Zealand had only just joined the class and were concentrating on perspectives. They said they would not be providing any exhibits for the show in July as it was too early for them to take such a bold step forward.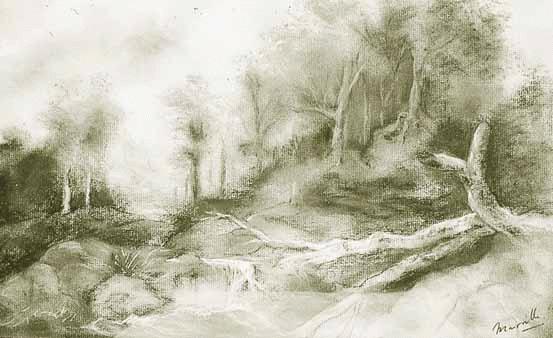 A forest scene by Prof. Merrille Perera
Prof. Merrille Perera, a Professor of Pathology, says painting has been an inspiration to him to discover hitherto unperceived talents. The Prof. has effectively captured on canvas haunting scenes of land and sea.
Sita thus presides over an enthusiastic class instilling self-confidence to enable these children of art to take the initial step forward in contributing to the multi-faceted world of impression.
---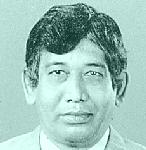 Elmo Granwil Perera, a former Air Force officer who was injured during an attack while in service is urgently in need of a bypass surgery. According to doctors, his life depends on the surgery.
Upto date he has undergone several operations and had to spend around Rs. 40,000 a month for treatment in India.
Doctors have told him that he needs to undergo an immediate bypass surgery in America while he is also supposed to get a kidney transplant.
Being retired it is impossible for him to meet both the expenses of the trip and the operations at the Hanakansack Medical University in New Jersey.The surgery costs fifteen lakhs. He requests all private donors to kindly deposit any donations in his bank account at the People's Bank at Kandana, account number- 1070034122, Elmo Granwil Perera, 83/2 old D.R.O. rd. Kandana.
---
Continue to Plus page 6 - The nicknames and its origins
Return to the Plus contents page
| HOME PAGE | FRONT PAGE | EDITORIAL/OPINION | NEWS / COMMENT | BUSINESS
Please send your comments and suggestions on this web site to
info@suntimes.is.lk or to
webmaster@infolabs.is.lk