6th July 1997
Secluded in hillside tea plantations are bungalows recalling part of Sri Lanka's recent past. Royston Ellis and photographer Gemunu Amarasinghe set out to discover some of them in this monthly series.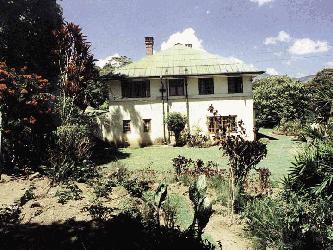 Drainpipes made in Britain crawling up the walls of the solid, square two-storey house, betray the utilitarian origins of the Madulkelle bungalow. Of course, it isn't a bungalow in the real sense, but since it is blessed with a rambling garden and has a commanding view, it is dubbed a bungalow in plantation parlance.
To avoid confusion about what is a bungalow and what isn't, I rely on an excellent book called Words In Indian English by S. Muthiah, a journalist in the then Ceylon. According to Muthiah, whatever its meaning in English, in Sri Lanka a bungalow is "a large, garden-surrounded house, once usually tile-roofed and one-storied. Now a word used for any kind of spacious house."
Madulkelle's roof is of green tin sheets, but it is a spacious house.
And there is a tall, red-brick chimney pot emerging from it, evidence of the comfort demanded by the British planters for whom it was built. In style, it seems to date from the practical period of the late 1930s. Probably adapted from a plan for a standardised middle class house in a boring part of Britain, it has gained distinction by the inclusion of a Mediterranean archway and French windows giving access to terraced gardens.
The bungalow is about an hour's drive from Kandy. Up to the early 1970s it was owned by the Pitakande Tea Company on an estate of 1,147 acres of tea ranging in elevation from 2,500 to 4,850 feet above sea level.
The nearest railway station is 10 miles away at Wattegama on the neglected, but charming line from Kandy to Matale.
A traditional narrow hallway provides the entrance to the house with dining room on one side and sitting room on the other. Leaving the best (what's in the dining room) to the last, a peep into the sitting room shows how the fireplace of the house's cold-climate design has been spurned by the present occupants. An armchair backs onto the grate. The French windows let in a tropic light to brighten the lime green decor of the room.
The hallway leads to the house's more frivolous feature, a main reception room that has a fireplace but also lots of windows and even a slim verandah. This is graced by two slender columns forming three arches opening to the garden and what was once a stylish swimming pool. Above the verandah is a balcony, completing the concessions to tropical living.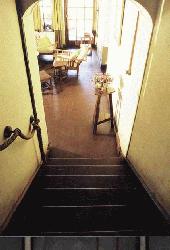 A staircase to the upper floor rises from under an archway in the room's corner. A dashing touch is the rope banister, doubtless a great support for a weary planter hauling himself off to bed. The wooden staircase leads to an impressive landing, which is a sitting area all to itself. On one side is a magnificent built-in three door wardrobe with a Tudor look. Flanked by a door of glass panes, it lends an unexpected eccentricity to what otherwise might seem a rather conventional house.
There are more delights to discover. Wooden floors upstairs and then, in the upstairs bathroom, a mosaic floor of chipped China. Doors are solid teak with fluting around each panel, and brass handles. A bedroom downstairs has its own French window access to the garden.
Outside, granite flagstones form paths, and there are footscrapers set into the paths outside each French window. One has the legend "A Kenrick & Sons" etched into it.
An upturned brick yields the slogan "Delves B". What clues are these to the house's history?
There are parakeets in the garden, flitting in and out of the tree tops. Lawns and flower beds trail at different levels, while tangled arbours indicate how a planter's wife of years gone by created a garden she loved. There is even a jolly, rock 'n' roll summer house. This is actually a wooden pavilion with a floor that swings. It has a bench on either side and rocks backwards and forwards, albeit with the creakiness of age.
The little touches that characterise the Madulkelle bungalow are worth looking for. Over the years, many plantation houses in Sri Lanka have suffered from neglect due to the high cost of maintenance, and also from official vandalism when old furniture is jettisoned in favour of skimpy, modern nonsense.
What planter worth his tea prefers a chrome and plastic stool to an old verandah chair with arms that are two yards long?
At Madulkelle, an authentic piece of plantation furniture has survived. It is isolated in the dining room and gives the house rare character. Viewed from the open French windows it stands alone in sun-speckled glory. It is a round table, carved with such intense dedication, it is a vibrant work of art. From its centre stem to the three paws supporting it on the ground, it seems to be a living, not an inanimate, piece of furniture. Plantation legend attributes it to an old estate carpenter. If so, it is a treasure that makes Madulkelle unique.
---
Continue to Plus page 5 - People and Events
Return to the Plus contents page
| HOME PAGE | FRONT PAGE | EDITORIAL/OPINION | NEWS / COMMENT | BUSINESS
Please send your comments and suggestions on this web site to
info@suntimes.is.lk or to
webmaster@infolabs.is.lk