22nd June 1997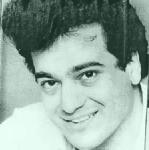 The British Council will present a concert by renowned British pianist Robin Zebaida at the British Council hall all on Monday 30th June at 6.30p.m.
Acclaimed by Musical Opinion after an all Liszt recital as 'a pianist of Herculean stamina.... ' Robin Zebaida has since become increasingly and widely known as a powerful and dramatic interpreter of the romantic repertoire.
Robin Zebaida has made studio recordings and appeared live on television and radio from the BBC in London to RTHK in Hong Kong. He also frequently works with younger musicians in master classes organised, amongst others, by the British Council overseas.
As well as spanning major works of the great composers from Bach to the twentieth century, Robin Zebaida actively pursues his special love of Russian music and interest in little known repertoire including piano transcriptions and works for left hand only.
Ticket at Rs. 100 will be on sale at the Cultural Affairs Office of the British Council from Tuesday 10th June onwards.
---
Return to the Plus contents page
| HOME PAGE | FRONT PAGE | EDITORIAL/OPINION | NEWS / COMMENT | BUSINESS
Please send your comments and suggestions on this web site to
info@suntimes.is.lk or to
webmaster@infolabs.is.lk