22nd June 1997
---
A. Jude S. Fernandez of 396, Daluwakottuwa Kochchikade is suffering from Acute Myeloid Leukaemia and has been recommended a bone marrow transplant at the Apollo Hospital in Chennai, India by Dr. Jayantha Balawardena.
The treatment will cost about Sri Lankan Rs. 2 million.With the family's present income not adequate to meet the cost of the treatment he seeks financial assistance from the public.
Contributions could be remitted to Account No.14234 at the People's Bank Kochchikade Branch on A.J.S Fernandez' Account.
Jude's only sister died of cancer six years ago. His father is the head teacher at the Sinhala Junior School, Duwana Kochchikade.
---
"Well Mudliyar How" produced and directed by Jith Peiris goes on the boards at the Lionel Wendt on June 25, 27, 28 and 29.
This production of the well loved "Mudliyar" classic stars Andrew David, Arun Dias Bandaranaike , Nirmalee Wickremasinghe, Indu Dharmasena, Sandra Mack and Vinodh Senadheera among others. Part of the proceeds , says director Jith Peiris, will be donated to the Jaffna library fund.
---
A promenade Concert featuring gifted and well-known artistes like Ananda Dabare, Ramya de Livera, Dushyanthi Perera and others will be held at the Russian Cultural Institute on Sunday, June 29.
Proceeds will be in aid of the Sri Lanka Association of Senior Citizens which is concerned with enhancing the quality of life enjoyed by older people.
Tickets at Rs. 2oo/= each may be had from Wimaladharma's 1st Floor, Liberty Plaza, Colombo 3.
Also from Marion Koch, Alice Kotalawela Wing, Colombo 7, and from Nimal Gunesekera, 22 Palm Grove, Colombo 3.
---
By Roshan Peiris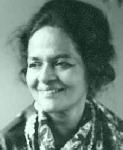 It is, I firmly believe, an impertinence to write a critical review of the paintings of Nalini Jayasuriya. She is not only an expert at her work but also sensitive with a spiritual tilt. Nalini has painted for thirty-five years. She has travelled in 36 countries and taught art in eleven, ranging from the United States, Thailand, Philippines, Japan and Pakistan to mention only a few. It is an impressive and extensive record.
But the irony is that Nalini says she never studied art. It is obvious that she has been gifted with the talent to paint by a benign being at birth. The core of her work is essentially spiritual. It expresses her soul as it were. "I love birds, can you see the nest over there"?, she points to her verandah. "They typify freedom and creativity which an artist must have. Is a bird afraid of the infinite unknown?", she asks. "I want to be the same in expressing myself through my art. Like the reckless wonder and freedom of a bird I too like freedom and would not like to be inhibited by any accepted art norms". The creative world, she said, is based on intuition largely.
She has painted a very beautiful picture titled the Night of Siddhartha and a painting of three cherubic faced Magi bearing gold, frankincense and the dove of peace in their hands as they make their way to the baby Christ in His humble crib.
A mural dance, full of life, sketches the beauty of soft movement, and a Tibetan spring with a valley full of gay flowers surrounds an innocent faced Tibetan girl.
Nalini Jayasuriya's paintings reflect depth and she says all she wants to do is serve people by her work.
She will hold her exhibition of paintings and drawings on Wednesday, June 25th at 6.30 p.m. at the Alliance Francaise 11, Barnes Place, Colombo 7.
She will also deliver a lecture on the 26th at the Alliance at 6.30. on "Gambling on a Miracle"- a reflection of art.
---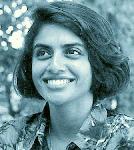 Lakshmi Ramayudu
Last week we met Lakshmi Ramanayudu, a confident young interior designer from Andra Pradesh, (sister of Telungu film superstar Venkatesh), who is making most out of her talents and achievements in Madras.
Taking a break in Sri Lanka along with her family from the corporate rat race back at home, Lakshmi breathes a sigh of relief at the thought that nature has not deviated to concrete structures fully in Sri Lanka, except for the few cluttered sites in Colombo.
Separated from her film star husband Nagarjuna, Lakshmi has adapted very well to working in Madras well away from her home town in her office and print lab.
Having visited various sites and historical monuments on her first visit to Sri Lanka, Lakshmi described the architecture here as "a fabulous store". She feels buildings here still bear traces of pre- colonial architecture. Speaking about the 'trend' that's catching up in interior designing in India, she said cumbersome looking set styles in commercial and private settings are now passé.
"Everybody nowadays looks out for something different and intriguing in interior decor", she said.
"I am not very much into frills and floral designs. I am quite at ease with rigorous straight lines and practical finishes," she says. In her interior designs Lakshmi tries to introduce bits of green in all her compositions and believes a sense of comfort comes in with plumy furniture and cushioned window seats to any interior.
Interior designing in India inclusive of wall paintings and window treatments may cost anything above Indian rupees 500 per square feet and may take a minimum of 2-3 months from planning to completion.
Lakshmi gave a firm "no" for an answer when asked if she would take to acting or modelling.
Commenting about her strong resemblance to brother Venkatesh, Lakshmi recalled, "people believed we were twins when we were kids owing to our similar features."
Lakshmi was in Sri Lanka with her mother, son, sister-in-law and her children and said she found the island, very hospitable one.
---
Kalapathi Sunil Lakshman has been elected President of the prestigious Ceylon Society of Arts in its 110th year (1997-98).
The Ceylon Society of Arts was founded in 1887 by European Artists and is still the oldest cultural organization in Sri Lanka.
Kalapathi Sunil Lakshman was the only Sri Lankan artist selected twice for 'the Osaka International Art competition in Japan in 1994 and 96. His world famous print creation "The Peacock" was purchased by the Government of Habikino City, Japan and is on permanent display in the Cultural City Hall of Habikino.
Lakshman won the state prize for sculpture in 1990 and was a former instructor of the Ceylon Society of Arts in art and sculpture. His paintings have been exhibited in India, Bangladesh, Russia, USA, China and Japan.
---
of first copies
The Sabaragamuwa University Writers' society will release five books brought out by different members of the University, on Tuesday 24th June, 1997, at 3.00 pm.
In keeping with the aims of the society every facility and encouragement will be extended to those engaged in literary efforts and the books will be formally introduced
---
The OBA of St. John's College, Jaffna, held it's 91st Annual General Meeting on May 17, 1997. The College founded in 1823, celebrates her 175th Anniversary in May 1998. The following Office Bearers were elected to the Executive Committee for 1997/98.
President: S. Sivathasan, Vice Presidents: K. B. Basnayake, V. Ponnambalam, M. W. Rajasingham and S. Rajanathan, Secretary: L. N. Balaretnaraja, Asst. Secretary: R. Loganathan, Treasurer: Rajan Niles, Asst. Treasurer: S. Mahendran.
Committee Members : R. Visagaperumal, S. Sivanantharajah, D. Vijayakumar, J. S. Niles. S. J. Jebaratnam, T. Paskarathevan, K. Mahadeva, D. R. Ariaratnam, T. Jeyakumar, J. A. Sethukavalar, S. K. Raveendran, S. Jeyawathsalan, N. Raviraj, David K. Ponniah, J. Niles, A. Vageesan, Jude M. Joseph, C. Sooriyakumar, S. Ramanan, G. Ratha Ramanan, S. Bahirathan, G. Vathulan, G. Jeyakumar, C. Gnanaindran, G. S. Nesakumar, Jeevan Hoole, K. Kanagarajah and M. Elancheleyan.
---
For the very first time in the history of Sri Lanka, Nursing personnel have been awarded the BSc degree in Nursing. The first batch of registered nurses have obtained their BSc degrees in Nursing from the Open University of Sri Lanka. Amongst them, three have obtained First Classes while thirteen have passed with Second Class (Upper Division) Honours. These nursing graduates will be conferred their degrees by the Chancellor Dr. Gamani Corea at the General Convocation of the University to be held on July 11 at the BMICH.
The OUSL Nursing Degree Programme was inaugurated in June 1994,. Today, three years later the Open University of Sri Lanka and its Faculty of Natural Sciences take great pride in having very successfully completed this unique and pioneering programme which will enable the Nursing Profession to assume its rightful place amongst other professions.
---
The National Youth Services Council and Sri Lanka Federation of Youth Clubs aim to raise Rs. 100 million (100 lakhs) to fund 5000 development projects during the 1997 Flag Week, June 24-30.
Flag Day, Thursday June 26 will be the focus of fund raising activities as hundreds of young people around Sri Lanka sell flags on the streets, NYSC Director General/Chairman Dr. Sunil Jayantha Navaratne said.
Organizations involving young people aged 15-29 such as youth clubs, co-operative societies, sports clubs, Samurdhi movements, rural development societies, school development societies and other NGOs are eligible to raise funds by forming a project group and registering with the federation of youth clubs.
Projects with a minimum cost of Rs. 2000 may range from digging wells, building tanks, small playgrounds or libraries, to community service and social work.
President Chandrika Bandaranaike Kumaratunga or Prime Minister Sirimavo Bandaranaike will present certificates to the winners of the three best projects at Provincial and District levels. All projects will receive certificates.
---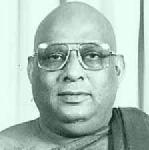 Venerable Pelpola Vipassi Thera who was the first Chairman of the Pelpola Vipassi Foundation took his oath as an All Island Justice of the Peace in Kesbewa Courts before the Kesbewa Magistrate D.M. Dissanayake.
The Thera was widely involved in social service activities in Sri Lanka. He has been in Thailand, Burma, India, China, Korea, Switzerland, France, England, Germany, America and several other countries attending to religious and social services.
---
The Annual General Meeting of the Past Pupils Association of Holy Family Convent Jaffna (Colombo branch) was held at Holy Family Convent Bambalapitiya on Sunday June 1, 1997.
The members of the Executive Committee elected for the year 1997/98 are as follows.
President - Gloria David
Vice Presidents - Dr. (Ms. ) Benita Stephen and Juliet Alfred.
Secretary - Marina Martyn
Assistant Secretary - Noelene Jeganathan
Treasurer - Immaculate Sylvester
Assistant Treasurer - Anoja Jeyakumar
Committee members - Rex Phillips,   Jeyamani Phillips,   Annette Rambukwella  (Editor), Imelda 
Emmanuel (Asst. Editor),   Joyce Rasaiya, Therese Emmanuel, Chitra Gunasekeran, Kamini Severimuttu,  
Menaka Manuelpillai, Anjula Nicolapillai, Nihara Thambiahpilla, Rajamalar Anadanadarajah, 
Maheswary Selvalingam, Mable Phillippupillai, Claribelle Mariadason, Nalini Emmanuel, Geetha 
Joseph,. Selvarani Anthonipillai, Rani Ganeshalingam, Angelina Poobalaratnam, R.R. Paulrajah,
Auditor - Shiranee Saverimuttu.
---
This year is a very special one for the DS family as it is their 30th Anniversary.
The Old Boys Association of D.S. Sennayake College together with the college is organising Black and Gold '97 carnival and trade fair to commemorate the 30th anniversary of the college on June 27, 28 and 29.
The chief guests will be Ministers S.B. Dissanayake, Nimal Siripala de Silva and A.H.M. Fowzie on the three days respectively.
---
Dharmaraja College, Kandy celebrates its 110th anniversary. The college has organised an Educational Exhibition from June 23 to 26 at the college.
---
Continue to Plus page 7 - Where subtlety, stagecraft held sway
Return to the Plus contents page
| HOME PAGE | FRONT PAGE | EDITORIAL/OPINION | NEWS / COMMENT | BUSINESS
Please send your comments and suggestions on this web site to
info@suntimes.is.lk or to
webmaster@infolabs.is.lk