22nd June 1997
---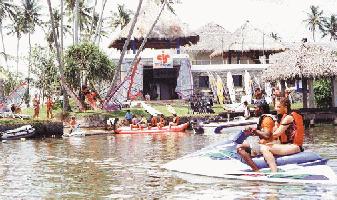 Want to be adventurous and daring during your weekend holiday? Maybe, you just want to get away from all the stress and pressure at work and relax near the beach? Well here's a place that's bound to make your stay a memorable one.
Nestled between the ocean and the lagoon, Club Intersport at Bentota offers you the chance to try your hand at any sport that takes your fancy. On offer is a range of water sports from wind surfing to jetskiing and tennis, squash, badminton , beach volleyball and even archery.
Club Intersport, a member of the John Keells Hotels, is situated adjoining the Bentota Beach Hotel. It's thatched roofed buildings and palm fringed manicured lawns blend with the sea and the surf.
The Manager who greeted us with a smile said that the Club was opened in April 1995 in collaboration with a Swiss company. Since the Club is ideally located between the ocean and the lagoon, the fact that the ocean can be seasonal and cannot be used in rough weather poses no problem. The lagoon is used for all water sports other than wave boarding.
CIS is unique because it offers a variety of sports as well as entertainment. There are trained instructors who oversee the sports and guests can experience the world of watersports without any risks. Life jackets are insisted upon when taking part in any water sport, whatever your level of skill maybe. At Club Intersport you get the opportunity to experiment with a variety of sports at the same location.
Where else but here could you take a banana ride? A long balloon filled with gas, where five people go on a ride towed by a speed boat has been christened the famous "Banana Ride". The trick of the sport is in keeping your balance while the speed boat does its best to topple you. A ride in the water scooter, the Jetski can come to a very splashy end but adds to the fun and frolic on offer.
The Ring which has been introduced to CIS quite recently is extremely safe for children. Two people can hitch a ride on this round balloon like ring while it's taken for a spin around the lagoon in the speed boat.
If you're a novice who wants to windsurf or water-ski then CIS is just the place for you.
The land sports offered are just as challenging. Well, if its archery you're interested in CIS has a quiet place set apart from the rest, below the ground level, away from all the excitement for all those would-be Archers.
Evenings can be spent relaxing, enjoying the shows presented by local animators. These shows are presented with a blend of local and western music in a extremely colourful fashion.
The open air discotheque is sure to entertain anyone who wishes to dance the night away and the snack bar which serves fast food and drinks remains open from morning to late night.
As there are no rooms available at Club Intersport, board and lodging is provided by the Bentota Beach Hotel which is also a member of the John Keells Hotel chain for most of the CIS guests.
Many organisations hold company sports tournaments here and some of them check in to to have day outings for their staff and family members.
The advantage of checking into a Keells hotel down South is that each guest is issued a free membership card for C.I.S which entiles them to discount rates at the Club. Free transport is also provided for guests from other Keells Hotels the South if they wish to come and see the shows.
---
British Airways is preparing to face the new millenium. The BA fleet has undergone dramatic changes at the tail end. All the tailfins of BA aircraft now sport impressions of artists around the world from Egypt to Africa to America and Japan. This is part of BA's campaign for the next three years to create an identity which is truly global- an airline which is not just British with global reach but an airline of the world. This is just a beginning. In the next few years the company plans to invest some 500 million pounds in improving products and services to the customer. So travellers can await the new and improved BA, striving always to lead the way, to set the standards in air travel.
---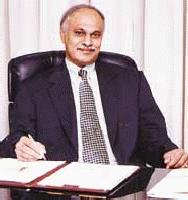 Lal Leanage: the first Sri Lankan GM at Inter-Continental
The Ceylon Inter-Continental Colombo - the pioneer of five-star chain hotels brought a new dimension to the tourist industry, when it rose on the seafront to change the city skyline in July 1973. Lal Leanage is the first Sri Lankan to hold the position of General Manager of an inter-continental hotel.
Lal, a well-known and popular personality in the travel trade, joined the Hotel with the very first batch and has worked his way through many areas of the operation - predominantly in the Front Office and Sales & Marketing. He has held key executive positions prior to his present appointment to the helm - as Executive Assistant Manager for some years prior to being appointed Manager in May 1996 - and then, hardly a year later he was appointed General Manager from May 1997. During his hoteliering career Leanage has participated in and contributed to many Corporate Training & Development programmes, and has had wide exposure to Corporate Management skills. Lal Leanage is the 9th General Manager of the Ceylon Inter-Continental Colombo. He is well supported by his wife Malkanthi, three sons, Jehan, Jeevaka, Hasitha and daughter, Iroshini.
---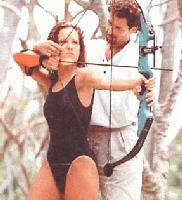 This week we offer an exciting holiday package for all you sporty ones out there. Water skiing, surfing , archery, tennis and swimming is on the cards, thrown in at discount rates during a weekend of sun and sea at Bentota Beach Hotel. Keells Hotels offer three free Friday -night- to- Sunday- lunch packages for two at Bentota Beach and Club Inter Sport, also a Keells venture, offers a 50 % discount on land sports and 30% on water sports during this stay. To win, simply answer the question on our coupon, paste it on a postcard and mail to:
Intersport Quiz
The Sunday Times
P.O Box 1136
Colombo.
Email: editor@suntimes.is.lk
Entries should reach us before July 2. Watch out for the names of the winners in the Travel Page on July 6.
Q: When was Club Intersport opened ?

Answer:	
Name:	
Address:		

Last week's winners
In The Sunday Times of June 8, we featured Sri Lanka's newest resort hotel, the Lighthouse, situated on a scenic beach on the outskirts of the historic city of Galle. In association with Jetwing Hotels, the owning company of Lighthouse we offered readers the chance to experience the special atmosphere of this very new hotel by the sea-by winning three wonderful weekends for two.
Well, we had an avalanche of entries and here are our three lucky winners who can now look forward to an unforgettable weekend in the elegant surroundings of the Lighthouse Hotel. Congratulations to:

1. John W. de Silva
Zone 19, No. 16B Rukmalgama Housing Scheme, Pannipitiya.

2. Melanie Sela
No. 16/4, Walpola, Aggona, Angoda.

3. Iftikhar Mohideen
No. 6B, Ebert Place, Dickmans Rd., Colombo 5.

Your entries were the first three correct ones drawn. Jetwing Hotels will be in touch with you shortly.
We thank all you readers who wrote in, and if you were not among the winners today, don't despair. The Sunday Times has got many more exciting holiday packages from some of the country's most exotic holiday spots lined up for you.
---
Continue to Plus page 6 - People and Events
Return to the Plus contents page
| HOME PAGE | FRONT PAGE | EDITORIAL/OPINION | NEWS / COMMENT | BUSINESS
Please send your comments and suggestions on this web site to
info@suntimes.is.lk or to
webmaster@infolabs.is.lk