Situation Report
1st June 1997
LTTE throws everything into battle
By Iqbal Athas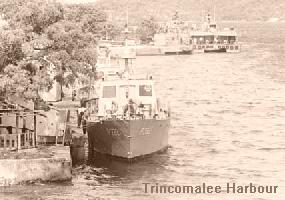 With 42,000 metric tons of Argentinian wheat worth over Rs 570 million (ten million US dollars), the Greek cargo vessel "Athena" lay at anchor for eight days at Pack Bay (outer harbour) in Trincomalee. It was awaiting its turn to dock at the Prima Jetty to disgorge the wheat through suction pipes to the towering silos in the sprawling flour milling complex - the one source of wheat for Sri Lankans.
Just after 2.30 a.m. last Thursday, an under water explosion in the hull ripped off the steel sheet. A gaping hole forced water to gush into the engine room. It flooded threatening to cut off the ship's power supply. Whilst the crew made hurried preparations to pump the water out, Captain Stathospoulos Theodoros, radioed the Pilot Station, who in turn alerted the Eastern Naval Command. They rushed a gun boat with heavily armed sailors. As hours went by, Commander, Eastern Naval Area, Rear Admiral A.H.M. Razeek, detailed a Navy team to conduct an investigation into the incident.
The team ascertained that anything between two to five kilograms of explosives had been placed in the hull (starboard or right side), below the water, just near the propeller. The explosion cut through the steel plating creating an "L" shaped hole some two feet by six feet. Who was responsible for the act ?
In the morning hours, suspicions centred on many quarters beginning with a probable LTTE fisherman attempting to dynamite fish or the unlikely yet remote possibility of sabotage by an interested lobby to curb the import of wheat and thus facilitate liberalised flour imports.
But, as the day grew, the culprit became known. Security forces intercepted an LTTE radio transmission that provided the answer. A base somewhere in Trincomalee radioed another, suspected to be in the Wanni jungles, that "Paththaam Number" (Number Ten) Group had executed the task.
It was Number Ten group's boat that members of the "Athena" crew had spotted at Pack Bay some half an hour before the explosion. Pack Bay is the outer harbour and encompasses the deep sea waters off Fort Frederick upto Nilaweli. Ships awaiting to unload in Trincomalee, one of the world's deepest natural harbours, are required to await their turn in this stretch of deep sea, often traversed by Sea Tigers when there are no Naval movements.
It soon became clear that the LTTE was throwing its full weight to counter the ongoing "Operation Jaya Sikurui" (Victory Assured). It was only a day earlier (Wednesday) before the Athena blast, that a flotilla of Naval craft fought a pitched high sea battle with Sea Tigers, some ten miles off the shores of Kokilai. It came when a Naval patrol encountered Sea Tiger boats rushing re-inforcements from the east to Wanni.
Navy officials say two Israeli built Dvoras and three gun boats fought a four and half hour battle. They say they destroyed six boats, two of them manned by suicide cadres. The Navy is unable to say how many guerrillas were killed but estimate it would be anything between 18 and 24.
Security establishments in the east, particularly in Trincomalee district, have been warned to be on the lookout for LTTE movements towards Wanni through the jungles between Habarana and Trincomalee. This alert led to troops from the National Guard Battalion stationed at Palampattaru ambushing a 50 strong LTTE group. Three Tiger guerrillas were killed in the incident. Others dispersed. The next day, Tigers blasted a transformer in that area plunging Trincomalee in darkness. Power was restored by the Ceylon Electricity Board by evening through a temporary link. Work is now under way to replace the transformer.
If the LTTE leader, Velupillai Prabhakaran, is massing his men and women cadres in large numbers to the Wanni, he is also equally bent on triggering off incidents outside the theatre of conflict. In doing so, by the "Athena" incident, he signalled that he was focussing on economic targets. Attacks on civilian targets like "border" villages and even public transport cannot be ruled out.
Quite clearly, the LTTE had decided to throw everything at their disposal to counter the "Jaya Sikurui" advance - a phenomenon which many senior military officials did not appreciate. They believed the LTTE is more likely to offer resistance to the extent required to inflict injury, damage and then withdraw with their cadres intact.
But one high ranking military official believed otherwise. "They may be scared that our advance will encompass Oddusuddan (north of Nedunkerny where the 53 Division - the Reserve Strike Force - has now positioned itself)", he told me. The official who did not wish to be identified for obvious reasons said "Prabhakaran has tasked his Batticaloa leader, Karuna and a group in this sector."
From Oddusuddan, the LTTE hideouts in the Mullaitivu jungles (including Prabhakaran's One Four Base) will come under effective artillery range of the security forces. "Hence, we have to expect the LTTE to resist and resist hard," he argued.
"Operation Jaya Sikurui", which has now completed 19 days, has also run into some unexpected problems though such difficulties are not altogether unusual or unexpected in an offensive involving 20,000 troops.
As reported in these columns last week (SITUATION REPORT May 25) "Operation Jaya Sikurui" had its own unexpected share of problems prompting Overall Operations Commander (OOC), Major General Asoka Jayawardena, to order troops to consolidate their positions in areas they had re-captured during the first eight days of the operation.
Troops from the 55 Division led by Brigadier Shantha Kottegoda, GOC, had by then advanced to almost Rampaikulam. But they made a tactical withdrawal and consolidated their positions in Omanthai.
For troops of the 53 Division led by Brigadier Vasantha Perera, GOC, who broke out from Weli Oya had during the first eight days overcome stiff enemy resistance and reached Nedunkerny. Despite heavy artillery barrages, they have consolidated their positions and are dominating this area now.
After the Vesak holidays, "Operation Jaya Sikurui" resumed last Saturday (May 24) when troops from the 55 Division commenced their advance astride the A9 axis, once the Colombo-Jaffna highway. For four days, they fought their way through past Rampaikulam to Vilakku Vaitha Kulam near Pannikaniravi. They are now consolidating in this area.
One factor that has delayed the troops' advance from here has been the inability of the Police Department to make available the required strength to undertake security operations in this sector. Only less than a third of the number assured has been made available. Hurried arrangements are now being made to meet the shortfall.
As reported in these columns (SITUATION REPORT May 4) the Wanni areas have been sectorised to be overseen by the Navy, Air Force and the Police. Barring the Police, the other two services have already raised their required strength.
Needless to say that these delays have not been much to the liking of the Field Commanders. They are worried that it not only impeded the advance but also exposed the troops to LTTE artillery and mortar fire - the two deadly weapons that have inflicted unusually high number of casualties to troops. They also do not want their enemy to re-group during this time.
Since "Operation Jaya Sikurui" is one in which troops and Police were tasked to secure sectors as others advanced, highly placed military sources believe it may take months before the Colombo - Jaffna highway is secured and re-opened. These sources said "there is no hurry for us to rush. We will re-capture land and consolidate as we go on. Time is not a problem. We will complete it even if it takes many months. "
Last week I referred to pressure by a top military official to urge the Government to clamp down a censorship during "Operation Jaya Sikurui." Although his advice was heeded during many previous military offensives, the Government resisted the move this time.
However, there being no censorship, rather unusually, there is a marked difference in the media campaign during the ongoing "Operation Jaya Sikurui." It contrasted sharply with the media blitz during the string of "Operations Riviresa."
Despite the heavy political overtones, official coverage dished out to the local and foreign media, both television and print, also portrayed the role of the troops, the field commanders and the senior military men who who conducted the military campaign.
The political hype has been somewhat absent this time, perhaps due to reasons arising from the necessity of some of the players to maintain a low profile. Some privately owned vernacular media have been able to have their reporters file from the battle front. There have been pictures of empty or damaged buildings. Perhaps they are at difficulty in obtaining pictures of the heroic men and their leaders at the battlefront.
But that does not mean Generals have been taken off the front pages altogether. Army Commander, Lt. Gen. Rohan De S. Daluwatte, in full battle regalia has hit the front pages of the State media visiting troops in the battlefront or sampling food in the field kitchens. He is a concerned commander, as indeed all commanders should be, portraying themselves with men in the frontlines. It seems his media promoters have left out all the others, at least all the other top men involved in the offensive.
It is by no means an easy task for Lt. Gen. Daluwatte to switch roles from visiting troops, sampling food in the field kitchens to mingling in Colombo's cocktail circuit. From Karawala to Caviar, one might say. But the good General is a strict vegetarian.
Last Thursday, Lt. Gen. Daluwatte, was the much sought out guest at a cocktail reception hosted by US Ambassador, Peter Burleigh, to say farewell to his number two, John Boardman and Political Officer, Scot Delisi. Mr Burleigh will himself say his farewells soon. President Bill Clinton has named him as the United States Deputy Permanent Representative at the UN.
Needless to say Lt. Gen. Daluwatte had to field many questions on the ongoing operation at the cocktail party. They came much faster than the rate at which advancing troops fired artillery at enemy positions.
"As Operation Jaya Sikurui" continues, the supply of food to civilians in the battle areas has become a subject of priority. Last Monday, the Ministry of Defence gave the green light to send food convoys. Yesterday, the Government Agent, Vavuniya, K. Ganesh, despatched 105 metric tons of rice to Kilinochchi which were being transported in lorries through devious routes.
Twenty lorries from Kilinochchi and 30 more from Mullaitivu were being directed to Vavuniya by T. Rasanayagam, Government Agent, Kilinochchi. They are to carry a further 9.5 metric tons. Since the launch of the ongoing operation, the food situation in the battle areas has been very acute according to senior Government officials.
From last Monday onwards, authorities are allowing civilians from uncleared areas who were stuck in Vavuniya to leave. A Government official said they were being sent at their own risk and added that among the 1529 persons allowed were 47 State officials.
"Operation Jaya Sikurui" is slowly but surely grinding forward. It must concern the security forces that Prabhakaran has not yet divulged his hand other than offering stiffer resistance to "Jaya Sikurui" than he did to operations Riviresa.
The Athena incident is perhaps an indication that Prabhakaran will resort to alternate options other than limiting himself to a military defensive. He has to recognise that even a partial success of "Operation Jaya Sikurui" upto Mankulam with a link up of 55 and 53 Divisions is going to not only segment the Wanni but severely restrict his military options in the Wanni belt - his guerrilla base.
It would be logical for him to attempt to delay "Operation Jaya Sikurui" by a few months at least till the North - East monsoon when the security forces will be restricted by terrain conditions. This would give Prabhakaran a breathing space and to focus his strategies in the eastern province and then sensitive Vavuniya - Weli Oya frontiers.
If he is successful in doing this, he could well extend the war upto the fourth year of the People's Alliance Government's mandate giving it little balance time to governance to muster adequate resources for economic investments to make a political impact before the next hustings in the year 2000.
---
Return to the Editorial/Opinion contents page
Go to the Situation Report Archive