Year on the Web
16th March 1997
| HOME PAGE
| FRONT PAGE
| EDITORIAL/OPINION
| NEWS / COMMENT
| BUSINESS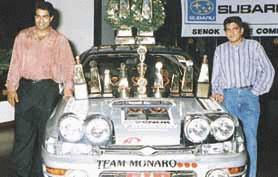 Richard de Soyza (L)
Young debonair Richard de Zoysa, Sri Lanka's great rally driver becomes the first Sri Lankan to participate in an international rally. He holds an International Drivers Competition Licence as well as the RAC Competition Licence. Richard is very thankful for the valuable guidance and help given to him by Tommy Markinen, the world Rally Champion 1996 who is a personal friend of his. Affectionately called "Thanker" by his friends he certainly has a great future.
In this interview Richard de Zoysa speaks to Brian Elias.
The tradition of sportsmanship has been the hall-mark of the De Zoysa family, and you have taken to Motor Sports. Your comments.
Well, it was my brother-in-law, Gerard Amarasinghe who first inspired me to do rallying and my cousin Ajantha has also been a tremendous source of strength. I received my baptism in rallying at one of the longest rallies in Sri Lanka which was the 1992 Subaru Rally where I drove a Nissan Blue Bird. It was unfortunate because in the first stage I had four tyre blow-ups and could not participate any further.
I gave rallying a miss in 1993 and 1994. However I competed and was successful in the Super Cross at Diyatalawa. My first break-through in major rallying was when I won the 1995 SUBARU CMSC Rally where driving a Nissan Double Cab Four Wheel Drive my navigator and I were placed first over a German competitor. I received 147 debits and the German competitor received 301. I am happy to say that my form was consistent during 1995 and 1996. We won the main SUBARU SLARDA Rally by a margin of 500 debits driving a Subaru Impreza.
For the first time in Sri Lanka a competitor has participated in an International Rally and that honour was bestowed on you as a co-driver in the East African Safari Rally which was held this year. Your comments on this particular rally and your plans for the future.
First and foremost it is an honour to bring this type of glory into Motor Sports in Sri Lanka as well as to one's country. It was a great experience for me as I was invited to co-drive for a Kenyan driver. This is incidentally the World Rally Championships Stage 3. The World Rally Championships consists of 9 stages and this 3rd stage is the toughest.
Since I intend participating in the 1998 World Championship in Kenya, this was a learning experience and I was privileged to have the honour of co-driving to learn and study the terrain, watch all the top drivers participate, see how the system and back-up service works and get exposed to this type of International rallying. We completed 600 kms. the first day. Unfortunately we were driving a Range Rover and it was whilst returning to Nairobi at the end of the first day that we had engine and injection problems. Since you get time barred if you are 10 minutes late at any time control point we could not complete the rally. But everything happens for the best.
As I had the other two days to get on the track and at various stage points watch how World Rally championship drivers do their driving - it was a great experience and gave me a lot of confidence that even Sri Lankan drivers are upto it and we are quite capable in matching them in speed if provided the opportunity.
I have for a long time been propagating the idea of our drivers and riders participating in International Rallies as well as foreign competitors participating in our major Motor Sports events. Do you think you can find adequate sponsors not only for the East African Safari Rally but to participate in the full calendar of events? What are your plans?
I have been invited to participate in the main African Rally Championships in Kenya on 4th, 5th and 6th October 1997. This is free of cost vis-a-vis; entrance, accommodation, jet fuel and aviation fuel. I have made many friends in Kenya and they are supporting me and SUBARU Kenya is sponsoring me for this prestigious event. This gives me a lot of encouragement and hopefully if I fare well in this event finding sponsors will not be that difficult in the future.
Do you think after your participation in the East African Rally our clubs will get together and stage an International event in Sri Lanka which would be a tourist attraction as well?
Since coming back to Sri Lanka I have met with the President of SLARDA as well as the CMSC and explained in detail how to conduct an International Rally. I am pleased to say that they are taking it very seriously and have invited me to some of their committee meetings to explain how the concept of pace notes (which is new to Sri Lanka) are used. International Rallying is planned out and competed where the co-driver works on what they call pace notes.
I have extended an invitation to the Kenyan Motor Sports Club to send a team for the next rally and I hope my invitation will be accepted as Mr. Andy Navin, the President of the Kenyan Motor Sports Club is a very good friend of mine. He is the one who encourages me to participate and has given me all assistance in these rallies.
I hope this will benefit the Motor Sports fraternity as well as do the country a lot of good in promoting international sports, calling the attention of tourists and promote tourism in Sri Lanka. I sincerely hope that the Ministry of Sports and the relevant authorities together with the Motor Sports Clubs in Sri Lanka provide the necessary infrastructure. What is relevant to mention at this point is that without adequate sponsorship, targets cannot be achieved and if everyone unites - as unity is strength - then this can be achieved.
---
Australian Grand Prix
The 1st stage of the formula one championship was held last week. And the winners:1. David Coolthard-Mc Laren Mercedes-Goodyear.2. Michael Schumacher-Ferrari-Goodyear.3. Mika Hakkinen-Mc Laren Mercedes-Goodyear.
Congratulations!
"Wheels" congratulate the Local Agents of Nissan Associated Motorways Ltd. for conducting a highly successful 1997 AOTS/Nissan Hi-Tech Automobile Service Training Course in Sri Lanka. It was held at the Automobile Engineering Training Institute, Orugodawatte from February 17 to 28. It augurs well for the industry!
Motor show
The long awaited
Motor Show '97 will be staged on August 22nd, 23rd & 24th 1997 at the BMICH.Several surprises are expected both from member firms of the CMTA and Classic Car Club Members.The Motor show is jointly organised by The Ceylon Motor traders Association and the Classic Car Club of Ceylon.
---
Why Discriminate?
We are reliably informed that due to the issuing of a circular to all government departments, Ministers and MPs, internationally famous brand names such as Mercedes Benz, BMW and Mitsubishi Pajero Intercoolers cannot be imported to this country.What a great pity! We hope the decision will be revoked urgently.
Used Tyres
The Tyre Traders Association of Sri Lanka have protested to the authorities that a large quantity of used tyres have been imported to the country, in spite of the fact that local production and the tyres imported by local agents are adequate to meet the requirements of the country.
---
Continue to Plus page 11 -A chapter closes on Isabel Court
Return to the Plus contents page
Go to the Plus Archive
Please send your comments and suggestions on this web site to
info@suntimes.is.lk or to
webmaster@infolabs.is.lk