Situation Report
26th January 1997
Economic attrition: Air Force loses Rs. 296m in 3 weeks
By Iqbal Athas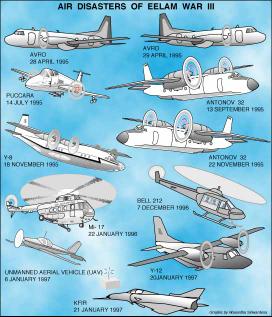 The tip-off came once again from a highly reliable channel that an LTTE ship loaded with weapons, was heading towards the high seas off the north-eastern coast.
Highly placed defence authorities in Colombo alerted the Sri Lanka Air Force Northern Zonal Command headquarters in Anuradhapura. There was a flurry of radio communications between Anuradhapura and the SLAF base in Palaly.
It was around 3.30 a.m. on January 20 when Flight Lieutenant Sudarashan Nanayakkara took off from the Palaly airfield into the night sky. With him was Flying Officer Prasanna Wettasinghe, Leading Aircraftsman (LAC) Wickremasinghe and Navy Lieutenant, S. Ranaweera. Being just three days before Poya, there was clear visibility.
Flt. Lt. Nanayakkara was maintaining flight level 5000 feet when he radioed the SLAF Air Traffic Control Tower in Palaly that he had spotted a vessel. He gave the co-ordinates of the position where the vessel was located and said he was making a descent to take a closer look. It was just past 5 a.m. Monday.
Those were the last words heard from Flt. Lt. Nanayakkara. Air Traffic Controllers made desperate calls and even switched on to emergency frequencies. There was still no word as hours ticked by on Monday morning. Other SLAF aircraft scrambled into the air and a massive search began.
Aircraft moved to the exact co-ordinates given by Flt. Lt. Nanayakkara. There was no vessel anywhere there. However, further away, there was a merchant vessel heading towards Colombo. Naval craft joined in the search. There was hardly any trace of what had happened to the Y12. One of the search aircraft was an SLAF MI 17 helicopter which hovered low over the sea some 80 to 100 kilometres east of the Jaffna peninsula. Even that failed to produce any evidence.
Piecing together the earlier intelligence that prompted the sortie (and other previous reports) senior defence officials felt there was a strong likelihood that the Y12 was shot down.
The Operational Headquarters of the Ministry of Defence broke the news of the incident in a press release. It however termed the pre-dawn flight as "a routine surveillance mission....". Aerial surveillance during nights has been a big problem for the SLAF since they do not have aircraft equipped for the purpose.
Ironically, the Ministry of Defence had given approval to the Sri Lanka Air Force to purchase maritime surveillance aircraft equipped with radar and other sophisticated equipment over one and a half years ago. It is only now the SLAF has got down to that task. It is preparing to call for tenders. Bidders from United States, Britain and France are already competing to sell surveillance aircraft manufactured in their respective countries. If this was done earlier, perhaps the Y12 disaster may have been averted.
A maritime surveillance authority has already been set up under the SLAF though the designated aircraft had not arrived.
The Harbin Y12 is one of nine such aircraft purchased in 1986 from China together with two Shaanxi Y-85 (or Chinese built AN12s). At that time Y12 cost U.S. dollars 2.2 million. At today's dollar rate, it totals Rs. 125.4 million each.
The Y12 aircraft have had an unblemished record with the SLAF having logged over 30,000 hours.
Air Force Commander, Air Marshal Oliver Ranasinghe, has set up a three member Court of Inquiry headed by Squadron Leader, Roshan Gunatilleke, Zonal Commander, North, to probe the Y12 incident. In the absence of any substantial evidence, it may turn out to be a routine inquiry.
If the government admitted the loss of the Y12 , quite understandably it could not go public on another aircraft loss. That was the crashing into the Palk Straits of an Unmanned Aerial Vehicle (UAV). It is also called a Drone or Remotely Piloted Vehicle (RPV). This "Spy in the Sky" aircraft with on board radar and high resolution cameras are used to obtain intelligence on enemy movements to facilitate aircraft or artillery to engage them.
The pilotless aircraft is controlled from the ground from a Command Room replete with television sets and electronic sensors.
The UAV in question had just flown over Kayts area when it developed engine trouble. The controller at the Command Room had switched the UAV to battery power but the life span of some 20 minutes that remained was not adequate to guide the aircraft back to base. It plunged into the sea. An SLAF search with the Navy to locate the UAV proved futile. The UAV cost around 500,000 U.S. dollars or Rs. 28.5 million.
During the Gulf War in 1990, United States and its allies used UAVs extensively to probe Iraqi territory. Fifty eight of them were shot down.
It seemed a strange phenomenon. Just the day after the Y12 went missing, an Israeli built Kfir (lion cub in Hebrew) crashed into the Negombo lagoon but its pilot, Flight Lieutenant S.R. de Mel, parachuted safely after ejecting.
On January 21, two Kfirs were assigned by SLAF operations staff to bomb previously identified targets in the Wanni. They had taken off from Katunayake when the incident occurred. The twisted wreckage of the Kfir was recovered from the lagoon and a Court of Inquiry headed by Group Captain Lakshana Salgado, SLAF Base Commander, Katunayake is now probing the incident.
SLAF officials say the fleet of Kfirs have flown over 700 missions since they were acquired. The Kfir that crashed on Tuesday had been mechanically sound. SLAF officials suspect a bird strike may have caused the incident.
SLAF acquired six Israeli Aircraft Industries (IAI) built Kfirs, five C2 types and one TC2. Each Kfir is said to have cost U.S. dollars 2.2 million or Rs. 142.5 million.
The Commander of the Air Force. Air Marshal Oliver Ranasinghe, asserts that losses were inevitable during a war. "It is easy for people to say yet another aircraft has crashed. But there is no one to appreciate what is being done", he told me in an exclusive interview (see box story on this page).
Air Marshal Ranasinghe may have good reasons but in the first three weeks of the new year, SLAF losses alone amount to over Rs. 296.4 million. With other known major estimated loss of over Rs. 40 million during the LTTE attack on Elephant Pass - Paranthan defences, the losses in those two incidents alone works out to Rs. 336.4 or just over Rs. 16 million a day.
That is not all. What the separatist war portends in 1997 becomes more significant when one looks at the loss of lives over the first three weeks of this year - over 310. During the same period over 609 were wounded.
The LTTE aims are obviously to incur as much damage as possible to the Government. This includes human casualties as well as damage and loss of equipment.
Both those aspects result in economic attrition to the Government's war effort. From what has been seen in the first few weeks of the new year, it appears that the LTTE fighting in a deadlocked situation are increasingly focussing on causing maximum economic damage to the Government.
Considering past year's events and that of the three weeks in 1997, it seems that the Government has no effective response to the LTTE strategy of causing economic attrition.
---
Air chief: the plane truth
It is easy for people to say yet another aircraft has crashed. There is no one to appreciate what is being done by us," says the Commander of the Sri Lanka Air force, Air Marshal Oliver Ranasinghe.
"Our men are sacrificing their lives to safeguard those very people who are always finding fault with us. We do not ask them for any material support but only for their normal support," he told The Sunday Times in an exclusive interview.
During a war, Air Marshal Ranasinghe says, loss of equipment and lives becomes an inevitable factor. This is not common to Sri Lanka alone. In every part of the world where there is conflict, troops die, aircraft crash, tanks are blasted and ships are sunk.
"That does not mean we have to lock up our equipment and run away," he points out. He said it was only last week that an F15 fighter aircraft of the Israeli Air Force crashed. The loss is over US $ 60 million.
Here are excerpts from the interview:
Constraints faced by the SLAF
Although the Sri Lanka Air Force has been in existence from 1952, it is only during the recent years that concrete measures have been taken to train personnel and introduce equipment. In the early years a debate continued on the necessity to fully modernise with the argument that there were no major threats. Things changed.
We were suddenly faced with the task of fighting a separatist war and formulating plans to face the future. To train a basic pilot, it takes two years. For a pilot to become fully productive it takes seven years. I have to select suitable people and train them.
The enormity of the task before us can be seen by the manifold increase of our responsibilities. Last year we flew 22,000 hours. During the five years before last year, it was only 16,000 hours. In 1970 , it was 2720 hours. In 1954, it was a mere 225 hours
Every day we ferry 2,000 troops and nearly 50 tons of cargo to the battle areas. We were a small Air Force forced to cope with a bigger responsibility thrust on us by national security considerations. We cannot and we do not say 'no' to a task. I had 84 pilots when I took over. Within just a short period we lost 14 of them. There are nearly 200 under training. They will become fully efficient operationally over the years.
It is easy for people to say yet another one has crashed. Ours in a national effort, I do not challenge their right to criticise. Please continue to do it. If there are mistakes we can correct ourselves. But remember our men are committed to lay down their lives in the tasks entrusted to them. So please appreciate that too. Do not do anything that will weaken their spirit, their commitment, their sincerity of purpose and their morale.
The recent air disasters
I have to refrain from commenting on all the recent incidents. On national security grounds I cannot discuss some. On the other hand, I have appointed Courts of Inquiry to probe how they have occurred. Whatever I say therefore may prejudice these probes.
But I want to point out one thing. Take for example the Y12 aircraft that has gone missing. This is a passenger aircraft and not a dedicated aircraft for surveillance purposes. Instead of saying we do not have aircraft dedicated for maritime surveillance, we used the Y 12. The pilot of that aircraft should be commended for flying 75 kilometers out into the sea and facing the inherent risks. Here again it is clear we used what is available with us and not one that is meant for that task.
The future
We are on the threshold of making our Air Force a modern one that can keep pace with the fast-changing electronic age. All credit to our pilots and men. They are working at maximum efficiency. So are the engineers and others.
I am reminded of the Sinhala adage " Pigan kedenne hodana minihage athin" It means "dishes get broken only at the hands of the dish washer." Not from those who keep it on the table and eat. Pilots do not crash their aircraft knowingly or willfully. Some of the incidents are unfortunate. Others are inevitable.
Desertions
We do not have a problem of desertions. Morale is high. There is a very good response for our public calls to join the Air Force. This will help us to go into the 21st century with a strong institution which the nation can be proud of.
Go to the Fifth Column
Return to the Editorial/Opinion contents page

Go to the Situation Report Archive