26th January 1997
| HOME PAGE
| FRONT PAGE
| EDITORIAL/OPINION
| NEWS / COMMENT
| BUSINESS
Contents
---
Colombo's worst episode - last year's Central Bank bomb blast revealed both Colombo's unpreparedness to cope with a crisis and the sorry state of emergency services. Have the lessons been learnt?
By Tharuka Dissanaike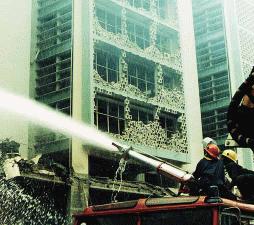 Central Bank blast: rescue operations brought to light many discrepancies and shortcomings
It was a year ago this Friday, that the most powerful bomb blast yet, ripped apart the Colombo Fort area. The drive-in lorry bomb by Tiger suicide bombers wrecked the Central Bank building and several other commercial buildings.
Many lives were lost. Even greater were the numbers who were injured and permanently disabled by injury to eyes or limbs. Even though the country, the city of Colombo in particular, has suffered bomb blasts for a decade or more, the Central Bank blast brought to light numerous faulty points in the city's fire protection system.
Medical facilities were also strained at the seams to accommodate the flood of injured that came into the Accident Service that fateful day. Ambulance services did not exist and the injured were packed into military vehicles and any other vehicles close by, to be taken to hospital. In the aftermath, trauma counselling centres were established but many patients did not reap the full benefit of these facilities. Government and private company compensation was given to injured people, but in most cases the permanently disabled were simply left by their employers to fend for themselves as best they could. All in all, the country, even after so many years of civil war, was not prepared for the disaster, nor anticipated the physical and emotional damage that came out of a bomb blast such as this. But, it has to be said that certain changes were initiated after the incident to make Colombo better prepared to fight such a disaster. The biggest of these was the change of guard at the Fire Department
Immediately after the bomb blast, President Kumaratunga ordered that the Fire Department should be placed under Air Force command.
Previously the Fire Fighting ranks were merely a department under the Colombo Municipality and as such run as a typical bureaucratic operation. Further the Department was hampered by the lack of resources to develop and expand their service to accommodate the needs of a fast expanding city.
After the Air Force took over the Fire Department, there have been major changes as regards man power and fire fighting equipment. At present the Air Force is training several new batches of fire fighters to be absorbed into the ranks. The manpower strength is now 350. New fire engines and rescue vehicles have been procured. An order has been placed for a fire ladder going up 54 meters( 14 stories).
"We are also looking at new locations for fire stations," Group Captain R. A. Ananda, Chief Fire Coordinator said. "We want to expand the fire fighting service to the suburbs and other cities. The fire fighters are continuously trained for the job and provided with fire suits, which were not used before this." Group Captain Ananda, who was involved in rescue and fire operations at the Kolonnawa oil tank fire and at the Central Bank bomb site, said the Fire Department needed a service oriented training to prepare it for coping with large scale disasters. He said service personnel are trained to rise above seeking personal benefit in their work. "My brother and sister-in-law were caught at the Central Bank bomb blast. My brother escaped but his wife died in the explosion. But I was busy directing my troops in the rescue operations, and I did not know until that evening of my personal loss," he said. The department today also conducts fire training for various institutions which request fire drills. They are also studying the city in order to gauge its weakness with regard to fire protection. "The hydrant system of the city is almost non-existent. We find it very difficult in times of fire to get water from the hydrants, instead we have to procure water bowsers," Group Capt. Ananda said.
The Accident Service of the National Hospital has not gone through any drastic change due to the bomb blast. But the Accident Service by that time was already upgraded and ready to accommodate large numbers of victims. The personnel also had been through many other disasters and the operations at the Accident Service on the day of the blast were as efficient as could be expected under those circumstances.
"We treated some 1450 bomb blast victims," Director Accident Service, Dr. H.S. Weerasinghe said. "It was the biggest disaster that the hospital has handled upto now,"
Under Finnish Government aid the Accident Service was upgraded to a modern facility in a seven storied building with some 260 beds, an ICU, orthopaedic wards and surgical theatres including a neuro surgical facility. Although the general scene right after the bomb blast was one of chaos, within hours the nurses and hospital staff had organised the flow of patients. Those with minor injuries were treated and discharged immediately. Treated and operated patients were transferred to other sections of the National Hospital promptly. However, the lack of ambulance services was greatly felt during the bomb blast.
The rescue operations at the time of the blast and rehabilitation after, are two other areas where the state machinery was found lacking, and even now an year later, progress on rehabilitation of civilian victims of terrorist attacks is not satisfactory.
Rohantha Seneviratne who was working on the 14th floor of the Ceylinco Building , recalling the horror of that grim day in January, commented on the lack on fire safety in buildings. "No one knew how to operate the fire extinguishers. Even when several of us tried to break the seal, nothing happened. "
"The building had an ancient fire escape on the outside. But since the flames were coming out of windows on the lower floors there was no way that we could go down on the fire escape."
"The ladder of the Brigade only reached the 10th floor. By that time we were on the 12th floor. We had to scale two stories using curtains and a tablecloth tied together for support. By that time a part of the 12th floor was also on fire."
A senior official of the Central Bank who was totally blinded by the blast said he was disappointed with the bank for not conducting comprehensive rehabilitation schemes for the disabled employees as promised. "It is because of my family that I have survived the trauma of being completely blinded. But the bank, although they spoke of rehabilitating those affected by the blast, did not go ahead with this programme," he said.
Because of his disability he has had to retire from service."I understand that the bank has other priorities and I am resigned to my condition," he said. "But the disappointment is there."
Group Capt. Ananda called on the government to set up a National Disaster Committee, with representatives of the armed forces, Fire Brigade, medical services and RDA, UDA and Water Supply and Drainage Board where disaster plans and mitigatory measures could be discussed.
This would lead to better preparedness and solutions to existing problems that come up at disaster times- most of which crop up due to the lack of co-ordination at various levels. While everyone hopes that a disaster like the Central Bank bomb blast will not be repeated, it is always better to be prepared.
---
Premasiri Khemadasa, a non-conformist musician believes that any mode of expression should reflect the changes in society. Although he is remembered for some haunting melodies for films of yesteryear, his music today reflects a more complex message.
By Madhubhashini Disanayaka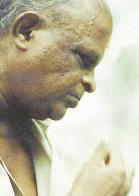 Premasiri Khemadasa celebrated his 60th birthday yesterday, the 25th of January. Most of this time span would have been spent in the creation of music, which will be with us for a long time more to come. One should only recall the music of the film like "Golu Hadawata" or "Hansa Wilak" or songs like "Ammawarune" or more immediately, teledrama music like the theme of "Dandubasnamanaya", to know this to be true.
There is always something different - some magic - in what he creates. Frenzied beats of Sri Lankan drums are gently drowned by haunting voices in harmony - slow and peaceful. The voice is used as an instrument to create sounds, not words. Rhythms are to be grappled with, changed, stretched to their limits to create the unexpected. Conventionality is the last word that you might associate with this kind of music as well as this musician.
"I was born into a family of thirteen, small as a baby squirrel. In that situation, a child could feel that it made no difference to anyone whether he lived or died. That kind of background creates fighters," says Khemadasa.
Most aspects of his life show that fighting spirit. Born in Wadduwa in 1937 to a father who was a businessman and a mother who was a housewife, Khemadasa grew up in an environment that was almost devoid of music. But that was the time when a flute could be bought for seventy five cents and most people learnt this instrument and the piano accordion, because they were popular. He too followed the trend, the musician recalls.
"When I was small, I was keen to get a good education. I walked alone all the way to Sri Sumangala College, Panadura, to sit for the admissions test. I passed it and studied with enthusiasm, mainly due to the Principal of the Junior College, Mr. Morawaka. But after I left Junior school, I felt discriminated, with regard to an incident concerning a double promotion - and lost interest. Once my enthusiasm dropped I really learnt nothing, even though I studied upto my O Levels," said Mr. Khemadasa.
It was during the O Level examination that Khemadasa got a letter asking him to come to the Sri Lanka Broadcasting Corporation. The young man went to sit for the exam paper that day with this letter burning in his pocket - but his patience gave away after thirty minutes. He gave in the paper and rushed out of the hall at 8.30 a.m. to get to the SLBC on time. This marked the end of his schooling and the beginning of a career he was destined for.
He had no formal music education either.
What he learnt, he learnt from different people. This exposure and his belief in himself made him start his own classes at Maradana in 1959. From SLBC, he ventured into film music and drama.
When he got involved in film music he came into contact with western classical music by meeting players like Douglas Ferdinannd and Eileen Prins, who played in the Symphony Orchestra of Colombo at that time. How much Western music has influenced Khemadasa is obvious when one listens to his music. Harmony is mainly a Western concept, since Eastern music tends to be melodic - and this musician does a lot of harmonizing.
Perhaps it could be said that Khemadasa's music is not very different from his personality. Some of his comments on western music can be taken as a kind of "attack" on traditional Eastern music.
"I do not scoff at tradition. I believe we can learn a lot with regard to technique - like how a violinist holds the bow from the West. Technical perfection is very important in players or singers, and if we can get it by methods used by the West, I see no harm," he explains.
As proof of what he says, Khemadasa puts on a cassette with his latest music for a teledrama. The chanting of a mantra persists throughout the piece, together with harmonized voices, violins and drums.
"If I scoff at tradition, than I could not have created this piece," he says. "Sometimes, changes have to be made to make it a work of art. For example, this mantra is said at the pitch I want. With amendments like that, there is so much that we can use from our past."
If one were to look at the development of Khemadasa's music, there seems to be a gradual leaning towards harmony more than melody. While earlier he created haunting melodies like the music of "Golu Hadawata" , now a different style of music with emphasis on harmony - even dissonance - prevails. This is apparent in his work "Doramandala".
"Times have changed. People would not have the time to get lost in the world of music. I believe that when society changes, the medium of expression should change too. Perhaps what my present music expresses is that complexity."
This nonconformist musician had often been interested in expressing a political statement too. One of his musical plays was banned by the last regime. The operetta "Manasawila" is an allegory. The plays like "Dhavala Bheeshana" had music to match the terror it expressed. Given the fiery nature of his character, it would be difficult to imagine Khemadasa being otherwise.
With all the hectic workload that Khemadasa does, training his students as the Khemadasa Foundation and working as a director of the NIE, he has always had time to check on the household activities. "It is he who still does the marketing for the house," says Latha, his wife for over forty years. "And he has always had time for the children." The two daughters, Anupa and Gayathri, are themselves good instrumentalists.
On the eve of his birthday, a group of young artists got together at Lionel Wendt to discuss and create a dialogue about Khemadasa's music. This musician has made contributions to the field of performing arts from Lester James Pieris's generation to the present one of Jackson Anthony. Khemadasa's touch in any creation is unmistakable. There is fire in the man and his music.
Continue to Plus page 2 - Need of a renewed Marian theology * Mary and Human Liberation...... The Other Side
Go to the Plus Archive
Please send your comments and suggestions on this web site to
info@suntimes.is.lk or to
webmaster@infolabs.is.lk