Vol. 31 No. 18 ISSN: 1391 - 0531
13th October 1996
This page will be discontiuned if there are no objections from the readers. Please send you views to: webmaster@infolabs.is.lk
Please give me the all-new table version
Gzip version of this issue also available
---
Industrial Disputes: Govt. should not make enemies on all fronts - Bernard
USAID has painted a dismal picture on Lanka's economy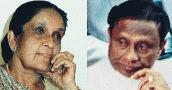 Preme tells Sirima: "I'm the crow, you're the king coconut"
---
Front Page News
* Tamil parties up in arms * Kadir meets Blair at Heathrow meeting * Govt. Offers 35% despite protests * LTTE moving into Pooneryn * Lifting of censorship linked to aid, says UNP * TULF protests against changes * Presidential allowance up by 200% * Concern over alleged cut of medical supplies to north
News/Comment
* Driving discipline into drivers * Anura talks to Amnesty on Lanka violence * Greasing the poll * Incentive for public servants * Medical experts seek crackdown on bad food * Students stall technical move * award for ST artist * Tamil-Sinhala teachers losing their jobs * Union queries * Women back peace in black again * CRM dismayed by alleged speech of President condemning violence * Company shows its gas say dealers * Kandy MC disrupts sale of newspapers * Lightning strikes MP * Refugee status: Lanka warns world community * Service medals: Navy seniors left out * Tiger buses to boost revenue * IPU assures to look into Jayalath's case * Discussion * 'Firewood ban will make tasteless tea' * Vultures menace school girls in buses * Gamini Dissanayake remembered * It doesn't pay to pretend * Dead soldier back in three wheeler * Buddhist monks protest Steel Corp. sale * 'Karunanidhi never helped Tamil groups' * 'Impossibly naive journalist will be ultimately his own worst enemy' * Afghanistan- containment of Islam * 'Cheer them on' * Preme to Sirima: I'll be the crow you be the king coconut
Business News
* Big chemical project in Hambantota * BOI to lure global market leaders with special incentives * Bottomline * Mind Your Business * Commmitte given more powers * CB ties up with EDS * Baiting the investor * Space-based network from Ceycom * Mixed signals from CSE * Lankan firm exports safety nappies * Increasing productivity better than chasing higher price for teas
Plus
*Childhood denied * Poverty - a major factor * The lessons of a father: Dr. Wimala de Silva's childhood * Oh! so beautiful and tragic land * "My son was not a fool to take his life" * Mystery * SLS: The buyer's Assurance * LETTERS TO THE EDITOR
Sports News
*Ingratitude and unfairness to Whatmore * Atlanta Olympics not a loss * Aussies face certain defeat * Colombo - by broad margin * CH&FC Centenary * Foreign crickets at Golf here * Hitting sixes for $ million * Mercantile Hockey "sevens" on Oct. 20 at Havelock Park * Mercantile open "sixes" * Narrow victory for HNB * Past officials mess up tennis administration * Pioneer Cup Hockey * Ranjith, Waidy back in AVA Association * Team for Sharjah picked * The clash of the Times * Under-14 champ wants U-16 title too * Upset wins by Dharmapala and Siri Piyaratne MV *Volleyball at Matara * When they got there the "cupboard" was bare
Go to The Sunday Times Main Home Page & Archives
Please send your comments and suggestions on this web site to The Sunday Times or to Information Laboratories (Pvt.) Ltd.
Presented on the World Wide Web by
The Sunday Times,
LAcNet and
Information Laboratories (Pvt.) Ltd.