25th August 1996
| HOME PAGE
| FRONT PAGE
| EDITORIAL/OPINION
| PLUS
| TIMESPORTS
By Kishali Adhikari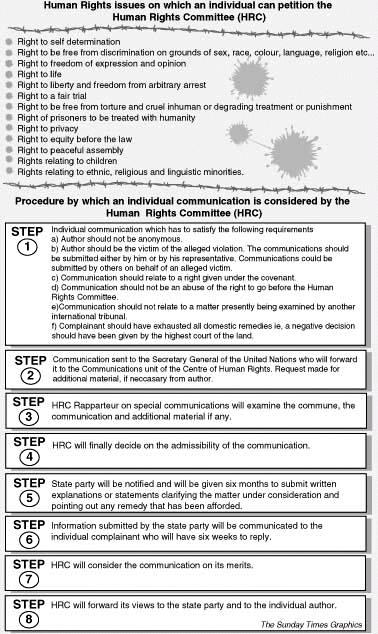 In a bold attempt to strengthen Sri Lanka's credibility in international human rights fora, the Government is now considering ratification of the Optional Protocol to the International Covenant on Civil and Political Rights.
Necessary papers for this purpose have already been placed before the cabinet and approval is said to be only a formality. This move coming so soon after the establishment of a National Human Rights Commission will undoubtedly be of enormous effect in convincing the international community that Sri Lanka is sincere in wanting to correct its once atrocious human rights record.
We have been examining the possibilities of satisfying the Protocol for quite some time, confirms Rohan Perera, legal advisor to the Ministry of Foreign Affairs. What delayed us was not any - fundamental problem with ratification but rather logistical difficulties such as skilled staff and resources. These have now been provided to us and we are forging ahead on this, he says.
Sri Lanka ratified the International Covenant on Civil and Political Rights (ECCPR) in 1980, and made herself subject to a compulsory reporting procedure. Periodic reports were submitted by the Government explaining the manner in which it complied with its international obligations to the Geneva based Human Rights Committee (HRC) the third periodic report was submitted to the HRC in June last year and the fourth periodic report is due very soon.
Once Sri Lanka ratifies the Optional Protocol however, it will bring the country under a much closer and more extensive scrutiny. The Protocol will permit individuals to petition the HRC on the basis that his or her rights as protected by the covenant has been violated by the Government of Sri Lanka.
Countries have ratified the covenant but have been reluctant to ratifying the protocol, fearing the possibility of embarrassing questions being asked in Geneva. Past experience of the manner in which the HRC has dealt with individual petitions however indicate that the mischievous or irresponsible allegations put forward for political or propaganda purposes receive short shrift. The HRC has considered individual communications in a diplomatic but forthright manner. If a state party is found to be clearly as fault, the HRC expresses its concern in a constructively critical manner, instead of being antagonistic.
The composition of the committee itself says a great deal for the respect given to it internationally. The committee is comprised of eighteen members, all acknowledged experts in their field of work. It is interesting to note that one Sri Lankan academic J.A.L. Cooray served a term on the HRC in the late 1980s. Members of the HRC are elected by secret ballot by state parties to the covenant at meetings conveyed by the Secretary General of the United Nations.
Meanwhile, the procedure adopted by the HRC in considering individual petitions guarantees a fair hearing to both the alleged victim and the state party in question. The committee looks at testimonies of the alleged victims, testimonies of witnesses called by both parties, medical reports, psychiatric reports, legal judgements, legislative, executive and administrative rules and regulations, statements from the state party concerned and so on.
In a number of cases, alleged victims have been represented by lawyers, law professors and non governmental organisations. There is no provision in the optional protocol concerning the possibility of legal aid to a complainant.
Legally, the views of the HRC have no finding effect within the country reprimanded. Internationally however the consequences of an adverse decision by the HRC can be tremendous. As a result, countries do not as a rule disregard the views of the HRC. The Mauritian Women case is a clear example of this.
Here, twenty women appealed to the HRC claiming that the enactment of two laws by the government were discriminatory of women. The laws permitted alien women married to Mauritian husbands to live in the country without a special permit whereas equal privileges were not given to alien husbands married to Mauritian women.
On the HRC stating that the laws were contrary to the covenant, Mauritius immediately amended the legislation concerned. States that have similarly abided by decisions of the HRC include Finland, Jamaica, Canada, France, Italy, Norway, Denmark, Netherlands and Sweden.
Areas of the law in which the HRC has given some important decisions have been the right to life, the right to freedom from arbitrary arrest, the right to freedom from torture. The right to a fair trial and the right to freedom of expression and opinion. With regard to the latter right in particular, the HRC has been particularly activist. It has emphasized that the right can be restricted only by law and only if they are necessary for the protection of national security, public order, public health or morals and for respect of the rights and reputations of others.
The Committee has questioned matters such as general and specific censorship, applicable penal laws that restrict freedom of expression such as defamation, sedition and subversive propaganda together with issues such as registration and notification of mass media and governmental attempts to muzzle the media. A substantial number of individual communications on this right have been considered and upheld by the committee.
One of the more controversial questions on which the state may be asked to provide answers if Sri Lanka goes ahead with ratification of the Protocol could be the right to self determination. This is a principle which states that all people have the right to determine their political status and freely pursue their economic, social and cultural development. It has been used by some separatist and terrorist groups to support their argument that they have a right to secede from the mother country.
Already, the right to self determination is something on which state representatives were closely questioned when Sri Lanka presented its periodic reports before the HRC in the past. The view put forward by the state that the right applies only to a people under colonial rule and not to a sovereign independent country was criticized by some members of the committee.
A small number of individual communications arguing that this right has been violated by some countries have come before the HRC. The committee has however been extremely cautious in dealing with the petitions through justifiable reluctance to become involved in nationally tense situations. Most petitions have been declared inadmissible on procedural grounds.
In general, moves by the Government to ratify the optional protocol should be welcomed. For a country having significant terrorist and ethnic problems, it would be an unprecedented move in the South Asian region. Out of the South Asian states, only Nepal has up to now brought herself under the protocol. Sri Lanka following suit will signal an important message to her neighbouring countries, specially India.
---
By Roshan Peiris
His sartorial elegance, a batik shirt in shades of brown and yellow, worn with a white linen cloth, and of course much aplomb, was characteristic of the man who sat before me.
His expressive face reflected the melancholy he felt when he spoke of a deprived childhood. But the deprived child grown into manhood was never deprived of ingeniuty, a determination to succeed combined with a native intelligence and a plentiful helping of imagination.
Dr. (yes, an honorary doctorate was conferred on him) Anandatissa de Alwiss story of his past epitomizes the regular Log cabin to White House story.
As a school boy at Ananda College I spent a miserable and grim time.
I was the eldest and only boy with five sisters. I had a brother who died early in life of an accident.
My father, a Post-Master, retired early due to a weakened constitution having contracted malaria.
I walked to school and back, from Nawala daily.
No Money
He sat thoughtfully and sighed deeply. I had no money to buy lunch, so I went without, drinking just tap water. I was in the Cadet Corps and later became a sergeant, so after school at 2.30 p.m., I spent another hour and a half with the Cadet Corps before walking back home tired on an empty, hollow stomach. I was also in both English and Sinhala debating teams.
That was not all, I could seldom pay the school fees and often a considerate benign master B. J. Wijemanne paid my fees.
In later years I met his son Ruthin, a clever young engineer and director of the engineering section of Rupavahini when I was a Minister.
I told him but for your father I would never have had any education at all.
I was not allowed to sit for the Matriculation examination, since there were arrears of fees . So I left school and looked around for a job.
I read in the Daily News an advertisement asking for an assistant librarian, with the ability to write English well, I applied and was called for an interview. I carried with me a bundle of letters I had written to the Editors of the Daily News, the Observer and the Times, together with some of my published articles.
I was interviewed by the legendary D. R. Wijewardene who asked me whether I could write well in English. I unfolded my bundle of cuttings and I was asked to report for work under Mr. Amaratunga, the Librarian on a salary of forty rupees.
I was fascinated by writing and so I wrote pen sketches of people in the news and offered them to Mr. Hilary Jansz, the Editor of the Observer, who grunted and accepted my writing with a ferocious frown. But he always published them.
Later I worked as a reporter on the Daily News and used to walk home at 11 p.m. to my home in Nawala.
I never took my hardships to heart. I had set my sights on a goal - to become a politician one day and help those as poor as I was.
Two ladies
On the Daily News there were two ladies, one edited the womens page and the other the children's page. They both left and I was asked to take over. I wrote articles on women from books and paper cuttings for the womens page. It was no problem. We also got articles from abroad.
Then Pieter Keuneman came in as Features Editor, and it was a great experience working with him on features. He and the editorial writer Jayantha Padmanabha, a Cambridge man began the first ever agony column Ask Manel.
Later the column became so popular that readers wanted to meet Manel. You are an understanding woman, and would make a wonderful wife some wrote! Others wanted to meet Manel or talk to her on the phone, not knowing of course that there were three men behind it all.
I fielded the telephone calls and said that Manel did not work there but collected her letters and went home. And she would not grant interviews!
I also contributed articles on Sinhala folk songs and poetry. They were happy days. But I left to join the Department of War Information - the Second World War had begun. I worked with Sir Kandiah Vythianathan, the director, on a princely salary for those days of two hundred rupees.
I was put in charge of a campaign to collect funds for the war effort, and we organised a salvage campaign to collect tin cans and recycle them for use in the war. We collected mountains of stuff which were stored in railway yards.
Co-incidence
After the war, Anandatissa found himself in the secretariat working as a public relations officer for the Board of Ministers Sub Committee dealing with post war problems, with G.C.S. Corea (later Sir Claude) as Chairman.
On the sub-committee were Colonel John Kotelawala (later Sir John) and D. S. Senanayake, both destined to become Prime Ministers.
It was a coincidence Ananda reflected, and years later, he sat as Minister of State in the same building, in the same room and on the same chair. It was one of those quirks of fate.
It was a time of political restiveness, reflected Ananda, and the United National Party was in the process of being formed and Colonel Kotelawala and Sir Arunachalam Mahadewa were among the prime movers.
At the residence of Raja Hewavitarana at Albert Crescent the UNP was formed. I sat in the wings and watched this historic occasion. Later I was asked to write the minutes of this momentous meeting.
I was also in charge of getting the constitution in print at Lake House. Reggie Candappa designed the cover for the constitution.
J. R., Dudley, Major T. F. Jayewardene, all these men of calibre set up the UNP, and D. S. Senanayake consented to be the President. I was entrusted with getting the letterheads ready for letters to be sent to party supporters. I asked the Lake House printer Bernard Silva to handle the printing.
History had a hand in making this ambitious young man destined in the years ahead to become The Hon Speaker of the House of Representatives, Minister of State and Minister of Tourism Information and Broadcasting to choose green as the party colour.
Bernard Silva wanted to know the party colour for the letterheads. We had no colour. I said I would call back in half an hour and Bernard thought I was going to consult the bigwigs.
I did no such thing. I knew red was out as a colour, since it was the colour of the Marxists, blue faded easily in the sun, and then there was green which our Muslim supporters would like - it was their colour, besides it was symbolic of the green of our countryside.
Humorous
So I rang back and said our colour was green. The letterheads arrived and Colonel Kotelawala sent out the letters. No one thought of querying the choice of colour!
Soon men came to visit the ministers sporting green ties and green shirts or had a green kerchief peeping out of shirt pockets. The ingenious, young man full of verve began handling the UNP Journal and the Sinhala version the Siyarata named after Sir Johns motto, I am always for my country! Anandatissa also inaugurated the UNP Youth League.
Many are the humorous memories of those days, when politics, though vigorous was devoid of violence.
There was that great crisis in 1952, when D. S. died and what came to be called the Premier stakes was on. Sir John Kotelawala was the most senior of the Cabinet Ministers and should by right have succeeded D. S. as Prime Minister.
Many are the stories of the backroom maneuvers with Soulbury, the then Governor General. The final outcome was Sir John was overlooked and Dudley Senanayake became P.M.
The angry man sat in his home at Kandawela wearing a sarong, a cotton, short-sleeved banian and a silver chain around his waist and ranted and raved. Sir John said he would resign from the Cabinet.
The Kandawela residence was full of people. I was working with Sir John, so his sister Mrs. C. V. S. Corea, Gamini Coreas mother, rang me and asked me to come to Horton Place to meet Alice Kotelawala, Sir Johns mother.
No one dared disobey the formidable but kindly old lady. So I went and she said, Ananda, my son Lionel is in a rage. He wants to resign from the Cabinet. I have just come to know that Dudley is going to Kandawela today to ask him to remain in the Cabinet and co-operate with him. Tell Lionel, my son, that we Kotelawalas can never retaliate against the Senanayakes. When my husband died it was F. R. Senanayake who prevented me from selling the valuable Ratagahawatte mines, he ran the mines at a profit for me. Not only that, he looked after the, education of both my sons Justin and Lionel and took them to Cambridge. Of course I paid for their education from the profits of the mines.
Messenger
I would like to tell Lionel myself, but as a son he has never been rude to me, and in his rage he may do so now. He trusts and likes you, so dont only act as a messenger, but persuade him to meet Dudley cordially and remain in the Cabinet.
I made my way to Kandawela and there he was holding court with his supporters and friends.
I took many of them aside and told them to calm him down before Dudley arrived.
I took Sir John aside and told him I had to talk to him in private. So we sat together and I told him what his mother had said.
For once he was dumbfounded. But not for long. So they have got at my mother and now you fellow, you are also backing them, he said. I replied, Sir be gracious and meet Dudley. After all though he is the Prime Minister he is coming to you. It would be churlish on your part to refuse him. Being in a bad mood wont help.
I will write out a statement to be released saying Dudley Senanayake is the Prime Minister of Ceylon. I will accept to work and co-operate with him, he grunted and signed.
At first he did not want to go out and receive Dudley. I told him I will greet him and Sir John could come half way.
Dudley arrived in the PMs official car. He wants to rub in the fact that he is PM, he said.
Anandatissa reflected he married his cousin just 23 years old and he was 22. Her people objected but nevertheless they overcame parental objections.
She was beautiful, fair with hopelessly red lips and long jet black hair mused Anandatissa. She died a few years ago. Anandatissa has two sons.
These are the memories of a man, who began as a striving poor youngster, but rose to be the Hon. Speaker of the National State Assembly in the Jayewardene Government in 1977, and subsequently Minister of State and Minister of Tourism and Broadcasting.
Continue to the News/Comment page 3 - Devolution Package: the need for a new beginning

Return to the News/Comment contents page

Go to the News/Comment Archive
Please send your comments and suggestions on this web site to
info@suntimes.is.lk or to
webmaster@infolabs.is.lk