Seventy-three years old: How independent are we?
View(s):

One of the idiosyncrasies associated with being as old as I am is that over the past several decades, I have acquired a collection of books, magazines and souvenirs that I enjoy browsing through from time to time.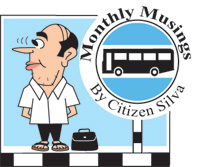 So, it was with great interest that I came across, as we were getting ready to celebrate the 73rd anniversary of our independence this month, a souvenir from 1969 that was published to mark the 21st anniversary of our nation's independence. Our coming of age as an independent nation was marked by a special pageant as well as an Agricultural and Industrial Exhibition staged in Kandy on February 4, 1969.
At the time Dudley Senanayake was our prime minister, the nation was still known as Ceylon, the head of state was not someone elected by our own people but the British Queen whose "Dominion under the Crown" we still were. Our proclamation as a republic and having the privilege of electing our own head of state was still three years into the future.
As I went through the yellowing pages of that 1969 souvenir, I could not help musing about what we as a nation have achieved during the seven decades and more since we cast off the shackles of nearly five hundred years of foreign domination — initially by the Portuguese, then the Dutch and finally the British.
Subjected though we were politically to successive foreign rulers during this time, we were able to boast in 1948 that despite enduring this foreign colonial yoke, we had been able to preserve intact our spiritual and cultural heritage. Of course, the biggest damage inflicted on this country by the colonial rulers was the loss of our economic freedom. From being the one-time Granary of the East, we were reduced to cultivating spices, tea, rubber and coconut for the benefit of colonial rulers and, being unable to grow enough food for our own people, we were forced to import even our rice from other countries.
But when I ask myself as to whether today we are really independent economically, whether we have over the past 73 years been able to "Make Sri Lanka Great Again", I have to admit that we have fallen behind.
From growing pepper and cloves for the Portuguese and then tea and rubber for the British, we are now making garments and undergarments for the Americans. The US is now the main importer of textile goods from Sri Lanka – in other words, we are now making garments mainly for America. The garment factory workers, just like the tea plantation workers, are paid meagre salaries – while the riches of the garment trade are reaped by the mass retailers, value chain intermediaries and lead firms in the US and Europe, just like Liptons and Brooke Bonds in Britain reaped the rewards of the tea plantations in colonial Ceylon.
From suffering the indignity of having massive European forts guarding the major harbours of places like Galle and Colombo during colonial times, we now have the second largest port in the country, Hambantota, being run by China Merchants Port Holdings who hold a 70 percent stake of the port for 99 years (rather like the 99 year lease the British had for their colony of Hong Kong). Our largest port, Colombo, has not one but TWO neo-colonial powers controlling it. For the Western Container Terminal the Sri Lanka government will have only a 51 percent stake while the remaining 49 percent will belong to an Indian company. As for the Colombo International Container Terminal which was built by the Chinese at a cost of about US$ 500 million, only 15 percent is owned by our Ports Authority with the remaining 85 percent stake will be held by the same China Merchants Port Holdings that owns 70% of Hambantota port.
In the immediate post-independence period, we had leaders like D.S. Senanayake, Dudley Senanayake, John Kotalawela, SWRD Bandaranaike and Sirimavo Bandaranaike – all of whom were comfortably wealthy in their own right and could never have been accused of using their political positions to make money. Over the 73 years of our independence, we have witnessed the rags to riches rise of many of our elected representatives, with democracy degenerating into populism and popular politicians becoming inordinately prosperous. Like the Republican senators in last week's US impeachment trial, many modern politicians in our country are more interested in looking after their own future rather than the future and wellbeing of the nation.
After seventy-three years of independence, are the people of this country better off than they were under the colonial rulers?
As I said in my last column"All forms of government are simply forms of exploitation of the people by their rulers."
The only difference between colonial Ceylon and independent Sri Lanka is that we citizens can pride ourselves on the fact that after we received independence, we have the right to elect from among our own people those who are going to exploit us!