When Imran Khan ripped through Sri Lanka
cricket
View(s):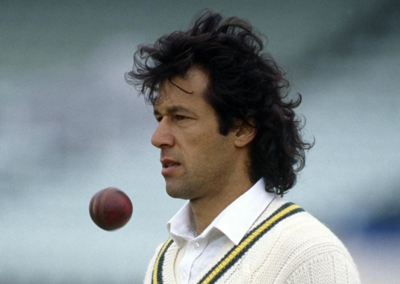 Former cricketer turn Pakistan Prime Minister Imran Khan will arrive in Sri Lanka tomorrow on a two-day official state visit. The Sunday Times looks back when Imran Khan the cricketer ran through the Sri Lankan team claiming 14 wickets for 116 runs to help them record an innings and 102-run victory in Lahore in 1982.
Pakistan, playing their full team after Javed Miandad had announced that he was unavailable as captain for the tour of England, proved too strong for Sri Lanka. Majid Khan, Zaheer Abbas, Mudassar Nazar and Imran Khan were included with Salim Malik, Haroon Rashid, Rizwan-uz -Zaman and Rashid Khan making way. Sri Lanka recalled Bandula Warnapura and Rumesh Ratnayeke, and included Rohan Jayasekera and Roger Wijesuriya for their Test débuts, omitting Ajit de Silva (injured), Arjuna Ranatunga, Anura Ranasinghe and Lalith Kaluperuma.
After a delayed start following overnight rain, Pakistan put Sri Lanka in to bat and struck twice in Imran Khan's third over, with Warnapura caught at short-leg and Jayasekera bowled by a break-back. Imran continued to dominate, and only a magnificent innings by Roy Dias saved his side from collapse. He reached a chanceless century shortly before the close of the first day and when caught at cover-point early next morning had batted for 260 minutes. His 109 included fourteen 4s and one 6. Imran maintained his speed over long spells; his eight for 58 represented his career-best figures and the best in a Test in Pakistan.
Pakistan's experienced batting found little difficulty from Sri Lanka's bowlers, who were not helped by missed chances. Mohsin Khan, in a fluent, maiden Test century, drove strongly and hit sixteen 4s before being bowled off his pads. His partnership with Majid, who earlier had been caught at cover only 15 runs short of Hanif Mohammad's Pakistan record of 3,915 Test runs, added 151.
Sri Lanka were reasonably well placed at tea with Pakistan 306 for five, but Zaheer and Imran put on a quick 100, Ashraf Ali joined in, and the declaration came soon after Zaheer, having batted for four and a half hours with two 6s and twelve 4s, was bowled attempting a big hit.
Sri Lanka, needing 260 to avert an innings defeat, showed more resolution in their early batting, and at tea on the fourth day had reached 71 for the loss of Warnapura. They lost their chance of saving the match when, in just over half an hour before the close, they lost four more wickets. Imran's match figures of 14 for 116 was a record for Pakistan. In the penultimate over of the match, Ashraf Ali conceded his first byes in two Tests, having kept wicket without a bye while 998 runs were scored. The total attendance was approximately 35,000.
-cricinfo.com