Kids' World
View(s):

My garden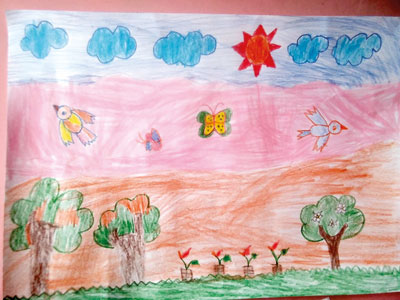 My garden
is beautiful.
There are nice flowers.
There is a big mango tree.
My mother planted little bushes in the garden. Butterflies and birds come to my garden. The anthuriums are beautiful. The temple flowers are beautiful and sweet-smelling.
I love my garden.
Senuri Gunawardana (Grade 1)
Methodist College, Colombo
---
Pet spider
My pet is a spider,
He spins and spins and spins.
I love to watch him work
He spins and spins and spins.
My pet is a spider,
He sometimes makes webs outside.
But he sometimes comes inside
And spins on my mother's blouse!
Krish Sivagananathan (10 years)
Elizabeth Moir School
---
2020 and Corona
2020 started with happy smiles,
But ended in quivers and shivers.
It was Corona!
Corona made us wear masks
Corona made us stay at home
Yes, because of Corona,
We had to stay at home and only see                        people through telephones and computers
The year 2020 has ended
But Corona hasn't…
Hana Yusuf (9 years)
Ladies' College
---
My doll
I have a doll. Its name is Bella.
I got her for my birthday. I play with her every day. She is nice. She has long curly hair and wears a beautiful frock.
I love her very much.
Raima Ghazni (6 years)
Najaa Int. School, Mt. Lavinia
---
I have a doll. Its name is Bella.
I got her for my birthday. I play with her every day. She is nice. She has long curly hair and wears a beautiful frock.
I love her very much.
Raima Ghazni (6 years)
Najaa Int. School, Mt. Lavinia
---
Dreaming of going to school
Triing…Triing (Alarm is ringing)…
''Wake up girls!'' As usual I hear my mom's morning wake up call. Ooops! I am late to school. What time is it? Has my school van arrived? Has my sister woken up before me? So many thoughts were running in my mind.
I jumped from my bed and ran to my mom, screaming, "Mom, am I late for school?" "Good morning honey, get ready for your online school," said my mom.
Oh! Here I woke up from my dream.
The beautiful days when I got up in the morning with a big smile on my face are
no more. I love wearing my blue uniform, my black shining shoes and my long plaited hair. My sister and I used to run to the van and we loved the journey to school. Teachers welcome all the students. Lots of greetings and good vibes are heard early morning around the school. I keep my school bag and run with my friends to play before the bell rings.
Oh when will I be able to wear my uniform again and play and study with my friends? My desk and chair must be missing me. I miss my classroom.
I remember how we learnt our lessons and the fun, laughter and all the happy moments in my class Year 5.
But unfortunately due to the Covid-19 pandemic situation, going to school has become a dream for all the children. School has now become an 'online school'. We see each other on the laptop screen. Teachers are dedicated to accomplish the online teaching task. I think I like this new experience as well.
I wish I had a genie to make my wishes come true. Then, I would ask the genie to stop the Covid-19 pandemic and help to re-open all the schools. I hope this deadly virus will end soon. I am praying for this day to come.
Uyuhansi Fernando (Grade 5)
Gateway College, Ratmalana
---
My friend Ben
My best friend Ben,
Is as fat as a hen,
He sat on a bench,
And broke the fence.
He needed five chairs to sit,
But he couldn't even fit.
His clothes were tight,
And it wasn't right.
       Awwab Rizan (Grade 4)
                Gateway College, Kandy
---
My toy car
My toy car's name is Spash Dash.
My toy car looks like a dinosaur.
Spash Dash is greenish blue. Spash Dash is strong.  Spash Dash has spines.
My toy car is fast. I love my toy car.
Dineth Rashmidu (Grade 2)
Royal Int. School, Kegalle
---
Battle against Corona
Due to the prevailing situation of the Covid-19 pandemic, all the authorities are bewildered immensely, since this nasty virus is already spread throughout Sri Lanka. Schools are scheduled to open amidst this appalling condition. There are many adverse effects as well as beneficial effects that can arise due to that tough decision.
Some silly people are not much concerned about the truth about the pandemic. If we want to protect our lives from this deadly attack, we must accept the importance following the health guidelines.
Kaveesha Ranasinghe (Grade 10)
Ranpokunagama M. V., Nittambuwa
---
Who is a good friend?
Friends are a most important relationship in one's life. Friends are trustworthy people with whom we can share all our secrets.
A true friend is one who we can trust and will be honest with others. A friend should be loyal to the people who care about him/her. A friend should be a good listener. Whenever you need help or support, a good friend should be always there.
He or she should never betray you in any way or talk about you behind your back. A friend can help you celebrate in good times and provide support during bad times.
Basam Abubakr (Grade 3)
Redding Int. School, Kandy
---
My favourite writer
My favourite writer is Dr. Maya Angelou. She is a black American lady.
She is a poet, novelist, educator, dramatist, actress, film maker and civil rights activist. Dr. Angelou is considered as a spokesperson of black people and specially black women for their civil rights. She is best known for her series of seven autobiographies, which describe her childhood and early adult experiences. Her first autobiography is named 'I know why the caged bird sings.' It discusses her life up to the age of seventeen.
The poem 'I know why the caged bird sings' was first published in her book 'Shaker, why don't you sing' in 1983.
The poem is a metaphor illustrating social discrimination she faced during her life.
Yasodara Thilakarathna (14 years)
Sumana B. V., Ratnapura
---
 Harry Potter and the Philosopher's Stone
Harry Potter is a famous book series written by J. K. Rowling. It is a very imaginative story. In this story the
main character is Harry. He has two best friends called Ron and Hermione.
Harry uses magic to fight his greatest enemy Malfoy.  Harry Potter and his two friends are learning magic at Hogwarts Wizarding School. Harry Potter has a scar on his forehead.
S.N. Meleesha (11 years)
St. John Paul II
English Medium College, Kolinjadiya