Time to devour books, the Big Bad Wolf sale is back
By Ruqyyaha Deane
View(s):
Do you hear the wolf howling? The world's biggest book sale — the 'Big Bad Wolf Book Sale ' is returning for its third run in Colombo at the Sri Lanka Exhibition and Convention Centre (SLECC) from October 18 to 28, equipped with 1.5 million books covering a vast array of genres. From cookbooks, bestsellers to self-help books, the variety is endless and the discounts sublime as books will be sold from 50%-90% off the recommended retail price.
Unlike the previous two years however, the sale will not be open 24 hours. On weekdays the Big Bad Wolf will operate from 10 a.m. to 10 p.m.  But those who like to shop at 3 a.m. don't despair because the sale will be open non-stop on weekends starting from Friday 10 a.m. till Sunday 10 p.m.
A news conference announcing the much anticipated arrival of the Wolf was held last week with Big Bad Wolf Books founder Jacqueline Ng, Pro Read Sri Lanka (Pvt) Ltd. Director Partner Nishan Wasalathanthri and Big Bad Wolf Books Sri Lanka partner Dipak Madhavan participating as panelists. Author Yudhanjaya Wijeratne moderated the discussion.
"The mission for us when we started was to bring the prices of books down so that more people could afford it. The joy of reading is almost impossible to explain unless you have a book in your hand. If the price is low enough for you to buy a book that seems interesting, that is the whole mission of Big Bad Wolf," Jacqueline Ng explained.
"In Sri Lanka, yes, the literacy count is very high and so is our readership but with our economic situation, books are not affordable. I would like to thank Big Bad Wolf for coming down. The response we got (from people) was immense," shared Nishan Wasalathanthri.
Big Bad Wolf is brought to Colombo by Pro Read Sri Lanka, an organisation that focuses on bridging the gap between knowledge accessibility and learning opportunities in Sri Lanka.
Big Bad Wolf Books will also be giving books to communities in need through their Red Readerhood programme. They have pledged to donate 500 books to the Centre of Hope — a charity organisation that operates care homes and educational centres in four main districts in Sri Lanka. They also encourage customers to participate in this worthy initiative by purchasing books at the sale and donating them at the Red Readerhood booth.
"There are many new things this year. The biggest star of the show is our Augmented Reality (AR) books that help children who are not inclined to reading take those first steps into reading," said Dipak Madhavan.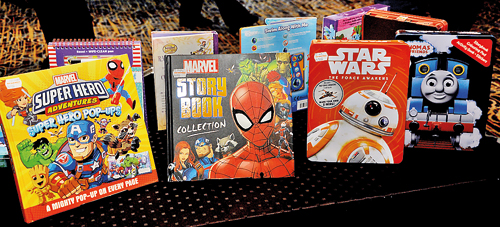 Event partners for the sale include Sampath Bank as the official banking partner with Mobitel being the official telecommunication partner. The  Ministry of Education of Sri Lanka has given its support and endorsed the sale.
Becoming a Wolf Pack member offers exclusive benefits. To sign up and find more information on the sale visit their website – https://www.bigbadwolfbooks.com/lk/
To follow them on social media, their Instagram handle is @bigbadwolfbooks_lk and Facebook is bbwbookssrilanka