Sirisena angry over Pohottuwa symbol as rift widens with SLPP
View(s):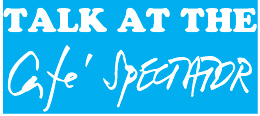 President Maithripala Sirisena, leader of the Sri Lanka Freedom Party (SLFP), was livid yesterday that the Sri Lanka Podujana Peramuna (SLPP) had effectively shut the door on a political partnership.
This came after SLPP Secretary Sagara Kariyawasam called at the National Election Commission (NEC) on Friday and paid the deposit of Gotabaya Rajapaksa, as the party's candidate for the presidential election on November 16. In doing so, he has formally acknowledged that Mr. Rajapaksa will contest under the budding Lotus Flower (Pohottuwa) symbol.
Both, President Sirisena and SLFP General Secretary Dayasiri Jayasekera had been insisting that the presidential candidate should contest under the Chair symbol or another "neutral one." The move was rejected by SLPP architect Basil Rajapaksa during talks with an SLFP delegation this week. This came after one-on-one talks between President Sirisena and SLPP leader Mahinda Rajapaksa.
In a bid to pressure the SLPP to heed the SLFP's conditions in forging a partnership, President Sirisena, political observers believe, resorted to a string of moves. One was his declaration that during the Mahinda Rajapaksa administration, Rs. 2 billion remained unaccounted for in the project to construct the Nelum Kuluna tower. It was declared open last Monday.
Former President Rajapaksa, under whom the Telecommunication Regulatory Authority (TRC) came, denied the accusation and said in a statement that there was no impropriety. A similar position was also brought out by the Sri Lanka Ambassador to China, Karunasena Kodituwakku, and the Chinese company involved.
President Sirisena's accusations have prompted China, the world's second largest economic power, and the state-owned companies to question the allegation.
In the midst of these denials, UPFA (United People's Freedom Alliance) General Secretary  Mahinda Amaraweera made a feeble attempt to protect the president by saying that if he had made incorrect allegations, that was because his officials had provided him with inaccurate information. Yesterday, the Presidential Secretariat was busy preparing an official statement to confirm that the claims made by President Sirisena were correct. No doubt, that would place some strain on relations between Colombo and Beijing.
Another move was to initiate legal action against SLPP candidate Gotabaya Rajapaksa over the 2005 presidential election. This was on the grounds that being an American citizen, he had worked for his brother Mahinda Rajapaksa's presidential election campaign. The Colombo Magistrate refused the CID's application to have Gotabaya Rajapaksa questioned on what seemed flimsy grounds.
The investigations are being directed by Senior DIG in charge of the Criminal Investigation Department (CID), Ravi Seneviratne. He is on a year's extension of service granted by President Sirisena who oversees the Police.
---
No Master's degree, so he's out
Home Affairs Minister Vajira Abeywardena this week withdrew a Cabinet paper he had submitted earlier.
This was to grant a permanent appointment to Colombo District Secretary Sunil Kannangara who is serving in the post in acting capacity.
The reason: The District Secretary did not have the required qualifications of a Master's degree to be appointed to the position on a permanent basis.
---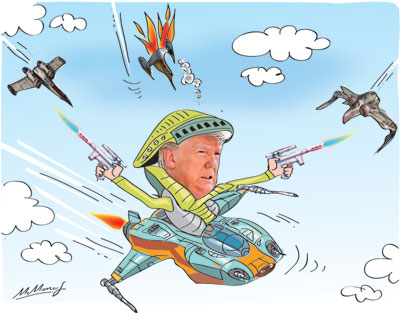 Trump as Star Wars Chief
Recently, President Trump established the US Space Command (SPACECOM) saying that it will ensure that America's dominance in space "the next war-fighting domain" is never threatened.
According to Mr. Trump, "It is not enough to merely have an American presence in space; we must have American dominance in space".
Invoking the Star Wars movie, the UK based Observer quipped: "The thought of Donald Trump as space commander-in-chief, whizzing around the Milky Way, zapping alien invaders and conquering new worlds, is both comical and terrifying".
---
DSG Dilrukshi in a spot: Probe by PSC
A telephone conversation reportedly between Dilrukshi Dias Wickremesinghe, Deputy Solicitor General in the Attorney General's Department and Avant Garde owner Nissanka Senadipathi over the floating armoury has gone viral in the social media.
Now, the Attorney General's Department is to ask the Public Service Commission (PSC) to investigate this matter.
In a recorded conversation, Ms Wickremesinghe is reportedly quoted as saying that if she knew it earlier, she would not have initiated legal action against Avant Garde.
In the conversation, Mr Senadipathi complains to Ms Wickremesinghe over 4,000 employees of Avant Garde losing their jobs. She appears to admit that she is aware of it. "I never expected the business to fall since it was one of the best in the country," she is reported as saying.
Ms. Wickremesinghe, who was also head of the Commission to Investigate Bribery or Corruption, is further reported as saying, "If I had any indication that this was the position, do you think I would go ahead and file action?" Mr Senadipathi confirms by saying "yes" and adds that he received the two messages she had sent him.
"Who am I? I will not file legal action against Gotabaya Rajapaksa. I regret whatever I have done," Ms. Wickremesinghe points out adding that "I know how to break the law and make the law."
The purported conversation lasted a minute and 22 seconds.
On Saturday, Ms Wickramasinghe challenged Mr. Senadhipathi in a Facebook post to issue the full recording "without editing, docotoring and distorting the contents."
---
UN under fire for hosting event with Saudi group
The United Nations faces growing public opposition to an event it is co-hosting with a Saudi Arabian charity only days before the anniversary of the murder of journalist Jamal Khashoggi.
On Tuesday, the Committee to Protect Journalists (CPJ), a watchdog, joined the campaign to scrap the Sept. 23 Misk-OSGEY Youth Forum — a tie-up between the UN and Saudi crown prince Mohammad bin Salman's Misk Foundation.
Meanwhile, some 5,000 people have signed a petition against the event, which campaigners say whitewashes the image of bin Salman, who reportedly ordered the murder of Mr. Khashoggi inside the country's consulate in Istanbul, Turkey, on Oct. 2 last year.
"On the anniversary, I expected a message from the UN to elevate the case and to seek more punitive measures against Saudi Arabia and those who participated in the killing of Khashoggi," the CPJ's Middle East coordinator Sherif Mansour told IPS.
"Perhaps people at the UN had not heard or seen the outrage that has circulated around the world since Khashoggi's death. It's offensive and insulting to have such a conference around the time when people are remembering his brutal murder."
To date, some 5,365 people have signed an online petition against the forum, which is part of a scheme between the UN's youth envoy, Jayathma Wickramanayake of Sri Lanka and bin Salman's foundation that is aimed at inspiring ethical business practices.